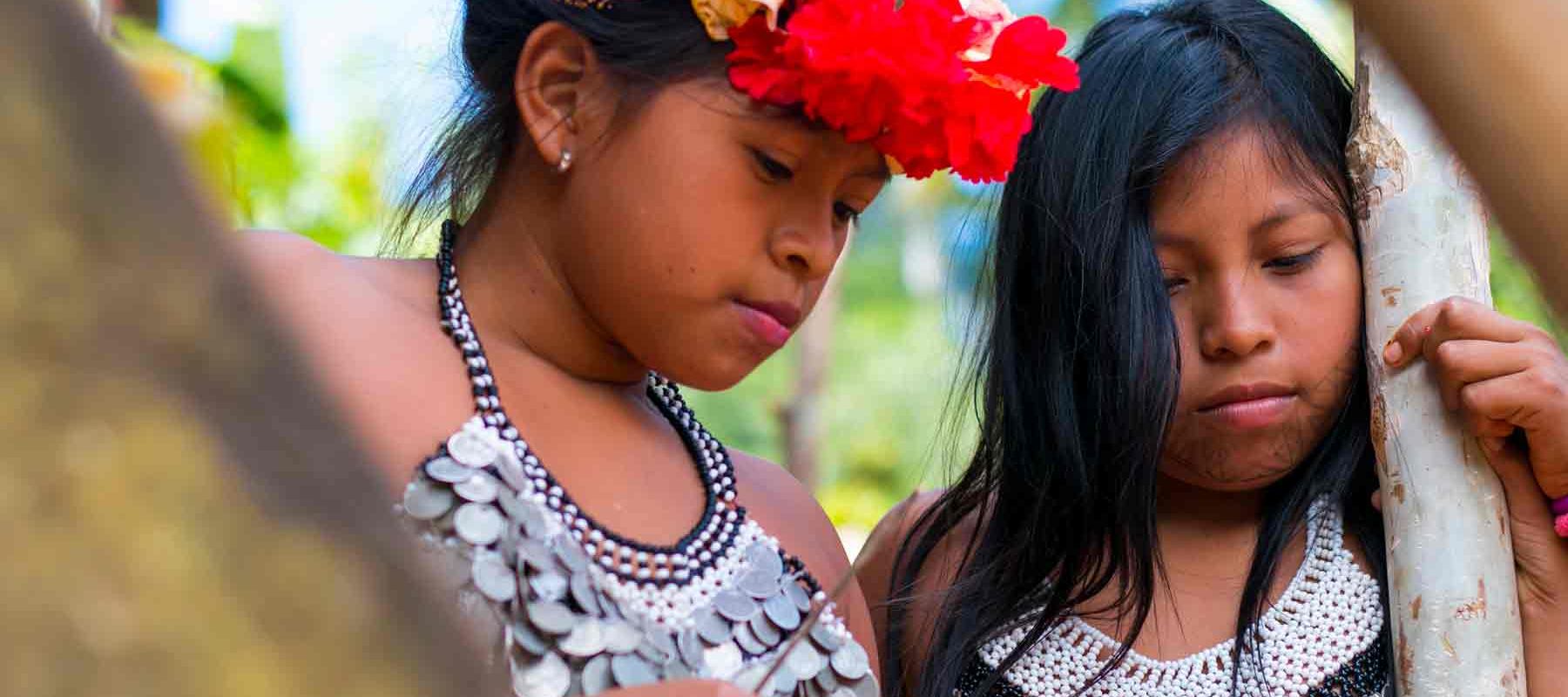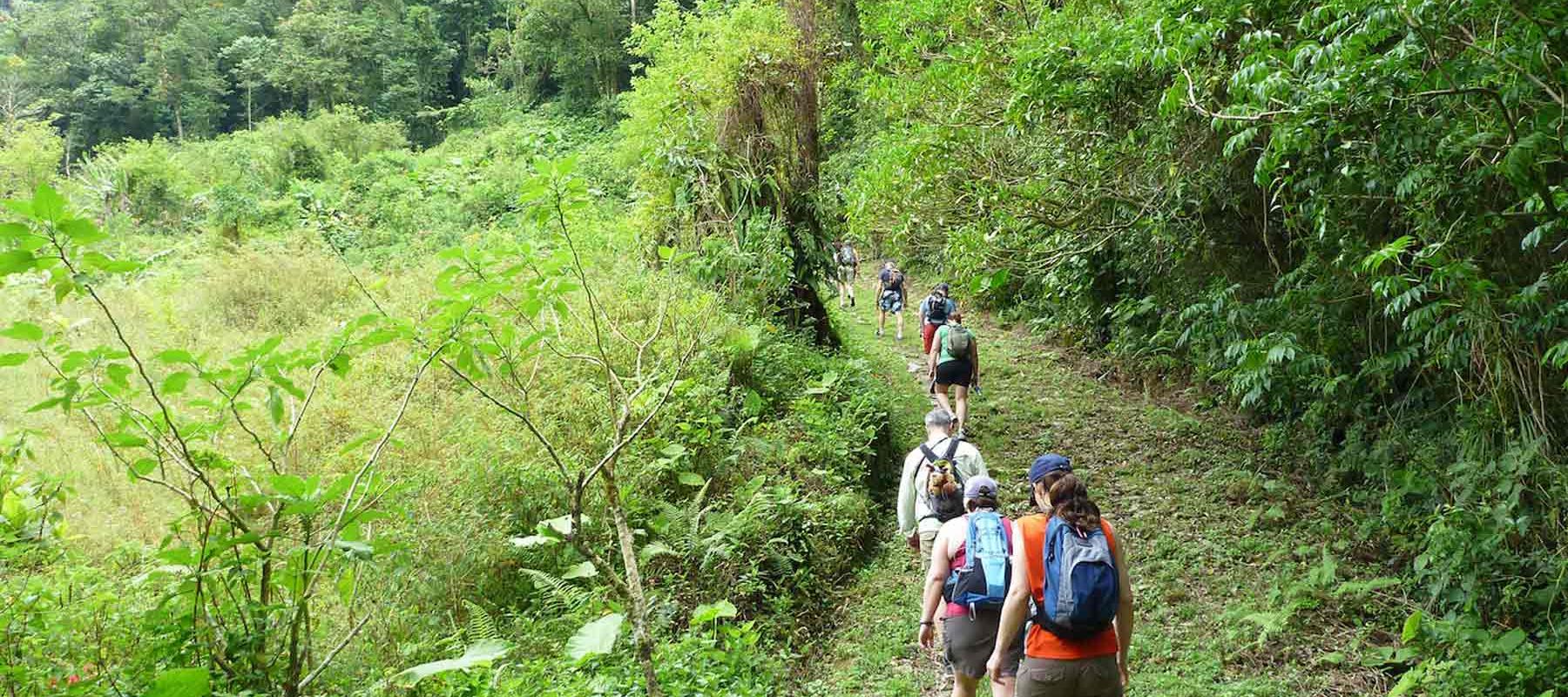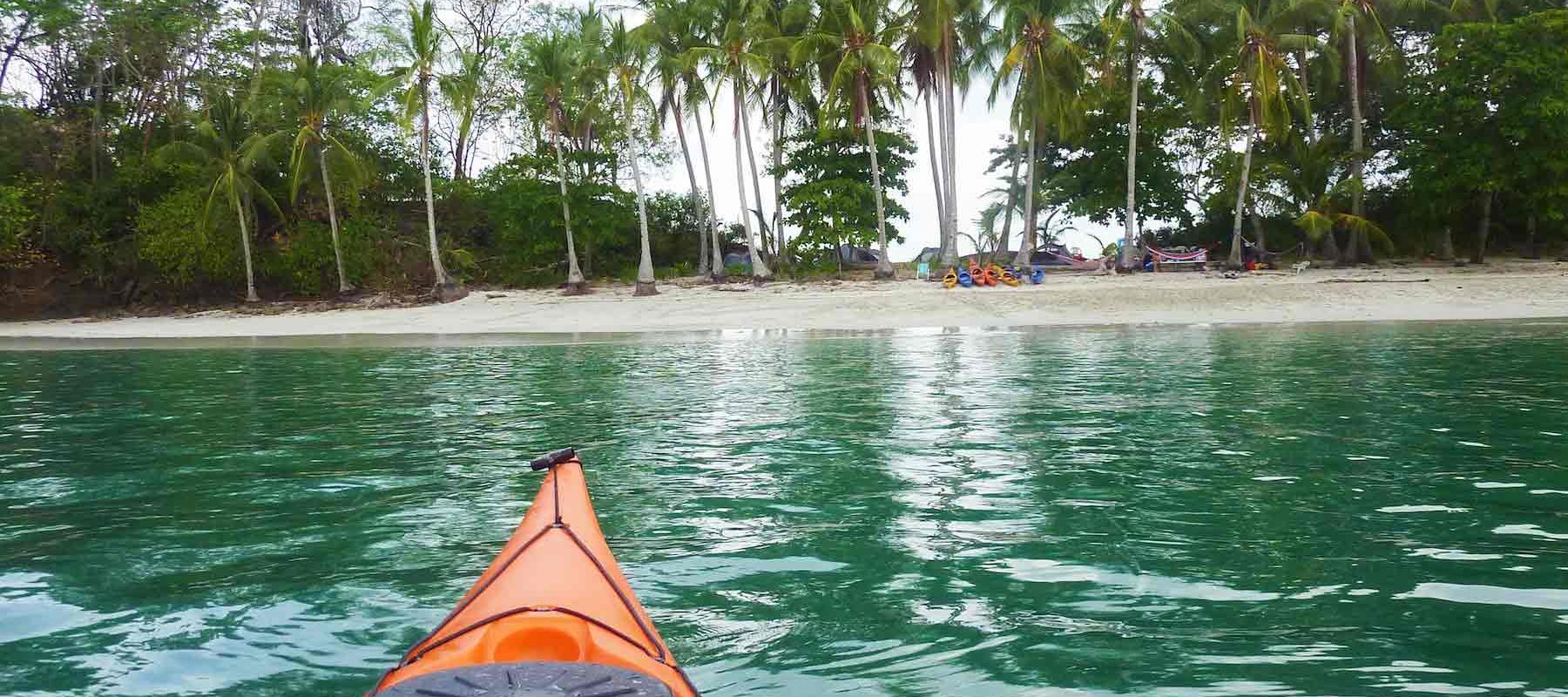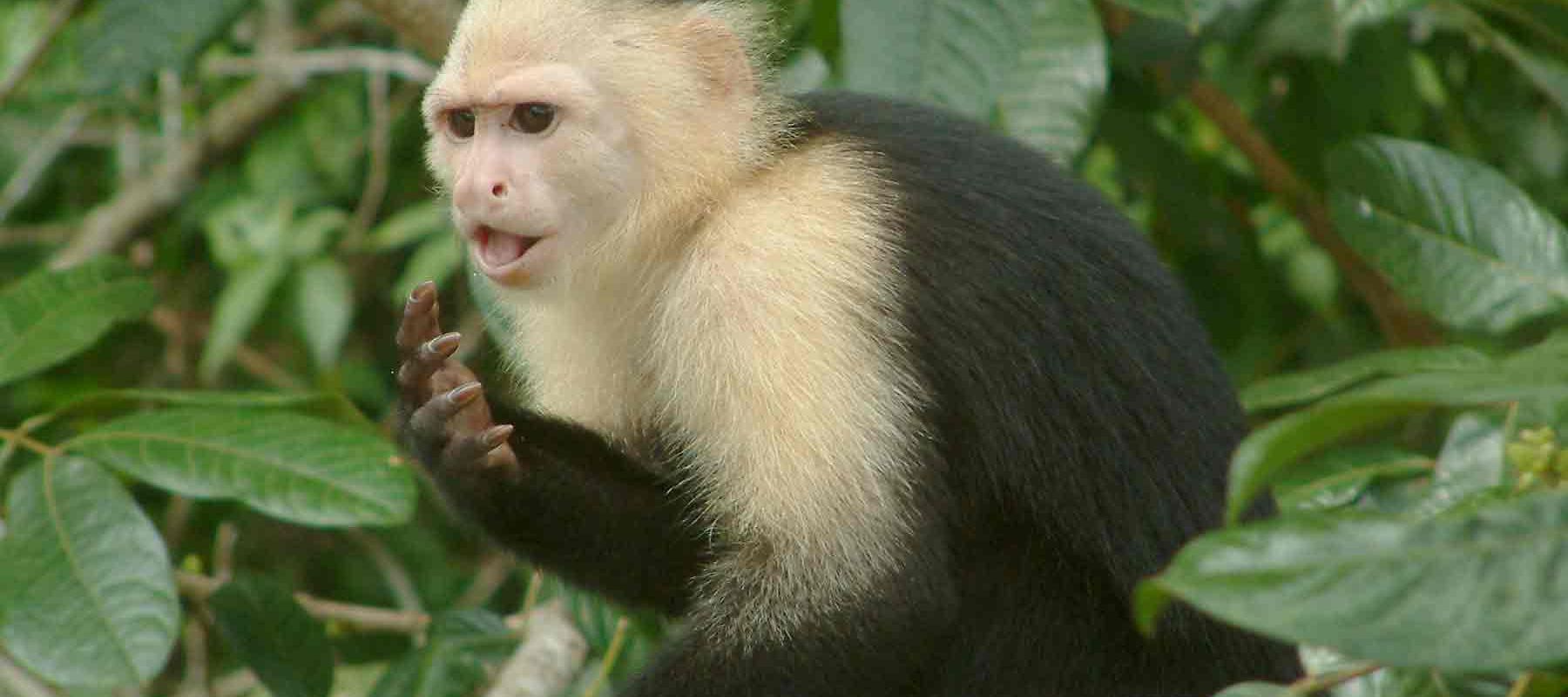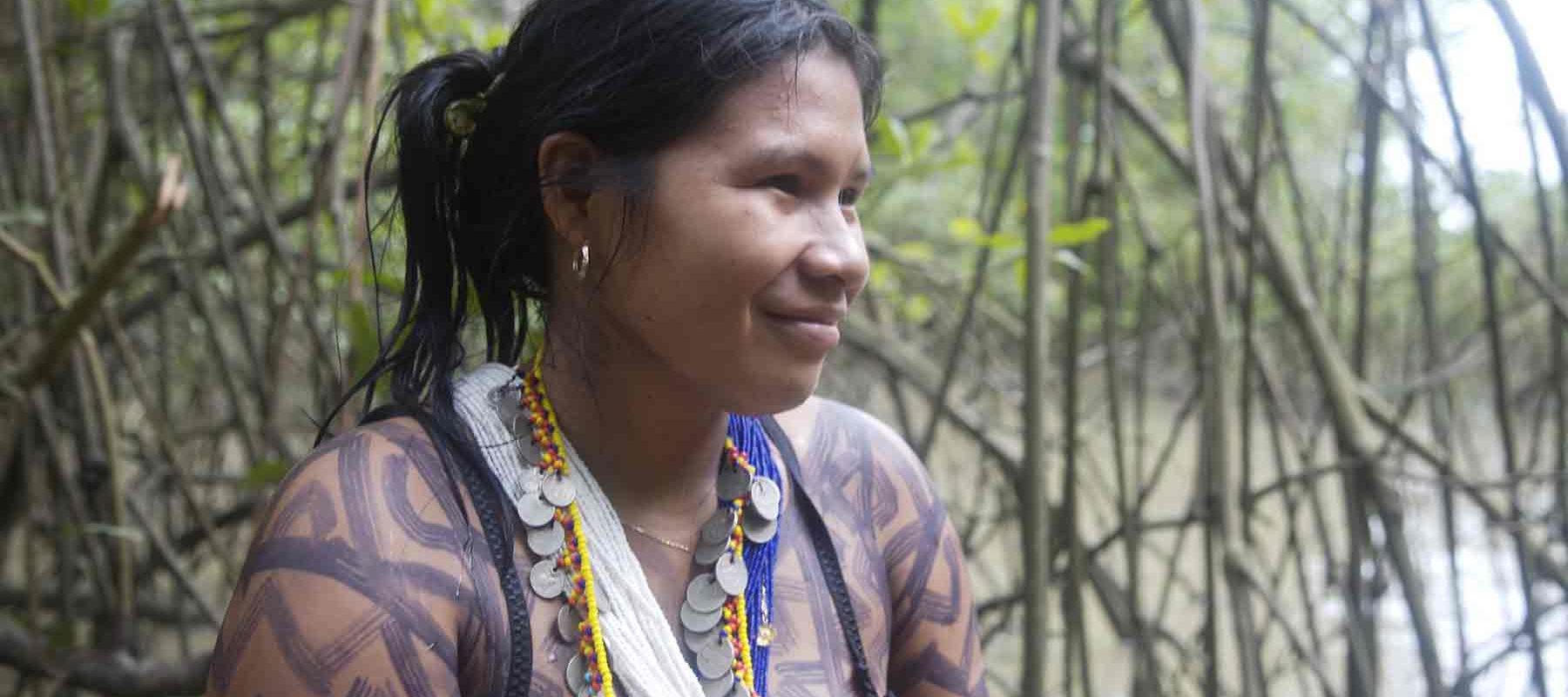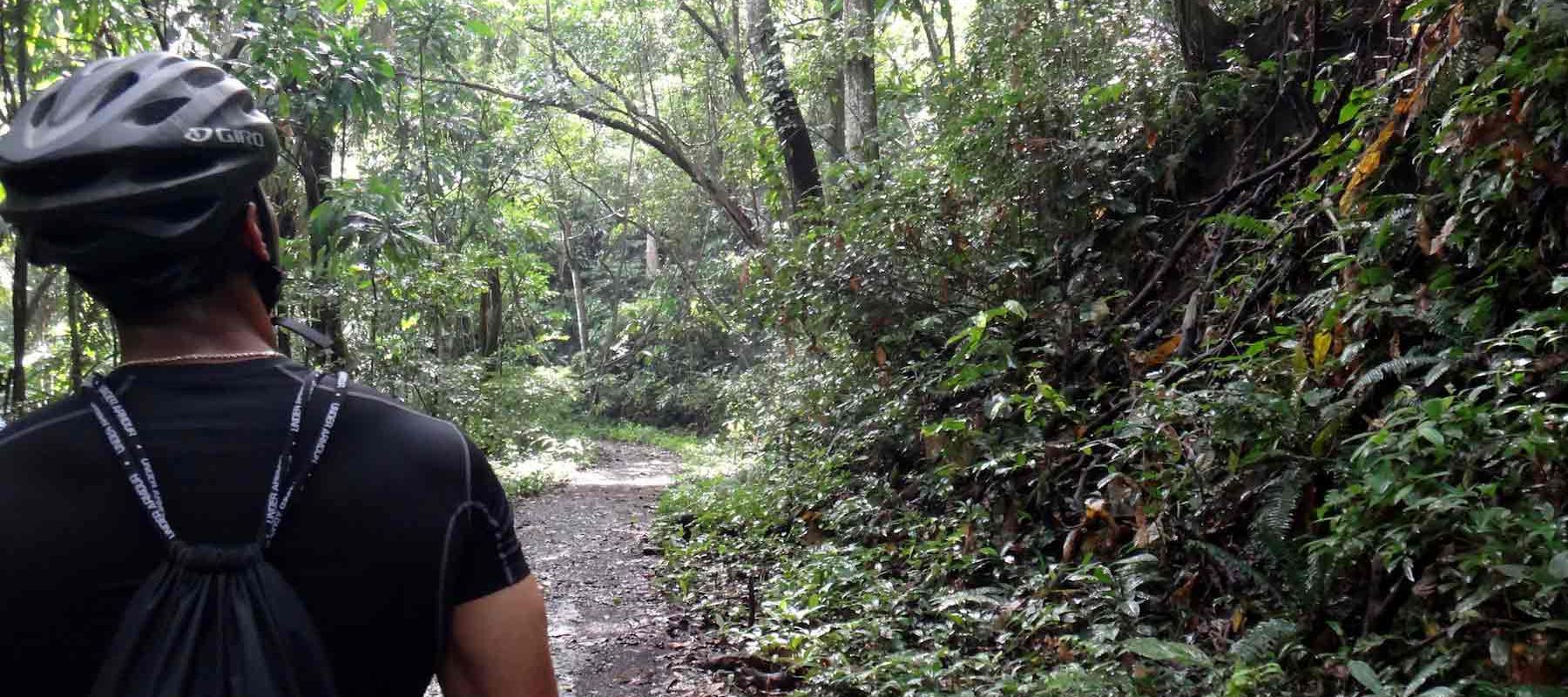 Rumble in the Jungle - Panama Adventure
Rumble in the Jungle - Panama Adventure
Trip Overview
(Biking, Hiking, Kayaking, Snorkelling & Zip Lining)  Panama is a name familiar to many. Yet, few visitors take the time to explore or get to know this Central American gem beyond its century old engineering marvel. This 9-day Rumble in the Jungle adventure tour immerses you in Panama's impressive blend of nature, adventure and culture as you zig-zag from the Pacific to the Caribbean on your own sweat and steam as you hike, bike, kayak and more.
On this Panama multi-sport adventure tour, we bike on trails that twist through fertile valleys while watching ships transit through the Panama Canal. We hike through tropical rainforests abundant with exotic wildlife and zip through a forest canopy, bolting between wooden platforms perched in the trees. We snorkel in translucent seas filled with tropical marine life. We spend two nights camping on an island in the Pacific Ocean, filling our days with sea kayaking and fishing. This Panama adventure package is charged with active thrills and distinctive Panamanian culture.
WOW FACTORS
Bike along steamy jungle trails in the Panama Canal zone, an area known to have some of the best bird watching in the country
Hike the Quetzal Trail in search of wildlife including over a hundred species of birds, howler and white face monkeys and sloths
Snorkel and go island hopping by sea kayak in the Gulf of Chiriqui, camping overnight on a  tropical island
Itinerary & Map
Day 1
Panama City
Arrival
Upon arrival, transfer to the comfortable hotel we have arranged for you in the city. The rest of the day is at leisure to explore Panama City. In the evening at the hotel, you will receive more information about the next day's starting time for the adventure that lies ahead.

Meals: None
Day 2
Soberania National Park - Cocoa Plantation Trail
Biking
After a Panamanian breakfast feast at the hotel, your guide will meet you at the hotel and welcome you on the adventure. You will begin a drive to Soberania National Park for a day of biking. The park is part of the Panama Canal Watershed. We'll unload our bikes and set off pedaling, keeping an eye out for agouti, howler monkeys and three-toed sloth. The terrain is a double track dirt path, with good stretches of climbs and descents and through a humid climate. We'll ride for approximately 3 hours before returning back to our van. We'll make it back to the van in time for a picnic lunch and then head to the Panama Canal in the afternoon to watch the steady stream of big ships passing through the locks. Overnight in Panama City.

Biking: 3 hours
Meals: Breakfast, Lunch
Day 3
Embera Village - Boquete
Hiking
We start early this morning. From the hotel, we'll drive for 1.5 hours to the port of El Corotu on Lake Alajuela. From here our Embera guides from the village of Drua, will pick us up in their handmade dug out canoes. Our journey by canoe travels through the rainforest of Chagres National Park, which is the largest of the National Parks protecting the Panama Canal Watershed. Upon arrival at the Embera village we will be greeted with dancing and music. We'll learn about the Embera customs and their relationship with nature. There will be handicrafts available for sale and we'll have a chance to be painted with the traditional jagua, a natural dye the Embera use to adorn their bodies. After a traditional lunch of fish, plantain, and fresh fruit, we'll hike to a nearby waterfall where we can take a dip in the crystal-clear waters of the Chagres River before heading back to Panama City. We will then transfer to the domestic airport for a flight to David. Upon arrival we'll transfer to a comfortable hotel in Cerro Punto.

Meals: Breakfast, Lunch
Day 4
Quetzal Trail - Cerro Punta - Boquete
Hiking
Considered one of the most gorgeous paths in Central America, the Quetzals Trail is one of the most popular hikes in Panama's western highlands. Located within the Volcan Baru National Park, the "Sendero de los Quetzales" links the towns of Guadalupe, which is near Cerro Punta on the west side of the Volcano, with the town of Boquete which is on its east. Hiking the 9.6 kms/6 miles of this trail will take us from 5 to 7 hours. The park is abundant with native wildlife including over a hundred species of birds, including the Resplendent Quetzal, howler and white face monkeys and sloths. Overnight at a comfortable hotel in Boquete.
Hiking: 5-6 hours
Meals: Breakfast, Lunch
Day 5
Boquete
Biking & Ziplining
We start the morning with a good breakfast and then transfer to the canopy area. Here we start with a short hike into the forest before a dose of adrenaline. We'll glide through the treetops of century-old forests, high above the pristine rivers and waterfalls that make up the incredible collection of natural landscapes bordering the National Park La Amistad and the famous Baru Volcano. After this exciting adventure we will get on our bikes for a short downhill ride to Boquete. We'll pass by coffee farms, rivers, waterfalls and plantation fields. In the town of Boquete, we will enjoy a Panamanian lunch at a local restaurant. The rest of the day is free to explore Boquete. Overnight at same hotel in Boquete.
Biking: 8.5 km / 5 mi
Meals: Breakfast, Lunch
Day 6
Gulf of Chiriqui
Sea Kayaking & Snorkelling
After an early morning breakfast we drive to Pedregal to begin our 2-day sea kayak adventure. We start by covered motorboat first, for a one hour journey to the Golfo de Chiriqui. We'll motor past twisted mangroves, coral reefs, white sand beaches and uninhabited islands. If we're lucky we'll encounter playful dolphins along the way. These protected waters of Panama are teeming with marine life! Upon arrival on a small island, we'll have lunch and take a bit of time to relax in hammocks while our guide sets up camp. In the afternoon we'll head out for a group paddle and also have plenty of time for snorkelling in the sea. For those interested in fishing, there will be dusk and dawn opportunities. We'll spend the night in tents, camping beneath brilliant skies filled with stars.
Sea Kayaking: 3 hours
Meals: Breakfast, Lunch, Dinner
Day 7
Gulf of Chiriqui
Sea Kayaking & Snorkelling
Same activities as yesterday. Then, we'll return to Boquete around 5pm today and check back into our same Boquete hotel.
Sea Kayaking: 3 hours
Meals: Breakfast, Lunch
Day 8
Hacienda Mamecillo
Hiking & Coffee / Agrocultural Tour
Your guide will pick you up at 8am this morning and drive you a privately-owned reserve called Falling Waterfalls, and into remote virgin cloudforest of the Chiriquí Highlands. This cloudforest surrounds the perimeter of Volcan Baru National Park. From here we will start hiking. The trail parallels the La Zumbona River, a gorgeous river that is spilling into the Rio Caldera. With more than a hundred species of birds native to the area, birding opportunities abound. There are also opportunities to observe the white-headed Capuchin monkeys in this forest. We'll eventually break for a picnic at the base of one of Boquete's most exquisite waterfalls, and rejuvenate with an invigorating shower. After 3 hours of hiking through primary forest, we'll end at the main house of Rolando's farm to replenish with a delicious farm to table lunch. Afterwards you'll head out on a walking coffee tour through his plantation to learn about the production of coffee. We'll end roasting the coffee and of course, with a good cup of Panamanian brew. Late afternoon, we'll transfer you back to David to catch a domestic flight back to Panama City. Upon arrival, you'll be met and transferred back to your comfortable hotel in Panama City. The remainder of the night is free to enjoy your last night in Panama.

Meals: Breakfast, Lunch
Day 9
Panama City
Departure
This marks the end of your adventure with us. After breakfast, at your leisure, you can arrange your own transfer to the international airport or elsewhere.

Meals: Breakfast

Note: Internal flights are not included. We will book the internal flights for you and quote you the internal flight prices at time of booking.
What's Included
TRIP INCLUSIONS:
All accommodation (twin shared), meals as indicated, internal transportation (excluding 2 internal flights), mountain bikes, camping gear and English-speaking guides.
TRIP DOES NOT INCLUDE:
International airfare, airport departure taxes, airport transfers*, internal flights**, gratuities, meals not indicated and items of a personal nature.
MEALS:
8 Breakfasts, 7 Lunches, 1 Dinner
ACCOMMODATION:
Hotel: 7 Nights
Tent: 1 Night
*We can arrange airport transfers on your behalf as an add-on. Let us know at time of booking and we can arrange a quote for you. 
** We will book the internal flights for you and quote you the internal flight prices at time of booking.
Trip Facts
Weather in Panama
Panama has a year-round wonderfully pleasant tropical climate and an average temperature of 27 degrees Centigrade (or 80 degrees F.) Nights, however, are generally fresh, especially in mountainous areas. The country has two seasons; rainy and dry. The former lasts from May to December, and despite of the rainfall it is a rare day that the sun fails to show. During the dry season, called "summer", the nice trade winds constantly blow.
Weather in Pacific Coast Region (includes Panama City)
December to April: Dry season. Sunny and Humid.
May to November: Wet season. Days vary with cloud and intermittent sunshine. Humid and Hot.
Weather in Caribbean Coast Region
January to March: Short dry season. Humid and Hot.
April to December: Long wet season. Hot and Humid. Daily downpours are heavy but short.
Travel Documents
Canadian, US and British citizens are required to purchase a $5 US tourist card issued by the airline carrier. You must also hold a current passport valid for six months beyond your date of departure.
Food and Water
Panama has a rich tradition in the culinary arts. Due to its location the country is home to a vast array of fresh and tasty fruits, herbs and vegetables. Combine this with influences from the Native Indians, Europeans and other Latin American countries and you have some great food in Panama. Recommended dishes include hojaldras (Panamanian donuts), sancocho (chicken soup), ceviche (sea bass chopped up and added to lemon juice served cold) and plantain (similar to banana, fried and served as a side dish). Panama City has the purest potable water in the world, which you can drink directly from the tap. Sanitation standards are very high and milk is pasteurized. For your safety, you should check on the status of smaller towns and their water supply, as standards outside Panama City can change.
FAQ
Can I take this trip if...
I am a solo traveller? How does solo accommodation and costing work?
Many of our travellers (both men and women) join as singles. On average, BikeHike groups are 75% single travellers and 25% couples. Unlike many adventure travel companies, we don't charge single supplement fees to solo travellers. Instead, we pair you with another traveller of the same gender. If we can't find you a roommate, you get your own room at no additional charge. A single private room supplement fee is only required if you specifically request a confirmed private room for the duration of the trip. Learn more about solo travel with BikeHike. 
I have special dietary requirements?
We will do our best to accommodate special dietary requests (e.g. vegetarian, gluten free, etc.), but ask that you please discuss your request with us when signing up for a trip.
Accommodation
Most of our trips include comfortable mid-range accommodations. This includes accommodation that provides a clean and comfortable experience in characterful surroundings that reflect the destination. To build stronger connections with the communities and support the local economies, we avoid using large international chain brands on BikeHike trips. 
This trip includes the following types of accommodation:
HOTELS
In an effort to keep money in the communities we visit around the world, BikeHike prefers small hotels, bungalows, and haciendas that showcase the character and local flair of each destination.
CAMPING
Camping on this trip does not involve pitching your own tent. Your guide will be setting up the tents for you while you relax in hammocks. The experience isn't quite "glamping" but it is certainly less rustic than traditional camping. The location is a preset one and rather exotic.  You'll have access to an outdoor washroom and lots of hammocks to relax in. This is an incredible experience as you'll be tenting in paradise! 
Click HERE for more information about accommodation styles.
Trip At A Glance
| Day | Destination | Activity | Duration | Distance | Lodging | Meals |
| --- | --- | --- | --- | --- | --- | --- |
| 1 | Panama City | Arrival | — | — | Hotel | — |
| 2 | Soberania National Park - Cocoa Plantation Trail | Biking | 3 hours | — | Hotel | |
| 3 | Embera Village - Boquete | Hiking | — | — | Hotel | |
| 4 | Quetzal Trail - Cerro Punta - Boquete | Hiking | 5-6 hours | — | Hotel | |
| 5 | Boquete | Biking & Ziplining | — | | Hotel | |
| 6 | Gulf of Chiriqui | Sea Kayaking & Snorkelling | 3 hours | — | Tent | |
| 7 | Gulf of Chiriqui | Sea Kayaking & Snorkelling | 3 hours | — | Hotel | |
| 8 | Hacienda Mamecillo | Hiking & Coffee / (Agrocultural Tour) | — | — | Hotel | |
| 9 | Panama City | Departure | — | — | — | |