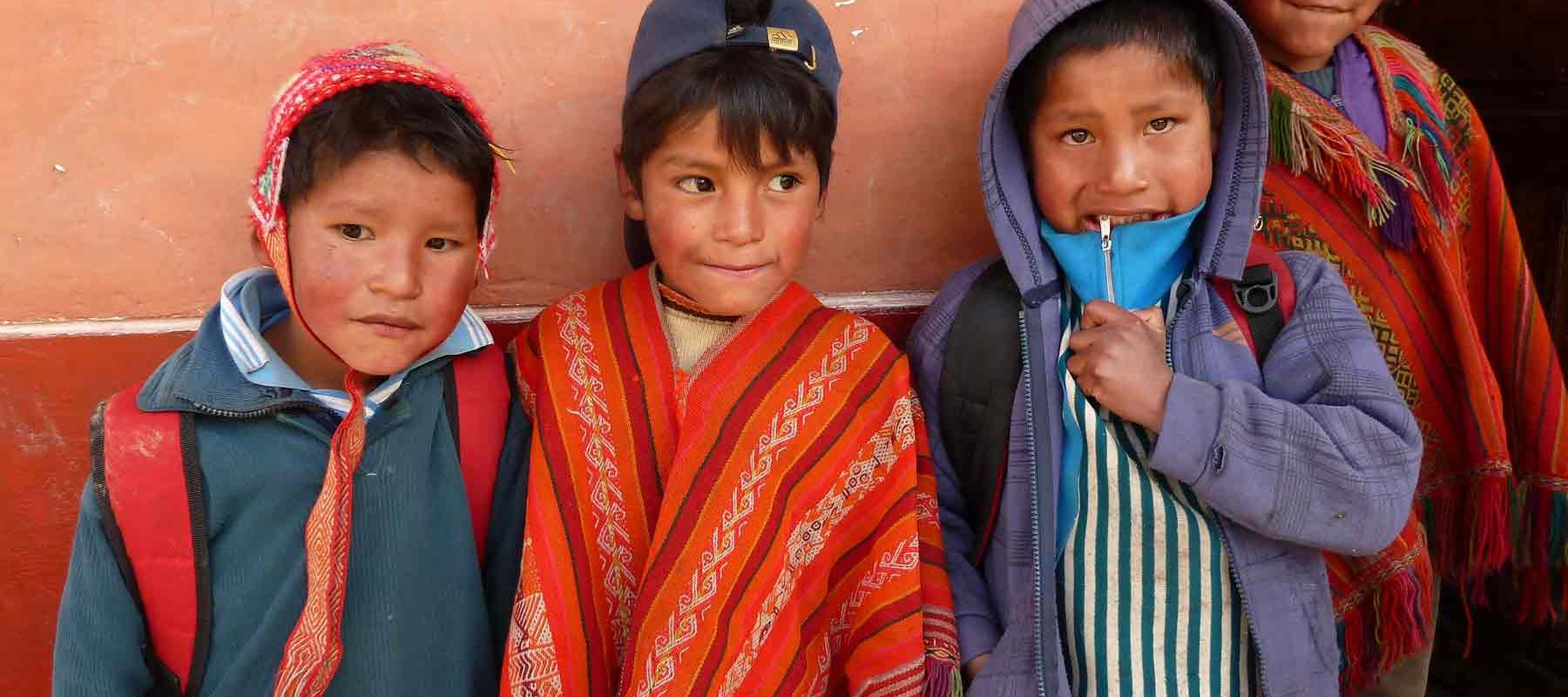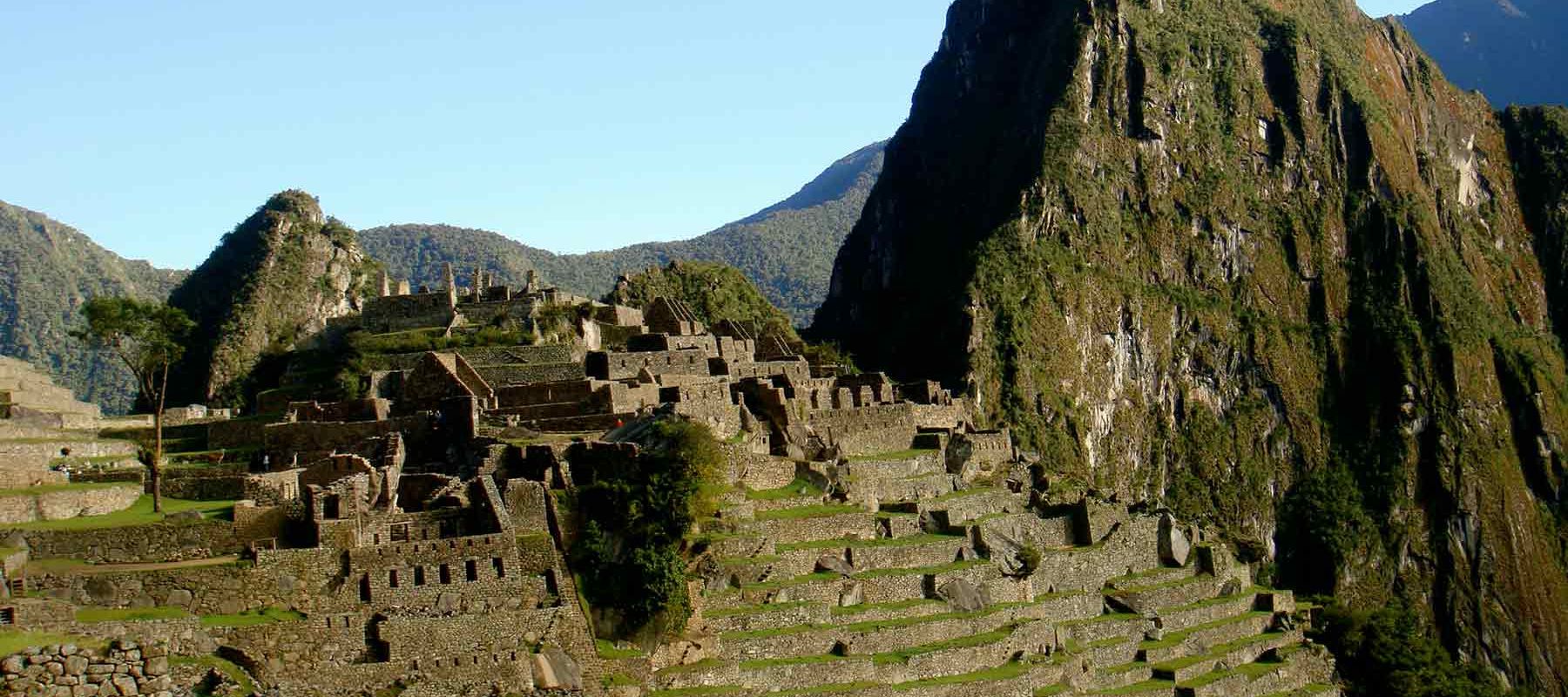 Classic Peru: From Cuzco to Lake Titicaca
Classic Peru: From Cuzco to Lake Titicaca
Trip Overview
(Hiking, Kayaking and E-Biking) This trip is designed for the traveler who wants light activity by day and comfort by night, which means no camping. It's for the traveler that is foodie inspired, craves meaningful interactions with the local people and dreams of visiting the iconic archeological sites and towns of Peru.
On this 9-day active trip we explore the Sacred Valley on E-bikes. We spend one day hiking along the Inca Trail to the legendary ruins of Machu Picchu. We kayak on the highest navigable body of water in the world, Lake Titicaca. We visit a community school in Ollantaytambo to meet the teacher and village children and learn about their lives and education. Lastly, we engage in a cooking class in the beautiful colonial city of Cuzco, learning how to prepare the delicious cuisine that has made Peru world-famous and the winner of the world's leading culinary destination by the World Travel Awards for 7 years in a row.
WOW FACTORS
E-Biking in the Sacred Valley of the Incas
One day hike along the Inca Trail to Machu Picchu
Kayaking on the highest navigable lake in the world, Lake Titicaca
A cooking class in Cuzco, learning how to prepare Peru's delicious cuisine
A visit to an Indigenous community school to experience the Peruvian culture firsthand
Itinerary & Map
Day 1
Cuzco - Sacred Valley
Ruins and Market
Upon arrival into Cuzco, you'll be met at the airport by your guide. Please make sure you arrive by 11:00am at the latest. From here, we'll transfer by private vehicle to the Sacred Valley of the Incas. On the way we will stop at the Awanacancha Weaving Center to see the weavers making their colourful handicrafts, and also to see llamas and alpacas. We'll then head to the town of Pisac, famous for its hilltop ruins, agricultural terraces and artisan market. We'll explore the archaeological ruins and then have lunch in a restaurant located along the Urubamba River. After lunch, we can spend some time exploring the artisan market full of local handicrafts before heading to our hotel for the night. Today is designed as an easy day in order to give you time to acclimate to the high altitude.

Accommodation: Hotel Superior Room in Urubamba
Meals: Lunch
Day 2
Sacred Valley
E-Biking
After breakfast we'll drive to the town of Chinchero, known for its handicraft market. Here we will start biking with the backdrop of the Andes Mountains. We'll bike through quaint villages and past colonial haciendas where farmers are frequently seen herding their livestock and tending to their potato and quinoa crops. We'll stop in Moray, famous for the circular terraces, then pedal down to the Maras salt works located at 3,379 meters / 11,086 feet. These salt mines have captured salt water from a natural spring before pre-Inca times. We'll then enjoy a special Pachamanca lunch. Pachamanca is a cooking technique that has been used in the Andes for thousands of years – it involves a pit being dug in the ground and different types of meat and vegetables are cooked underground. Afterwards we'll make our way back to the hotel in Urubamba with a stop along the way at a local family's house to learn about their traditional way of life and farming techniques.

Biking Distance: 16 km / 10 mi
Accommodation: Same Hotel in Urubamba
Meals: Breakfast, Lunch
Day 3
Ollantaytambo
Community School Visit
Today is a favourite for those in search of a rich cultural experience. In the morning, we'll visit a local community school and meet the students and teachers, learn about their local customs and have some time to interact with them by playing sports. Next, we'll drive to the town of Ollantaytambe, once a royal estate to the Inca Pachacutec. We'll tour the impressive ruins of the Ollantaytambo fortress, located on a hillside overlooking the town. We'll then have lunch, before ending the day with a visit to a Chicha factory where we can sample this Incan brew of fermented corn. Overnight at the same hotel in Urubamba where you have the evening free.

Accommodation: Same Hotel in Urubamba
Meals: Breakfast, Lunch
Day 4
One Day Hike on the Inca Trail - Aguas Calientes
Hiking
This morning we'll walk to the Ollantaytambo train station and board the train to km 104 in Chachabamba. Here is where we beigin our 6-hour hike on the short version of the Inca Trail. The hike starts along the Urubamba River and passes the sacred site of Chachabamba, discovered in 1940 – almost thirty years after the discovery of Machu Picchu. Afterwards it's a gradual climb walking up Inca steps for about 3 to 4 hours until we reach the cloud forest. We'll walk through lush vegetation until reaching the meadows and the ancient Incan ruins of Wiñay Wayna (located at 2,650 meters / 8, 692 feet), once an important administrative and agricultural center for the Incas. We'll rest for lunch here and then hike a couple more hours until we reach the Sungate and catch the famous vistas of Machu Picchu below. From the Sungate we have one more hour of hiking to meet our driver who will drive us to the quaint town of Aguas Calientes that sits below Machu Picchu. The remainder of the evening free.

Hiking Distance: 13 km / 8 mi
Hiking Duration: 6-7 hours
Accommodation: Hotel Superior Room in Aguas Calientes
Meals: Breakfast, Lunch, Dinner
Day 5
Machu Picchu - Cuzco
Walking and Sightseeing
We have a full day dedicated to exploring Machu Picchu. There is also the option to climb Huayna Picchu, a young peak adjacent to Machu Picchu known as Baby Machu Picchu. If you are keen to climb this, only a certain number of people can climb Huayna Picchu a day as permits are required. These permits sell out well in advance and are subject to availability at time of booking. The hike is a challenging one, but the views are well worth the effort! A much less busy alternative is the Sun Gate, where the Inca Trail finishes. We highly recommend this option. Afterwards, our guide will give us a tour of Machu Picchu explaining the history and significance of the major sites. The tour takes about 2 hours after which you will have free time to explore the ruins on your own. In the afternoon, after lunch in Aguas Calientes, we'll take the train through the Urubamba valley destined for Cuzco. We'll be met at the train station and transferred back to our hotel.

Accommodation: Hotel Superior Room in Cuzco
Meals: Breakfast, Lunch
Day 6
Cuzco
Walking Tour and Cooking Class
This morning we have a guided walking tour through the cobblestone streets of Cuzco exploring the cathedrals, museums and local markets. We'll also explore the ruins of Sacsayhuaman, a spectacular mountaintop fortress overlooking Cuzco. For lunch, we'll embark on a walking food tour before participating in a cooking class with a local professional chef and learning about traditional cuisine in Peru. Before the cooking begins, we will walk through the local market sampling fresh fruit juices, visiting with a person who specializes in making tamales and tasting dishes that are unique to Cuzco in a small restaurant. We'll then have our cooking class and feast on our homecooked meal for lunch. The remainder of the evening is at free.

Accommodation: Same Hotel in Cuzco
Meals: Breakfast, Lunch
Day 7
Cuzco - Llachon
Transfer Day and Sightseeing
We'll depart early this morning and make our way to the public bus station. We'll catch a bus towards the city of Puno, travelling through the Vilcanota River Valley. The route we follow is known as the Sun Route. We'll stop and visit the village of Andahuaylillas with its colonial chapel known as the Sistine Chapel of South America. We'll then continue to the Inca archaelogical site called Raqchi and visit its famous Wirachocha Temple. After lunch in the town of Sicuani, we'll stop at the top of the La Raya mountain pass in the Andes (4321m / 14172 ft) and admire stunning vistas of the Cordillera Vilcanota. Lastly, we'll visit the Pucara museum known for its small collection of stone monoliths and sculptures before continuing our drive to the town of Llachon, overlooking Lake Titicaca. Here we will be hosted by a local family for dinner and overnight.

Accommodation: Homestay in Llachon
Meals: Breakfast, Lunch, Dinner
Day 8
Puno - Lake Titicaca
Kayaking
We will wake up early this morning to watch the sunrise over Lake Titicaca. We'll then have breakfast with our host family before heading out on a short hike to the sacred mountain of Ccaros. The views of Lake Titicaca from the top are stunning. After our hike, we'll head to town to learn from the locals about medicinal plants in the area and how they are used for healing purposes. In the afternoon, we'll head to a beach to begin our kayaking on Lake Titicaca. After a safety briefing, we'll paddle to Uros-Titino, a floating island made of reeds. After visiting the locals on the island, we'll take a boat ride back to town. The remainder of the evening is free to explore Puno.

Kayaking Duration: 2 Hours
Accommodation: Hotel Superior Room in Puno
Meals: Breakfast, Lunch
Day 9
Puno - Lima
Sightseeing and Departure
This morning we'll transfer to the airport in Juliaca to connect with our flight to Lima. En route, we'll stop and visit the Sillustani Ruins, a pre-Incan burial ground known for its giant cylindrical funerary towers. Upon arrival into Lima, you will connect with your international flight home. If you have extra time, we can help arrange extras in Lima such as hotels, city tours, etc.

Meals: Breakfast
What's Included
TRIP INCLUSIONS:
All accommodation (twin shared), airport transfers, internal transportation excluding internal flights (Lima-Cuzco and Juliaca-Lima), entrance fees, meals as indicated, and English-speaking guides.
TRIP DOES NOT INCLUDE:
International and internal airfare (Lima-Cuzco and Juliaca-Lima), airport taxes, gratuities to guides, items of a personal nature, extra accommodation due to missed flights and alcoholic beverages.
MEALS:
8 Breakfasts, 8 Lunches, 2 Dinners
ACCOMMODATION:
Hotel: 7 Nights
Homestay: 1 Night
Trip Facts
Weather in Peru
The best time to visit Peru is from April-November, when the weather is clear, dry, and cool. During the transitional months of April/May and October/November, one can experience variable weather patterns with a general build up of afternoon clouds and possible showers that rarely last throughout the night. Andean nights are cold, ranging from 25 to 40°F (-4 to 5°C) depending on the elevation, while the days are pleasantly warm with temperatures between 60 to 80°F (15 to 26°C).
Lima
October to May: Sunny, dry, clear days with hot weather.
June to October: Still fairly hot but mornings tend to be foggy or misty.
Cuzco (includes Machu Picchu)
May to September: Dry with 8 hours of sunshine daily.
October to April: Rainy season, heaviest in January.
Travel Documents
Canadian and US citizens require a valid passport with an expiry date that is beyond six months from the date of entry. A visa is not required for North American citizens for stays up to 90 days. Citizens of other countries should contact the Peruvian Embassy for specific entry requirements.
Food and Water
One of the delights of Peruvian adventure is the delicious cuisine. Traditional food in Peru includes seafood on the coast and roasted Guinea pig in the highlands. There are a wide variety of fruits available. Most food is safe to eat, although a little common sense with regard to street food is sometimes necessary. Some of the popular traditional dishes are lomo saltado (stir-fried beef with onions, vinegar, ginger, chili, tomatoes, and fried potatoes) ceviche (shrimp or sea bass marinated in lemon, chili, and onions), papas rellenas (stuffed baked potatoes), palta rellena (avocado stuffed with chicken salad), and picarones (deep fried flour fritters made with eggs and served with honey). While in Peru, it is best to drink only bottled water. Milk should be treated with suspicion. If you do drink milk, make sure it has been pasteurized. Fruit juices, soft drinks and tea are all widely available and safe to drink. Drink plenty of fluids and try to avoid alcohol when you first arrive into higher altitudes. Some popular and traditional drinks include Inca Cola (lime green soda pop that tastes like fizzy bubble gum), pisco sour (similar to a Tom Collins made with white grape brandy), and mate de coca (tea made from coca leaves to relieve altitude sickness).
FAQ
Can I take this trip if...
I am a solo traveller?
Absolutely! This trip is quite popular with singles. Unlike many adventure travel companies, we don't charge single supplement fees to solo travellers. Instead, we pair you with another traveller of the same gender. If we can't find you a roommate, you get your own room at no additional charge. A single private room supplement fee is only required if you specifically request a confirmed private room for the duration of the trip. Learn more about solo travel with BikeHike. 
I have special dietary requirements?
We will do our best to accommodate special dietary requests (e.g. vegetarian, gluten free, etc.), but ask that you please discuss your request with us when signing up for a trip.
Accommodation
Most of our trips include comfortable mid-range accommodations. This includes accommodation that provides a clean and comfortable experience in characterful surroundings that reflect the destination. To build stronger connections with the communities and support the local economies, we avoid using large international chain brands on BikeHike trips.
This trip includes the following types of accommodation:
HOTELS
The seven nights at hotels during this trip are at mid range accommodations that provide a clean and comfortable experience in characterful surroundings that reflect the destination. In an effort to keep money in the communities we visit around the world, BikeHike prefers small hotels, bungalows, and haciendas that showcase the character and local flair of each destination.
HOMESTAY
This trip includes one night at a homestay. Here, the emphasis is less on the common comforts of western living and more on the experience of living as a local. The accommodation will be comfortable but can be very basic by western standards. 
Click HERE for more information about accommodation styles.
NOTE: The itinerary is designed so that day one is spent relaxing and adjusting to the altitude, which can adversely affect blood pressure, digestion and energy level. We encourage participants to arrive an extra day or two before the trip begins to help your body to acclimatize. 
Trip At A Glance
| Day | Destination | Activity | Duration | Distance | Lodging | Meals |
| --- | --- | --- | --- | --- | --- | --- |
| 1 | Cuzco - Sacred Valley | Arrival, Ruins and Local Market | — | — | Hotel | |
| 2 | Sacred Valley | E-Biking | — | | Hotel | |
| 3 | Ollantaytambo | Community School Visit | — | — | Hotel | |
| 4 | Inca Trail - Aguas Calientes | Hiking | 6-7 hours | | Hotel | |
| 5 | Machu Picchu - Cuzco | Walking and Sightseeing | — | — | Hotel | |
| 6 | Cuzco | Walking Tour and Cooking Class | — | — | Hotel | |
| 7 | Cuzco - Llachon | Transfer Day and Sightseeing | — | — | Homestay | |
| 8 | Puno - Lake Titicaca | Kayaking | 2 hours | — | Hotel | |
| 9 | Puno - Lima | Sightseeing and Departure | — | — | — | |