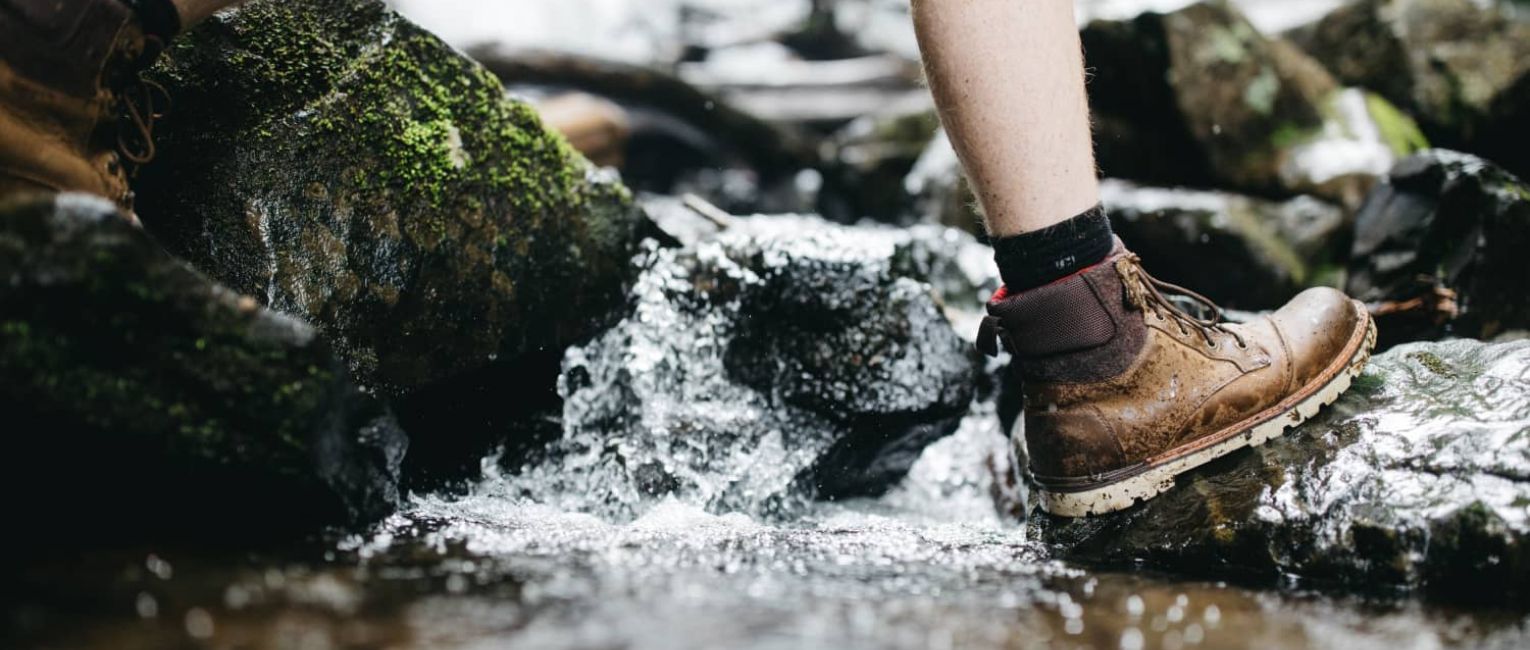 How To Choose The Right Hiking Boots
We went down to Mountain Equipment Co-op (MEC) in Vancouver last week to film an interview with their shoe expert Paul Dywelska about how to pick out the perfect pair of hiking boots for your upcoming adventure.
Sadly, MEC is way too popular to film an interview during store hours; the camera was picking up sales conversations, the rumble of the stock cart, the background music and probably even the Green Peace volunteer outside. Powerful mic eh?
So, here's a transcript of part of our conversation instead for your reading pleasure and boot-buying needs:
Anny: Thanks so much for meeting us today Paul!
Paul: My pleasure.
Anny: So what makes you the shoe expert at MEC?
Paul: Well I've been working for Mountain Equipment Co-op for 15 years. I have a lot of experience hiking and trail running, and I've also taken a fit course down in the states.
Anny: What are the most important things someone should look for when they're purchasing a boot?
Paul: The 3 most important things to look for are fit, comfort and price. If the shoe doesn't fit you or if it's not comfortable, it's not going to work for you. It's got to fit in your budget and be affordable too.
Anny: How much should people expect to pay for a decent pair of hiking boots?
Paul: You can get a decent pair for about $100.
Anny: And when it comes to fit, how much room should there be by in your boot?
Paul: You don't want much room at all. The closest the boot fits to your foot, the better you are. If there's any movement in there, that's what creates a heat-rub or a blister.
Anny: What about when you're choosing the cut of the boot – what's the difference and when do you choose a high cut, mid cut and low cut boot?
Paul: Mostly the coverage / protection it gives you to your ankle, but that doesn't translate into support necessarily because support is always in the sole.
For scree slopes and wooden passes that are wet and mushy, a higher cut boot is going to provide more protection and warmth.
Lower cut boots are for high activity, offer more breathability, and the feel of more freedom.
Anny: Is there a compromise between breathability and waterproofing? How important is waterproofing?
Paul: There are fabrics out there that offer breathability and waterproofing but they tend not to work as quickly as your body works. So in my personal experience I've found there is always a compromise between breathability and waterproofing. As soon as you make a boot or shoe waterproof it tends to makes that boot a much warmer boot to be in; in the same way it's keeping water out it can also keep moisture in. It all depends on what you're using [the boots] for.
Anny: The MEC website has a page about different hiking boots and mentions things like single and double boots. What is the difference between single and double boots? When does someone need to consider this difference?
Paul: 'Double boot' as a term is really only used when it comes to mountaineering boots and involves a plastic outer and insulated inner. It's used for high altitude hiking or very cold weather hiking.
Anny: What about boots made from a single piece of leader versus one with multiple seams? What's the difference and how important is this when you're a novice hiker?
Paul: You can tell the difference very easily just from looking at it. More seams means more holes which means there's more opportunity for water to seep through. Single seams are not as necessary nowadays with Goretex treatments but it's definitely something to look for since less holes means more durability.
[We then went onto picking out boots for specific trips like climbing Mount Kilimanjaro, trekking the Inca Trail, and shorter weekend trips]
A Summary of Paul's Recommendations:
Mount Kilimanjaro
Just because it's a big mountain, doesn't mean you need big shoes. Climbs up mountains like Kilimanjaro are often slow and the slopes aren't steep, so you could actually climb it in dayhiking boots. [Sidenote: We at BikeHike do recommend that you wear mid to high cut boots on a climb up Mount Kilimanjaro for the ankle support – particularly because there is no hospital on route if you sprain an ankle, and also for the large sections of scree.]
Inca Trail
For multi-day trips you want to be comfortable, so again dayhikers and maybe even trail runners might be preferable over higher cut backpacking boots. [Sidenote: While you can do the Inca Trail with low to mid cut boots, we would recommend a mid cut for the steeper sections of the trail.]
Weekend Trips
The shoe you choose depends on where you're hiking. If it's going to be raining and the ground is going to be wet, you might be better off with a higher cut boot, or at least a mid-cut boot with gaiters. If the weather is not an issue, you can probably do with a low-cut trail runner with high breathability and comfort. [Sidenotes: Trish prefers low-cut over high-cut boots on multi-day hikes unless it's the Kilimanjaro climb; Meg recommends mid-cut boots for trips like the Inca Trail but does weekend hikes in low-cut trail runners; Anny has never owned a pair of hiking boots and used to snowshoe in sneakers before she bought snow boots – she's still looking for the right pair of hiking boots for her BikeHike Adventure in Peru this May ]
A big thank you to Paul at MEC for taking the time to answer all our questions! :)