Adventure Travel For Families
If you are looking for a memorable family trip, consider planning an adventure vacation with BikeHike!  
A great trip doesn't have to be a one-size-fits-all proposition. A tailor-made adventure will give you a one-of-a-kind experience and a lifetime of memories and stories. 
Discover our full list of active adventures, and remember, any of our pre-made itineraries found in the green search bar above can be customized specifically to your family.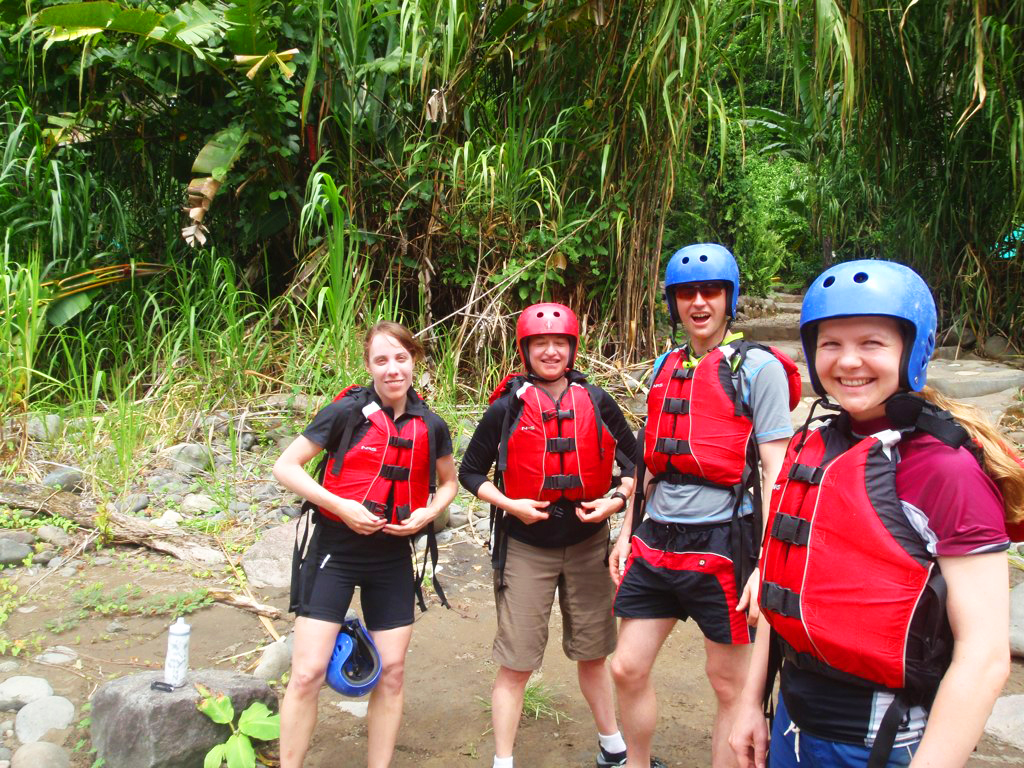 Enjoy The Benefits Of A Family-Friendly Adventure
Spend Quality Time Together
Adventure vacations take you to new places and the shared experience of it all brings you closer together. When removed from your everyday setting, you'll learn more about each other and see your family members from a renewed perspective. 
Enjoy Natural Thrills
Rafting on rapids, hiking among ancient ruins, biking next to a volcano... All of these activities are so much more exciting and natural than being at a theme park or on a cruise! Whether you are new to adventure vacation travel or have done many trips before, adventure trips are exciting by nature. And who better to share this natural excitement with than those closest to you? 
Discover Learning Experiences
The world becomes your classroom on an active vacation. Whether you are young or old, there is always something to be learned from experiencing another culture, meeting new people, and seeing life from a renewed perspective.
Encouraging Health & Wellness
Active vacations encourage the whole family to embrace an active lifestyle. Together, whatever your ages, you can discover the joys of discovering a new destination together through hiking, biking, kayaking, and more while on vacation, and maybe take some of this inspiration home with you too!
create Amazing Memories
A family vacation is meant to be memorable, above all else. By planning something beyond the standard vacation, and actively exploring somewhere new together, you'll create and share memories that will last a lifetime. An active travel vacation together will not be a memory that gets lost and forgotten. You can create your own story and memories that last a lifetime. We have clients who still email us about the amazing trips they planned with is 20 years ago!
Personalize your Family Trip
The most common way to create a custom adventure trip for a family is to choose an existing BikeHike itinerary and personalize it to best suit your family's needs. 
our Personalized options include:
Destination: Choose from 30+ destinations worldwide and explore your dream location.
Multi-sport activities: Choose the activities you want such as biking, hiking, kayaking, rafting, zip-lining and more. 
Dates: Pick the dates you want that suit your needs.
Accommodation style: Choose from a range of accommodations from eco-camping to luxury overnight stays.
Difficulty level: Not all trips need to be a challenge. And when traveling with a family there is always varying skills and experience. Choose the adventures you want that suit your families experience and skill level.
Get in touch with any questions you might have, and let us work with you to customize your dream family adventure vacation.
FAMILY TRAVEL FAQ
Why choose BikeHike for your family adventure vacation?
BikeHike Adventures has almost 30 years experience providing custom trips, including many fantastic family trips. Your family can collaborate with BikeHike travel specialists every step of the way to build your perfect tailor-made, family adventure.
BikeHike Adventures has repeatedly been recognized as one of the best travel companies in the world by National Geographic Adventure.
What are the top destinations for family travel?
Virtually any of our trips can be entirely customized to your family's travel interests. However, some of our destinations that are very popular with families when planning custom vacations include Costa Rica, Galapagos, and Vietnam. Be sure to browse our full list of adventure destinations. 
Costa Rica is our most popular family destination in Central America. It is a fairly safe country compared to some of its Central American counterparts, and it is quite westernized. Costa Rica offers a wealth of outdoor activities to explore with the family, including zip-lining in the Monteverde Cloud Forest, rafting the Arenal River and hiking in Manuel Antonio National Park.
A trip to the Galapagos is a great water-focused destination, and a very popular active family vacation alternative to a simple family beach vacation in Hawaii or Mexico. During a trip to the Galapagos, your family can kayak alongside giant sea turtles, seals and dolphins. You'll have the opportunity to hike past giant tortoises foraging for food, and go on an exotic bird watching hike. All the while, you'll have the chance to learn a great deal about nature while being exposed to the Galapagos archipelagos' unparalleled level of biodiversity. You can even add a somewhat formal educational element to the trip, visiting the Charles Darwin Research Centre in Santa Cruz. Your entire family will surely return home from the Galapagos with a greater appreciation for the world's natural wonders and diversity. 
Vietnam is the perfect Asian destination to reconnect as a family and escape from hectic everyday life. You'll have the opportunity to include such activities as hiking through remote villages, past terraced rice paddies. You'll be able to meet locals, learning about their local hill-tribe culture while witnessing their slower pace of life. You'll have a chance to kayak in UNESCO recognized Halong Bay and by stunning fishing villages. After a trip to Vietnam, your family will better appreciate life before wifi and gadgets! 
You can also check out our full list of Foodie Focused trips. 
HOW TO GET STARTED PLANNING THE PERFECT FAMILY VACATION?
Please fill out our Custom Trip Planner to provide us with details about your ideal adventure vacation.