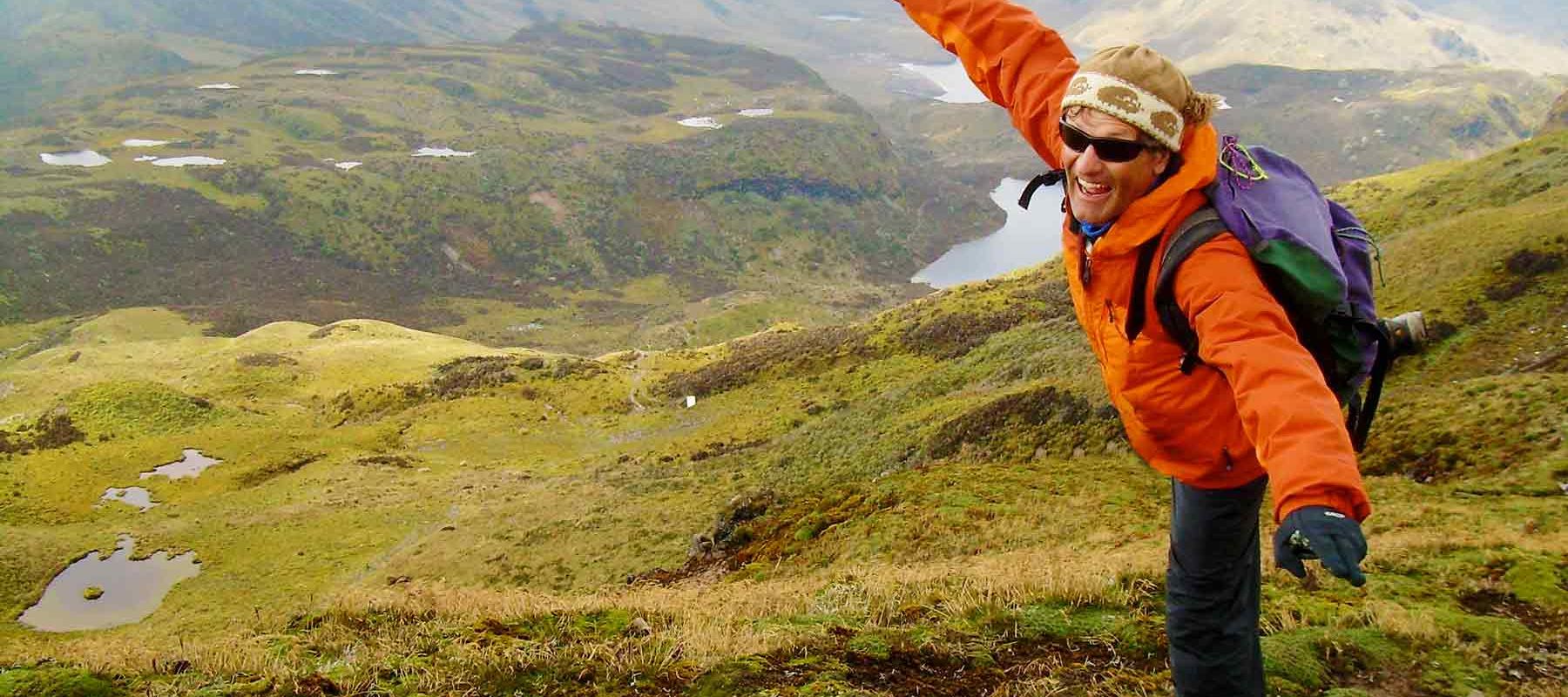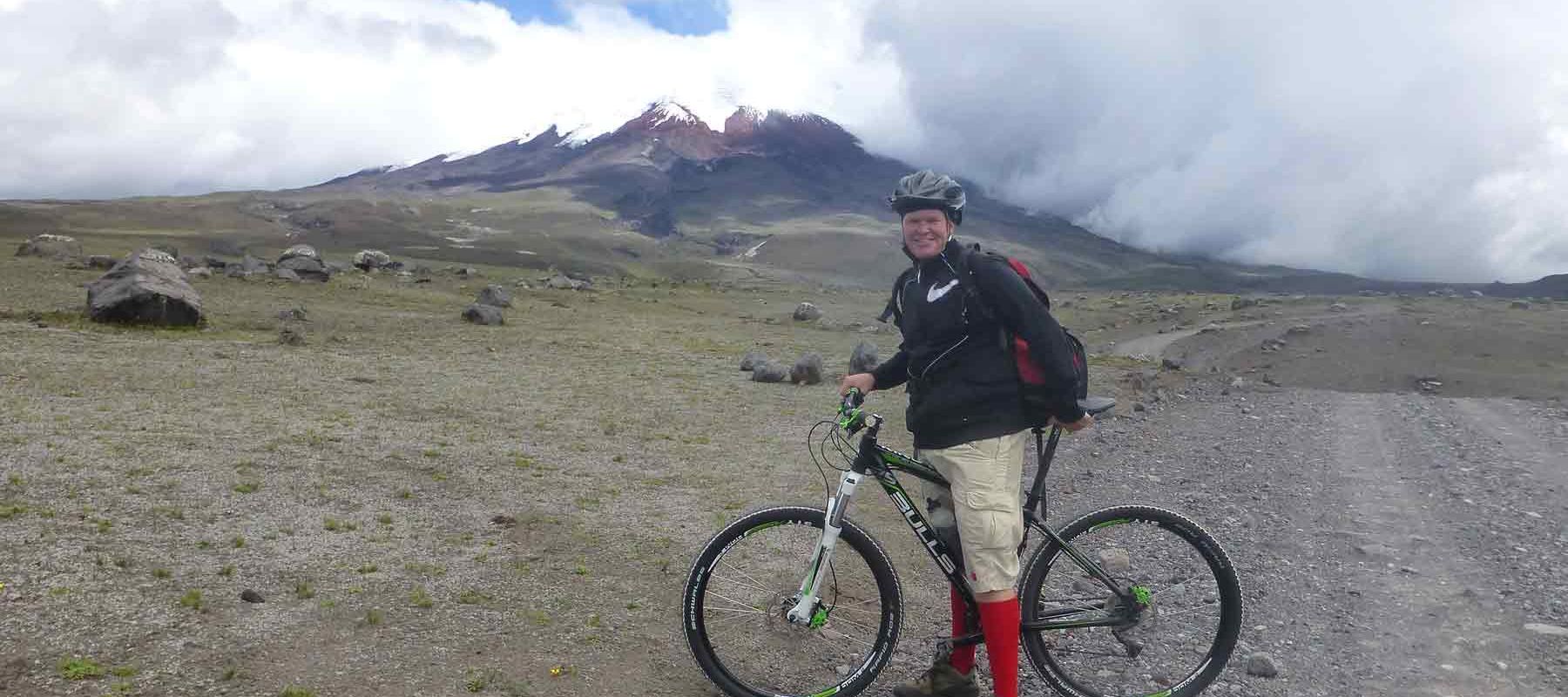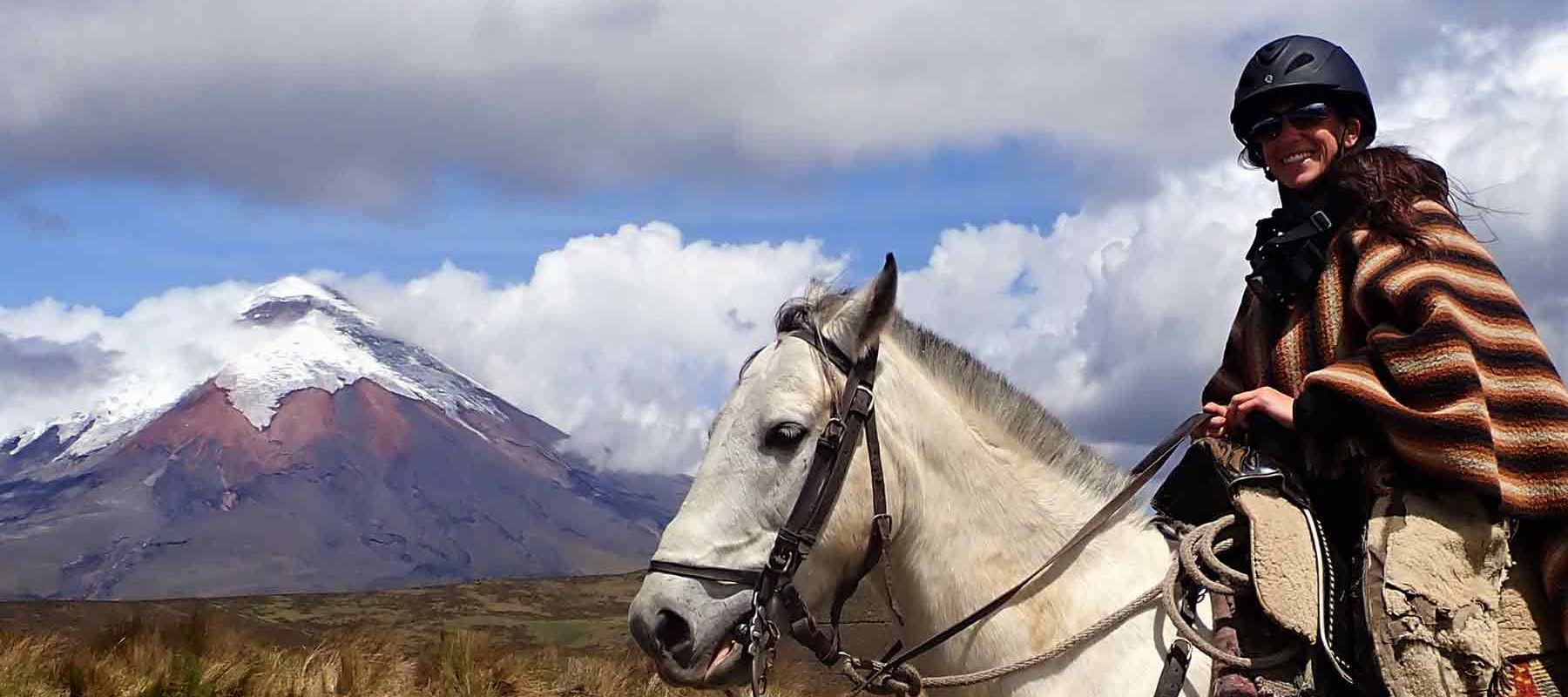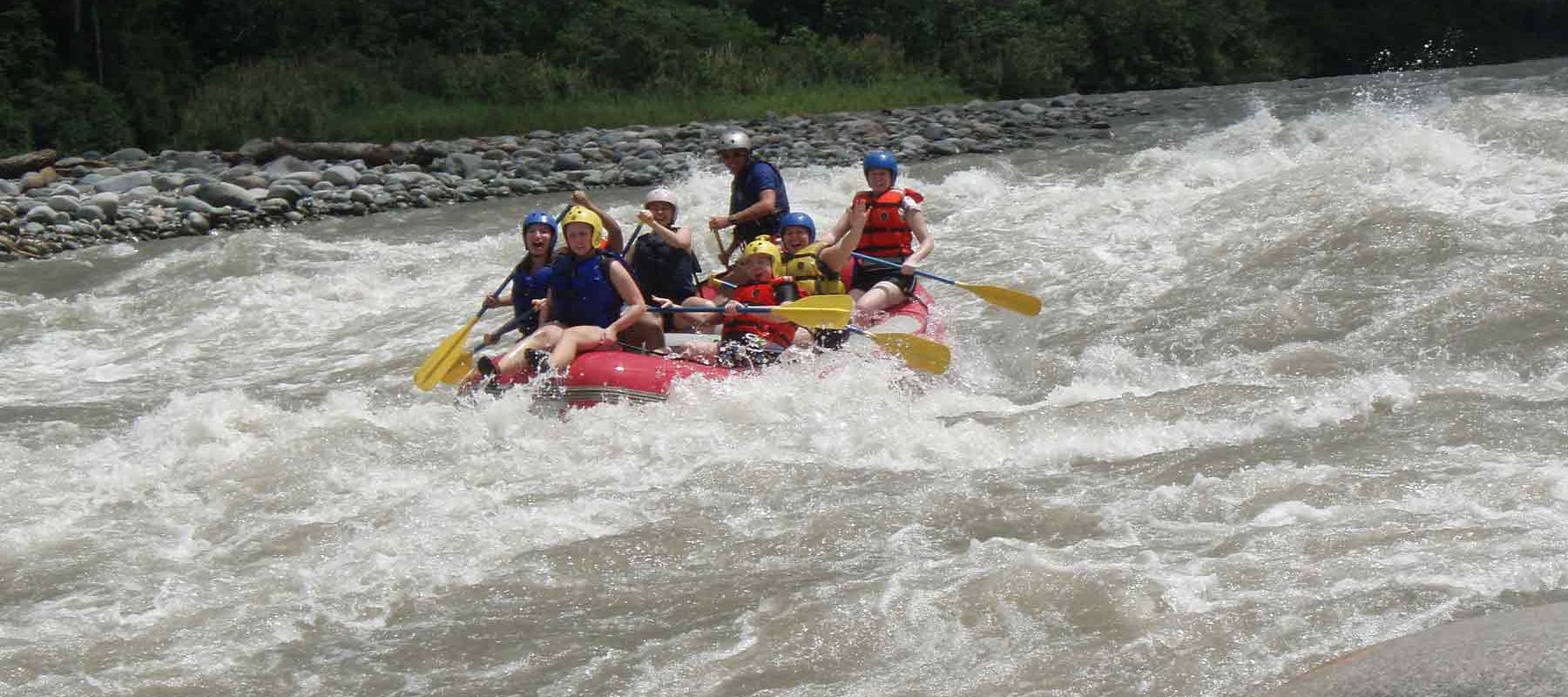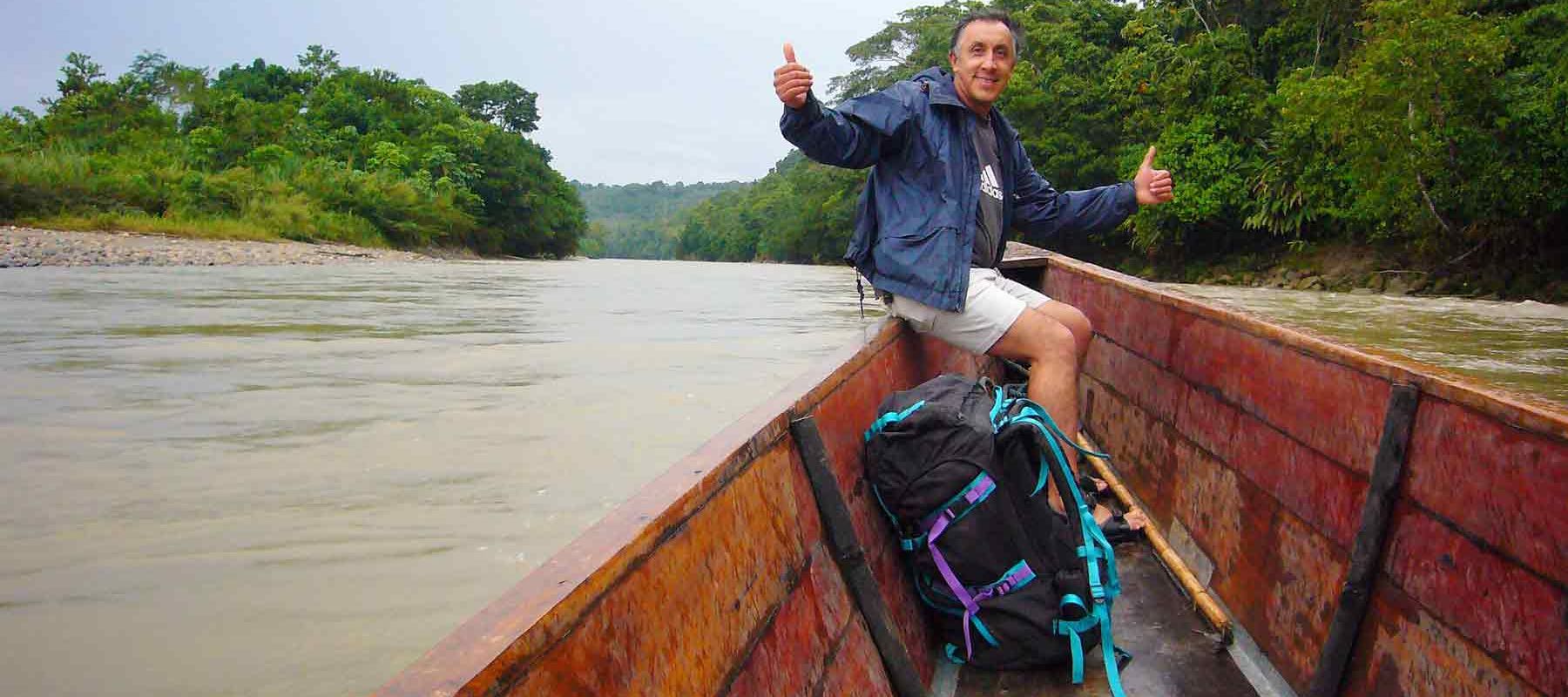 Andes to the Amazon: Ecuador Adventure
Andes to the Amazon: Ecuador Adventure
Trip Overview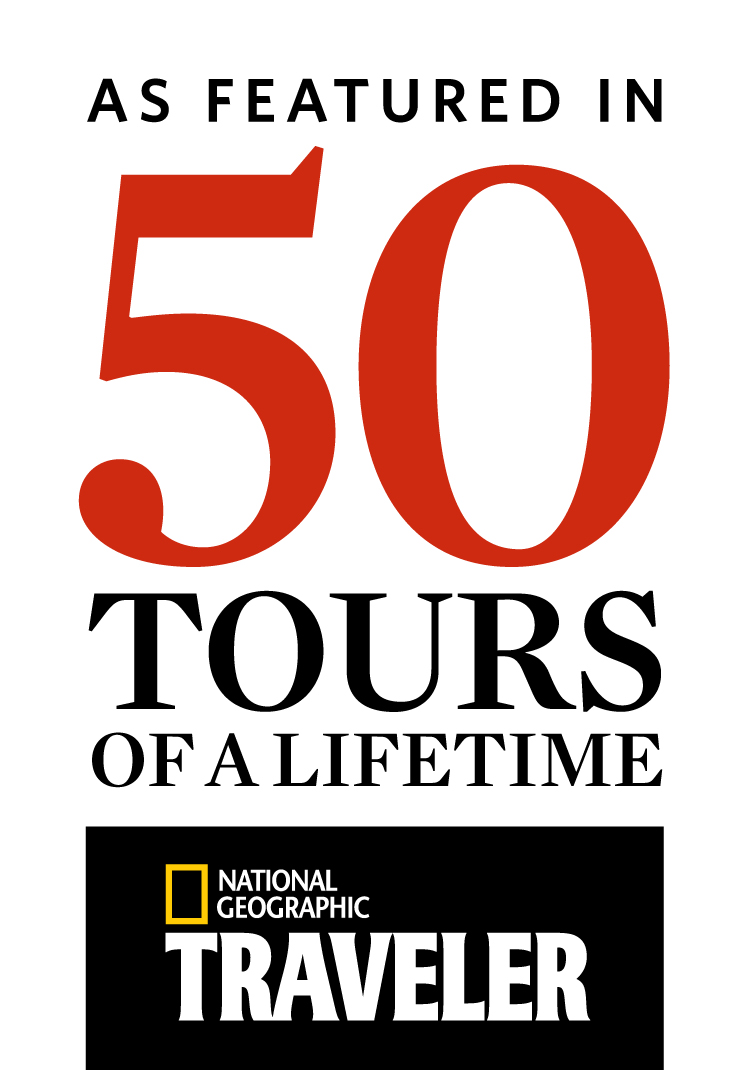 (Biking, Hiking, Whitewater Rafting, and Horseback Riding)  This award-winning adventure itinerary boasts the finest adventure travel in Ecuador.
Over 10-days on our Ecuador adventure, we traverse from the high and dry Altiplano to the lush rainforest of the Amazon Basin. We hike the mist-draped highlands of the jagged Andes, mountain bike through authentic Quechua villages, navigate rafts through bubbling breakers of world-class rivers, and ride horses on mountainous trails alongside friendly locals.
This self-propelled multi-sport adventure tour explores the great diversity of this South American jewel.
WOW FACTORS
Hiking the rim of the crater lake of Cuicocha before biking downhill through small indigenous villages
Whitewater rafting down the rushing waves of the Jatunyacu River
Mountain biking around the lakeshore of San Pablo
Horseback riding through the foothills of Cotopaxi, one of the highest active volcanoes in the world
Check out our Ecuador Highlights video below
Itinerary & Map
Day 1
Quito
Arrival
A BikeHike Adventures representative will greet you at the airport and transfer you to a comfortable hotel in the city. The remainder of the evening is at leisure to explore Quito, a UNESCO World Heritage Site.

Meals: none
Day 2
Quito - San Pablo - Otavalo
Biking
Please be ready in the lobby at 8am after eating breakfast. We start with a drive northbound to the beautiful lake of San Pablo before reaching the town of Otavalo, world famous for its handicraft market. We'll spend 1-2 hours shopping for souvenirs. After lunch, our physical adventure begins. We get into our biking gear and set off on fat tire mountain bikes, pedaling on paved, cobblestone and dirt roads around the lakeshore of San Pablo through indigenous villages and past fertile corn fields. In the late afternoon we reach our cozy countryside inn for dinner and overnight accommodation.

Meals: Breakfast, Lunch, Dinner
Day 3
Cuicocha - Cayambe
Hiking & Biking
After a wholesome and hearty breakfast we drive to a beautiful lake that is located inside the volcanic cauldron of Mojanda. We ascend today from 2,500 m / 8,250 ft up to 3,900 m / 14000 ft where we start our hike to the summit of Fuya Fuya at 4,300 m / 14,190 ft. The views of the collapsed crater of Mojanda are stunning. The total distance of the hike, up and down, is 3 km / 2 mi. Afterwards we return to our vehicle and drive to the nearby crater lake of Cotacachi for a typical lunch in a restaurant that is located on the rim of the volcano. After lunch we get on our mountain bikes and glide downhill through small indigenous villages for 11 km / 6 mi, all the way to the town of Cotacachi, famous for leather handicrafts. We´ll visit the shops and then shuttle back to our hacienda in the countryside for a big dinner and a relaxing evening in front of the fireplace.

Hiking: 4 km / 3 mi
Biking: 11 km / 6 mi
Meals: Breakfast, Lunch, Dinner
Day 4
Cayambe - Papallacta
Hiking & Hotsprings
After breakfast we drive southeast to Papallacta, ascending to an altitude of 4,300 m / 14,300 ft. From here we'll hike four to five hours through a pristine high mountain landscape, full of lakes and surrounded by volcanoes. With some luck we'll see deer, condors and potentially even spectacled bears! The conditions can be challenging with slippery, muddy terrain and quickly changing weather. We'll overnight at the Papallacta Hot Springs, famous for their steamy pools. In the afternoon, we will enjoy the resort with leisure time to relax any sore muscles in the therapeutic hot springs.

Hiking: 10 km / 6 miles
Meals: Breakfast, Lunch
Day 5
Papallacta - Tena
Biking
This morning we bike from the high mountain to the cloud forest! We start from our hotel and follow the scenic Quijos and Cosanga River gorges to the town of Baeza. The change of temperature and scenery is dramatic! After lunch, we drive to the town of Misahualli where we embark on a 1.5 hour motorized canoe ride down the Napo River, deep into the Amazon where we will check into a basic jungle hotel run by the indigenous Quechua people. Once settled in, we have the option to do a one hour night hike. This is a great time to see some of the nocturnal animals that inhabit the jungle.

Biking: 63 km / 39 mi
Meals: Breakfast, Lunch, Dinner
Day 6
Amazon
Jungle Hiking
We'll rise early, have breakfast then gear up for our jungle adventure. A native Quechua guide will lead us on a 2.5 hour hike through primary and secondary rainforest, teaching us about the plants, insects, birds, animals, etc that we may encounter. We then get onto a long wooden raft built by the locals, for a float down the Napo River. We'll return to our jungle hotel for lunch and then head back out to visit an indigenous family to see how people live in this part of the country and learn about their customs and culture. Dinner and overnight at the same basic jungle hotel.

Hiking: 3 km / 2 mi
Meals: Breakfast, Lunch, Dinner
Day 7
Jatunyacu River - Baños
Whitewater Rafting
We switch gears today and set off for a day of whitewater adventure on the mighty Jatunyacu River, which means "big water" in Quechua. Donned in helmets and lifejackets, we cast off the riverbank and blast through big and bouncy standing waves. Being one of the main rivers that form the mighty Amazon River, this wide river has the perfect combination of exciting rapids, calm pools, and dense jungle. Depending on the water level, there will be some opportunities to jump out of the raft and refresh in the cool water. Late afternoon we drive to the town of Baños, a village in the bottom of a fertile valley surrounded by lush and tropical mountains. Baños is famous because of the Tungurahua Volcano, which last erupted in the summer of 2006.

Rafting: 28 km / 17 mi
Meals: Breakfast, Lunch, Dinner
Day 8
Baños
Biking & Hiking
Early this morning we'll head to the Pastaza River Gorge to visit some of the region's thundering waterfalls. After a hike to the Pailon del Diablo Waterfall (the Devil's pot) we'll have some lunch then change to our biking gear. The rest of the day is on two wheels, riding 20 km / 13 mi on scenic dirt, paved and cobblestone roads with rolling hills and views of the active volcano Tungurahua. Overnight at the same hotel, located just outside the city of Baños.

Biking: 20 km / 13 mi
Hiking: 2 km / 1 mi
Meals: Breakfast, Lunch
Day 9
Baños - Cotopaxi National Park - Quito
Horseback Riding
We drive 2.5 hours in the morning to a beautiful hacienda on the slopes of Cotopaxi, often considered the highest active volcano in the world! Here we'll saddle up on horses and spend a few hours cantering along dirt paths and open fields amongst a barren and bold volcanic landscape. If we have a clear day, over a dozen volcanoes will be visible, many of them active. In the afternoon we shuttle by vehicle 2 hours back to our hotel in Quito.

Horseback riding: 8 km / 5 mi
Meals: Breakfast, Lunch
Day 10
Quito
Departure
You'll be transferred to the international airport for connecting flights home.

Meals: Breakfast
What's Included
TRIP INCLUSIONS:
All accommodation (twin shared), meals as indicated (B=breakfast, L=lunch, D=dinner), 24-speed mountain bikes, internal transportation, airport transfers and English-speaking guides.
TRIP DOES NOT INCLUDE:
International airfare, airport departure taxes, gratuities, meals not indicated and items of a personal nature.
MEALS:
9 Breakfasts, 8 Lunches, 5 Dinners
ACCOMMODATION:
Hotel: 9 Nights
Trip Facts
Weather in Ecuador
Although Quito and the central highlands are on or near the equator, the altitude is between 7,000 and 10,000 ft. (2,100 and 3,000 meters) and the weather is surprisingly comfortable year round. Temperatures are usually in the 70's °F (mid 20's °C) during the day, and in the 50's °F (around 12°C) when the sun goes down. The rainy and dry seasons vary depending on your location. In the jungle, tropical temperatures average around 82°F (28°C). Rainfall is common year round, especially from June to November. At this time the jungle is at its luxurious best and most of the rivers are navigable.
Weather in Andes Region (including Quito)
November to May: Wet season. Most rain falls as quick afternoon showers.
June to September: Dry season.
Weather in Amazon Basin
In the Amazon Basin there is rain year-round. Average temperatures year-round are 30°C to 32°C (86 to 90°F). 
Weather in Galapagos Islands
January to May: Hot season with clear skies and intense sun. Average temperature is 30°C (86°F). Water temperature is warm, 26°C (79°F), and the water is calm.
June to December: Season is cooler. Average temperature is 27°C (81°F). The sun is less intense but there is still little rain.
Travel Documents
To enter Ecuador, you must hold a current passport valid for six months beyond your date of departure. There are no visas required for people travelling with Canadian or American passports. Citizens of other countries should check with the local embassy for updated information on entry requirements.
Food and Water
Recommended Ecuadorian dishes include cuy (the local delicacy of guinea pig), ceviche, (seafood marinated in lemon, onions, and spices), and llapingachos (fried mashed potato and cheese pancakes). While in Ecuador, it is best to drink only bottled water or treated tap water. This also pertains to brushing your teeth. Fruit drinks, soft drinks, coffee and tea are all widely available and safe to drink.
FAQ
Can you tell me more about the activities?
Can I take this trip if...
I am a solo traveller? How does solo accommodation and costing work?
Many of our travellers (both men and women) join as singles. On average, BikeHike groups are 75% single travellers and 25% couples. Unlike many adventure travel companies, we don't charge single supplement fees to solo travellers. Instead, we pair you with another traveller of the same gender. If we can't find you a roommate, you get your own room at no additional charge. A single private room supplement fee is only required if you specifically request a confirmed private room for the duration of the trip. Learn more about solo travel with BikeHike. 
I have special dietary requirements?
We will do our best to accommodate special dietary requests (e.g. vegetarian, gluten free, etc.), but ask that you please discuss your request with us when signing up for a trip.
I am travelling with children? Is this trip child friendly?
While most of our trips are created with adults in mind, many of our itineraries are suitable for strong and active teenagers. This trip is generally not a family focused trip for young children. However, we do offer many Family Focused trips, some of which are able to accommodate children as young as six.
Accommodation
Most of our trips include comfortable mid-range accommodations. This includes accommodation that provides a clean and comfortable experience in characterful surroundings that reflect the destination. To build stronger connections with the communities and support the local economies, we avoid using large international chain brands on BikeHike trips. 
This trip includes the following types of accommodation:
HOTELS
In an effort to keep money in the communities we visit around the world, BikeHike prefers small hotels, bungalows, and haciendas that showcase the character and local flair of each destination.
Learn more about the types of accommodation styles we have on offer at each trip destination.
Trip At A Glance
Day
Destination
Activity
Distance
Lodging
Meals
1

Quito

Arrival

—

Hotel

—
2

Quito - San Pablo - Otavalo

Biking

Hotel

3

Cuicocha - Cayambe

Hiking & Biking

Hiking 4 km (3 mi)

Biking 11 km (6 mi)

Hotel

4

Cayambe - Papallacta

Hiking & Hotsprings

Hotel

5

Pappallacta - Tena

Biking

Hotel

6

Amazon

Hiking

Hotel

7

Jatunyacu River

Whitewater Rafting

Hotel

8

Baños

Biking & Hiking

Biking 20 km (13 mi)

Hiking 2 km (1 mi)

Hotel

9

Baños - Cotopaxi National Park - Quito

Horseback Riding

Hotel

10

Quito

Departure

—
—