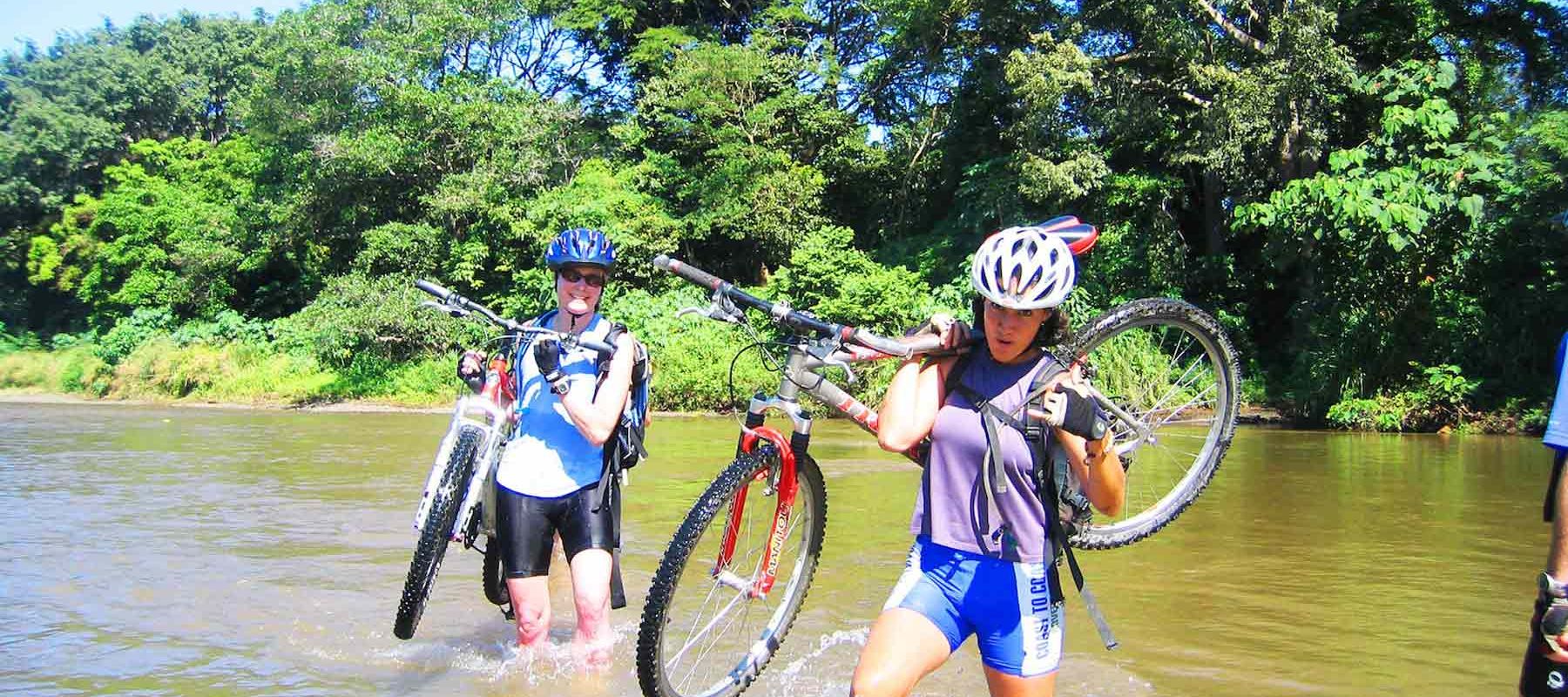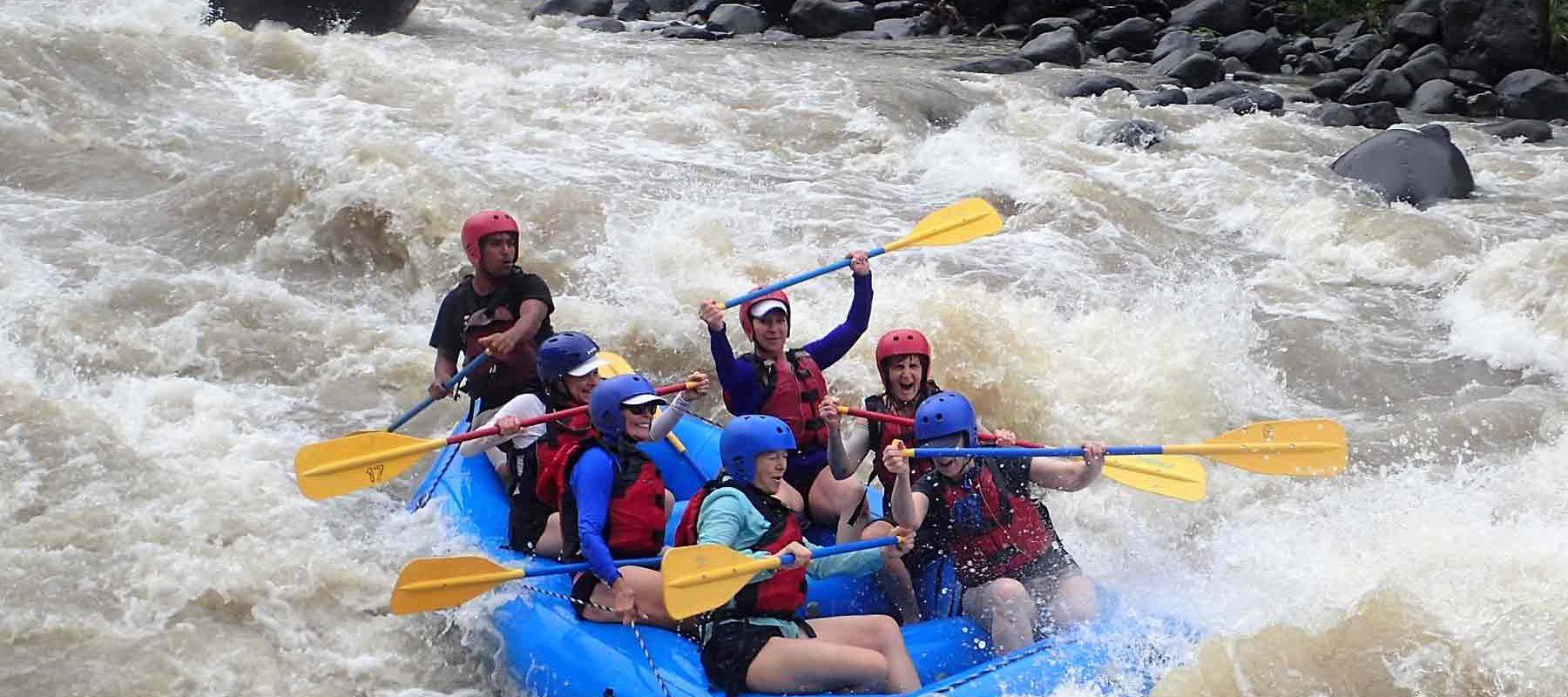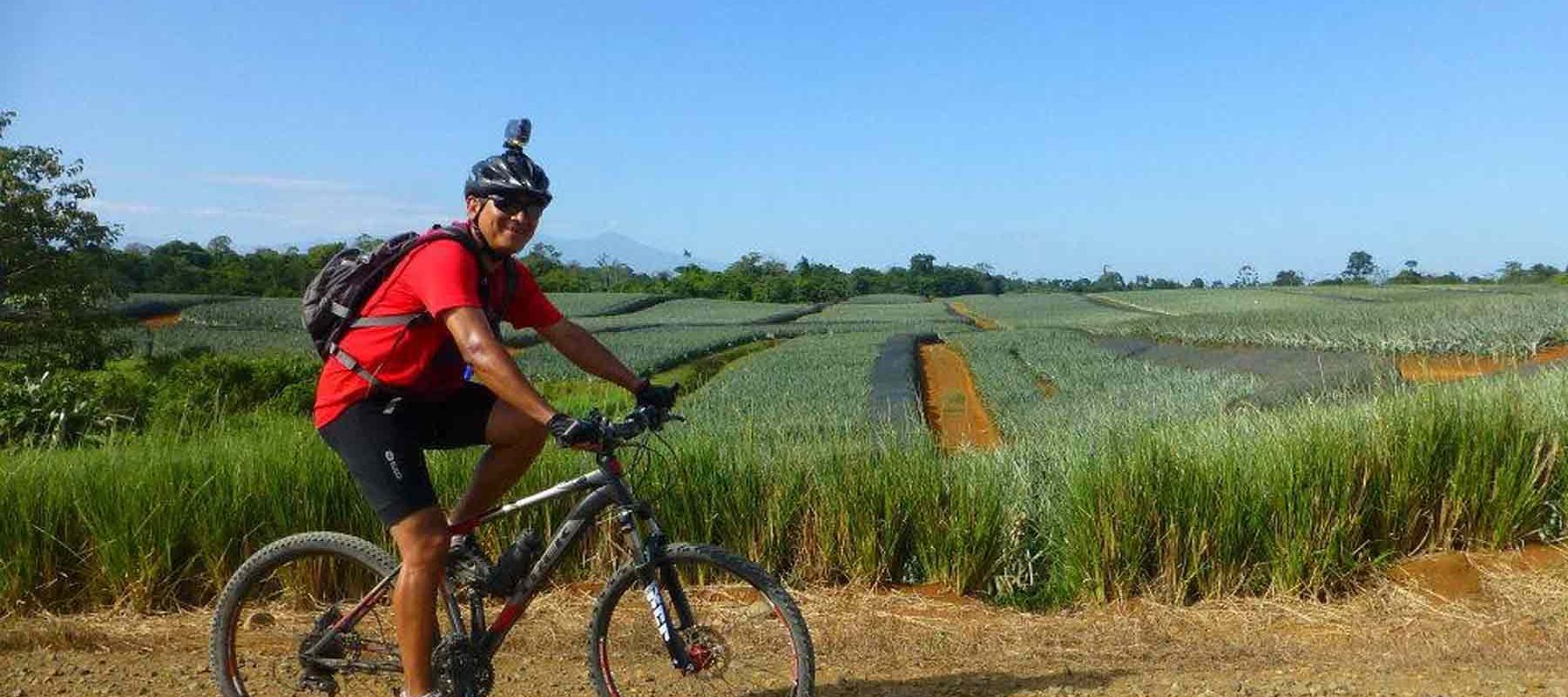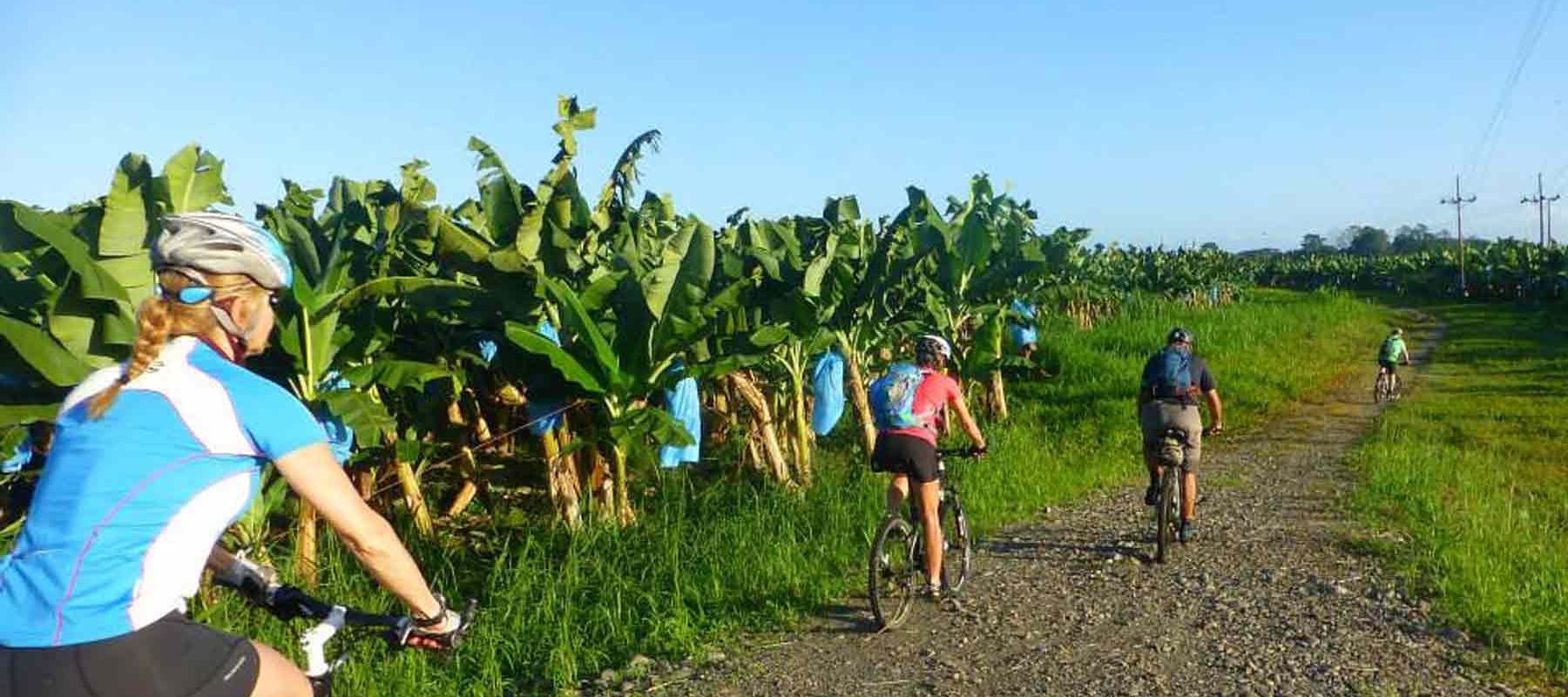 The Coast To Coast Adventure
The Coast To Coast Adventure
Trip Overview
(Biking, Hiking, Kayaking, and Whitewater Rafting)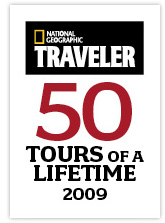 On this exciting Costa Rica adventure tour, the challenge is set up for you to traverse from the Pacific coast to the Caribbean solely by muscle power. While this could be considered a bike tour, during this fully guided itinerary, we also hike, kayak, and raft during our adventure-filled expedition across the country.
Beginning on rocky cliffs and white sand beaches, we pedal and hoof along mountainous roads, pushing across the continental divide. We bike across the Talamanca mountain range and pass through rain and cloud forests, coffee plantations, and quaint agricultural villages. Finally, we drift peacefully to the Caribbean shores, and celebrate with champagne in the surf.
POPULAR WITH ACTIVE ADVENTURERS & SINGLE TRAVELLERS 
For the physically fit and the insanely energetic, the Coast Rica Coast to Coast is the Costa Rica trip of a lifetime!
WOW FACTORS
Crossing Costa Rica from the Pacific to the Caribbean solely by muscle power!
Mountain biking across the Continental Divide.
3 days of whitewater rafting, biking and sea kayaking from the Pacuare River to the Caribbean Sea.

 

For more WOWs, check out our Costa Rica video below. This is BikeHike's longest-running trip, the trip we started 25 years ago! 
 
Itinerary & Map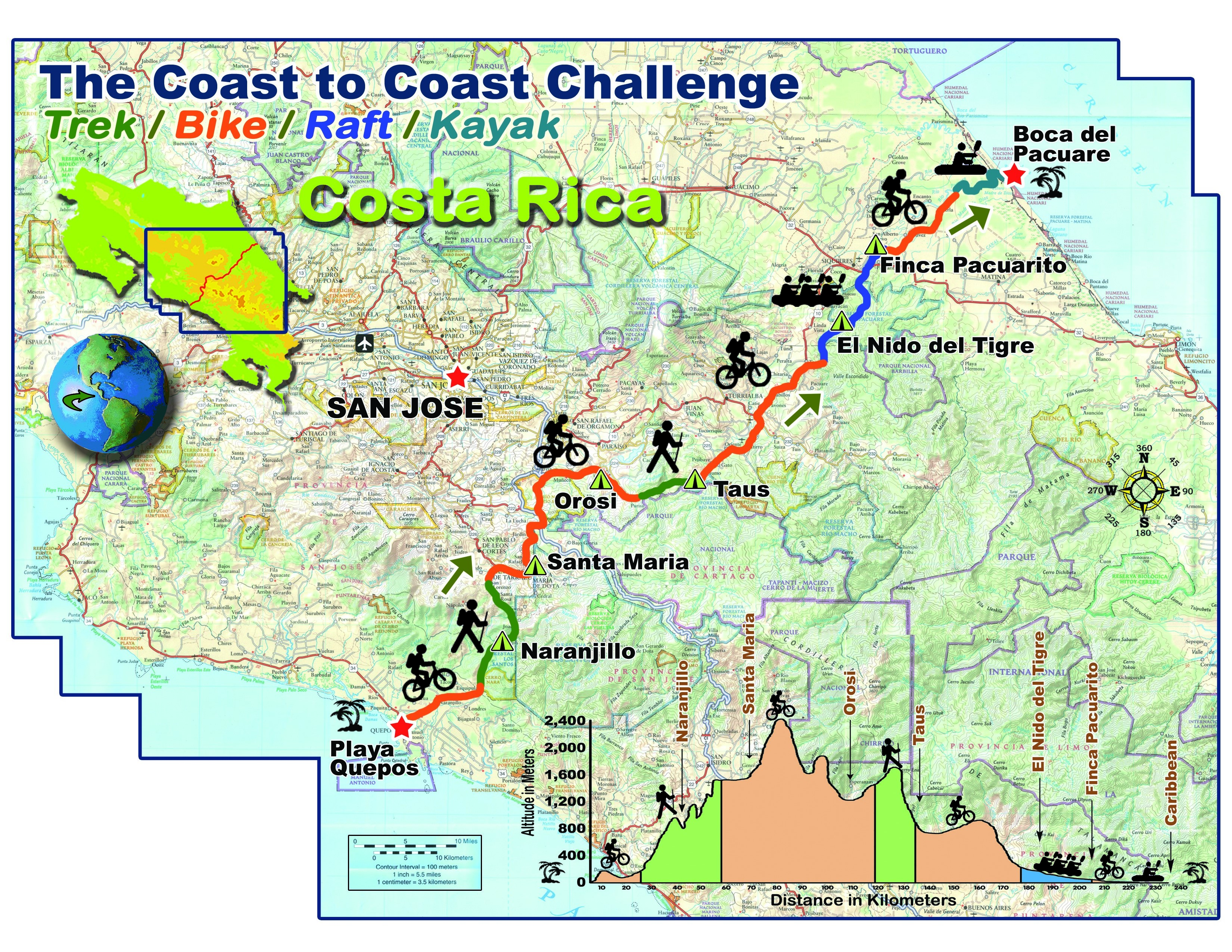 Day 1
San Jose
Arrival
After welcoming you at the San Jose Airport, a BikeHike Adventures Inc. representative will transfer you to a comfortable hotel in the city. The rest of the day is free to explore the cosmopolitan sights of San Jose.

Accommodation: Hotel
Meals: none
Day 2
San Jose - Manuel Antonio
Hiking & Swimming
We'll kick off our day with a transfer to Quepos, a charming fishing village on the Pacific coast. You'll have a few hours to unwind at the nearby beach or head out exploring Manuel Antonio National Park. Manuel Antonio National Park is the perfect warm-up for things to come, with plenty of opportunities for getting up close with the local wildlife, hiking, swimming, and even exploring the hidden coves.
We'll meet later in the afternoon to get sized for our bikes and then take the rest of the evening to discuss the details of the trip and tend to any necessary prep work.

Accommodation: Hotel
Meals: Breakfast, Dinner
Day 3
Pacific Coast - Naranjillo
Biking & Hiking
As the sun rises, we embark on our coast-to-coast journey. We start the day with a delicious breakfast of fresh fruit, yogurt, and fresh Costa Rican coffee. We take our mountain bikes and travel to Quepos, where we climb through the steep terrain of the Pacific Coast's hills and valleys, soaking up the stunning views along the way. Afterward, we arrive in the quaint town of Esquipulasand take a break from biking to enjoy a local breakfast. We don our hiking boots and venture into the mountains of Central Costa Rica. Our day ends in the tranquil Naranjillo Valley, where we set up camp for the night.

Biking Distance: 19 km / 12 mi.
Trekking Distance: 14 km / 9 mi.
Ascent: +1,440 m / 4,724 ft.
Descent: -825 m / 2,707 ft.
Accommodation: Tent
Meals: Breakfast, Lunch, Dinner
Day 4
Naranjillo - Santa Maria
Biking & Hiking
Our next challenge awaits us on the way to the Continental Divide – the infamous "Cemetery Hill", a grueling 12 km/7 mi climb up a steep, winding pass. We then switch back to pedal power and head for the pueblo of San Lorenzo ending in the quaint village of Santa Maria. Once we settle up in Santa Maria, we can refuel with some delicious Costa Rican cuisine and enjoy a restful night in cozy cabins.

Trekking Distance: 12 km / 7 mi.
Biking Distance: 14 km / 9 mi.
Ascent: +1,390 m / 4,560 ft.
Descent: -445 m / 1,460 ft.
Accommodation: Cabin
Meals: Breakfast, Lunch, Dinner
Day 5
Continental Divide
Biking
Today, we face our toughest climb yet. Our morning adventure involves a 14km/9mi climb on our bikes to the Continental Divide, the highest peak of our journey at an altitude of 2,330m/7,700ft. After the slow climb, we get to experience the thrill of mountain biking downhill on dirt paths and single-track trails in the afternoon. We end our day in the tranquil Orosi Valley, where lush valleys, coffee plantations, and heritage sites are abundant.
Biking Distance: 49 km / 30 mi.
Ascent: +1,290 m / 4,232 ft.
Descent: -1,800 m / 5,905 ft.
Accommodation: Hotel
Meals: Breakfast, Lunch
Day 6
Tapanti National Park - Humo
Biking & Hiking
After a hearty breakfast we continue back on the saddle, cycling alongside a river until we reach the Tapantí National Park. Tapanti is a subtropical cloud forest with over 400 species of birds, including toucans, tanigers, oropendolas, hummingbirds, and the spectacular resplendent quetzal. After a morning of cycling, we trade our bikes for hiking shoes and head into the Talamanca mountains hiking in this dense cloud forest of sprawling ferns and bromeliads, many different species of moss and eucalyptus trees. As the day draws to a close, we find ourselves on a more even terrain, setting up camp in the small settlement of Humo.
Biking Distance: 9 km / 6 mi.
Trekking Distance: 17 km / 10.5 mi.
Ascent: +680 m / 2,231 ft.
Descent: -1,035 m / 3,396 ft.
Accommodation: Tent
Meals: Breakfast, Lunch, Dinner
Day 7
Pacuare River
Biking & Rafting
After fueling up on a hearty breakfast, we mountain bike 43 km/27 mi to the starting point of our white-water rafting adventure on the Pacuare River. Once we arrive, we'll have a chance to enjoy a delicious lunch before launching into the rapids. This class II-IV river winds through pristine rainforest and between canyons filled with cascading waterfalls. By late afternoon, we'll reach our riverside camp, where we can sit back and soak up the natural beauty of the area listening to the sounds of the river, or if you have enough left in the tank you can head out and explore the lush rainforest for wildlife.
Biking Distance: 43 km / 27 mi.
Whitewater Rafting Distance: 10 km / 6 mi.
Ascent: +675 m / 2,215 ft.
Descent: -1,150 m / 3,773 ft.
Accommodation: Tent
Meals: Breakfast, Lunch, Dinner
Day 8
Pacuare River Valley
Hiking
Today is all about enjoying the beauty of the Pacuare River! Our plan for the day? A hike out into the hills through the rainforest to explore the nearby waterfalls and swimming holes.
This rainforest location is preserved in its natural state, allowing us to experience its true beauty.
Today is more of a relaxing hike and an opportunity to immerse ourselves in nature and take in the breathtaking sights and sounds of the rainforest.
We're staying in a comfortable camp, with permanent tents perched on wooden platforms. There's everything we need – from showers, toilets, sinks, and even a dining gazebo decorated with hammocks.
Accommodation: Tent
Meals: Breakfast, Lunch, Dinner
Day 9
Pacuare River
Rafting
After breakfast, we cast off the shores paddling through gurgling swells that cut through pristine rainforest and cascading waterfalls. We'll navigate the exhilarating rapids through dense rainforest and rugged canyons. Along the way we break on the riverbank and climb through the muddy jungle to a spectacular hidden waterfall with loads of freshwater pools and cascades to play in. We get back in our boats for a little more whitewater before stopping for a picnic lunch on the shore. Our rafting ends near the town of Siquirres at a riverside camp. Dinner tonight is a home-cooked gourmet Pacuare feast.
Whitewater Rafting Distance: 20 km / 12 mi.
Whitewater Rafting Duration: 3-5 hours
Accommodation: Tent
Meals: Breakfast, Lunch, Dinner
Day 10
Pacuare River - Cahuita
Biking & Sea Kayaking
Today, we'll kick off our final leg of the journey with a short bike ride through the picturesque banana plantations to the charming town of Freeman. From there, we'll take to the waters in kayaks and paddle down the majestic Pacuare River, leaving the rapids behind as we immerse ourselves in the breathtaking Caribbean lowlands. The frothy whitewater mellows to a gentle flow and we paddle our way into the Caribbean lowlands where banana plantations gradually swallow the receding rainforest. Our kayaking adventure will culminate in a leisurely ride down the last mile of the river, where the water slows to a tranquil pace, providing a perfect opportunity to reflect on our journey so far. As we reach the mouth of the Pacuare and greet the Caribbean Sea, we'll celebrate our success with a bubbly toast in the surf, enjoying a well-deserved rest on the beach.
To cap off our adventure, we'll be picked up by a motorboat and whisked away to Moin, where we'll travel by vehicle to Cahuita. Here we rest up in a comfortable hotel as we congratulate ourselves on completing the journey from Coast to Coast of Costa Rica!
Biking Distance: 26 km / 16 mi.
Kayaking Distance: 12 km / 7 mi.
Ascent: +75 m / 246 ft.
Descent: -125 m / 410 ft.
Accommodation: Hotel
Meals: Breakfast, Lunch
Day 11
Cahuita & San Jose
Free Day
This morning is yours to relax and unwind around the hotel or bask in the sun on the beach. After lunch, we journey by vehicle back to San Jose, taking time to appreciate the breathtaking views as we pass through Braulio Carrillo National Park.
Accommodation: Hotel
Meals: Breakfast
Day 12
San Jose
Departure
A BikeHike Adventures representative will transfer you to the international airport for your return flight home.

Meals: Breakfast

NOTE about Ascent/Descent numbers:

The ascent/descent numbers are usually generated using Ride with GPS. The numbers are TOTAL ascent/descent for the day and these numbers do not suggest altitude. There are usually multiple small ascents and descents added up throughout the day to reach this total ascent/descent for the day. (While our numbers are generally consistent with Ride with GPS, depending on the mapping technology used, numbers may vary).

What's Included
TRIP INCLUSIONS:
Meals as indicated, all accommodation (twin shared), all internal transportation, Scott mountain bikes (26-29 shift with front suspension and disc brakes), two-person tents, support vehicle, airport transfers and English-speaking guides.
TRIP DOES NOT INCLUDE:
International airfare, airport departure taxes, gratuities, meals not indicated and items of a personal nature.
MEALS:
11 Breakfasts, 8 Lunches, 7 Dinners
ACCOMMODATION:
Hotel: 5 Nights
Cabin: 1 Night
Tent: 5 Nights
Trip Facts
Weather in Costa Rica
Located just ten degrees north of the Equator, Costa Rica enjoys the advantages of the "perfect" tropical climate. The average temperature is 22°C (72°F) in the highlands and temperatures vary from mid 20's to low 30's °C (77°F to 95°F) in the lowlands. All year long the conditions are pleasantly moderate, with a rainy season from June to early November, and a dry season or from December through May.
Highlands (includes San Jose, Arenal and Monteverde)
November to April: Dry, especially January to end of April. Pleasant days, about 22°C to 25°C (72°F to 77°F). Nights drop to a comfortable 15°C (60°F).
May to November: Green season. Mornings are clear; and generally rain comes as afternoon showers. Wettest months are September and October.
Pacific Coast (includes the Nicoya Peninsula)
November to April: Dry season. Humidity is high.
May to November: Green season. Mornings are clear; and generally rain comes as afternoon showers. Wettest months are September and October.
Caribbean Coast (includes Cahuita and Parismina)
Can rain at any time throughout year. Wettest months are November to January. Lightest rain is February to April and September. Temperatures are hot year-round.
Travel Documents
To enter the country for a Costa Rica adventure vacation, you must hold a current passport valid for six months beyond your date of departure. Citizens of Canada, the US and the UK do not require a travel visa to enter Costa Rica. Visa requirements vary from country to country. Check with your local Costa Rican consulate for current requirements.
Food and Water
Some must-tries include gallo pinto (a dish consisting of rice, black beans and spices), empanadas (bread turnover stuffed with bread and cheese) and ceviche (seafood marinated in a lemon, onion, and garlic sauce). Water is usually safe to drink in San Jose, however bottled water is recommended when traveling in the country and is easily purchased at stores. If you are susceptible to changes in the water, you will find that fresh juices, soft drinks and beer are readily available.
FAQ
Can I take this trip if...
I am a solo traveller? How does solo accommodation and costing work?
Many of our travellers (both men and women) join as singles. On average, BikeHike groups are 75% single travellers and 25% couples. However, this trip is usually even more singles. This trip is likely closer to 90% singles. 
Unlike many adventure travel companies, we don't charge single supplement fees to solo travellers. Instead, we pair you with another traveller of the same gender. If we can't find you a roommate, you get your own room at no additional charge. A single private room supplement fee is only required if you specifically request a confirmed private room for the duration of the trip. Learn more about solo travel with BikeHike. 
I have special dietary requirements?
We will do our best to accommodate special dietary requests (e.g. vegetarian, gluten free, etc.), but ask that you please discuss your request with us when signing up for a trip.
Can you tell me more about the activities?
Accommodation
Most of this trip is comfortable tenting experiences due to the logistics of biking, hiking, kayaking, and rafting across the country. 
Specifically, this trip includes the following types of accommodation:
HOTELS
In an effort to keep money in the communities we visit around the world, BikeHike prefers small hotels, bungalows, and haciendas that showcase the character and local flair of each destination.
CAMPING
Camping on this trip usually involves rustic camping with tents on raised platforms. However, two of the nights are more "glamping" style than rustic camping, when camping at a beautiful riverside campsite. Surrounded by the beauty of the rainforest and beautiful manicured gardens, the tents there are mounted on wooden platforms and you'll have access to an open-air dining room and kitchen, a washroom with flush toilets and sinks and lots of hammocks in a gazebo to relax in. This is an incredible experience as you'll be tenting in Costa Rican paradise! 
CABIN
One night is in a rustic cabin. However, this accommodation is comfortable and your night's stay will showcase the natural character of the location.
Click HERE for more information about accommodation styles.
Trip At A Glance
Day
Destination
Activity
Distance
Ascent / Descent
Lodging
Meals
1

San Jose

Arrival

—
— / —

Hotel

—
2

San Jose - Manuel Antonio

Hiking & Swimming

—
— / —

Hotel

3

Pacific Coast - Naranjillo

Biking & Hiking

19 km or 12 mi (Biking)

14 km or 9 mi (Hiking)

+ 1440 m (4724 ft)

- 825 m (2707 ft)

Tent

4

Naranjillo - Santa Maria

Biking & Hiking

14 km or 9 mi (Biking)

12 km or 7 mi (Hiking)

+ 1390 m (4560 ft)

- 445 m (1460 ft)

Cabin

5

Continental Divide

Biking

+ 1290 m (4232 ft)

- 1800 m (5905 ft)

Hotel

6

Tapanti National Park - Humo

Biking & Hiking

9 km or 6 mi (Biking)

17 km or 10.5 mi (Hiking)

+ 680 m (2231 ft)

- 1035 m (3396 ft)

Tent

7

Pacuare River

Biking & Rafting

43 km or 27 mi (Biking)

10 km or 6 mi (Rafting)

+ 675 m (2215 ft)

- 1150 m (3773 ft)

Tent

8

Pacuare River Valley

Hiking

— / —

Tent

9

Pacuare River

Rafting

—
— / —

Tent

10

Pacuare River - Cahuita

Biking & Sea Kayaking

26 km or 16 mi (Biking)

12 km or 7 mi (Kayaking)

+ 75 m (245 ft)

- 125 m (410 ft)

Hotel

11

Cahuita & San Jose

Free Day

—
— / —

Hotel

12

San Jose

Free Day

—
— / —
—