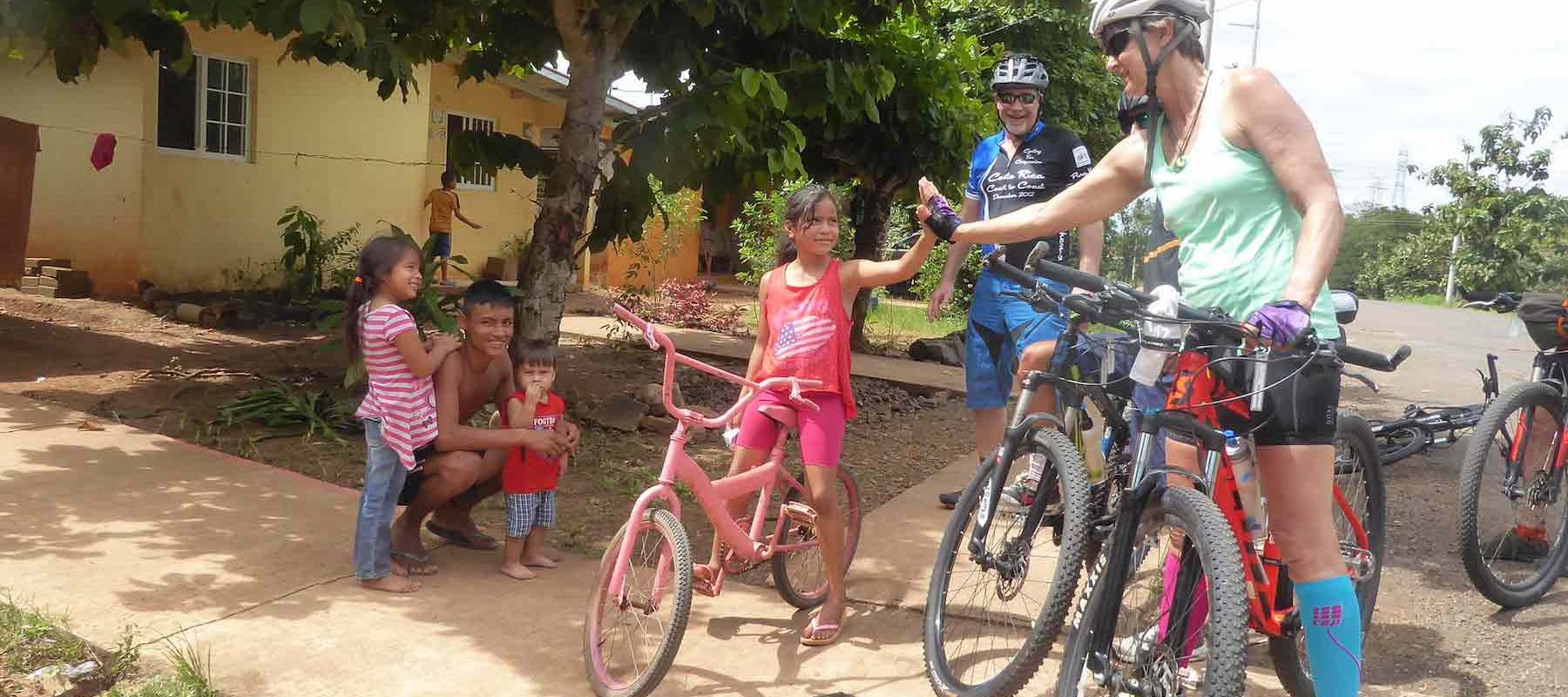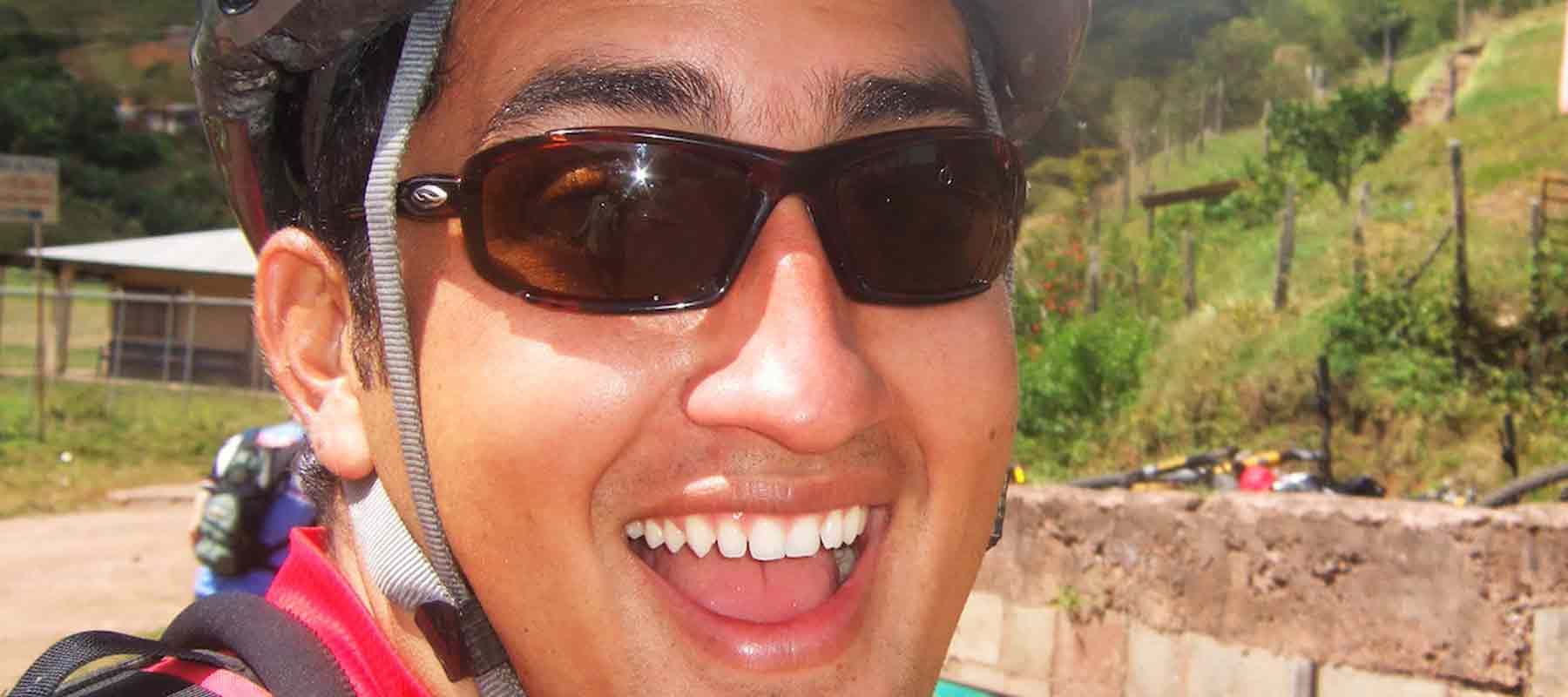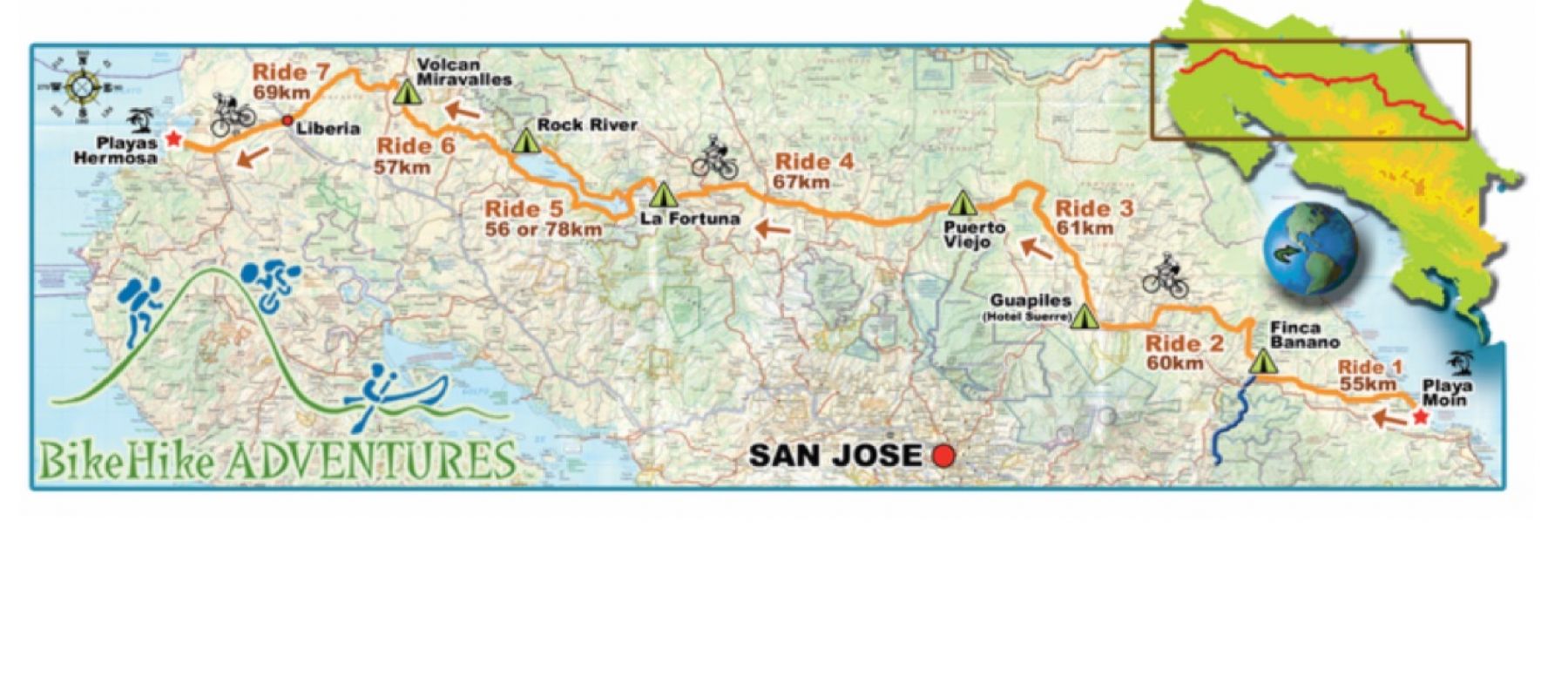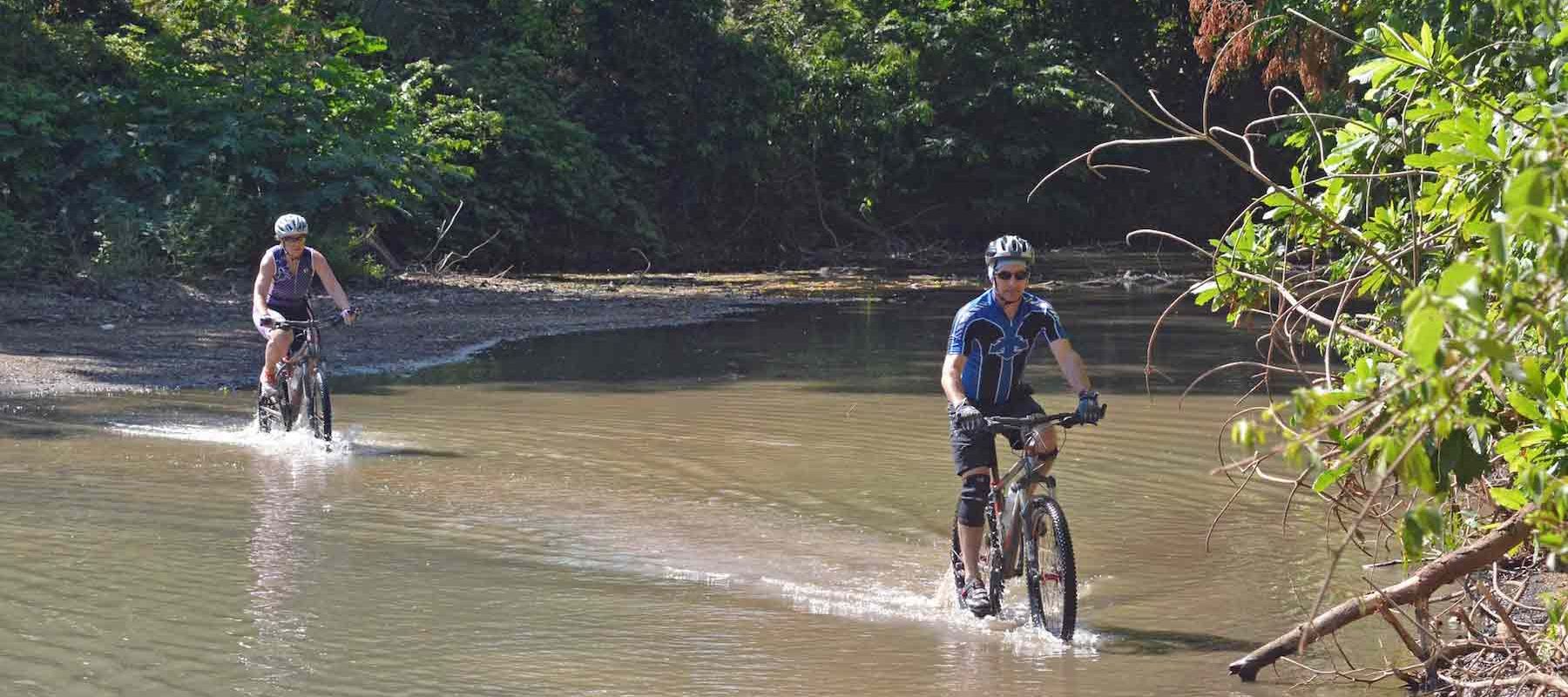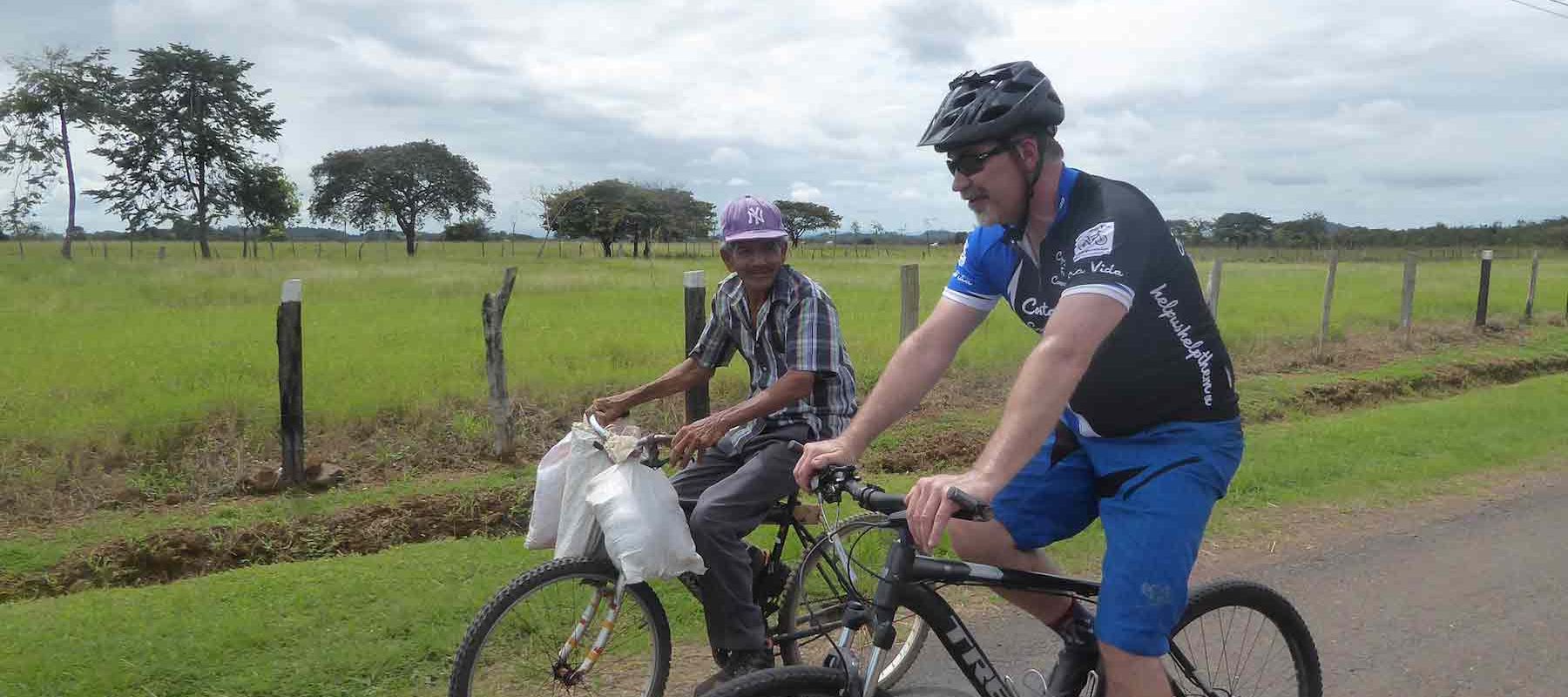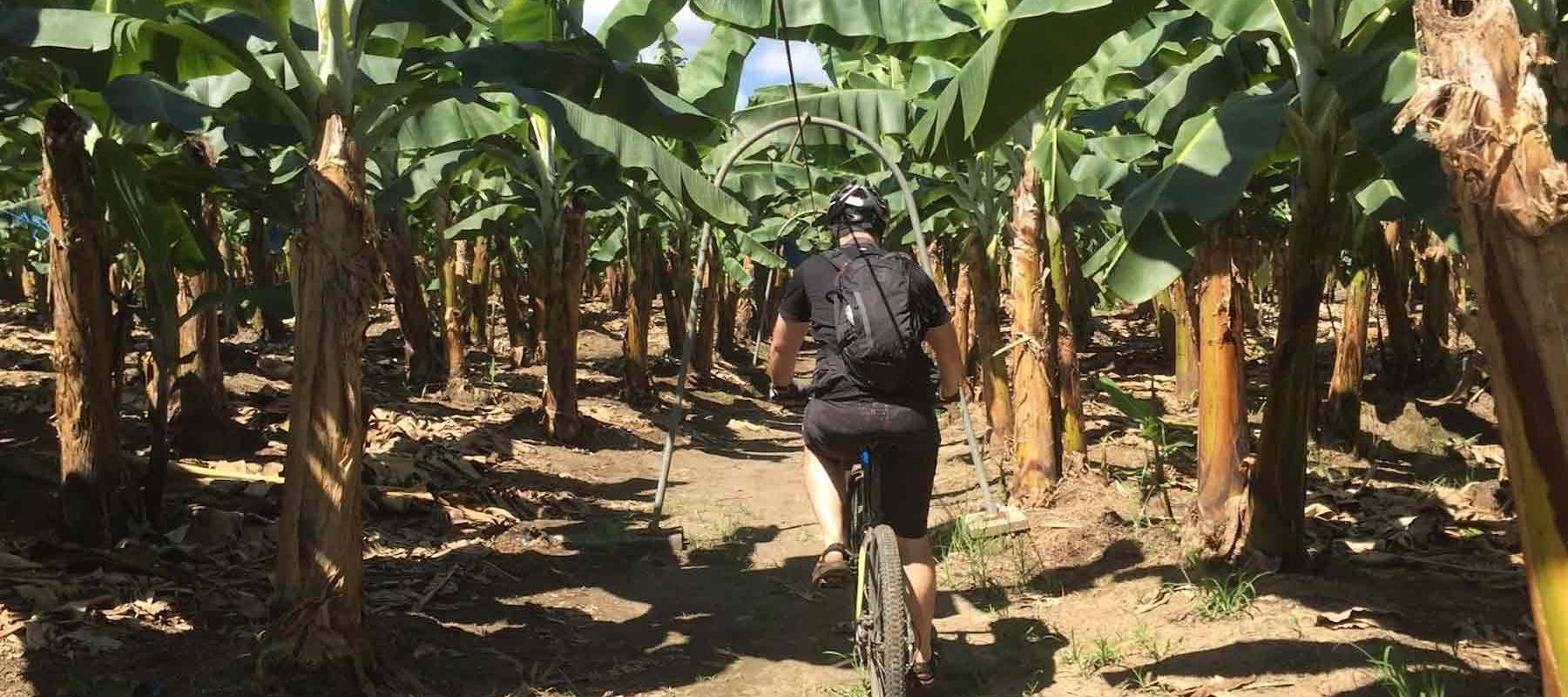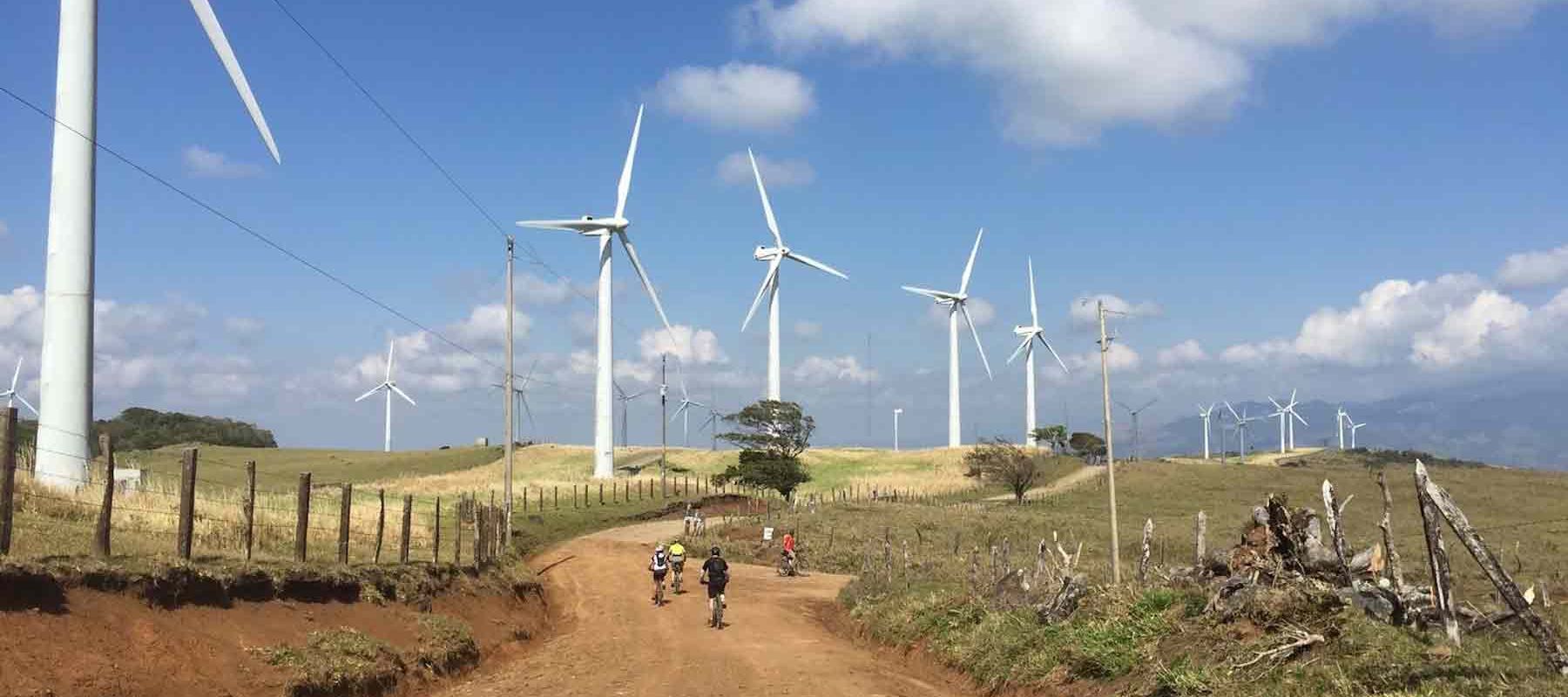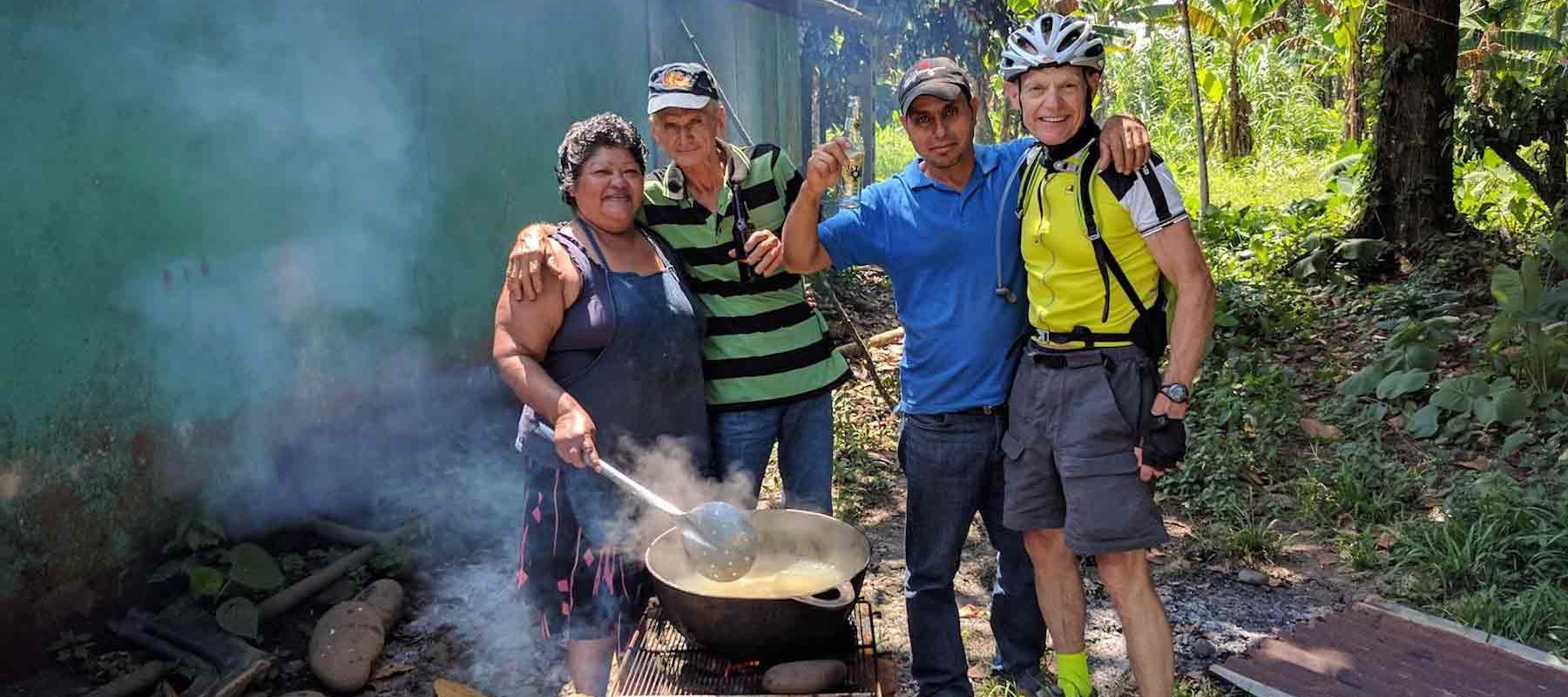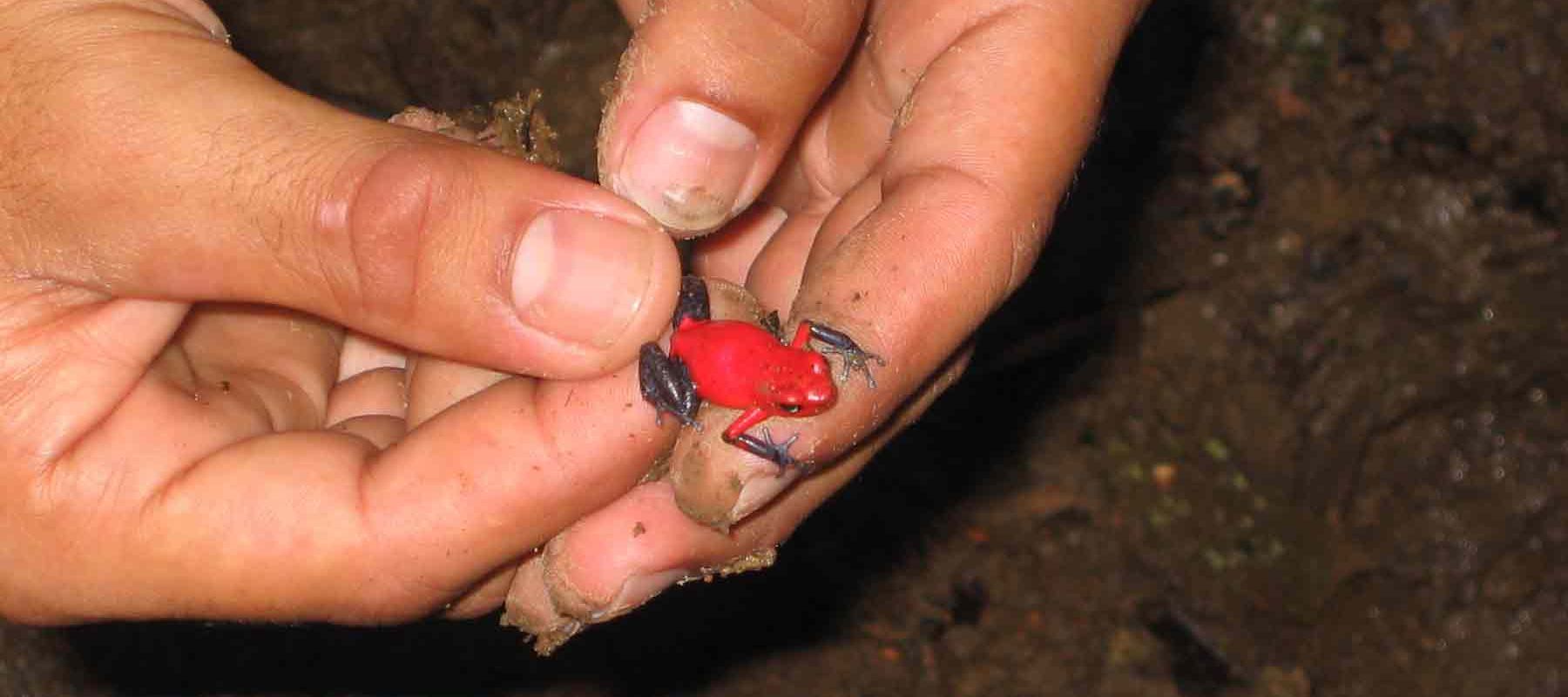 The Costa Rica Cycle Challenge
The Costa Rica Cycle Challenge
Trip Overview
If you're looking for a legendary cycling challenge, this is the trip! This bike tour is one of our most epic in our  30-year history and was initially created to celebrate our 20-year milestone. However, it has proved such a fun expedition, we have continued to offer it!
The goal: to entirely cross the country of Costa Rica, from the Caribbean to the Pacific, 500 km / 300 miles solely by bike. We cycle on banana trails, through rivers, past the active Arenal Volcano, over the Continental Divide, and to the splashy surf of the Pacific shores.
At the end, we celebrate with bubbly on the beach and reflect on our amazing experiences and accomplishments on this 500km/300 mile cycle challenge from the Caribbean to the Pacific Coast of Costa Rica.
WOW FACTORS
Cycling across Costa Rica from the Caribbean to the Pacific solely by muscle power!
Mountain biking over the Continental Divide
For more Costa Rica WOWs, check out our Costa Rica travel video below. BikeHike began in Costa Rica, so this is where our heart lives in so many ways.
Itinerary & Map
Day 1
San Jose
Arrival
After welcoming you at the San Jose Airport, a BikeHike Adventures representative will transfer you to a comfortable hotel in the city. The rest of the day is free to explore the cosmopolitan sights of San Jose. Overnight in a comfortable hotel in San Jose.

Accommodation: Hotel
Meals: none
Day 2
San Jose - Moin - Finca Banano
Biking
We rise early and fuel with a typical Costa Rican breakfast of gallo pinto (rice and beans) eggs and locally grown robust coffee. Then we drive to the start of our cycling traverse at Playa Bonito. It's here that we begin our 500 km / 300 mi cycling challenge across Costa Rica from the Caribbean to the Pacific, solely on our own sweat and steam. We start with a really fun and adventurous section along the coast on dirt and paved roads. We then have some legs along hard-packed sand beaches lined with coconut trees and another section along a rocky railway track that is used to transport bananas to the nearby port of Limon. We'll cross a number of trestles with our bikes today that are raised up high above rivers and valleys. We'll cycle through miles of banana plantation where countless communities of labourers process the thousands of hectares of bananas. At times we'll have to make way for them as they manually move massive bunches of bananas hung on pulleys and cables. The day finishes with a feast of dinner and an overnight at a permanent campsite.

Distance: 56 km / 34 mi
Ascent: + 305 m (1000 ft)
Descent: - 290 m (950 ft)
Accommodation: Tent
Meals: Breakfast, Lunch, Dinner
Day 3
Finca Banano - Guapiles
Biking
Today is filled with adventure and fun. We begin by loading ourselves and our bikes on our rafts and paddling across the Pacuare River. Our goal is to get onto the snaking back routes and into the villages and farmlands, avoiding the busy roads. We'll cycle along banana trails and past the processing plants where bananas are prepared for export by Delmonte and Chiquita. We're deep in the heart of banana territory today and we'll have the chance to visit one of the processing plants to learn the whole procedure of how they're grown and get ready for export. We have a few more adventurous trestle bridges to cross today, hopping from rung to rung with our bikes on our shoulders. We then bike to the Reventazon River, where a local will paddle us and our bikes across this river. We have one last river crossing, by motorboat, over the Parismina River and then we reach our lunch spot. After refueling our engines we're ready for the final push cycling on rocky and paved roads to the town of Guapiles.

Distance: 73 km / 45 mi
Ascent: + 375 m (1230 ft)
Descent: - 150 m (492 ft)
Accommodation: Hotel
Meals: Breakfast, Lunch
Day 4
Guapiles - Puerto Viejo
Biking
We begin today's ride on a winding paved road heading toward the Sarapiqui River. Today is an easier day than yesterday, on mostly flat, dirt roads with a few paved sections. Sarapiqui is a region of rich diversity, known for tropical foliage and the production of corn, coffee, cocoa, cardamom and heart of palm. There is a chance we'll encounter monkeys swinging from the trees and exotic and colourful birds on this section of the ride. We'll pass a few football fields and might have the chance to see the locals playing one of their national sports. Costa Ricans are very excited about their local team making it to the World Cup.

Distance: 62 km / 38 mi
Ascent: + 100 m (328 ft)
Descent: - 305 m (1000 ft)
Accommodation: Hotel
Meals: Breakfast, Lunch
Day 5
Puerto Viejo - La Fortuna
Biking
Today is our biggest biking day of the trip, and there is plenty of diversity in scenery from fertile farmland to tropical rainforest pulsing with life. We cycle through the San Carlos agricultural region famous for plantations of citrus, papaya, yucca and pineapple. There is a glute-burning hilly section along dirt roads and the rest of the day is along paved roads heading towards the active Arenal Volcano. For those wanting to soothe any sore muscles tonight, there's an option to go to one of the steaming hot springs in La Fortuna. Some of them have services of massage and mud facials.

Distance: 100 km / 62 mi
Ascent: + 870 m (2854 ft)
Descent: - 650 m (2132 ft)
Accommodation: Hotel
Meals: Breakfast, Lunch
Day 6
La Fortuna
Free Day
After yesterday's long riding day we have a day off to relax, explore the area of La Fortuna and the Arenal Volcano, and rest any aching muscles. There are lots of optional activities available in La Fortuna to partake in, including zip-lining, waterfall rappelling, horseback riding, hiking and standup paddle boarding. Our guide can help you to book any optional activities today.

Accommodation: Hotel
Meals: Breakfast
Day 7
La Fortuna - Tilaran
Biking
After a day off to rest our buttocks we'll be ready and set to continue our journey across the country. Today's ride is a very hilly, section of paved roads. This is one of the most scenic days of the entire trip. The topography changes from flat, humid and tropical to crisp and mountainous. It's a relatively short day compared to some of our others, so we'll make it to our hotel early enough to really enjoy our surroundings.

Distance: 55 - 68 km / 34 - 42 mi
Ascent: + 1445 m (4740 ft)
Descent: - 1090 m (3576 ft)
Accommodation: Hotel
Meals: Breakfast, Lunch, Dinner
Day 8
Tilaran - Miravalles Volcano
Biking
The day begins with a steep climb up and over the Continental Divide, where the road is lined with spinning windmills. Today we'll see a transition in the climate, from humid and tropical to dry and windy but not to worry, we've planned our route according to the prevailing winds so the wind should be at our backs helping to push us up and over the Continental Divide. We'll break at the top for photos and a rest and then begin a scenic downhill section of dirt roads with big wide landscapes of the Guanacaste plains and the Nicoya Peninsula. Guanacaste is the major cattle ranching area of the country and we pass through some of these ranches along the foothills of the Tenario and Miravalle Volcanoes. Tonight's hotel has naturally heated pools to soothe any aching muscles.

Distance: 52 km / 32 mi
Ascent: + 870 m (2854 ft)
Descent: - 910 m (2985 ft)
Accommodation: Hotel
Meals: Breakfast, Lunch, Dinner
Day 9
Miravalles Volcano - Playa Hermosa
Biking
We have a challenging hilly morning but then absolutely let loose with a thrilling 20 km/12 mi descent on limestone, all the way to the town of Liberia, in the center of Guanacaste. This area is very windy, and because of that, has many windmills generating power for the locals. Liberia is one of the largest towns we'll encounter on our journey and is quite different from the smaller communities we've past through until now. We'll break for lunch in town and then complete our crossing to Hermosa Beach on the Pacific coast. The last stretch has a few glute burning climbs, but we end with a fast and thrilling descent all the way to the Pacific Coast. We'll celebrate with bubbly on the beach and then have plenty of time for a swim in the surf. Our hotel is a short walk away. We have the evening free to celebrate and reflect on the experiences of our epic adventure.

Distance: 66 km / 41 mi
Ascent: + 490 m (1607 ft)
Descent: - 1050 m (3445 ft)
Accommodation: Hotel
Meals: Breakfast, Lunch
Day 10
Playa Hermosa - Liberia
Departure
Today you will be transferred back to the International Airport in Liberia, in time for you to check in for your flight back home.

Meals: Breakfast

NOTE about Ascent/Descent numbers: 

The ascent/descent numbers are usually generated using Ride with GPS. The numbers are TOTAL ascent/descent for the day and these numbers do not suggest altitude. There are usually multiple small ascents and descents added up throughout the day to reach this total ascent/descent for the day. (While our numbers are generally consistent with Ride with GPS, depending on the mapping technology used, numbers may vary).

What's Included
TRIP INCLUSIONS:
Meals as indicated, all accommodation (twin shared), all internal transportation, Trek 4500 and Scott Aspect 29er mountain bikes (all with front suspension and disc brakes), two-person tents, support vehicle, airport transfers and English-speaking guides.
TRIP DOES NOT INCLUDE:
International airfare, gratuities, airport departure taxes, meals not indicated and items of a personal nature.
MEALS:
9 Breakfasts, 7 Lunches, 3 Dinners
ACCOMMODATION:
Hotel: 8 Nights
Tent: 1 Night
Trip Facts
Weather in Costa Rica
Located just ten degrees north of the Equator, Costa Rica enjoys the advantages of the "perfect" tropical climate. The average temperature is 22°C (72°F) in the highlands and temperatures vary from mid 20's to low 30's °C (77°F to 95°F) in the lowlands. All year long the conditions are pleasantly moderate, with a rainy season from June to early November, and a dry season or from December through May.
Highlands (includes San Jose, Arenal and Monteverde)
November to April: Dry, especially January to end of April. Pleasant days, about 22°C to 25°C (72°F to 77°F). Nights drop to a comfortable 15°C (60°F).
May to November: Green season. Mornings are clear; and generally rain comes as afternoon showers. Wettest months are September and October.
Pacific Coast (includes the Nicoya Peninsula)
November to April: Dry season. Humidity is high.
May to November: Green season. Mornings are clear; and generally rain comes as afternoon showers. Wettest months are September and October.
Caribbean Coast (includes Cahuita and Parismina)
Can rain at any time throughout year. Wettest months are November to January. Lightest rain is February to April and September. Temperatures are hot year-round.
Travel Documents
To enter the country for a Costa Rica adventure vacation, you must hold a current passport valid for six months beyond your date of departure. Citizens of Canada, the US and the UK do not require a travel visa to enter Costa Rica. Visa requirements vary from country to country. Check with your local Costa Rican consulate for current requirements.
Food and Water
Some must-tries include gallo pinto (a dish consisting of rice, black beans and spices), empanadas (bread turnover stuffed with bread and cheese) and ceviche (seafood marinated in a lemon, onion, and garlic sauce). Water is usually safe to drink in San Jose, however bottled water is recommended when traveling in the country and is easily purchased at stores. If you are susceptible to changes in the water, you will find that fresh juices, soft drinks and beer are readily available.
FAQ
Can I take this trip if...
I am a solo traveller? How does solo accommodation and costing work?
Many of our travellers (both men and women) join as singles. On average, BikeHike groups are 75% single travellers and 25% couples. However, this trip on average usually has more singles, closer to 90%.
Unlike many adventure travel companies, we don't charge single supplement fees to solo travellers. Instead, we pair you with another traveller of the same gender. If we can't find you a roommate, you get your own room at no additional charge.
A single private room supplement fee is only required if you specifically request a confirmed private room for the duration of the trip. Learn more about solo travel with BikeHike. 
I have special dietary requirements?
We will do our best to accommodate special dietary requests (e.g. vegetarian, gluten free, etc.), but ask that you please discuss your request with us when signing up for a trip.
Accommodation
Most of our trips include comfortable mid-range accommodations. This includes accommodation that provides a clean and comfortable experience in characterful surroundings that reflect the destination. To build stronger connections with the communities and support the local economies, we avoid using large international chain brands on BikeHike trips. 
This trip includes the following types of accommodation:
HOTELS
In an effort to keep money in the communities we visit around the world, BikeHike prefers small hotels, bungalows, and haciendas that showcase the character and local flair of each destination.
CAMPING
Camping on this trip does not involve pitching your own tent. It is more "glamping" than camping. The location is a permanent campsite with tents mounted on wooden platforms. You'll have access to a washroom with flush toilets and sinks. This is an incredible experience as you'll be tenting in Costa Rican paradise! 
Click HERE for more information about accommodation styles.
Trip At A Glance
Day
Destination
Activity
Distance
Ascent / Descent
Lodging
Meals
1

San Jose

Arrival

—
— / —

Hotel

—
2

San Jose - Moin - Finca Banano

Biking

+ 305 m (1000 ft)

- 290 m (950 ft)

Tent

3

Finca Banano - Guapiles

Biking

+ 375 m (1230 ft)

- 150 m (492 ft)

Hotel

4

Guapiles - Puerto Viejo

Biking

+ 100 m (328 ft)

- 305 m (1000 ft)

Hotel

5

Puerto Viejo - La Fortuna

Biking

+ 870 m (2854 ft)

- 650 m (2132 ft)

Hotel

6

La Fortuna

Free Day

—
— / —

Hotel

7

La Fortuna - Tilaran

Biking

+ 1445 m (4740 ft)

- 1090 m (3576 ft)

Hotel

8

Tilaran - Miravalles Volcano

Biking

+ 870 m (2854 ft)

- 910 m (2985 ft)

Hotel

9

Miravalles Volcano - Playa Hermosa

Biking

+ 490 m (1607 ft)

- 1050 m (3445 ft)

Hotel

10

Playa Hermosa - Liberia

Departure

—
— / —
—