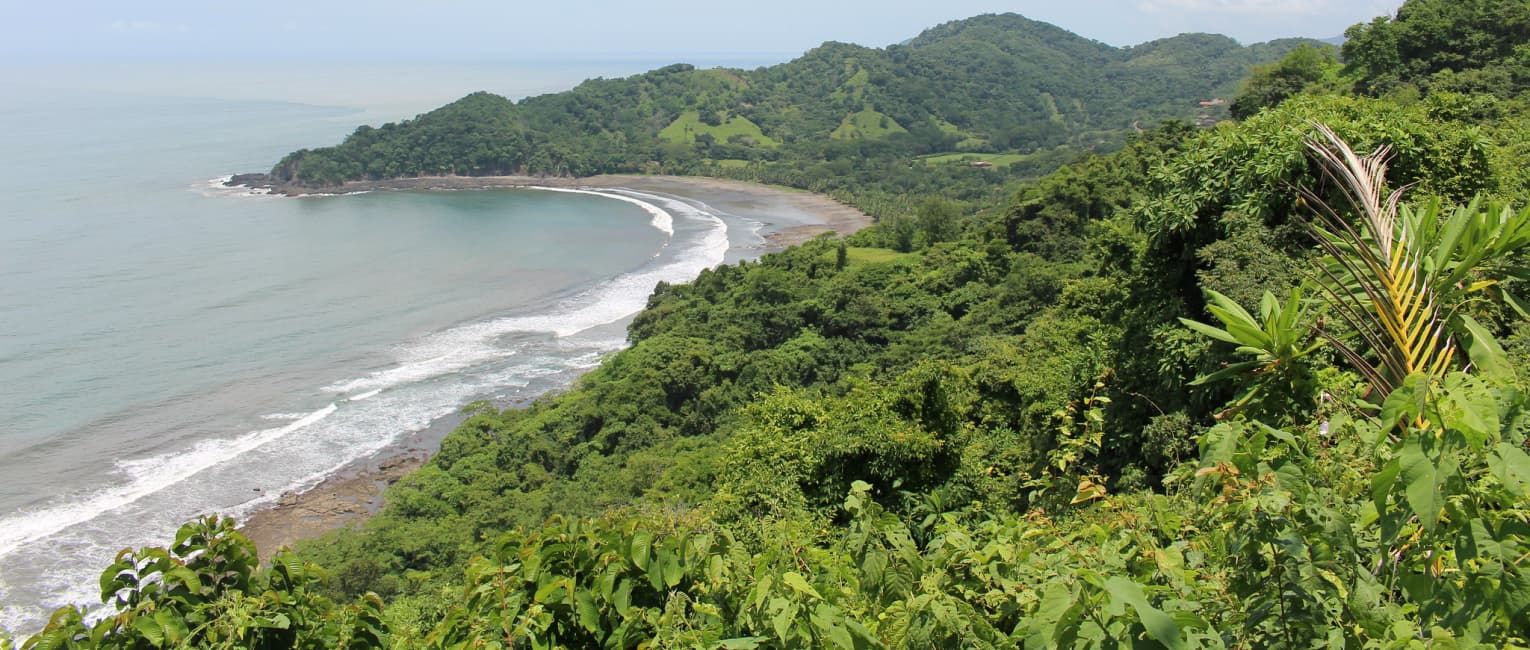 Is Costa Rica Safe To Visit?
Here at BikeHike, Costa Rica is where it all started for us, and it's one of our favorite countries to visit.
But is it safe to visit?
Well, in our 30+ years experience, Costa Rica is an incredibly friendly and peaceful country and is absolutely safe to visit.
More than two million people traveled to Costa Rica last year (including us!). And for good reason. 
It's well known for its beautiful beaches, lush rainforests, diverse wildlife, and of course endless adventure.
As far as safety goes, the global peace index rated Costa Rica as one of the top 4 safest destinations in Latin America for tourism in 2022.
The U.S. State Department has Costa Rica set to a "Level 2" travel advisory level for 2023.
While Costa Rica had been at level 1 for a few years, it has been reduced to level 2 due to an increase in reported petty crime.
However, this doesn't mean it's not safe for tourists. 
Germany, Spain, UK, Italy and France all have a "Level 2" travel advisory level.
Even with an increase in petty crime over recent years, you will never really be in an area that could be considered dangerous. 
Here are some of the reasons why Costa Rica is one of the safest destinations in Central America, and a few tips to consider to make your trip to Costa Rica even safer.
Government Focus On Reducing Crime
Tourism plays a vital role in Costa Rica's economy, so the country is heavily invested in protecting the industry. 
With an increase in petty crime in recent years, the Costa Rican government has made it a priority to reduce the risk for visitors.
Any incidents of crime, both petty crime & violent crime against tourists can negatively impact how potential visitors see Costa Rica.
So, Costa Rica's Tourism Board is funding two additional national police offices across two of the more popular destinations. 
And 300 more tourist police are undergoing training to join the country's police force in an effort to help with growing tourism rates and keep tourism safe.
Safety Tips for Costa Rica
No matter where you travel to in the world, nobody can guarantee anything. 
But along with common sense, there are plenty of things you can do to mitigate the risk of anything happening.
To ensure an enjoyable and safe trip, here are 10 essential safety tips and scams to avoid in Costa Rica:
1) Road Safety & Conditions: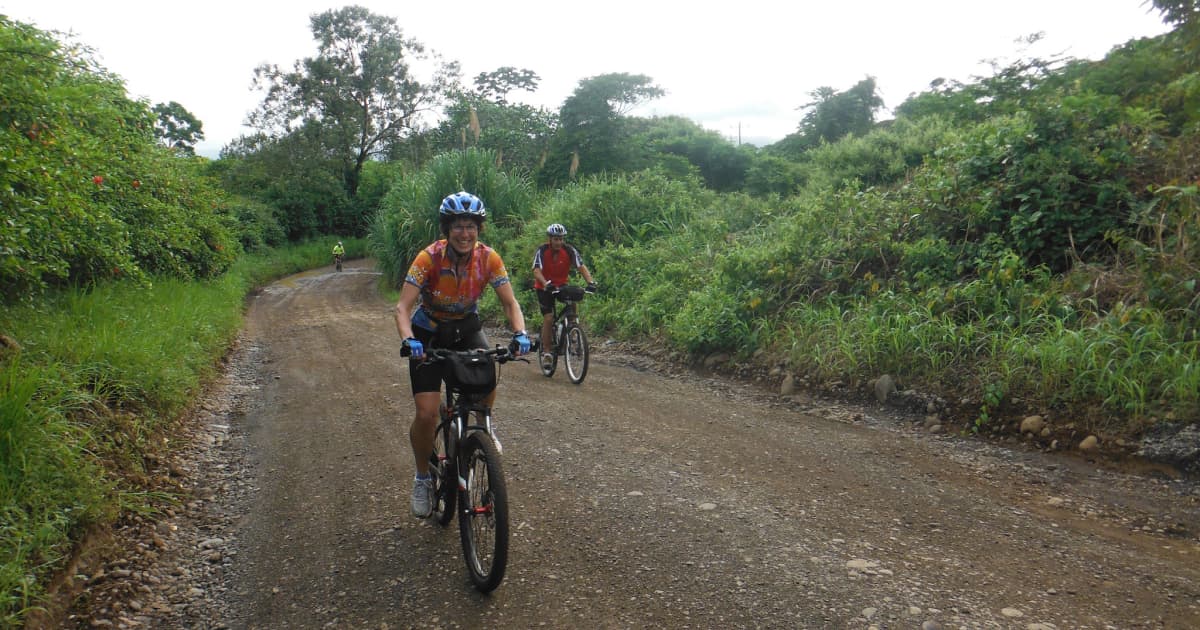 We usually prefer to bike everywhere, which also poses its own challenges.
But driving in Costa Rica can definitely be tough, so it's important to be aware of the risks and plan ahead if you do plan on driving anywhere.
The main highways and roads in the more developed areas of the country, such as the Central Valley and the Pacific coast, are generally in good condition and well-maintained. 
However, many of the roads in remote parts of Costa Rica, especially in the mountains and on the Caribbean side of the country tend to be in poor condition and difficult to navigate. 
These roads can be narrow, winding, and steep, with potholes and uneven surfaces.
They can also be prone to landslides and flooding during the rainy season.
So, it's always worth planning out your routes before you get here so you don't end up too far off the beaten path if you need to drive anywhere.
2) Be Alert On Public Transport:
Public transport is, unfortunately, an area where most petty theft is being reported. 
To protect yourself from this, it's important to stay vigilant and keep your bags close to you at all times. 
If you're carrying a backpack or purse, make sure to wear it on the front of your body and keep it zipped up. 
Anything valuable, like your wallet or phone, or jewelry, should be kept out of your pockets and stored away somewhere safe, preferably in a bag with a zip.
3) Don't Show Off Flashy Items:
Much like any popular tourist destination, whenever you're out and about in busy areas, it's generally not a great idea to be showing off any jewelry, watches, or anything of value. 
The more you flash, the higher your chances of being targeted by pickpockets. 
The safest thing to do is to leave valuables back in your hotel room before heading out and about. 
4) Be Careful Around ATMs:
ATMs can be a target for theft, so be extra cautious when you need to use them.
Use ATMs located inside banks or other secure locations, and be aware of your surroundings when using them.
Also, avoid ATMs located in isolated areas, as they can be fitted with skimming devices.
5) Taxi Scams:
Taxis in Costa Rica are regulated by local government agencies that ensure safety standards are met. 
They also maintain strict regulations regarding driver qualifications like clean driving records. 
As well as this, all taxi drivers must pass an official inspection before they are allowed to operate.
So while taxis are for the most part perfectly safe, there are 2 common taxi scams to be aware of.
1) Broken Meter.
Some taxi drivers will say their meter is broken and quote you a much higher price. 
So unless you are very stuck for a ride, it's worth checking with a few different drivers at taxi stands to get a good idea of what you should be paying for your fare.
2) Tampered Meter. 
The other scam to be aware of is another meter scam. 
You should keep an eye on the meter when it starts running, and if you think it is increasing very fast, it's likely a tampered meter. 
So the best thing to do is ask the driver to pull over as soon as you notice this and find another taxi.
6) Fake Guides & Cheap Tours:
Chances are you will be offered the opportunity to go on a guided tour, especially around the national parks and popular areas of Costa Rica.
If you want to book this tour, you will need to pay a deposit in advance.
And when you show up for the tour, no one actually shows up, and it turns out it doesn't actually exist.
Or, you get a tour guide, who doesn't really seem to know what they are doing.
Becoming a certified guide is actually a lot of work in Costa Rica. As we already mentioned the Costa Rica government put huge emphasis on providing a great tourist experience to visitors.
So, rather than take a test, get insured, and do it all above board, many take to setting up fake tours and even operate cheap tours where they aren't necessarily experts but will happily take your cash.
Always question anyone offering suspicious deals like discounted trips or tickets; if it seems too good to be true, it probably is! 
If you're looking to book a tour, your safest bet is to go through an authorized company. 
Ask your hotel or tour guide for recommendations, and always check out reviews of any tour company you're considering.
Ask for written proof before making any payment commitments so you have evidence if something goes wrong. 
And it's recommended to pay by card so you can do a chargeback if you do get scammed.
7) Hiking and Wilderness Safety:
When heading out on an adventure trip to Costa Rica, always be aware of and properly equipped for the rugged terrain and vast wilderness. 
Although Costa Rica offers breathtaking natural beauty, you should be on the alert for unpredictable weather patterns, steep inclines, and even wild animals such as snakes & spiders that you probably aren't used to seeing on your typical trails at home!
We also recommend planning your hiking gear essentials by wearing lightweight but durable clothing designed for outdoor activities in a warm climate.
Lightweight clothing will provide protection against windburns, but you also want the right material to retain body heat at higher elevations where temperatures drop significantly during nighttime hours. 
8) Avoid Tap Water:
Although tap water is typically safe to drink in Costa Rica, it's still advised that you drink bottled water - especially if you're visiting remote areas or underdeveloped parts of the country. 
Which, on an adventure tour we usually spend most of out time around these areas. So we always advise bringing plenty of bottled water.
This is because the infrastructure for clean and safe tap water may not be as readily available in these areas. 
It's always better to be safe than sorry.
9) Risk Of Zika:
It is important to at least be aware of the risks of Zika before traveling to Costa Rica. 
The virus is primarily transmitted by Aedes species mosquitoes, which are found in more tropical climates.
While the Zika virus is rare in Costa Rica, you should still take precautions to protect yourself from mosquito bites while out and about. 
This includes wearing long pants and sleeves, using insect repellents, spending more time indoors during peak biting times (especially at dusk), and sleeping under bed nets or screened windows whenever possible.
10) Don't forget Insect Repellent:
While mosquito-borne diseases are rare, disease is still a risk and can still be spread in Costa Rica through bug bites. 
Coming prepared with bug spray can't hurt.
Insects are simply just very annoying so use whatever you can to keep them off.
Always be sure to use bug spray, especially at dusk and dawn when mosquitoes are most active. 
Vaccines Needed For Costa Rica
You don't need any vaccines to enter Costa Rica.
However, the CDC and WHO recommend that travelers to Costa Rica have the following vaccinations:
Hepatitis A: This vaccine is recommended for all travelers as it can be contracted through contaminated food or water.
Yellow Fever: This vaccine is recommended when visiting certain parts of Costa Rica, particularly the Limón province.
Malaria: Malaria is present in certain parts of Costa Rica, particularly in rural areas. So the CDC recommends using mosquito repellent and taking antimalarial medication.
Rabies: This vaccine is recommended for anyone who can potentially come into contact with animals, particularly bats and monkeys, which can carry the disease.
When to Visit Costa Rica?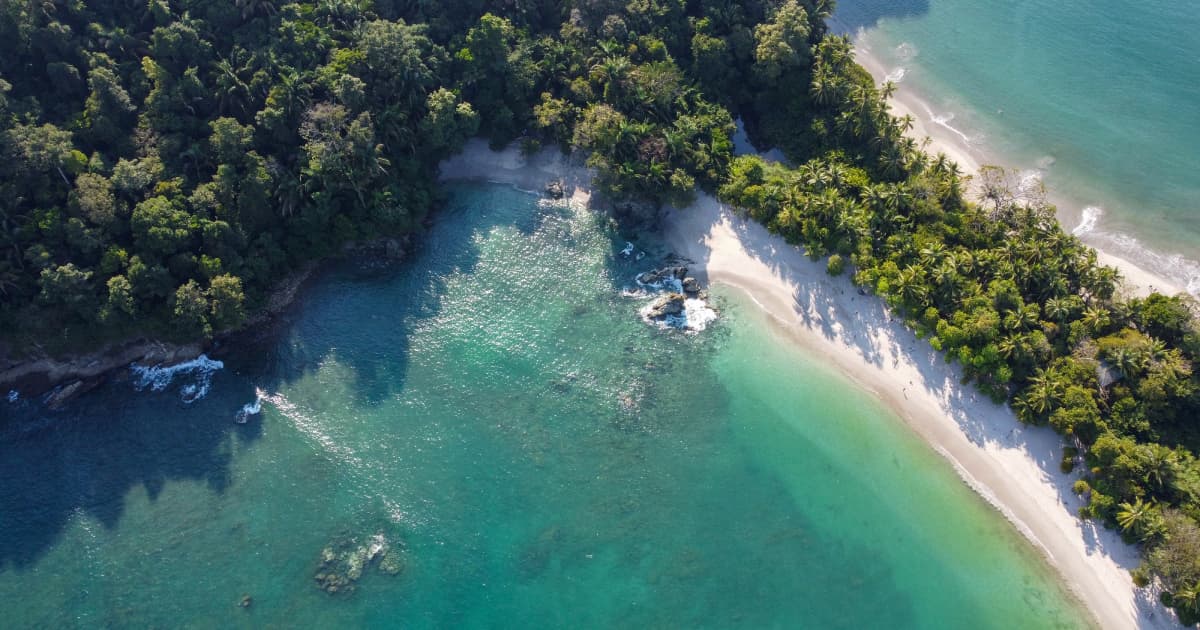 Costa Rica has two distinct seasons: dry season which runs from December-April and the wet season which runs from May-November. 
Dry Season:
The dry season is the most popular time to visit, as the weather is sunny and dry with temperatures up to 30 degrees. 
This is also the peak tourist season, so prices will be higher, and crowds much larger.
Wet Season:
The wet season is of course characterized by rain, but it also brings lush vegetation and lower prices across popular spots. 
The weather during this time is still warm, and many areas remain sunny. 
This can be a good time to explore the rainforest and see the waterfalls at their most spectacular.
However, there can be more frequent downpours that may affect travel plans, so if you're keen on exploring jungles without interruption, then opting for drier months might be best. 
Wrapping Up
Costa Rica is a very safe and stable country, and our favorite to visit for many reasons. 
We can safely say we've never felt in danger or uneasy here on any of our trips.
The country is known for its friendly locals and has a relatively low crime rate compared to other countries Central American countries. 
On top of this, the government also places a strong emphasis on tourism, ensuring that the natural beauty of the country is well-preserved and that it's a safe destination for all to enjoy.
If you are on the fence about planning a trip to Costa Rica, here are our top 10 reasons to visit Costa Rica.
Happy Travels,
Trish Sare 
About The Author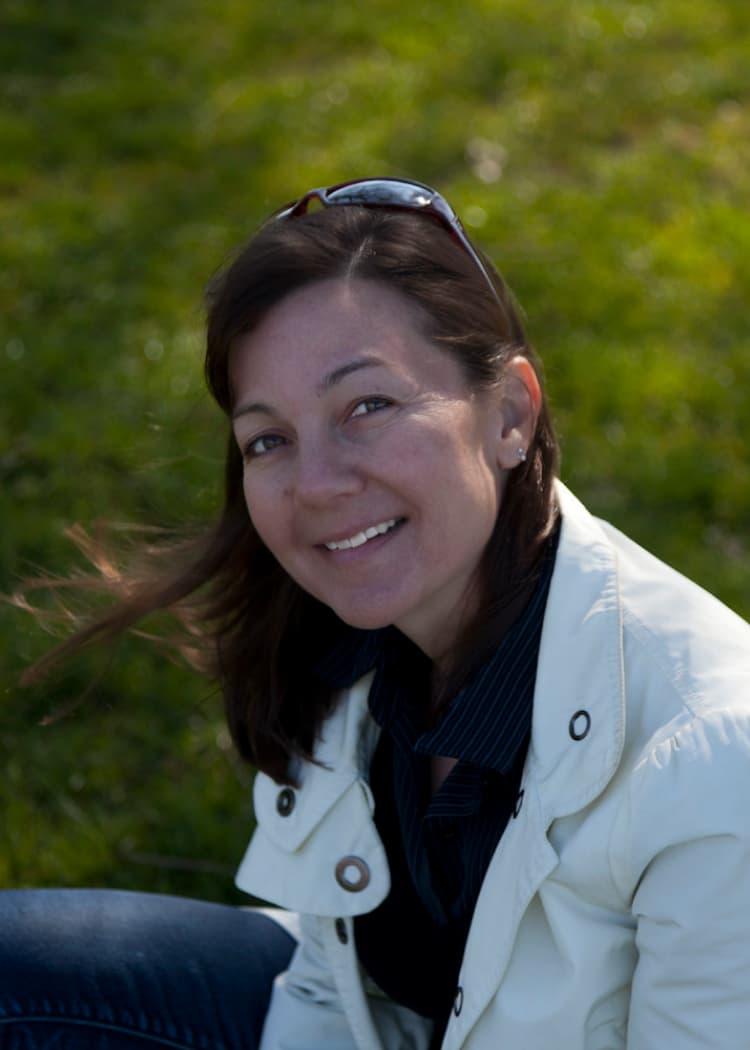 Trish Sare is the owner of BikeHike and a passionate outdoor enthusiast with over 30 years of experience as a world traveler. She's lived, traveled, and guided extensively in North, South and Central America, Europe, Oceania, Africa, and Asia. She has guided and helped to develop every one of our multi-sport holidays. In her spare time, Trish is usually outdoors either mountain biking, hiking, sea kayaking, trail running, or climbing. Trish has a passion for the world and all of the amazing cultures that inhabit it and does her best to immerse herself directly into their distinctive lifestyles.