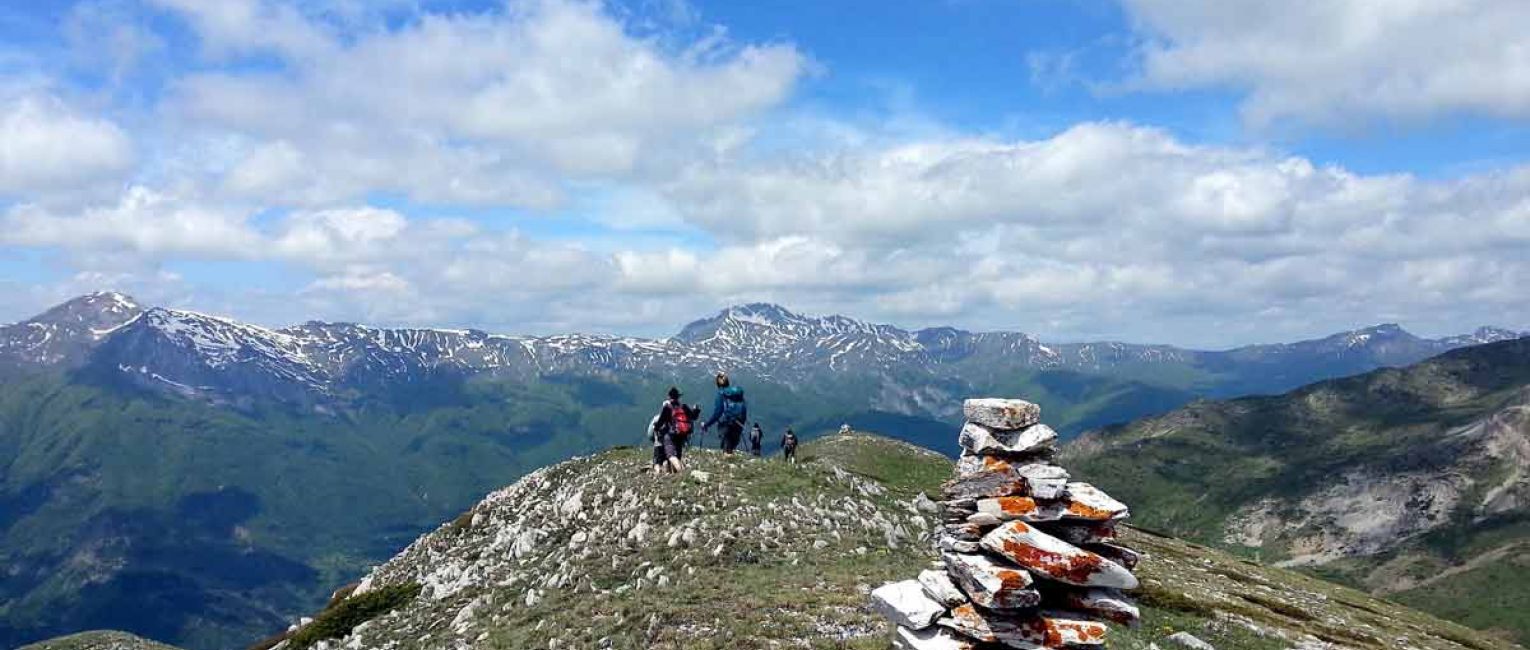 10 Reasons To Add North Macedonia To Your Travel Bucket List
Is Macedonia Worth Visiting?
This hidden gem of the Balkans is a destination well worth visiting. North Macedonia has something special to offer everyone, from adventure travelers looking for outdoor adventure and cultural exploration to those looking to soak up the region's rich history and culture. 
North Macedonia, located at the crossroads between the East and West and Christianity and Islam, has long been a melting pot of civilizations. While North Macedonia has many notable similarities to both Greece and Turkey, this emerging Baltic destination retains an unmatched level of authenticity. 
It is an incredible place for those who crave adventure that is off the beaten path and less visited by tourists.
Here are my top 10 reasons to visit North Macedonia.
1. North Macedonia Is One Of Europe's Rising Destinations.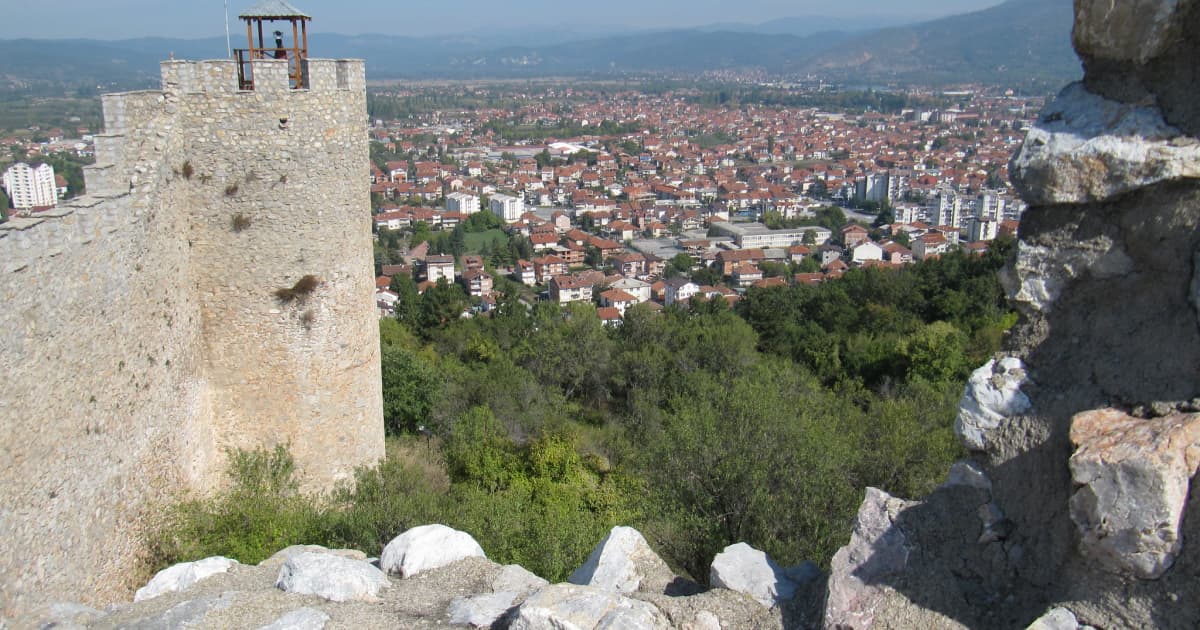 North Macedonia is becoming one of Europe's rising destinations for tourism. In fact, 2021 saw a 50% increase in tourists.  
Even still, the country is relatively unexplored and untouched by mass tourism.
There are plenty of days you might go without seeing another tourist, especially when out on some of the remote hiking trails or mountain routes. 
Chances are you will have the hiking trails to yourselves, even at peak times. 
When I arrived at the International Airport in Skopje, my plane was the only one in sight. That shows how little traffic is arriving by air.
After I visited this country, I definitely understood the tourism potential here. 
With overtourism causing travelers to look for "quieter" destinations away from the crowds, smaller destinations like North Macedonia have started to look very attractive for smaller groups.
2. Ancient Culture & Rich History.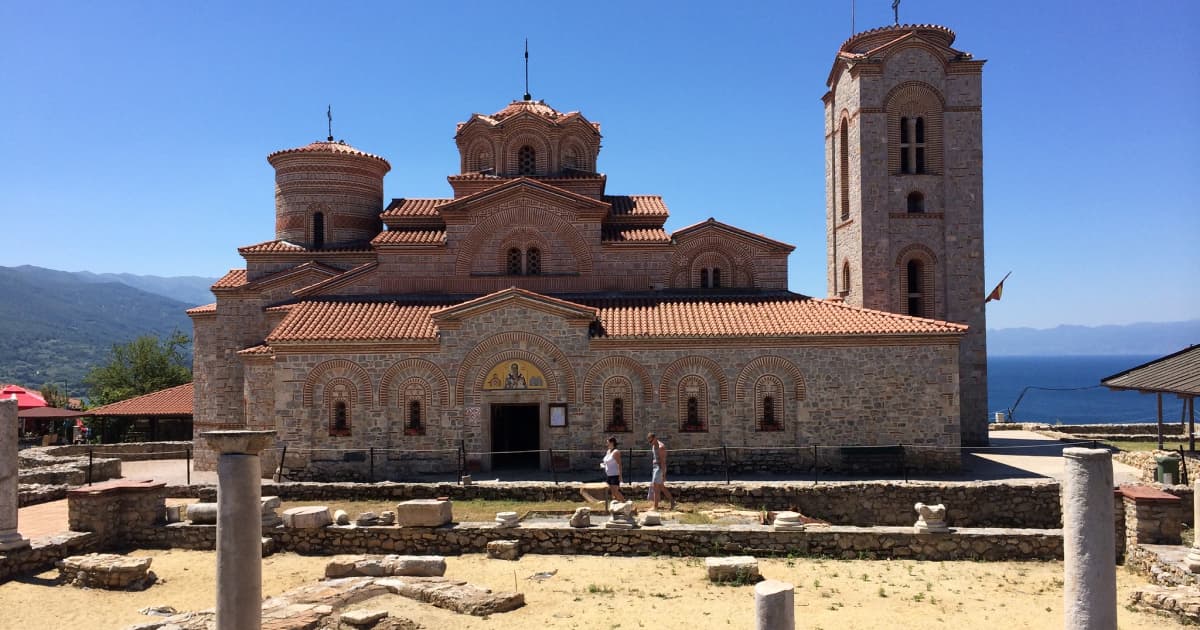 While the great outdoors provides ample opportunity for exploration, North Macedonia also boasts numerous archaeological sites filled with ancient ruins as well as charming cities where you can admire local artisanship or savor the traditional flavors of Macedonian cuisine.
This unique corner of the Balkan Peninsula boasts an eclectic mix of ancient cultures and rich history. 
Visitors can explore monuments that have stood for centuries, including medieval castles and grand monasteries. 
The North Macedonian culture has been shaped over millennia, from Greek heritage in antiquity to Roman rule during the Middle Ages to Ottoman influence in recent centuries.
And if you're interested in immersing yourself deeper into local culture, North Macedonia has several small villages scattered throughout its countryside that provide an authentic glimpse into rural life in this Balkan nation.
Here, locals will often enthusiastically welcome travelers with open arms, eager to share stories about their homeland over coffee or food at home-style restaurants known as 'kafana's'. 
For the cultural travelers, no trip is complete without a visit to the old town of Ohrid.
>

Old Town Of Ohrid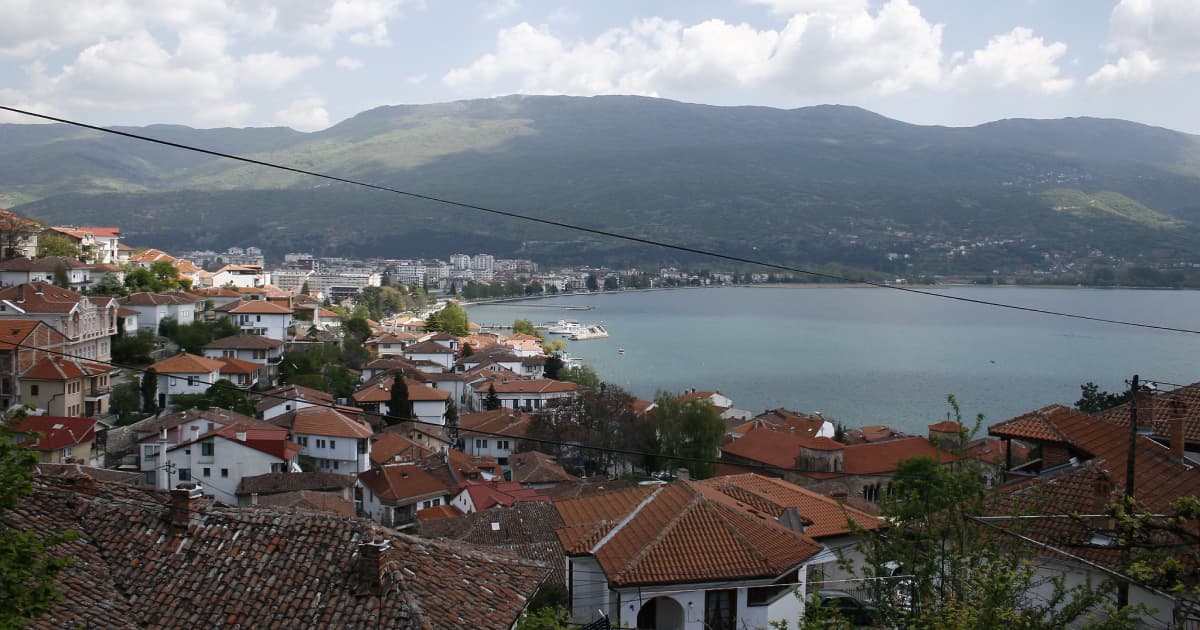 Listed as a UNESCO Heritage Site, the old town of Ohrid is located on the lake of the same name. The town has a beautiful old quarter with cobblestone streets, markets, old city gates, medieval churches, and lively restaurants and bars.
Ohrid is one of the oldest settlements in Europe.
I highly recommend visiting Samuel's Fortress, perched on a hilltop, for great views of the city and lake. 
3. Plenty of Nature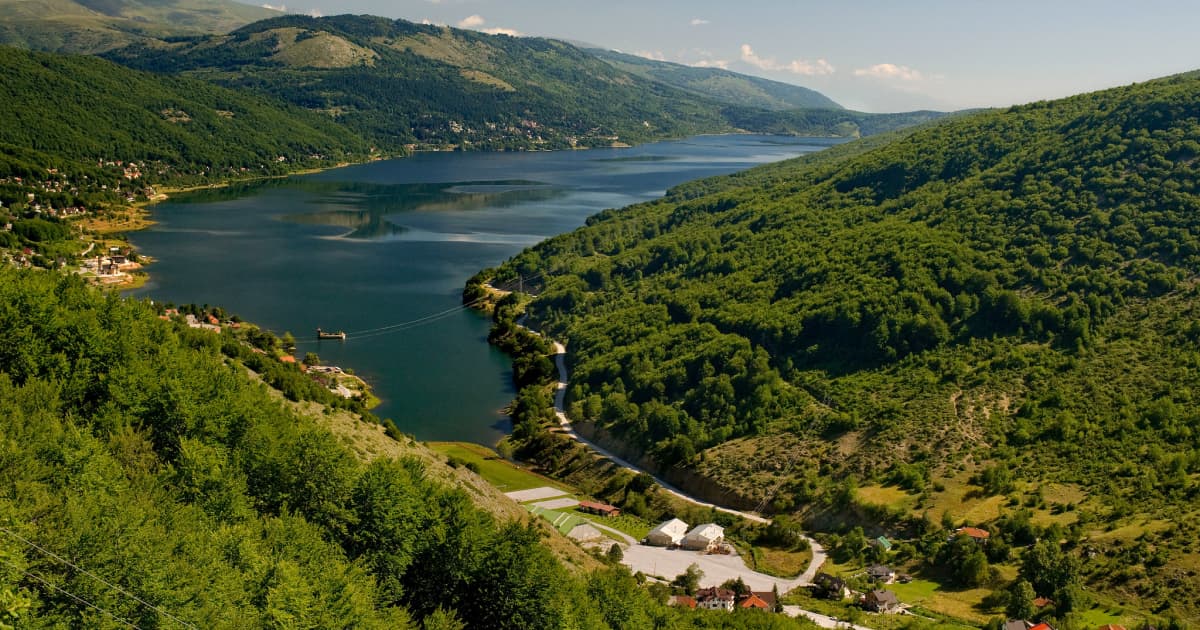 There's plenty of nature to explore in North Macedonia to satisfy any adventure traveler. 
From lush mountain forests and crystal clear lakes to stunning coastal views and quaint rural villages.
The abundance of nature and green space in North Macedonia also offers plenty of opportunities for outdoor adventure.
Hike in one of the mountainous national parks, kayak in Matka Canyon & Lake Ohrid, bike through vineyards and past villages with centuries-old village houses, and even ski at one of the country's many ski resorts.
For those looking to embrace nature in Macedonia, I recommend a visit to Mavrovo National Park.
>

Mavrovo National Park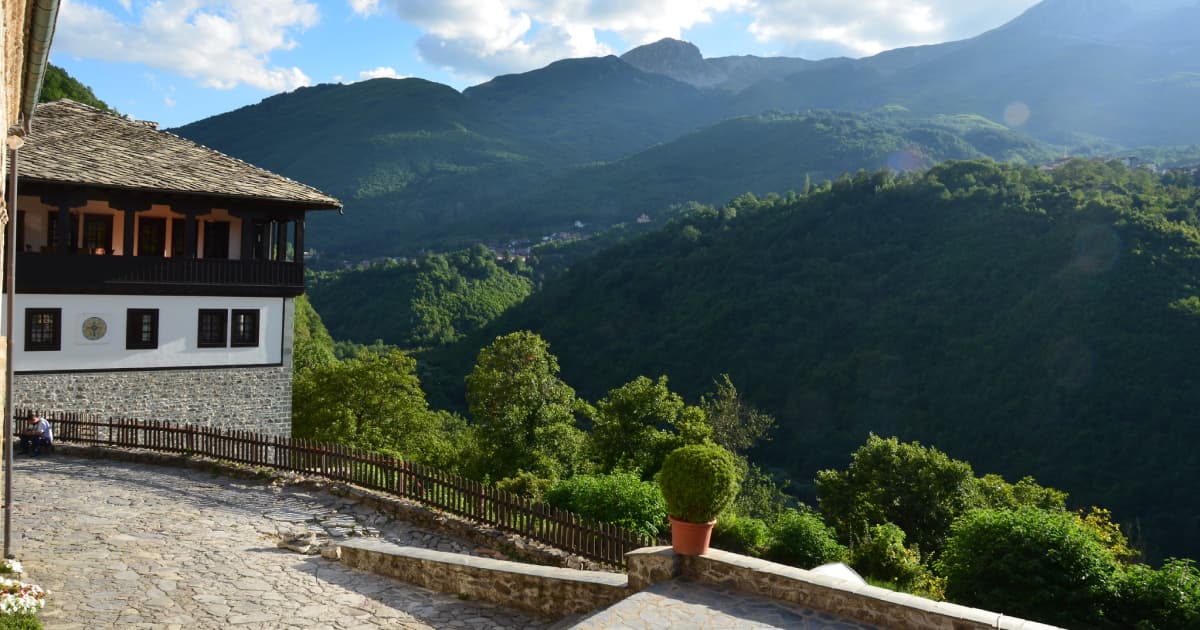 This park is located in the western part of the country and is the largest of the three national parks in North Macedonia. 
The park is characterized by mountains, lakes, dense forests, rivers, and canyons and is home to a vast array of wildlife from bears, deer, wolves, and over 100 species of birds. 
And most importantly, there are plenty of hiking trails around the park to soak it all in at your leisure, with casual trails and even some longer challenging treks.
4. Skopje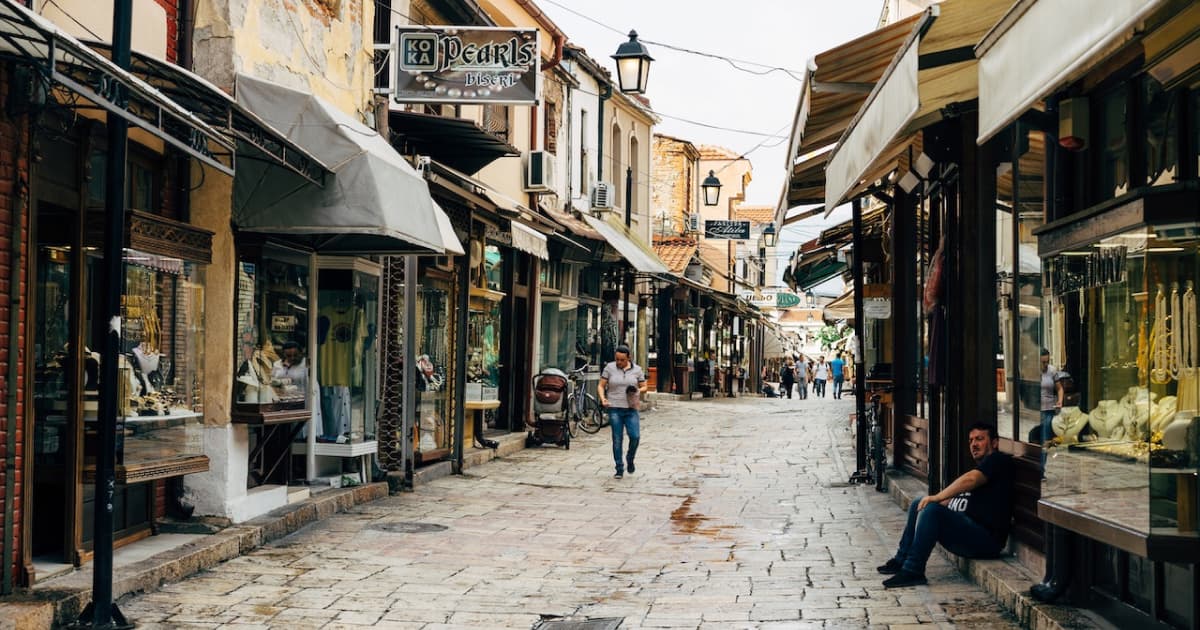 The capital of North Macedonia, Skopje, is well worth visiting on a trip here. 
From its stunning scenery, mountain terrain for hiking, and rugged rivers for kayaking, to its vibrant culture and lively nightlife.
For those wanting a more cultural experience, visiting the many historical sites scattered throughout the city provides an opportunity to explore centuries' worth of history firsthand.
Skopje also provides access to some amazing historical monuments, such as the Stone Bridge and St. Mark's Church. 
Any outdoor enthusiast here will be spoiled with activities, such as trekking across untouched trails or rafting down wild river rapids. 
Or, if you're looking for something different from your typical vacation plans, venture into one of Skopje's bustling markets, where vendors sell everything from exotic spices and unique trinkets to handmade crafts that make great souvenirs!
For those looking to soak up the atmosphere, Skopje is a vibrant town with plenty of restaurants highlighting traditional Macedonian cuisine.
5. Adventure Travel.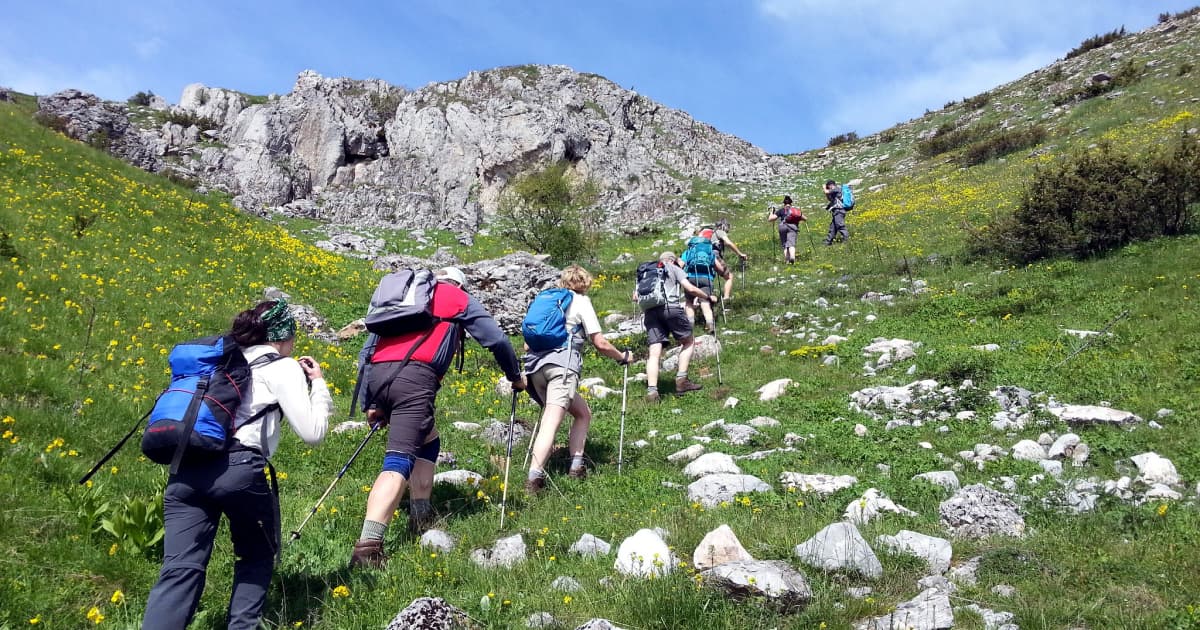 This Balkan nation has a wealth of outdoor activities to bring your wildest travel dreams to life.
For those who are curious about what lies beyond traditional tourist attractions in Europe – North Macedonia should be your first port of call! 
North Macedonia is the perfect destination for adventure travelers seeking to explore diverse cultures and experience new thrills. 
With stunning landscapes perfect for sightseeing, and, most importantly, an abundance of outdoor activities—from hiking, and mountain biking to rafting—North Macedonia has endless opportunities for adventurers looking to leave the ordinary behind.
From venturing off the beaten path to one of North Macedonia's many quaint towns or discovering ancient ruins scattered across the countryside, there are so many hidden gems that await those who venture beyond their comfort zone. 
You can head out on thrilling treks through lush forests that lead up to soaring mountains with breathtaking views around every corner. 
Or experience the ultimate thrill by paragliding in the scenic Mavrovo National Park.
Explore ancient ruins around Ohrid, such as St. Naum Monastery or the Bay of Bones Museum.
Or take an opportunity to kayak through gorges and caves around Ohrid instead.
And wintertime offers plenty of skiing on the spectacular mountain ranges like Shar Mountain National Park in the southern part of the country — where you can find breathtaking views from dizzying heights above tree lines.
Our multi-sport Macedonia adventure tour offers biking, hiking, kayaking, and more across an 8-day adventure trip.
Here are some of our adventure travel highlights across North Macedonia.
>

Biking North Macedonia.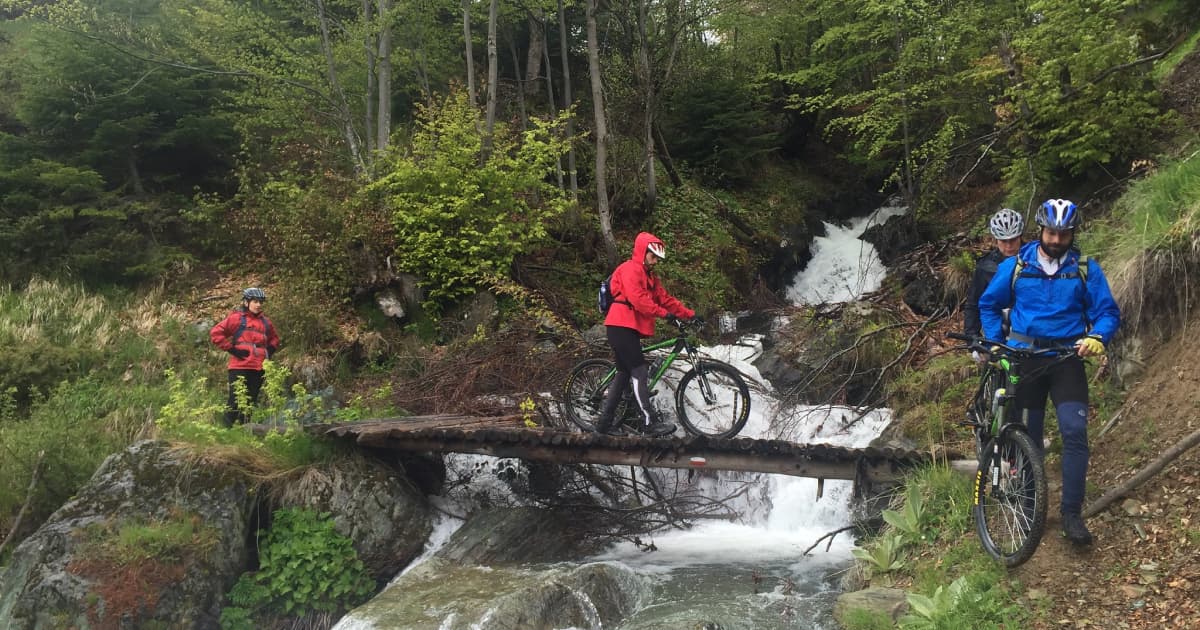 At every turn, bikers can discover beautiful traditional villages steeped in rich cultural heritage waiting to be explored during their journey through North Macedonia's countryside .
These villages offer up colorful folk customs as well as authentic farm to table cuisine that won't be found anywhere else in Europe!
The scenic views from atop the mountain trails are unparalleled with amazing panoramic views.
Experienced cyclists can even take on some steeper climbs for even more incredible views across vast open plains below them.
Here you can find some of the top cycling routes across North Macedonia to help you plan ahead.
>

Hiking North Macedonia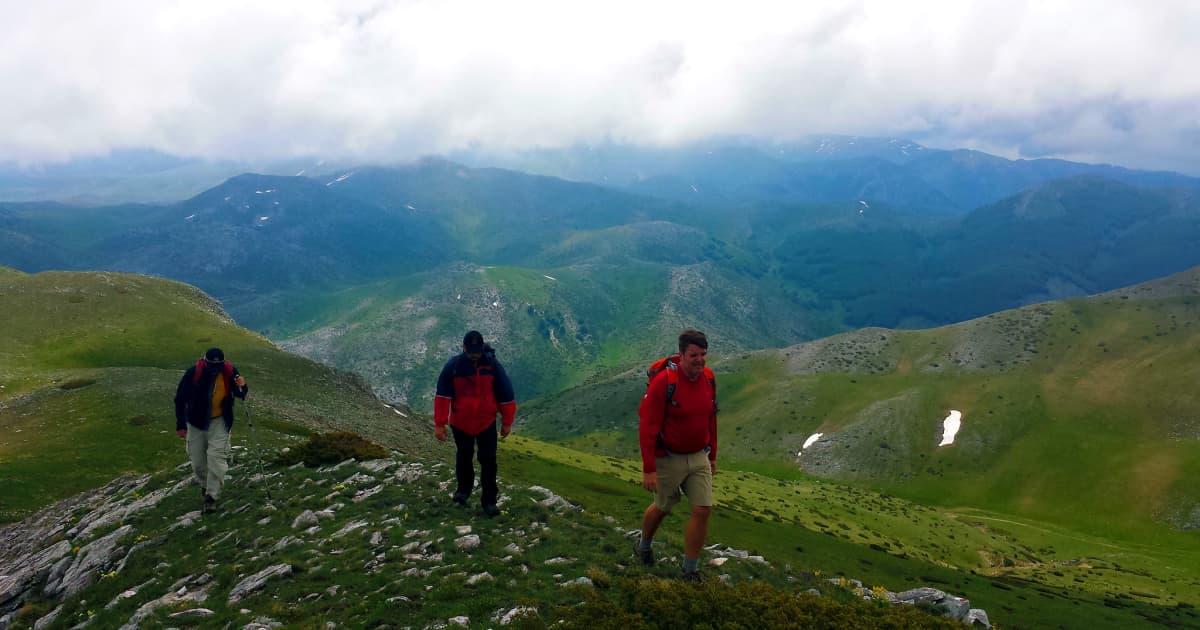 The abundance of hiking trails makes North Macedonia an ideal spot for a hiking holiday.
From the rugged Matka Canyon to Galicica National Park, there are plenty of opportunities to explore some beautiful terrain. 
Alongside these stunning vistas, you can also immerse yourself in local cultural sites found across many of the hiking trails here.
So if you're eager to embark on a journey through unfamiliar lands, then hiking North Macedonia should certainly be top priority! 
The hiking trails here are full of surprises around every corner!
If you're looking for some trail inspiration you can find our favorite hikes in North Macedonia.
>

Kayaking North Macedonia.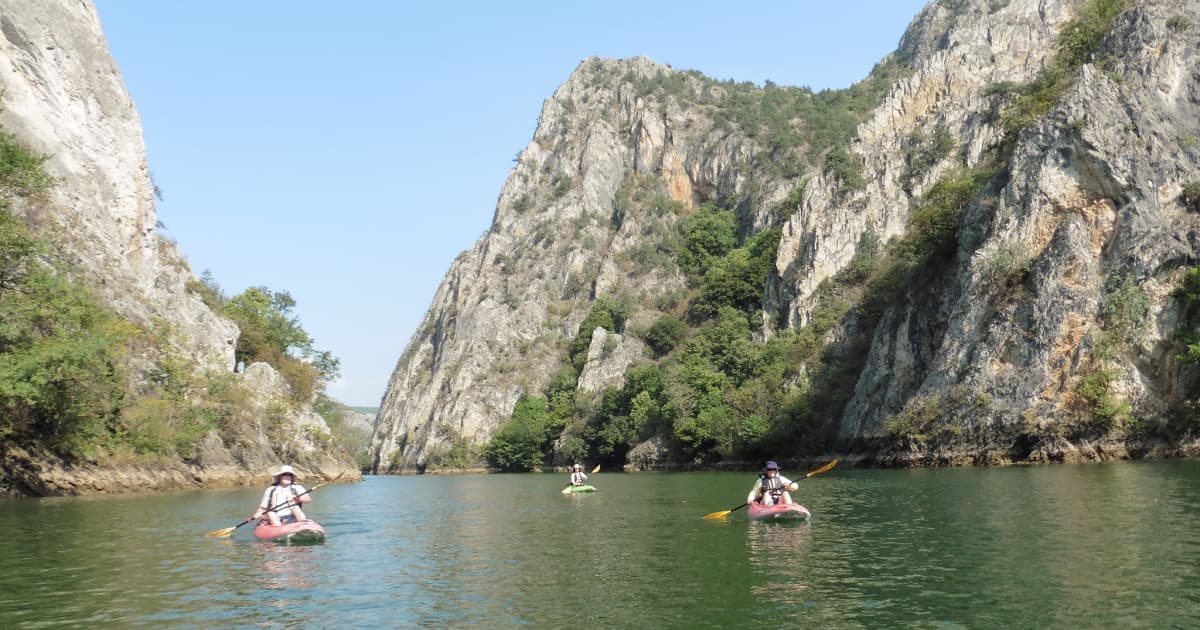 Here, kayakers of all skill levels, from beginner to expert, can find a challenge or an easy paddle. 
North Macedonia's natural beauty offers some breathtaking scenery while out kayaking.
Here are my 3 favorite kayaking spots:
> Vardar River: The Vardar is a longer, more leisurely trip that is suitable for beginners and intermediate paddlers. It passes through the city of Skopje and offers a chance to see some of North Macedonia's cultural and historical sites.
> Crna Reka: This river is known for its clear, clean water and is a great option for some easy kayaking. The Crna Reka is also surrounded by picturesque forests and mountains.
> Mavrovo Lake: This large, beautiful lake in the Mavrovo National Park is a great place for beginner kayakers to practice their skills. The lake is surrounded by forests and mountains, making it a great destination for a relaxing day on the water.
6. Arts & Culture.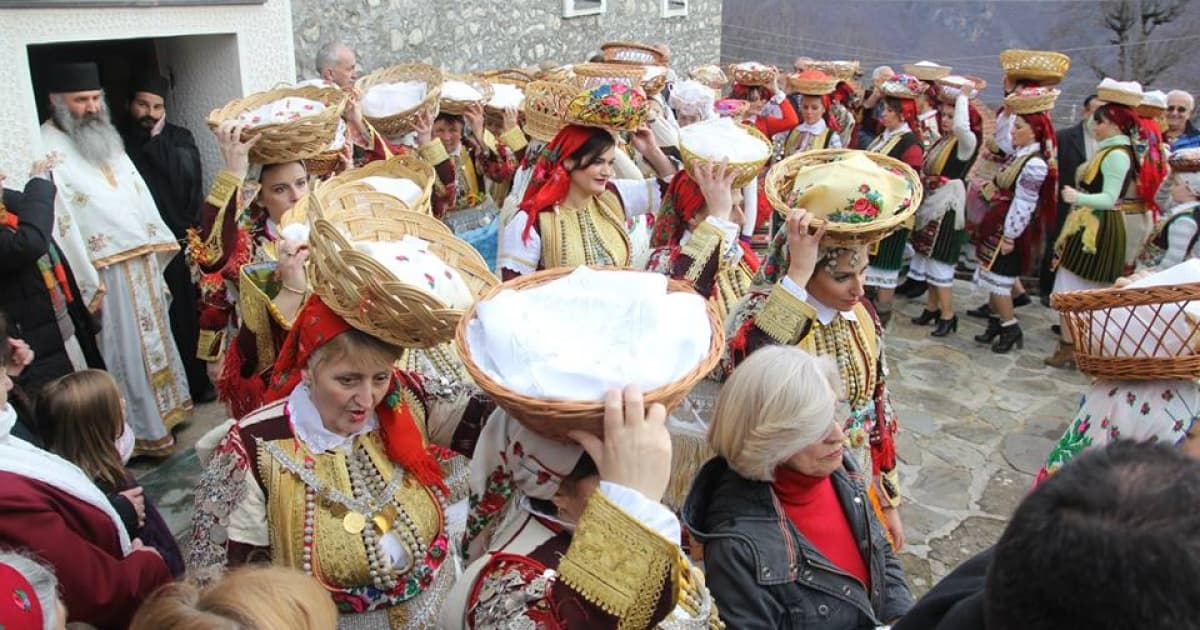 North Macedonia has an incredibly vibrant arts and culture scene.
The country's history is evident in its diverse architecture, from ancient Greek monuments like Stobi and Heraclea Lyncestis to Ottoman-era mosques such as the Mustafa Pasa Mosque of Bitola. 
Visitors can explore centuries-old ruins at places like Samuilova Krepost or take a walk through Skopje's Old Bazaar district, where local artisans showcase their crafts. 
There are also many unique cultural celebrations to experience.
Annual events such as Kuker Festivals take place throughout the year, where locals dress up wearing masks depicting mythical creatures while performing traditional dances around bonfires accompanied by drums and other musical instruments made from animal skin or woodwinds crafted out of birch trees! 
Art galleries featuring contemporary works also dot cities across North Macedonia.
7. Farm To Table Food.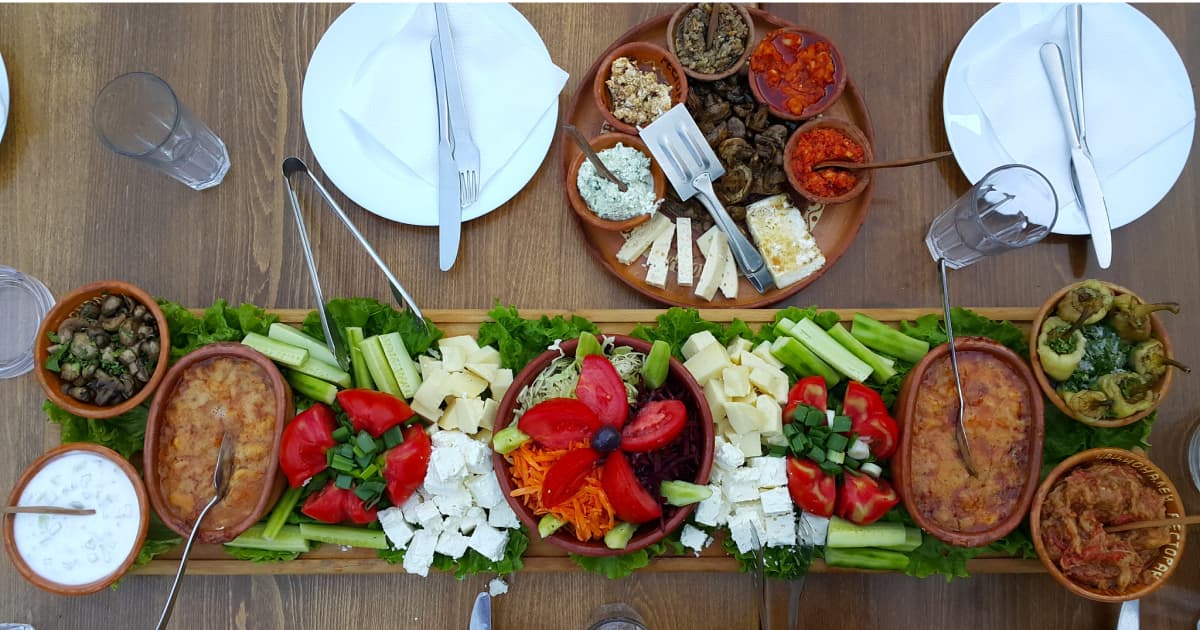 North Macedonia offers a unique farm to table dining experience, making it a worthwhile visit for anyone seeking an authentic culinary journey.
Some of the best cuisine I have had in my life was in North Macedonia. 
Every single meal was so delicious and varied that it was hard to stop eating. The bread, the meat, the cheese, the vegetables…all so good. 
North Macedonia boasts incredible cuisine that is not only flavorful and fresh but steeped in centuries' worth of cultural heritage.
There are plenty of bustling open markets full of locally grown produce and exotic spices to explore.
You can even opt for a more intimate cooking class with a local guide and learn how to prepare regional dishes, many made using time-honored techniques passed down through generations. 
North Macedonia's farm-to-table culture is reason alone to discover this amazing country: its gastronomy is truly second to none!
8. Exquisite Wines.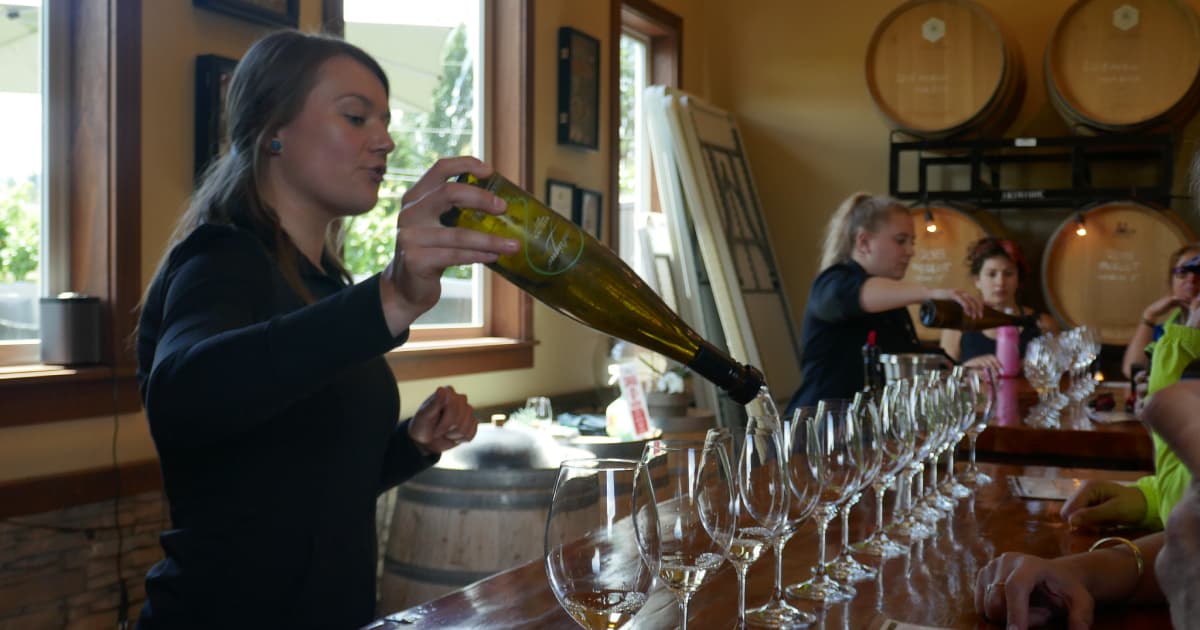 Not just one for the foodies, the wine in North Macedonia is also absolutely incredible.
Before I visited North Macedonia, I had no idea how good the wine would be, especially red wine. The wine here can rival that of other European countries such as France and Italy and is very affordable. 
There are quite a few wineries scattered throughout the country, and the most well-known wine region is Tikvesh. This region has been producing wine since the 4th century BC. 
From full-bodied reds to crisp whites and rosés, North Macedonia has an array of exquisite wines on offer, from traditional regional blends to something more daring such as late-harvest varieties made with local grapes.
What's more, there are plenty of opportunities for wine tasting and wine tours across North Macedonia.
We can definitely see tourists flocking here in search of their new favorite vintage!
9. People.
The people of Macedonia are warm and welcoming, eagerly sharing their cultural heritage and inviting visitors to experience it firsthand.
Several times I found myself chatting with locals about their history, culture, and love of food and wine.
10. Affordability.
North Macedonia is quite a budget-friendly destination and has great value for the money you will spend.  
You can easily eat three-course meals and enjoy a bottle of wine every night without breaking the bank. 
The hotels are also reasonably priced for the services you receive and your travel budget will definitely stretch a lot longer in Macedonia compared to other European countries.
This Balkan nation may be one of Europe's least expensive countries I've visited; however, it doesn't skimp on quality or adventure.
When Is the Best Time to Visit North Macedonia?
I find the best time to visit North Macedonia is from mid-May to the end of September. 
> May - September, temperatures remain mild and dry, which is perfect for exploring the outdoors. 
There are also a handful of festivals held during these months that highlights traditional art forms like music and dance performances, as well as local food festivals — giving visitors a chance to really experience authentic Macedonian culture.
The winter months in North Macedonia are from December to March.
> December to March it can get pretty wet, and it tends to rain a lot. However, there are plenty of skiing opportunities throughout the off-season, when many of the mountain ranges are covered with snow through winter.
Join Us On A North Macedonia Adventure.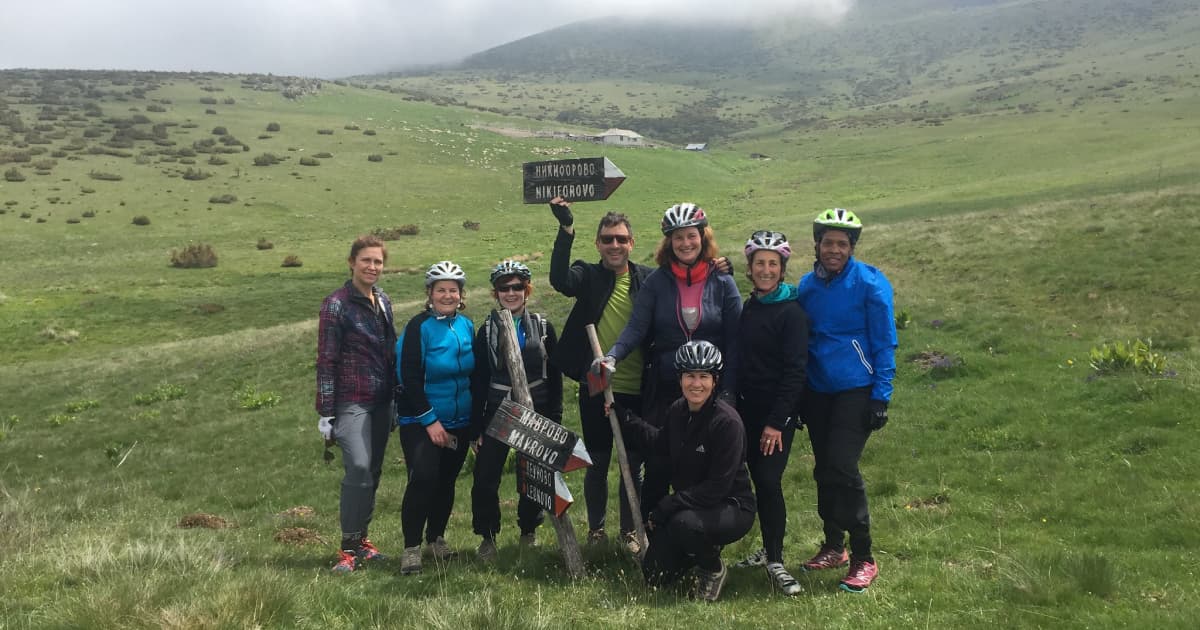 If this post has inspired or tempted you to plan a vacation to North Macedonia, you can experience all of this and more on our Macedonia adventure trip.
Check out our Multi-sport Through the Balkans 8-day Tour for more details.
We'll leave you with a little taste of North Macedonia travel from a custom trip we put together based on our multi-sport through the Balkans tour.
If you have any questions about North Macedonia or anything else we mentioned in this article, get in touch anytime, we're always happy to talk travel!
Happy Travels,
Trish Sare
About The Author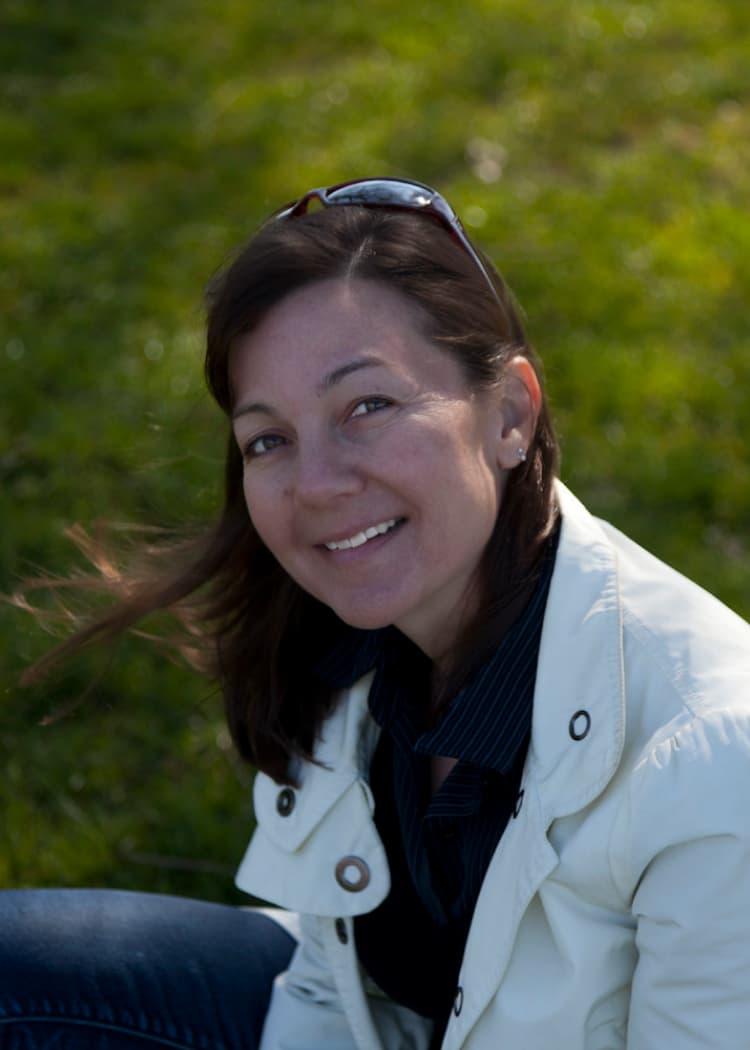 Trish Sare is the owner of BikeHike and a passionate outdoor enthusiast with over 30 years of experience as a world traveler. She's lived, traveled, and guided extensively in North, South, and Central America, Europe, Oceania, Africa, and Asia. She has guided and helped to develop every one of our multi-sport holidays. In her spare time, Trish is usually outdoors, either mountain biking, hiking, sea kayaking, trail running, or climbing. Trish has a passion for the world and all of the amazing cultures that inhabit it and does her best to immerse herself directly into their distinctive lifestyles.