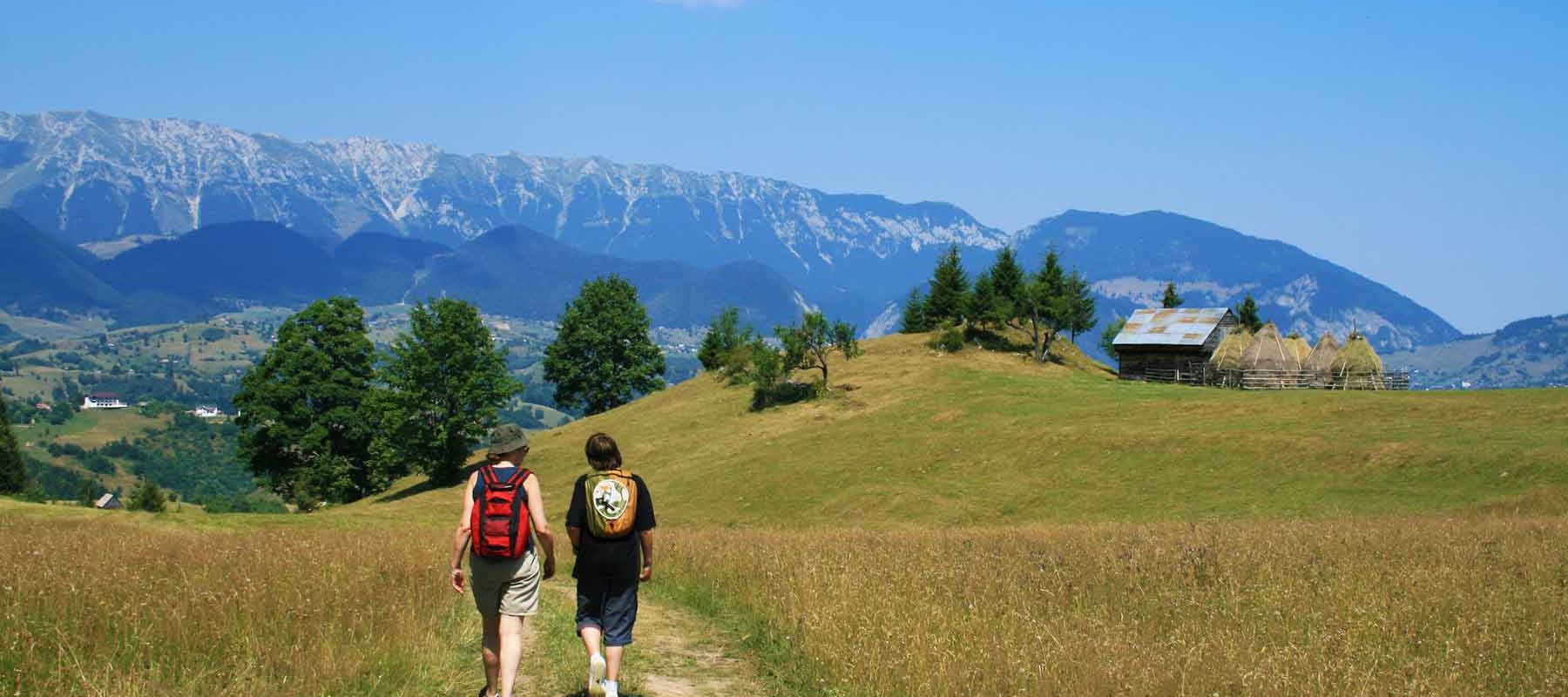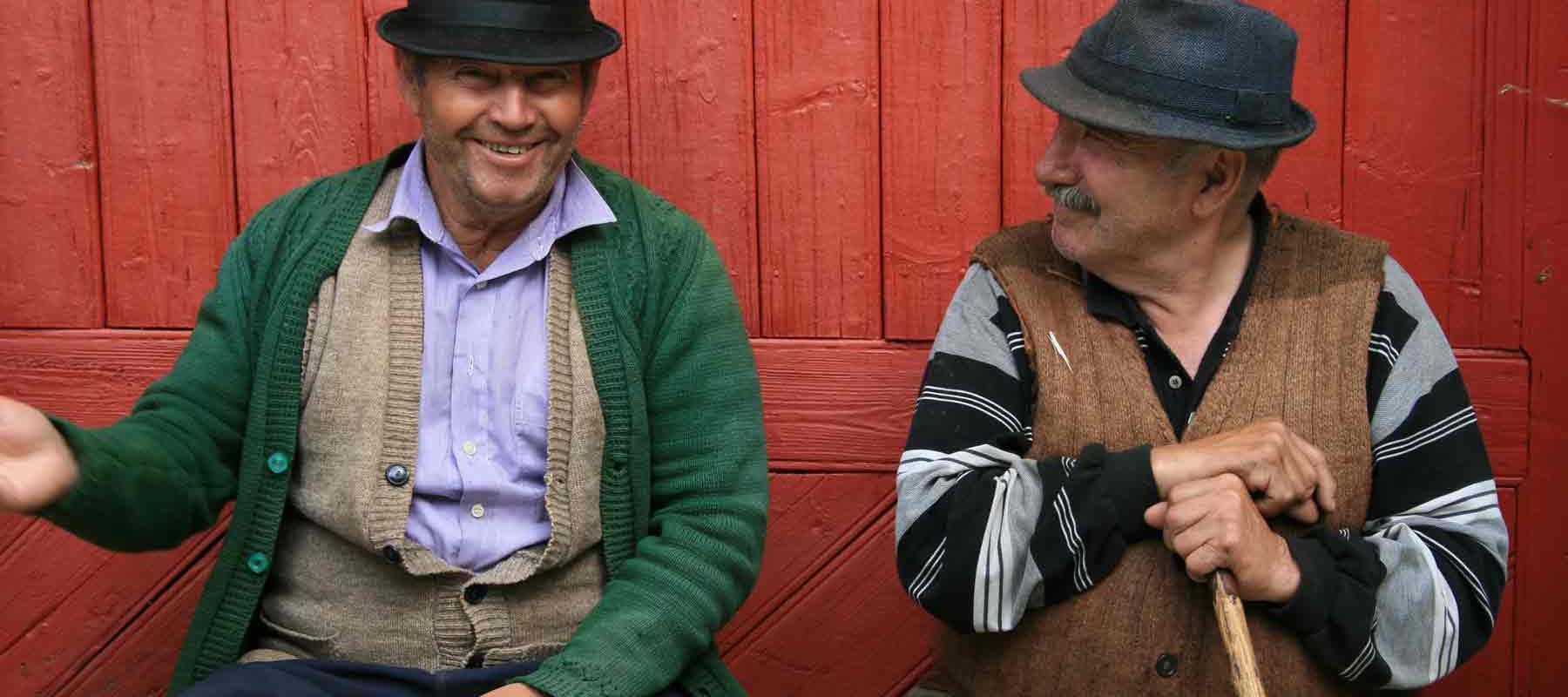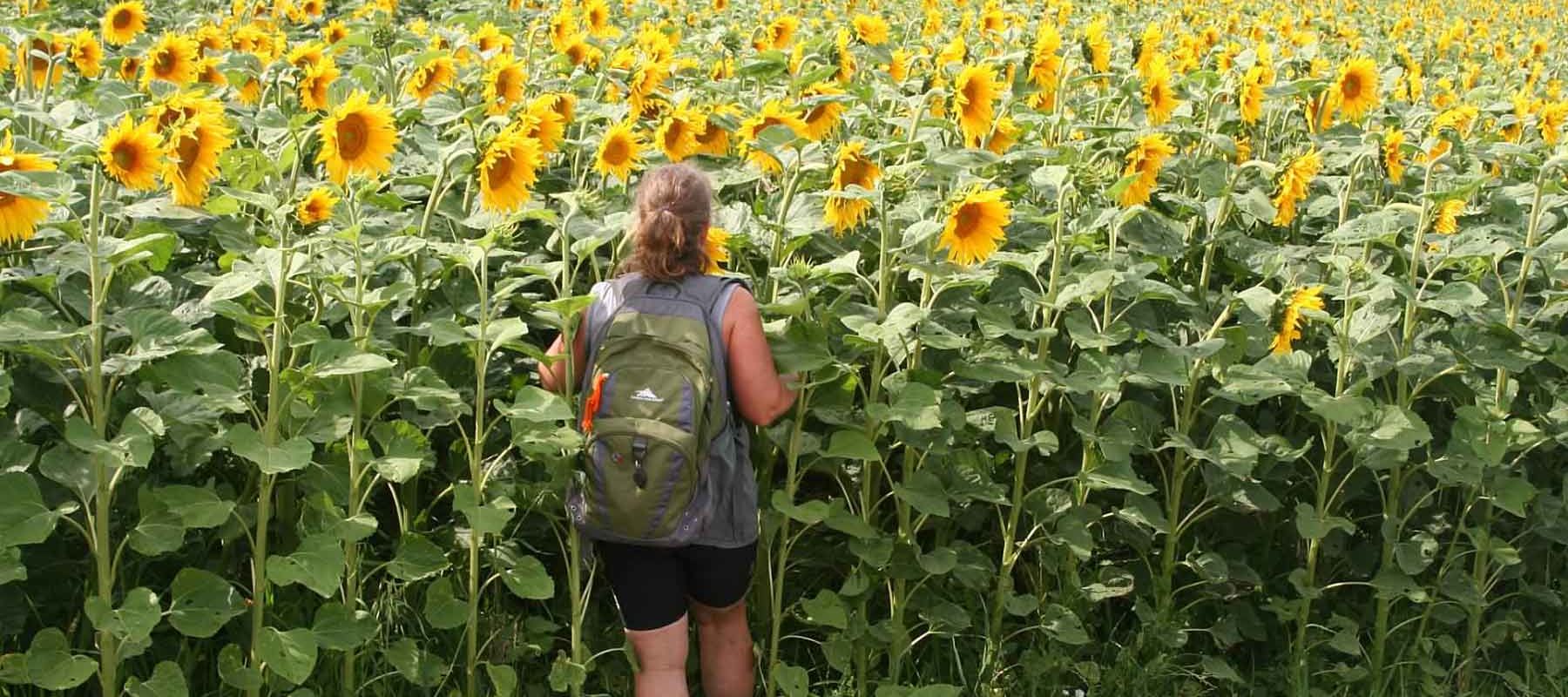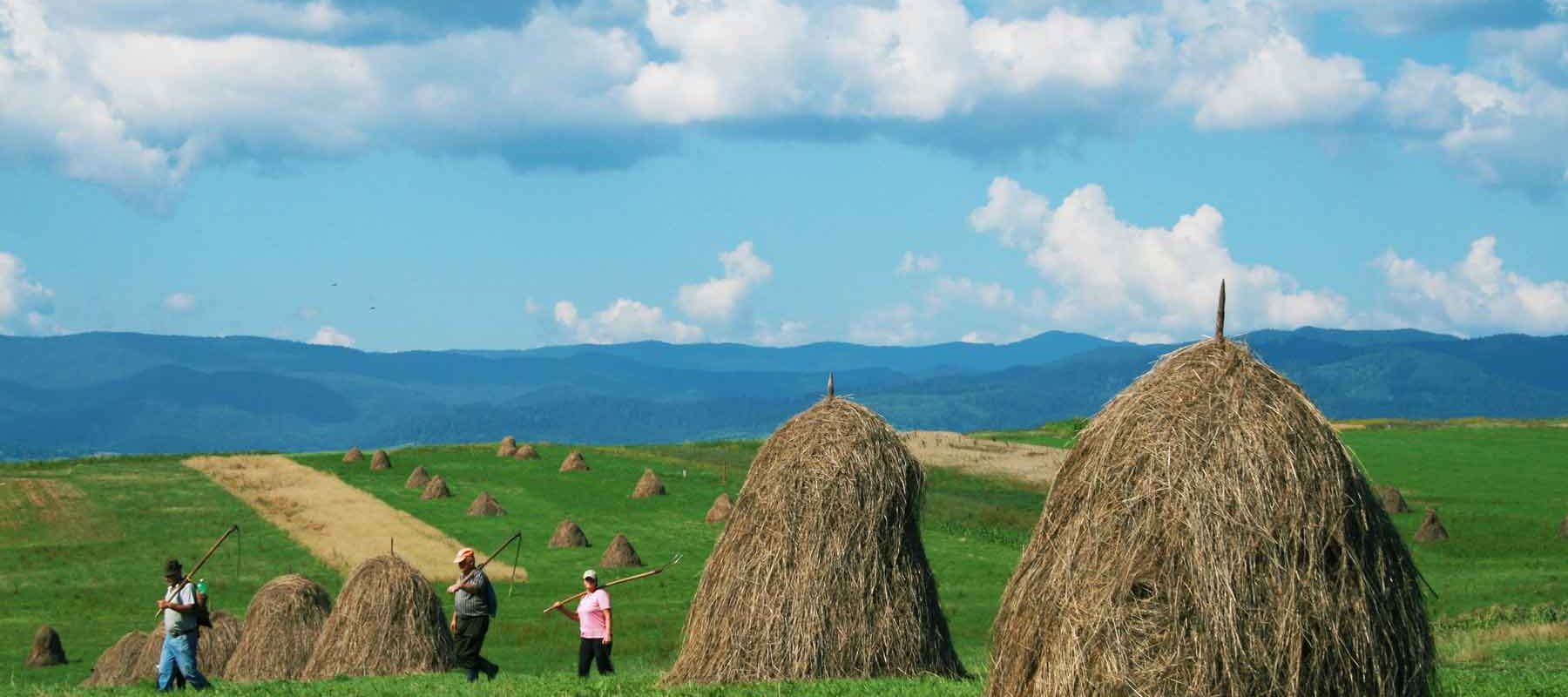 Transylvania Hiking Traverse: Romania Adventure Trip
Transylvania Hiking Traverse: Romania Adventure Trip
Trip Overview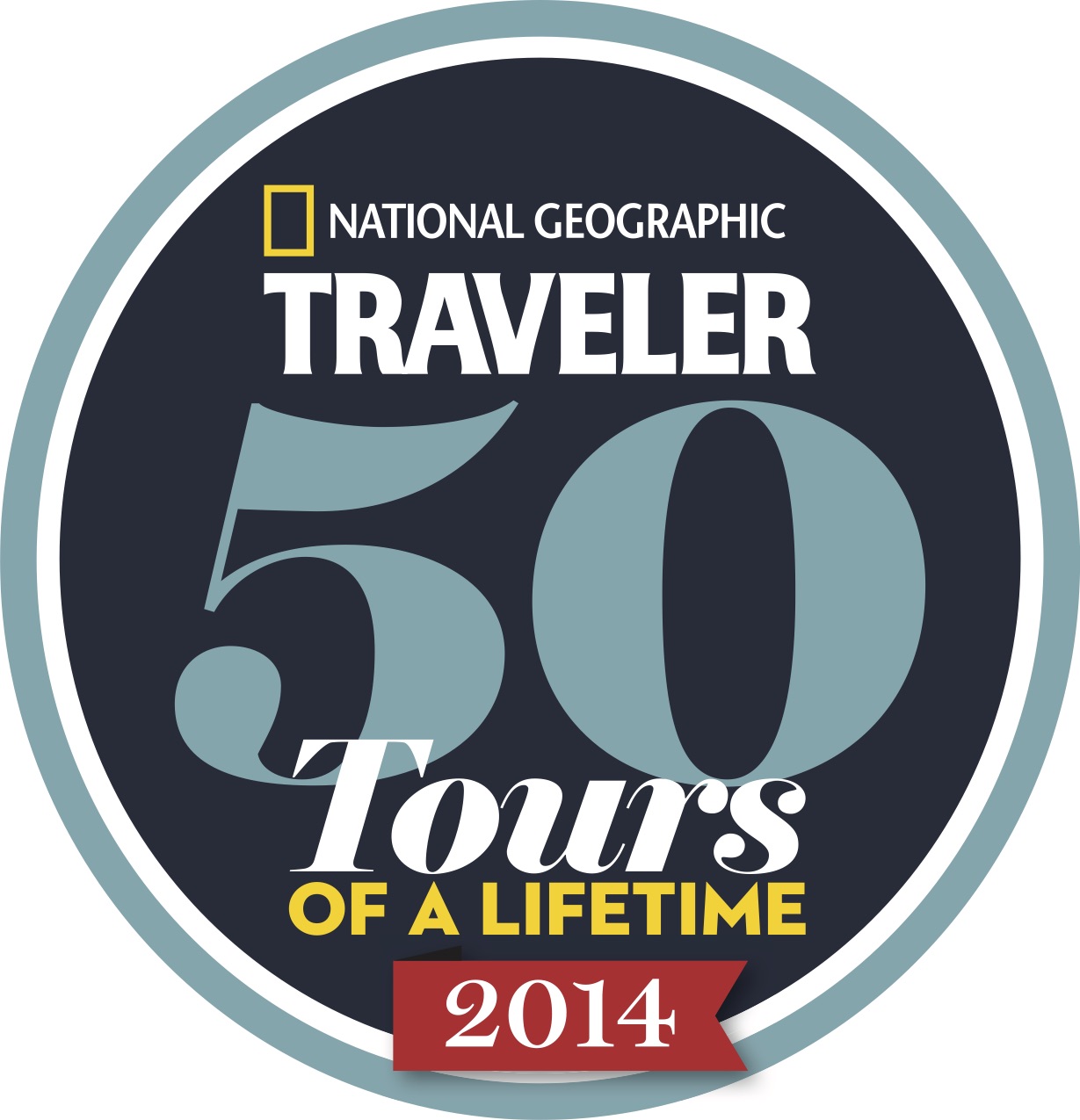 Discover Romania on a once-in-a-lifetime authentic trip as featured in National Geographics: Tours of a lifetime.
Romania conjures up iconic images of Count Dracula, Transylvania, the Carpathian Mountains, and old-world Eastern European culture. It's a country where Western and Byzantine influences meet, shepherds still tend their flocks, horse-drawn carriages are more numerous than cars, and medieval villages retain their traditional character.
Transylvania is one of the major historical regions in Romania, surrounded by cultural diversity, stunning scenery, and adventure opportunities aplenty. 
On BikeHike's Transylvania Traverse Hike, you will experience ethnic diversity from Romanians, Hungarians and Saxons to Gypsies, Ukrainians and Poles, and learn about their traditions and beliefs. Sample the region's local cuisine and wines, and hike in the legendary Carpathian Mountains, the backbone of Eastern Europe. This Romania adventure tour is an artful blend of outdoor activity, traditional culture, exquisite scenery, and ancient history.
WOW FACTORS
Hike through remote villages and rugged countryside full of haystacks, horse-drawn wagons, and grazing dairy cattle.
Visit UNESCO World Heritage Sites including Transylvanian villages with fortified churches.
Meet and interact with locals who still make their living as blacksmiths, carpenters, shepherds, and weavers.
Our Romania Trip (and BikeHike Adventures) was also mentioned on Forbes.com as one of the "Top Ten Adventure Destinations You Didn't Know About"
Find Out More
Discover more about Romania and our once-in-a-lifetime Transylvanian trip featuring travel tips and stories from our Romanian guide, Ramona. 
Itinerary & Map
Day 1
Bucharest
Arrival
Upon arrival into the Bucharest Airport, make your way to your central hotel. Upon arrival at your accommodation, you'll receive confirmation of your start time the following day.

Accommodation: Hotel
Meals: none
Day 2
Carpathian Mountains
Hiking
After breakfast, we will transfer to the Carpathian Mountains. On our way, we'll visit Peles Castle, a royal palace built as a summer residence for the first king of Romania (between 1875 and 1883) and built in a German Renaissance style. You'll have some time to take lunch here on your own right on the grounds of the castle. Afterwards, we will transfer deeper into the mountains to Seven Ladders Canyon where we'll have the chance to climb ladders along seven waterfalls. The highest waterfall is 115 ft / 35 m. We'll have a gentle entrance into the canyon and return with a short circular hike to make our way back to our vehicle. The canyon exit will have a short ascent/descent. After returning to our vehicle and leaving the canyon, we'll be transferred again for the afternoon's main hike in the surrounding mountains before travelling by car to Magura, in the foothills of Piatra Craiului Mountain. There, we'll check into our cozy guesthouse that boasts incredible panoramic views. We'll be staying here for two nights. After some time to settle in, we'll enjoy a traditional family style Romanian dinner together, cooked by our hosts. 

Hiking Duration: 3-4 hours
Hiking Distance: 8 km / 4.5 mi
Ascent/Descent: +/-500m (1640 ft)
Accommodation: B & B
Meals: Breakfast, Dinner
Day 3
Carpathian Mountains - Bran Castle
Hiking
This morning we set off on foot from the guesthouse, hiking to Bran Castle (otherwise known as Dracula's Castle). Bran Castle was built in the 13th century and is one of the oldest medieval castles in Romania. Since the 1900s, it has been the summer residence of Queen Marie of Romania, the granddaughter of Queen Victoria of England. Our hike today lasts about five hours, with a steady climb and an area of somewhat steep descent. We'll pass through a village and over a mountain offering spectacular views. Along the way, we'll stop for a delicious picnic lunch of simple yet traditional dishes. After lunch, we'll walk a bit further and meet our driver again to transfer back to the village. For dinner, we'll once again enjoy a traditional family style dinner cooked by our hosts.

Hiking Duration: 5 hours
Hiking Distance: 15 km / 9 mi
Ascent: + 500 m (1640 ft)
Descent: - 800 m (2625 ft)
Accommodation: B & B
Meals: Breakfast, Lunch, Dinner
Day 4
Zarnesti Gorge
Hiking
After breakfast we'll set out on foot, right from our guesthouse again. Our destination today is the Zarnesti Gorge, where the movie Cold Mountain was filmed. The route to the gorge passes through a local village, along a narrow forest road and up and down lush valleys. We'll be hiking for about 5 hours. On the other side of the hike, we'll reconnect with our driver and drive two hours to our next accommodation, located in a small Saxon village. Our hosts are a delightful family, and the hostess loves to provide home-cooked meals for her guests. At dusk, we'll watch for the cow and goat parade. This is when all of the cattle, horses and goats are set free from the fields and return home, waiting for their gates to open. It is certainly a spectacle to witness and often a highlight of the trip. We will stay in this lovely guesthouse for two nights.

Hiking Duration: 5 hours
Hiking Distance: 16 km / 10 mi
Ascent: + 600 m (1967 ft)
Descent: - 880 m (2887 ft)
Accommodation: B & B
Meals: Breakfast, Lunch, Dinner
Day 5
Prince of Wales Walk
Hiking
This morning we'll drive to Viscri, a remote and beautifully preserved traditional Transylvanian village with a UNESCO recognized white fortified church. The English-Romanian Foundation here has worked diligently to restore parts of this church as well as many of the facades, barns, walls and buildings throughout the town. Viscri has also attracted international attention because Prince Charles, the Prince of Wales, owns a house here. We'll first visit the church before beginning our hike from Viscri to Mesendorf, through fertile meadows and a beautiful forest. This is the same route that Prince Charles hiked on his first visit to Romania 20 years ago. He still returns every year to experience the Romanian wild flower meadows and the organic food. After our hike, we'll return to our same guesthouse and enjoy another family-style meal. We'll have the remainder of the evening after dinner to relax and relish the rural surroundings.

Hiking Duration: 4 hours
Hiking Distance: 17 km / 11 mi
Ascent: + 100 m (328 ft)
Descent: - 250 m (820 ft)
Accommodation: B & B
Meals: Breakfast, Lunch, Dinner
Day 6
Sighisoara
Hiking
After breakfast, we will start hiking again in the picturesque area around our guesthouse, heading over the hills and through two traditional villages. We'll stop for a rest at Saschiz, where we'll enjoy a farm to table lunch in a family home. After lunch, we'll walk to catch a train from a remote village station. The train will take us to Sighisoara, considered to be one of most beautiful inhabited citadels in Europe while also being Romania's most iconic medieval structures. The medieval citadel is perched on a hilltop and is fortified with a 14th century wall and towers. For avid readers, Sighisoara is also the birthplace of Vlad the Impaler, from Bram Stoker's Count Dracula novel. Tonight's hotel is an extra special one due to its location right in the centre of the fortress. After getting settled in, the evening is free to enjoy the town at our own leisure.

Hiking Duration: 3 hours
Hiking Distance: 11 km / 7 mi
Ascent: + 300 m (985 ft) / - 300 m (985 ft)
Descent: - 300 m (985 ft)
Accommodation: Hotel
Meals: Breakfast, Lunch
Day 7
Malancrav - Sibiu
Hiking
Today, we'll start with a transfer to Malancrav, a picturesque 14th century village with the region's largest Saxon population. After a visit to its fortified church, we'll visit a local woman who makes Romanian carpets on a loom. We'll then have a bit of leisure time to explore the village before we begin hiking again to another Saxon village. The hike crosses over a hill and down a long valley, ending at a sheepfold. Here, we'll experience the delights of a traditional shepherd's lunch. After lunch, we'll be met by our driver and transferred to Sibiu. After checking into our comfortable hotel, the evening will be at leisure to explore this beautiful town. Sibiu is a typical Eastern European town where you'll discover plenty of narrow cobbled streets and large squares filled with outside cafes and restaurants. Throughout the town, you'll also discover a multitude of churches and museums.

Hiking Duration: 2 hours
Hiking Distance: 7 km / 4 mi
Ascent: + 300 m (985 ft)
Descent: - 150 m (492 ft)
Accommodation: Hotel
Meals: Breakfast, Lunch
Day 8
Sibiu
Hiking and Wine Tasting
This morning, we'll drive beyond Sibiu for a light hike to a vineyard. Once there, we'll enjoy a leisurely picnic of local dishes typical to the area. We'll also have the opportunity for a wine tasting in the vineyard. Afterwards, we'll return to Sibiu. The evening is at leisure to enjoy the town.

Hiking Duration: 2 hours
Hiking Distance: 6 - 8 km / 4 - 5 mi
Ascent: + 100 m (328 ft)
Descent: - 100 m (328 ft)
Accommodation: Hotel
Meals: Breakfast, Lunch
Day 9
Bucharest
Transfer and City Stroll
Today is the conclusion of our Transylvanian exploration as this morning we will head into Romania's bustling capital, Bucharest. The city is laden with history, and is known for its wide, tree-lined streets, neoclassical buildings and fashionable parks. Upon arrival into Bucharest, we'll check into our cozy hotel in the centre of town. The remainder of the day will be at leisure to explore the wonders of Bucharest.

Driving Duration: 5 hours
Accommodation: Hotel
Meals: Breakfast
Day 10
Bucharest
Departure
This morning you can explore Bucharest, if time allows, before arranging your transfer back to the airport in time for your international flight back home or onward within Europe.

Meals: Breakfast

NOTE about Ascent/Descent numbers: 

The ascent/descent numbers are usually generated using Ride with GPS. The numbers are TOTAL ascent/descent for the day and these numbers do not suggest altitude. There are usually multiple small ascents and descents added up throughout the day to reach this total ascent/descent for the day. (While our numbers are generally consistent with Ride with GPS, depending on the mapping technology used, numbers may vary).

What's Included
TRIP INCLUSIONS:
All accommodation (twin shared), Meals as indicated (B=breakfast, L=lunch, D=dinner), all internal transportation and English-speaking guides.
TRIP DOES NOT INCLUDE:
International airfare, airport departure taxes, airport transfers*, gratuities, meals not indicated and items of a personal nature.
MEALS:
Breakfasts,  Lunches,  Dinners (as indicated in itinerary)
ACCOMMODATION:
Hotels 5 nights
B & B 4 nights
*We can arrange airport transfers on your behalf as an add-on. Let us know at time of booking and we can arrange a quote for you. 
 
Trip Facts
Weather in Romania
June to September: Summer season. Warmest months are June and July, about 30°C (85°F) in the afternoons, but temperatures can rise to over 38°C (100°F).
October to May: Cold, less rain. Coldest months are January and February, about freezing point.
Travel Documents
Canadian and US citizens require a valid passport with an expiry date that is beyond six months from the date of entry. A visa is not required for North American citizens. Citizens of other countries should contact the Romanian Embassy for specific entry requirements.
Food and Water
Romania's most famous dish is mamagliga (hard or soft cornmeal mush boiled, baked or fried). The other mainstay of the Romanian diet is cjorba (soup). Pork is the main meat used in Romanian cuisine. There are many desserts options such as placinta (turnovers), clarite (crepes) and saraille (almond cake soaked in syrup). Romania is the 10th largest world producer of wine. Romania is also the world's second largest grower of plums. Almost all of the plums are turned into plum brandy called palinca. Although Romania's tap water is typically suitable to drink, it is best to drink only treated or bottled water during your stay. Bottled water, soft drinks, and fresh juices are readily available.
FAQ
Can I take this trip if...
I am a solo traveller? How does solo accommodation and costing work?
Many of our travellers (both men and women) join as singles. On average, BikeHike groups are 75% single travellers and 25% couples. Unlike many adventure travel companies, we don't charge single supplement fees to solo travellers. Instead, we pair you with another traveller of the same gender. If we can't find you a roommate, you get your own room at no additional charge. A single private room supplement fee is only required if you specifically request a confirmed private room for the duration of the trip. Learn more about solo travel with BikeHike. 
I have special dietary requirements?
We will do our best to accommodate special dietary requests (e.g. vegetarian, gluten free, etc.), but ask that you please discuss your request with us when signing up for a trip.
I am travelling with children? Is this trip child friendly?
While most of our trips are created with adults in mind, many of our itineraries are suitable for strong and active teenagers. This trip is generally good for older children (eight or older) and teenagers. However, we do offer many Family Focused trips, some of which are able to accommodate children as young as six.
Accommodation
Most of our trips include comfortable mid-range accommodations. This includes accommodation that provides a clean and comfortable experience in characterful surroundings that reflect the destination. To build stronger connections with the communities and support the local economies, we avoid using large international chain brands on BikeHike trips. 
This trip includes the following types of accommodation:
HOTELS 
In an effort to keep money in the communities we visit around the world, BikeHike prefers small hotels, bungalows, and haciendas that showcase the character and local flair of each destination.
B&B (GUESTHOUSE)
Here, the emphasis in Eastern European guesthouses is on the experience of living as local and less on the common luxuries of western living. The accommodation will be comfortable but can be more basic than western style standard B&Bs.
Click HERE for more information about accommodation styles.
Trip At A Glance
Day
Destination
Activity

Duration

Distance
Ascent / Descent
Lodging
Meals
1

Bucharest

Arrival

—
—
— / —

Hotel

—
2

Carpathian Mountains

Hiking

3-4 hours

+ 500 (1640 ft)

- 500 (1640 ft)

B & B

3

Carpathian Mountains - Bran Castle

Hiking

5 hours

+ 500 m (1640 ft)

- 800 m (2625 ft)

B & B

4

Zarnesti Gorge

Hiking

5 hours

+ 600 m (1967 ft)

- 880 m (2887 ft)

B & B

5

Prince of Wales Walk

Hiking

4 hours

+ 100 m (328 ft)

- 250 m (820 ft)

B & B

6

Sighisoara

Hiking

3 hours

+ 300 m (985 ft)

- 300 m (985 ft)

Hotel

7

Malancrav - Sibiu

Hiking

2 hours

+ 300 m (985 ft)

- 150 m (492 ft)

Hotel

8

Sibiu

Hiking and Wine Tasting

2 hours

+ 100 m (328 ft)

- 100 m (328 ft)

Hotel

9

Bucharest

Transfer and City Stroll

5 hours (drive)

—
— / —

Hotel

10

Bucharest

Departure

—
—
— / —
—