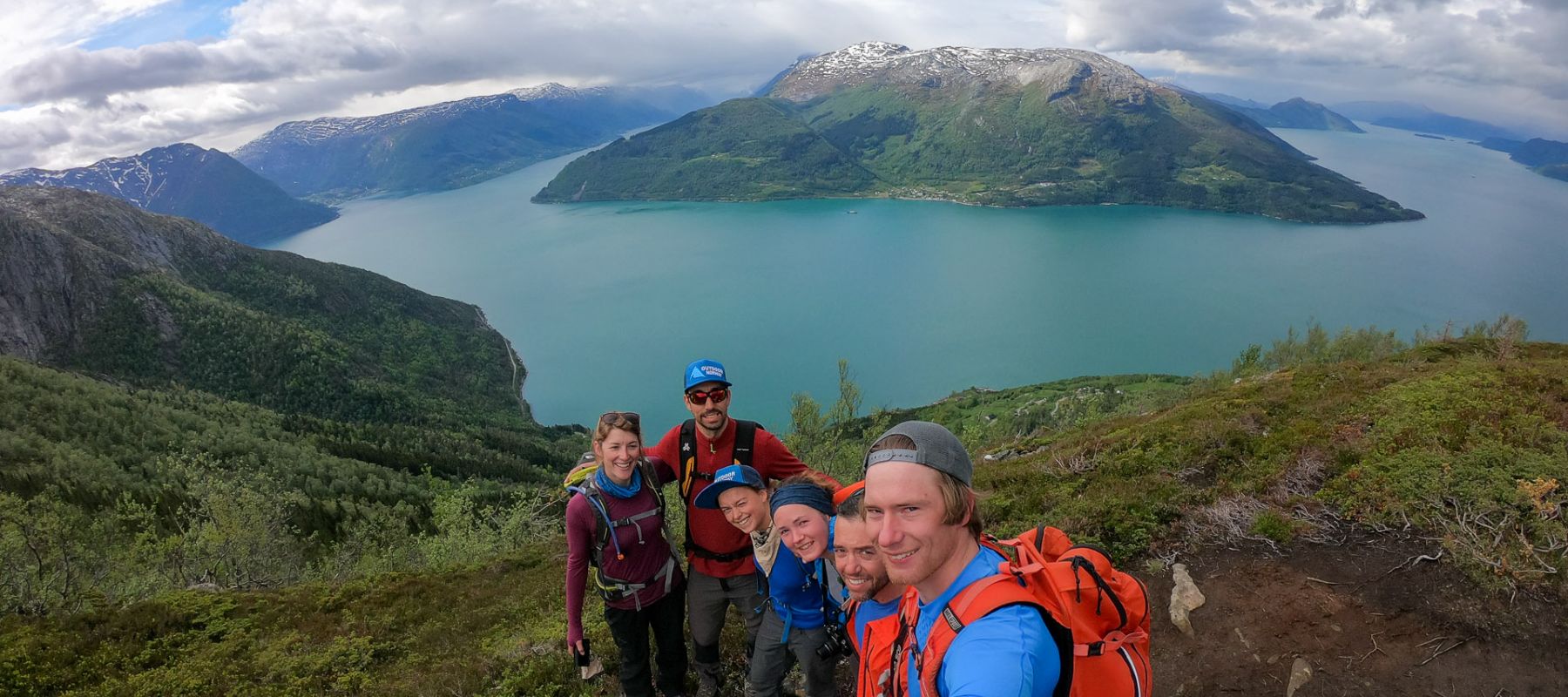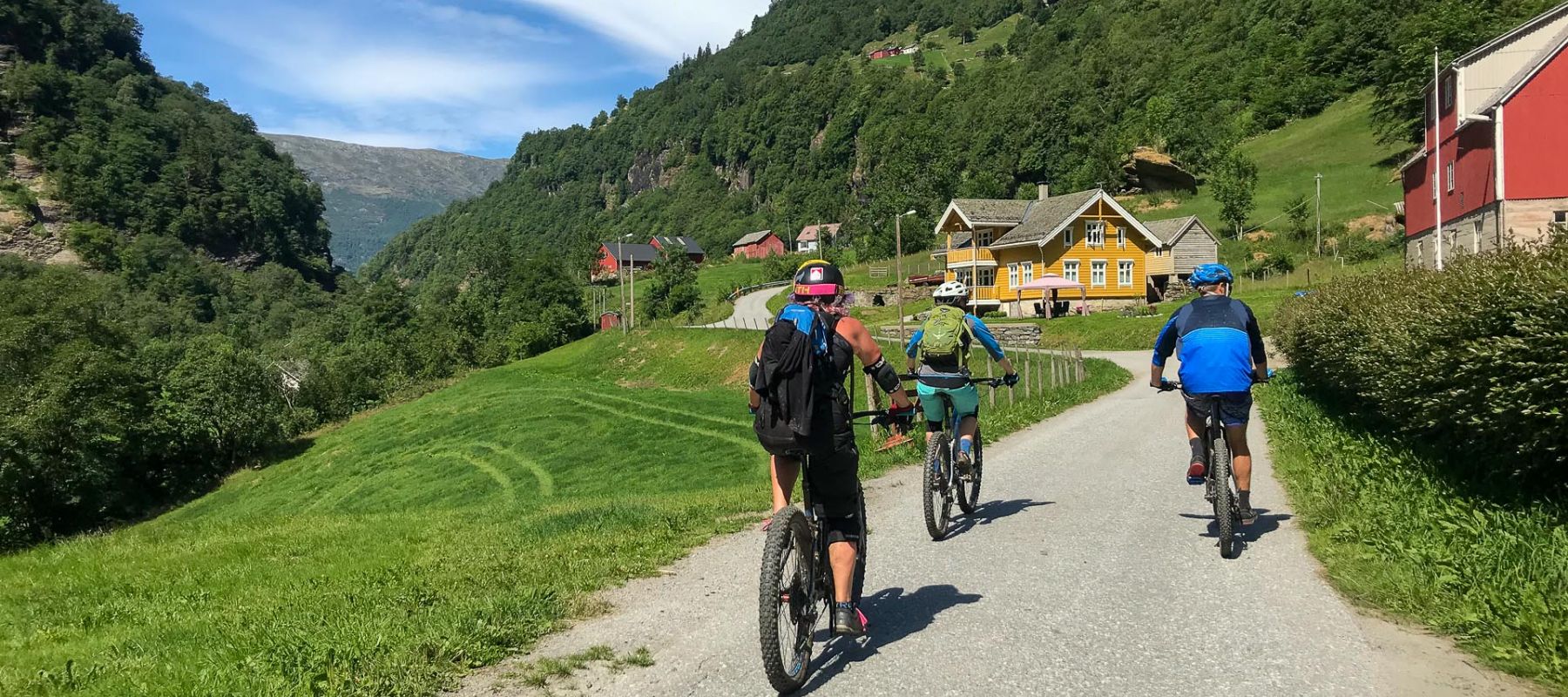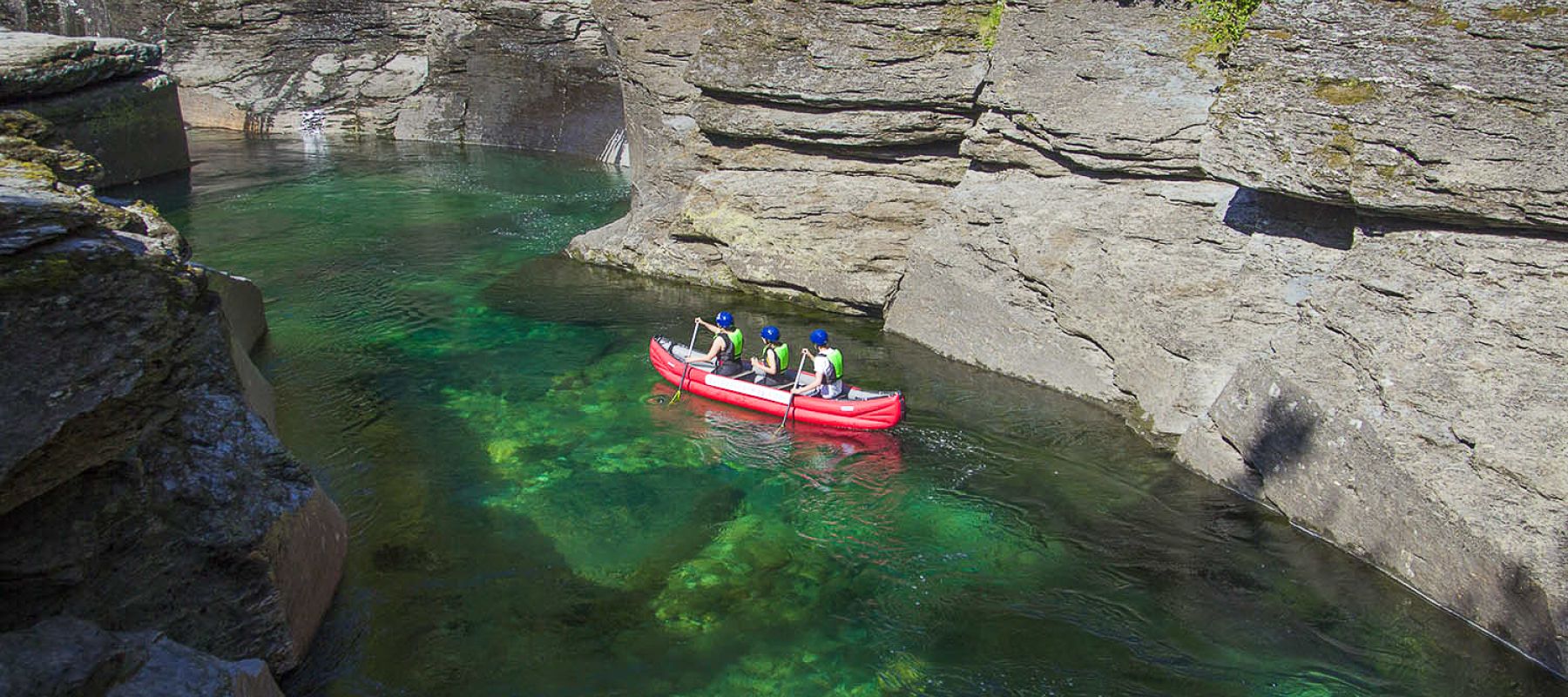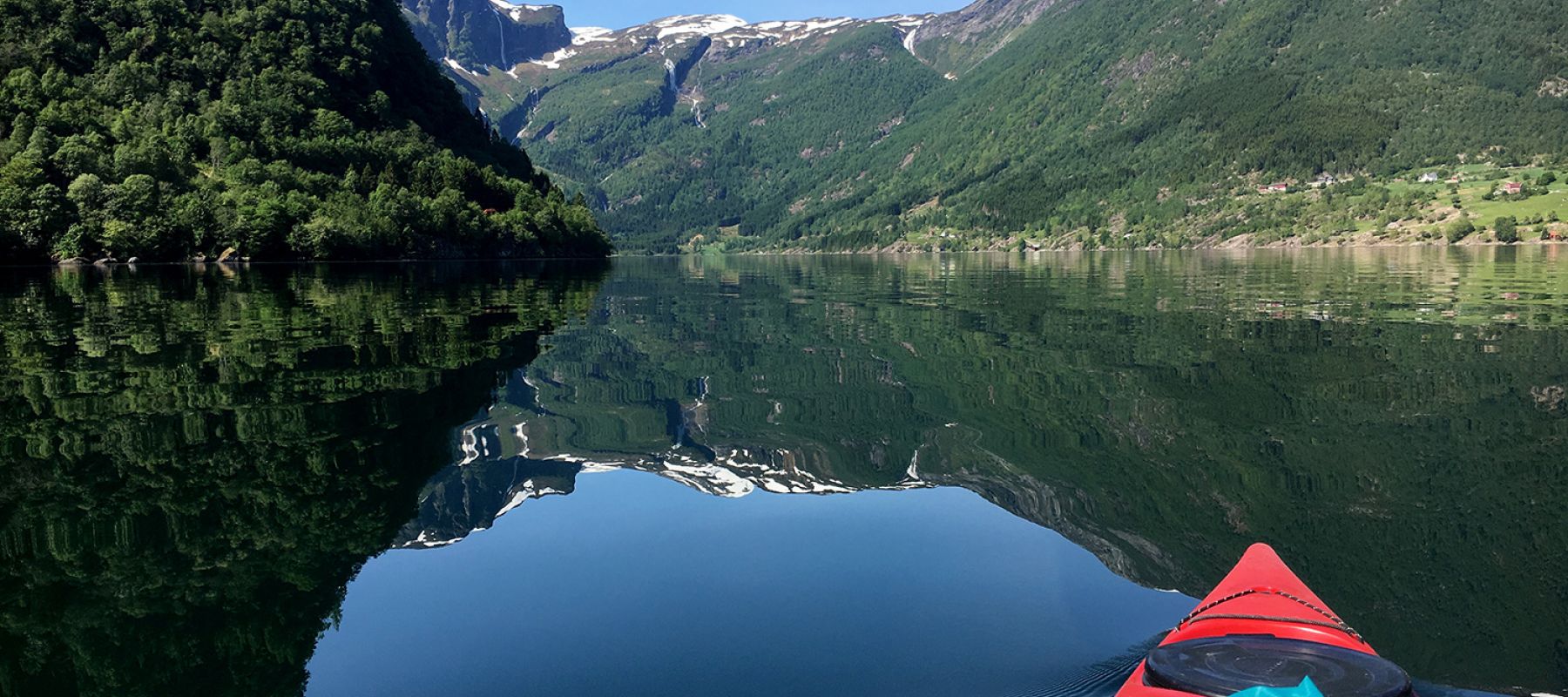 Multi-sport in Norway's Fjords, Lakes and Rivers
Trip Overview
Norway is the perfect adventure travel destination with its towering fjords, rushing rivers, alpine forests, beautiful lakes, glaciers and snow peaked mountains. This 8-day active tour starts in the culturally rich city of Bergen, the second-largest city in Norway and the gateway to the Fjords. We'll then head to Voss by train, the adventure capital of Norway. This will be our base for the next six days. Activities include kayaking on the Nærøyfjord Fjord, the second longest fjord in the world and a UNESCO World Heritage site; hiking to the summit of Mt. Oksen with stunning panoramic views; stand-up paddle boarding down the class 1 section of Vosso River; biking through the Bømoen forest and to the Skjervsfossen waterfall; and whitewater rafting and canoeing the crystal-clear Raundal River. This adventure trip will provide memories to last a lifetime.
WOW FACTORS
Kayaking on the Nærøyfjord Fjord, the second longest fjord in the world 
Panoramic views of mountains and fjords from the summit of Mt. Oksen
Whitewater Rafting the crystal-clear waters of the Raundal River
Itinerary & Map
Day 1
Bergen
Arrival
Upon arrival into Bergen, please make your own way to the comfortable hotel where we have booked you for the night. The remainder of the day is on your own.

Accommodation: Hotel
Meals: None
Day 2
Bergen - Voss
Morning Train and Free Afternoon
In the morning, please make your way to the train station for your short train ride to Voss, where you'll be staying for the next five nights at the Hotel Fleischer. Voss is a scenic mountain town that is known as an adventure mecca. It's located between two of Norway's largest fjords and boasts beautiful lakes, fertile valleys, snow-capped mountains and rushing rivers. Whether you're looking for adrenaline or time to slow down and connect to nature we invite you to settle in, sit back, and sink into all that Voss has to offer.

Accommodation: Hotel
Meals: Breakfast
Day 3
Raundal River & Skjervfossen Waterfall
River Canoeing, E-Biking & Beer Tasting
This morning you'll embark on your first adventure! You will paddle in inflatable canoes, while your guide is close by in a kayak, guiding you down a beautiful stretch of the Raundal River. The section of river you will paddle contains many fun rapids in the Class I-II category as well as many beautiful pools for you to relax and float through while enjoying the crystal clear water and stunning scenery. In the afternoon, you will switch gears and spend the afternoon on e-bikes cycling to the spectacular Skjervsfossen waterfall. You will cycle on a designated bike path and on quiet backroads through a rural landscape with some hills and picturesque lakes before being rewarded with the view of the waterfall. The waterfall has twin falls that plunge out from a height of 500 feet. There are many paths and viewpoints around the waterfall to explore, and if you are feeling up for a refreshing shower, you can walk all the way to the foot of the waterfall and stand under its cascading wall. After the ride, you'll stop at an old farm named Eldhuset for a beer tasting and dinner. The kveik yeast is a living symbol of centuries of brewing traditions in Norway. It has survived among farmers in the valleys of western Norway, thanks to a strong culture of brewing farmhouse ale the traditional way. Without this living tradition, the kveik would have gone extinct. After the tasting and dinner, you'll return to your hotel for the night.

Accommodation: Hotel
Meals: Breakfast
Biking Distance: 20 miles. Terrain is both flat and hilly with at least 4 moderate climbs
Day 4
Nærøyfjord Fjord
Sea Kayaking
This morning after breakfast you'll head to the Nærøyfjord Fjord for a full day of sea kayaking. The Nærøyfjord fjord is one of the world's most beautiful and dramatic fjords. It is also the second longest fjord in the world and a UNESCO World Heritage site. You'll spend the day paddling in a gorgeous landscape of snow-peaked mountains, cascading waterfalls and idyllic farms clinging to the mountainsides. You'll have a group lunch on the fjord and then late afternoon you'll be transferred back to your hotel in Voss and will have the evening at leisure.

Accommodation: Hotel
Meals: Breakfast, Lunch
Sea Kayaking Duration: 7 hours
Day 5
Mt. Oksen
Hiking
After breakfast you'll drive to Tjoflot, to the trailhead of your hike up Mt Oksen. The trail starts by winding its way up through beautiful native forest. After a fairly challenging start with a demanding climb you'll get above the tree line. There you begin to get a glimpse of the spectacular views and the higher you go the more rewarding the view. Once you reach the top at 4000 feet you'll be rewarded with 360-degree views of Samlafjorden, Sørfjorden, Eidfjorden and Granvinsfjorden, as well as panoramic views of surrounding Voss and Norway's third largest glacier Folgefonna. Late afternoon you'll head back to your hotel in Voss and have the evening to yourself.

Accommodation: Hotel
Meals: Breakfast, Lunch
Hiking Duration: Approximately 5-6 hours
Day 6
Vosso River – Bømoen Forest
SUP and Mountain Biking
Today is extra fun with a mix of activities. You'll start the day on the lake on standup paddleboards, with an introduction to SUP where your guides will train you on the basics of standup paddling. Then you'll head to the Vosso River where you'll paddle down an easy class 1 section of the river on your boards with fully qualified guides! This is a fun but challenging trip, and you'll be among some of the prettiest areas in Norway. In the afternoon you'll switch gears and head into the Bømoen forest for a couple of hours of riding on easy to moderate flowy single-track trails and gravel pathways. Bømoen is renowned as one of Voss's best outdoor recreation areas and it's the favorite sport area for many locals in summer and winter. The great thing about this area is that all trails can offer alternative lines - meaning most trails can be equally enjoyed by the seasoned rider and the beginner rider in a fun and relaxed manner. There will be plenty of time for stops and pictures along the way.

Accommodation: Hotel
Meals: Breakfast, Lunch, Dinner
Activity Duration: SUP Approximately 3 hours, Biking 2.5 hours
Day 7
Raundal River – Bergen
Whitewater Rafting
This morning you'll head to the world class Raundal River to enjoy a morning of bouncing down class III rapids. This river runs through a beautiful and isolated canyon, far away from the road. The crystal-clear river is famous for the color and pure drinking-quality water. After the white water rafting, you'll freshen up before making your own way back to the train station for the train back to Bergen. Upon arrival into Bergen, make your own way to the hotel. You have the remainder of the evening at leisure to explore this beautiful city.

Accommodation: Hotel
Meals: Breakfast, Lunch
Rafting Duration: 3 hours
Day 8
Bergen
Departure
Today is the end of your Norway Adventure. When it is convenient for you, please make your way to the international airport for your international flight home.

Meals: Breakfast
What's Included
TRIP INCLUSIONS:
All accommodation in 3-star hotels (twin shared), meals as indicated, land transportation, equipment and English speaking guides. 
TRIP DOES NOT INCLUDE:
International airfare, airport transfers, gratuities, meals not indicated and items of a personal nature.
MEALS:
7 Breakfasts, 5 Lunches, 2 Dinners
ACCOMMODATION:
Hotel: 7 Nights
Trip Facts
Weather in Norway
The weather in Norway is warmer than might be expected for such high latitudes. This is due to the warmth of the Gulf Stream, which results in a temperate climate for much of the country. Weather in Norway is best between May and September when it's usually mild and clear, and the sun stays out longer. In the summer months in Bergen, temperatures rarely exceed 80 degrees Fahrenheit (27 degrees Celsius) and average around 36 degrees Fahrenheit (2 degrees Celsius) during the winter.
Travel Documents
Citizens of Canada and the US only require a valid passport to enter Norway. Please ensure that your passport is valid for six months beyond the date of arrival, or you may be refused entry. Always carry a photocopy of your passport in the unfortunate case of loss or theft; this precaution will speed up the reissue process. 
FAQ
CAN I TAKE THIS TRIP IF…
I am a solo traveller? How does solo accommodation and costing work?
Many of our travellers (both men and women) join as singles. On average, BikeHike groups are 75% single travellers and 25% couples.
Unlike many adventure travel companies, we don't charge single supplement fees to solo travellers. Instead, we pair you with another traveller of the same gender. If we can't find you a roommate, you get your own room at no additional charge.
A single private room supplement fee is only required if you specifically request a confirmed private room for the duration of the trip. Learn more about solo travel with BikeHike. Learn more about solo travel with BikeHike.
I have special dietary requirements?
We will do our best to accommodate special dietary requests (e.g. vegetarian, gluten free, etc.), but ask that you please discuss your request with us when signing up for a trip. 
Accommodation
Most of our trips include comfortable mid-range accommodations. This includes accommodation that provides a clean and comfortable experience in characterful surroundings that reflect the destination. To build stronger connections with the communities and support the local economies, we avoid using large international chain brands on BikeHike trips. 
This trip includes the following types of accommodation:
HOTELS 
In an effort to keep money in the communities we visit around the world, BikeHike prefers small hotels, bungalows, and haciendas that showcase the character and local flair of each destination.
Click HERE for more information about accommodation styles.
Trip At A Glance
| Day | Destination | Activity | Duration | Distance | Lodging | Meals |
| --- | --- | --- | --- | --- | --- | --- |
| 1 | Bergen | Arrival | — | — | Hotel | — |
| 2 | Bergen - Voss | Morning Train and Free Afternoon | — | — | Hotel | |
| 3 | Raundal River & Skjervfossen Waterfall | River Canoeing, E-Biking & Beer Tasting | — | | Hotel | |
| 4 | Nærøyfjord Fjord  | Sea Kayaking | 7 hours | — | Hotel | |
| 5 | Mt. Oksen | Hiking | 5-6 hours | — | Hotel | |
| 6 | Vosso River – Bømoen Forest | SUP and Mountain Biking | SUP Approximately 3 hours, Biking 2.5 hours | — | Hotel | |
| 7 | Raundal River – Bergen  | Whitewater Rafting | 3 hours | — | Hotel | |
| 8 | Bergen | Departure | — | — | — | |