Visiting Machu Picchu In 2023: Rules, Regulations & 5 New Circuits
Machu Picchu remains an incredible place to visit and has always been one of our "you have to see it to believe it trips"; it offers such a unique glimpse into the history and culture of the Inca civilization.
This stunning destination offers history, beauty, and adventure, and is one of the most popular tourist destinations in the world, for good reason. 
Almost too popular to a point…
The increased urbanization of Cusco and the area surrounding Machu Picchu, as well as the risk of erosion from millions of visitors each year, has led to UNESCO warning they could put Machu Picchu on an endangered site list. 
The ruins that have survived and preserved through the elements for thousands of years are now at risk from the very people who come to admire them. 
Machu Picchu was closed to the public from January 21st 2023, due to protests and unrest against the Peruvian government. However, the region is back open to visitors as of February 14th 2023, with some new changes and rules along with it.
Machu Picchu Rules & Guidelines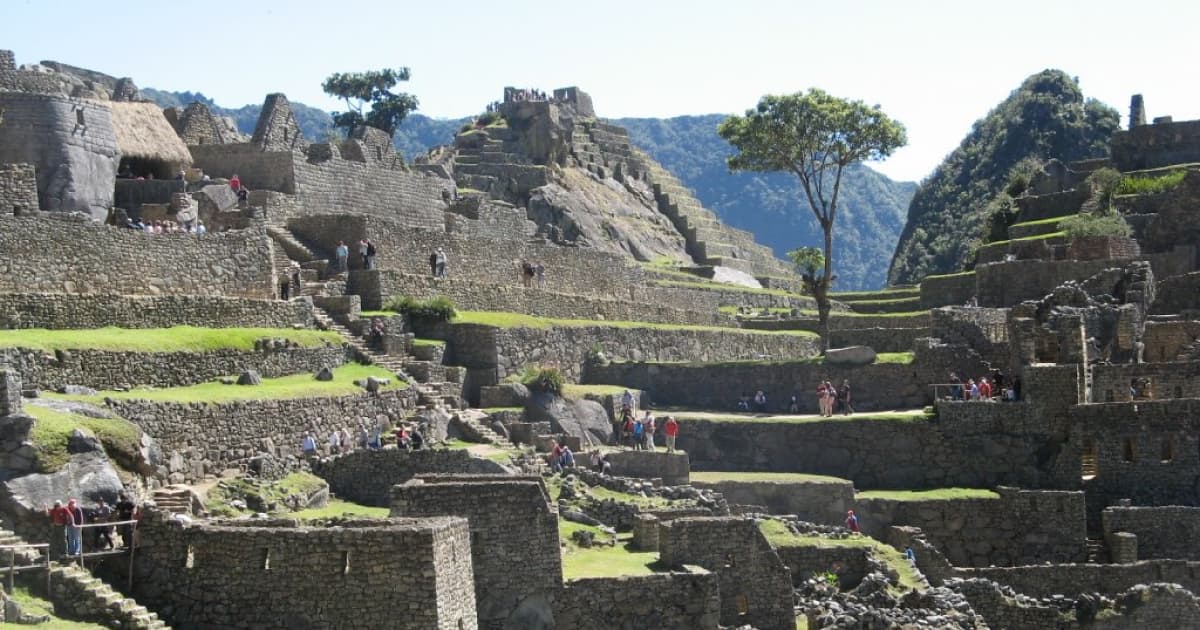 For anyone planning a trip to Machu Picchu in 2023, a few things may have changed.
One of Machu Picchu's biggest challenges is finding a balance between preservation and tourism. And in a bid to preserve this natural wonder for future generations and protect it from over-tourism, many new rules and regulations are now in place.
Now, if you have been keeping a close on things, you might have seen the rules over the past few months have been chopped and changed, with 4 new circuits now becoming 5 new circuits. 
Seemingly, nothing is set in stone and is still subject to change. 
We will try our best to keep on top of things and keep you informed here of any changes.
However, despite these changes, the overall tourist experience in Machu Picchu will significantly improve, as trails will be less crowded and groups are now far more organized.
So, here are the new rules and guidelines for visiting Machu Picchu in 2023 and beyond.
How Many People Can Visit Machu Picchu Per Day?
As of February 2023 after the reopening of the region, Machu Picchu can only have a maximum of 2500 visitors daily. 
We generally recommend booking your ticket online months in advance or through a designated tour operator as with the new regulations it was a lot harder to get a ticket without booking a few months in advance.
Although, recent reports are showing a lot of people have likely canceled their trip because of the uncertainty back in January, so the trails are currently a little quite and less crowded, so there is possibly a chance to get tickets a little easier over the next few weeks or even months.
Rules Of Entry.
To enter Machu Picchu, you must present your ticket along with your passport or the identity document used to make your reservation.
Each ticket allows only 1 entry, so after you leave, it is not possible to re-enter using the same ticket.
Before you enter, there is now a list of items that you cannot bring with you, and once inside an etiquette to follow.
List Of Prohibited Items Inside Machu Picchu
You can find the full list of prohibited items at the Peru Ministry Of Culture Website.
But here are some important ones to keep in mind.
You cannot enter Machu Picchu with:
> Drones.
> Camera Tripods.
> Metal Tipped Hiking Poles.
> Heels or hard-soled shoes (for the snazzy dressers).
> Vapes or tobacco.
> Single-use plastics - So keep your water in a travel bottle or reusable bottle and not a single-use one you picked up in a store nearby or from the airport.
> No large backpacks (over 20kg).
If you do arrive with any of these prohibited items, there are lockers at the entrance gate where you can safely leave any items while you enter Machu Picchu.
Once inside Machu Picchu, there are some rules to abide by:
> No climbing or leaning on walls and/or structures. 
> Don't touch, extract or move lithic elements such as rocks and stonework. 
> Don't disturb, collect or remove flora or fauna.
You Must Be Accompanied By A Tour Guide
To enter Machu Picchu, you must now be accompanied by a tour guide.
And you must stay on the designated routes of each circuit.
Each group size is now limited to 10 per tour guide, including the guide, which is still quite a generous size as the groups are small enough to allow everyone to flow through the circuits pretty easily without congestion.
Maximum Time In Machu Picchu
The new maximum time allowed for each group in Machu Picchu is 4 now hours. 
In our experience, 4 hours are more than enough to take it all in, and again this could be a great way to move on the congested crowds, blocked trails, and slow exits.
Covid Restrictions In Peru & Machu Picchu
Peru has dropped all Covid restrictions put in place for 2023, allowing completely open entry without proof of PCR or vaccinations.
This is at least one less thing to plan or worry about, as normal tourism has now resumed in Peru & Machu Picchu.
5 New Machu Picchu Circuits 
In an effort to minimize overcrowding and preserve the destination, Machu Picchu is now divided into 5 different circuits.
All in all, these new circuits actually make visiting Machu Picchu much easier, as you are with a tour guide on a designated route, everything is signposted, and you can plan ahead which route best suits you and which sights you want to take in,
Here is a little about each circuit to help you find out which one suits your trip.
Images courtesy of Peru Ministry Of Culture.
Circuit 1
Circuit 1 is the short upper tour and takes approximately 2 hours.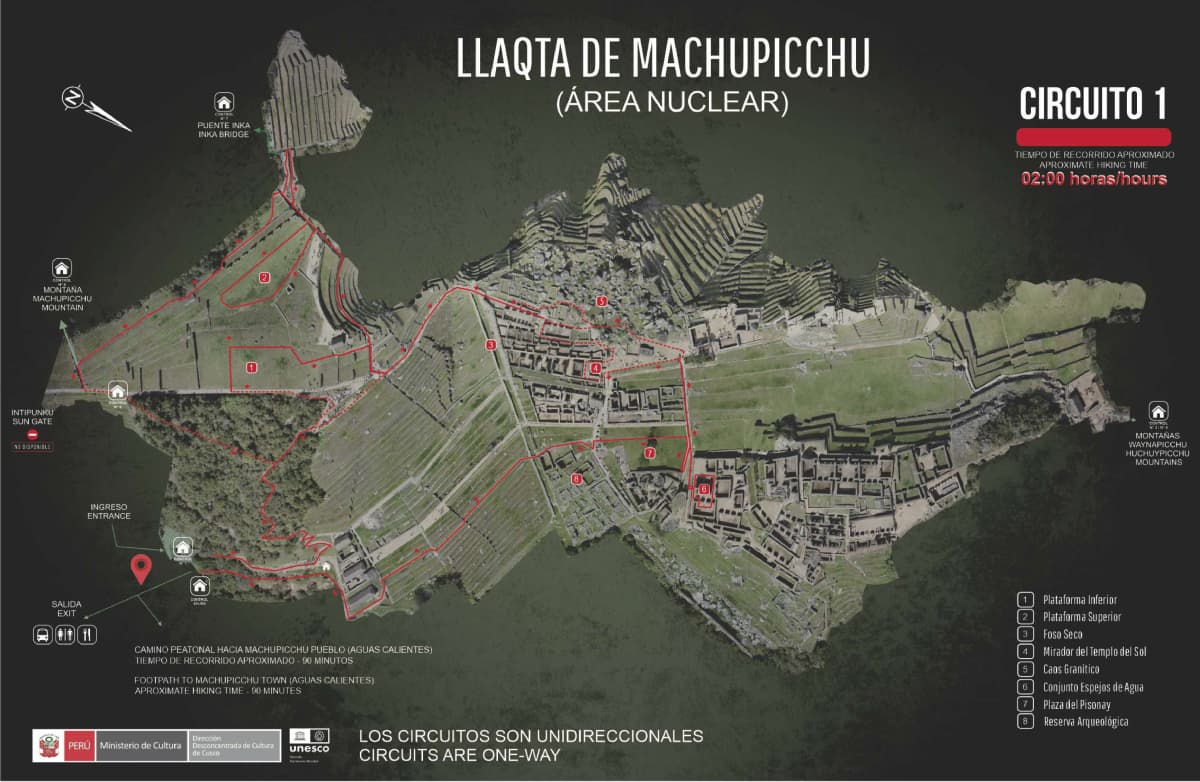 Circuit number 1 covers both the upper and lower sections of the Machu Picchu archaeological site. You'll get to see the main buildings, the agricultural terraces, and other features in the site's upper section. 
The circuit begins at the fork in the access road to the Inca Llaqta of Machu Picchu, with a slight 10-minute ascent to warm your hiking boots.
Then you'll see the agricultural terraces, walk past the guard's house, through the urban sector's main entrance, and then the Temple of the Sun. 
From there, you'll head passed the quarry, over the water mirrors into the lower sector to admire the Temple of Condor, and then back to the exit.
Circuit 2
Circuit 2 is the long upper tour and takes approximately 2 hours, 30 minutes to 3 hours.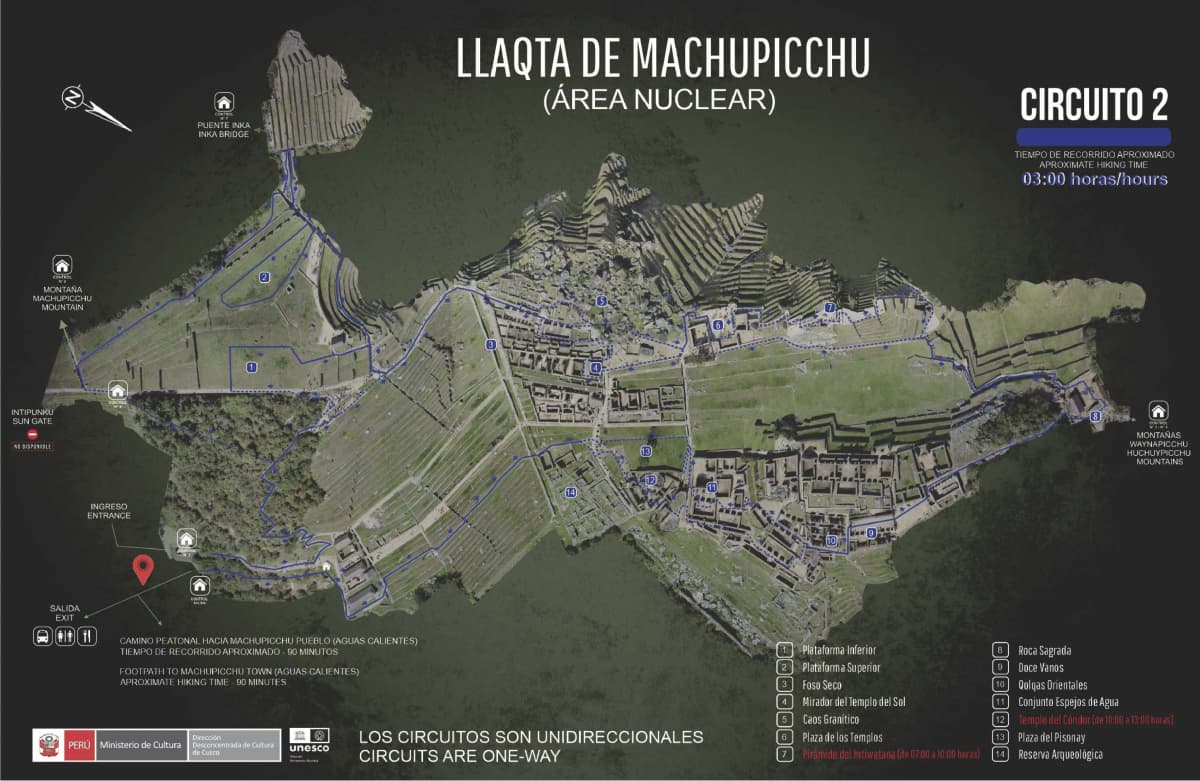 This circuit is much the same as circuit 1, but it also includes circuit one; this tour consists of the sites of the Sacred Plaza, the Intiwatana Pyramid, Llamakancha, and the Sacred Rock.
This circuit is the most comprehensive and most recommended, so you will absolutely want to book this circuit well in advance if you plan on taking this route.
This is where you will get the famous postcard picture of Machu Picchu - You know, the one...
Circuit 3
Circuit 3 is the lower short tour and takes approximately 1 hour and 30 minutes.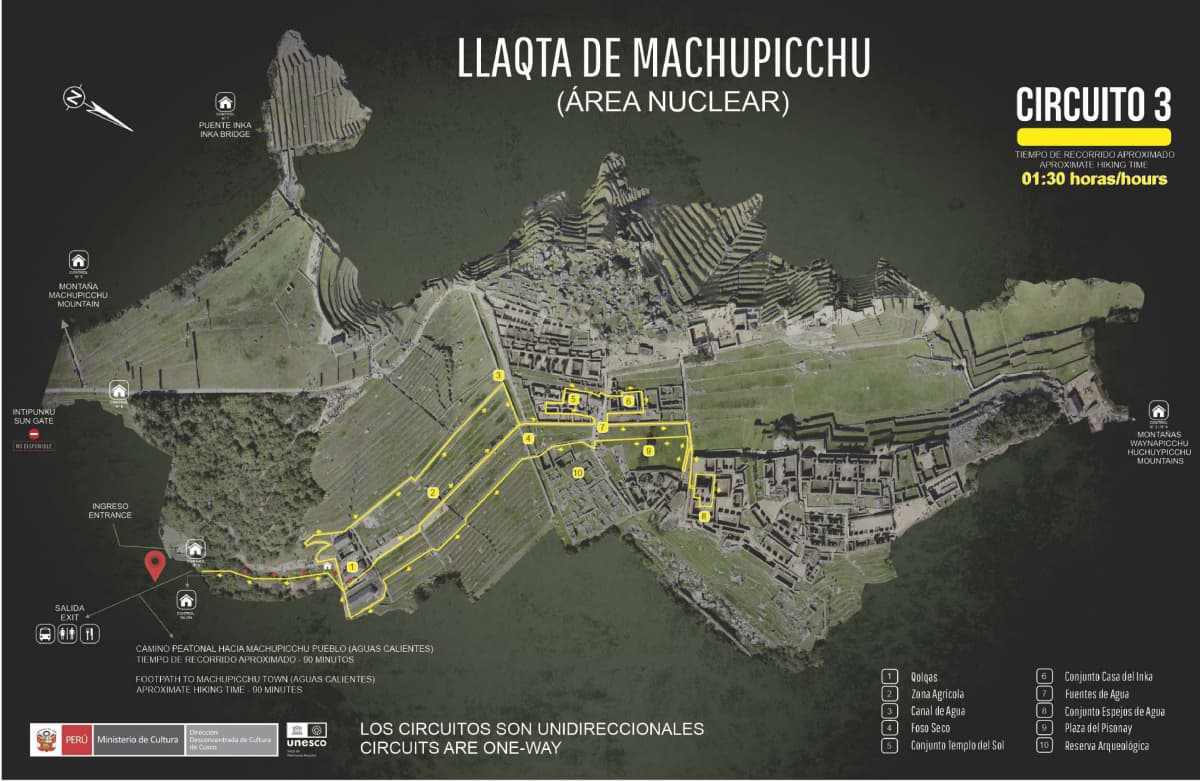 This circuit starts at the fork in the access road to the Inca Llaqta of Machu Picchu. Still, unlike circuits 1 & 2, this route crosses the ​​agricultural terraces directly into the lower urban sector.
As well as the agricultural terraces & the urban sector, this route also includes Inka House, the Temple of Sun, and the Water Mirrors.
Circuit 4
Circuit 4 is the lower-long tour and takes approximately 2 hours and 30 minutes.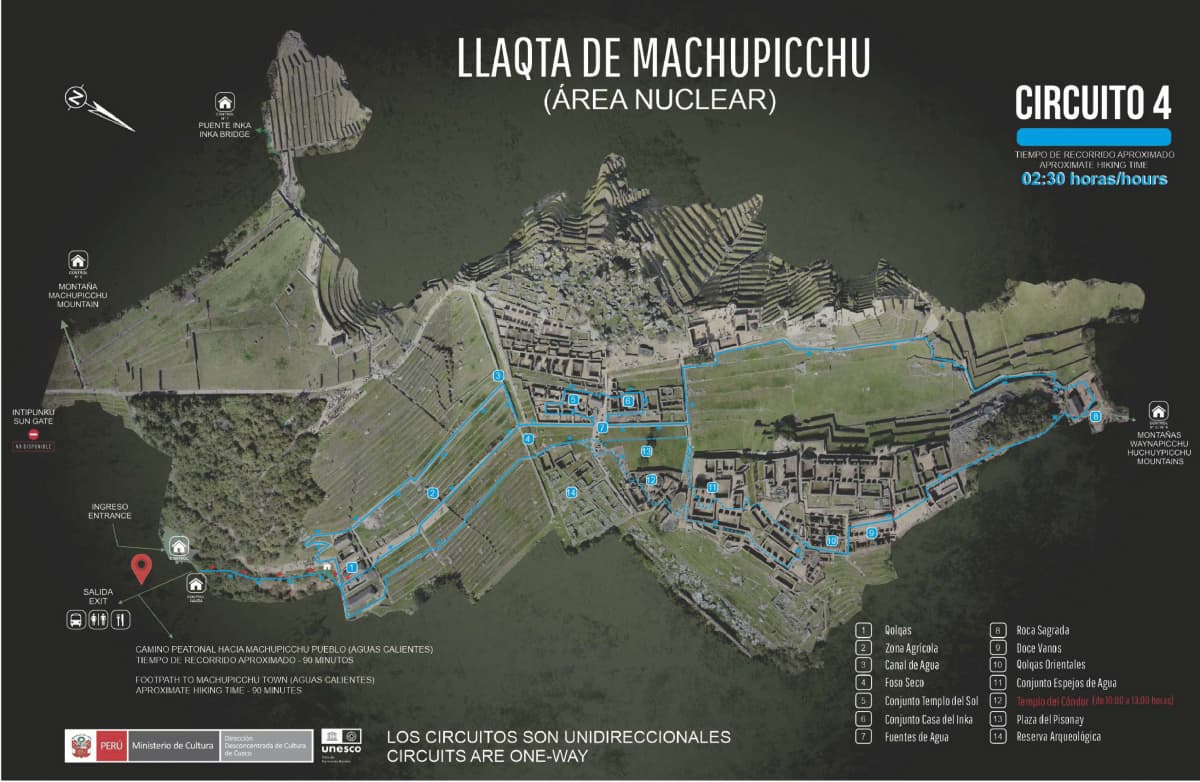 This is the most comprehensive of the lower part of Machu Picchu. 
It starts out the same as circuit 3, then the route ascends to the Sacred Plaza and merges into circuit 2, taking you to the Intiwatana Pyramid and beyond the Citadel.
If you have struggled to get a booking for circuit 2, this is recommended as it merges onto the same route.
Circuit 5
Circuit 5 applies to the 2-day Inca Trail tour and takes approximately 1 hour and 30 minutes.
You might also have heard a lot about another new circuit being added, and it's actually very similar to circuit 3.
 
This circuit was implemented just for hikers making the 2-day Inca Trail to keep everything a little more organized. 
Here's what this new circuit looks like for now.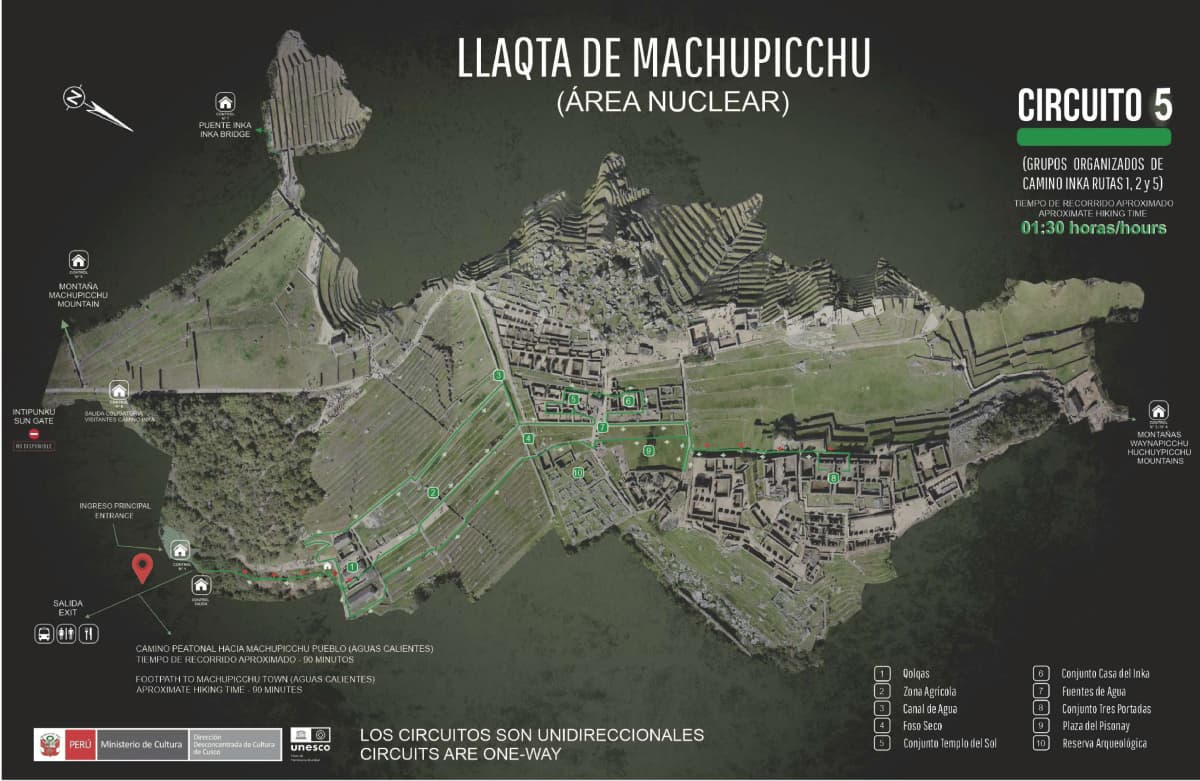 Which Circuit Is The Easiest?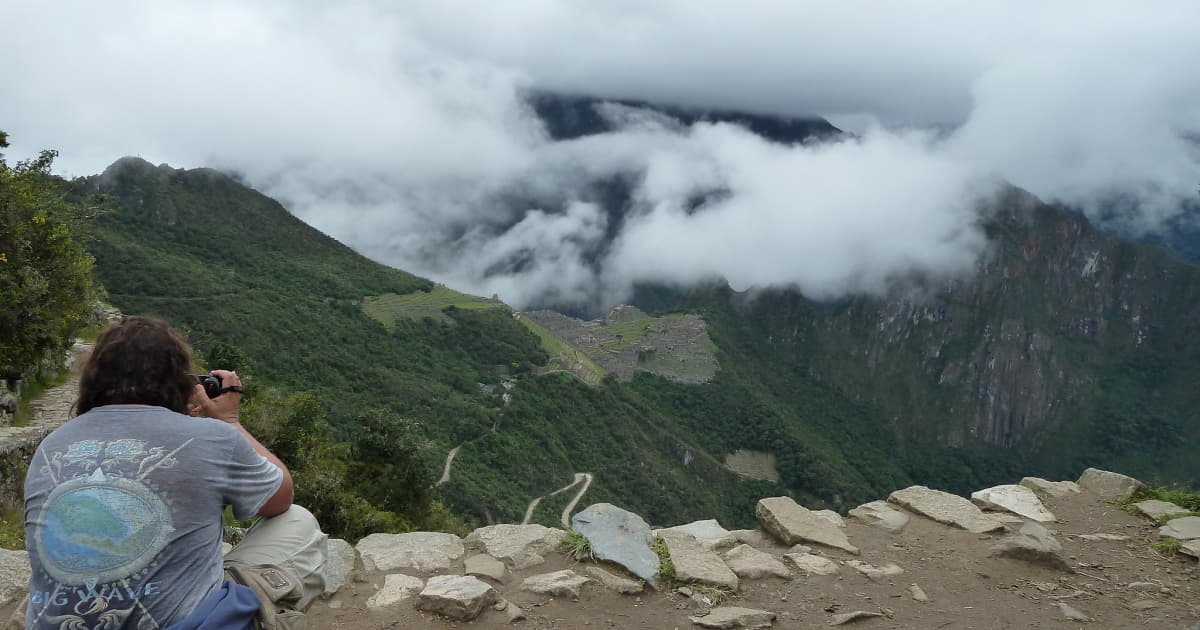 Circuit 2 is the most recommended; however, circuit 1 and circuit 3 are the shorter routes and the ones most recommended for inexperienced hikers or seniors.
Circuit 3 is 1 hour and 30 minutes, so it is shorter to take on. While circuit 3 tackles quite a few steps & stairs, overall, circuit 3 is probably the easiest of all the 5 circuits. 
And you aren't missing anything on circuit 3, the views are still impressive, and it is an incredibly rewarding hike.
When Is The Best Time To Visit Machu Picchu?
When visiting Machu Picchu, especially with the new rules, restrictions, and limited tickets, smart planning & planning well in advance is necessary.
With the daily visitor numbers, it's worth trying to book your tickets well in advance.
> October - April is the wet season. 
> December - February are the rainy months.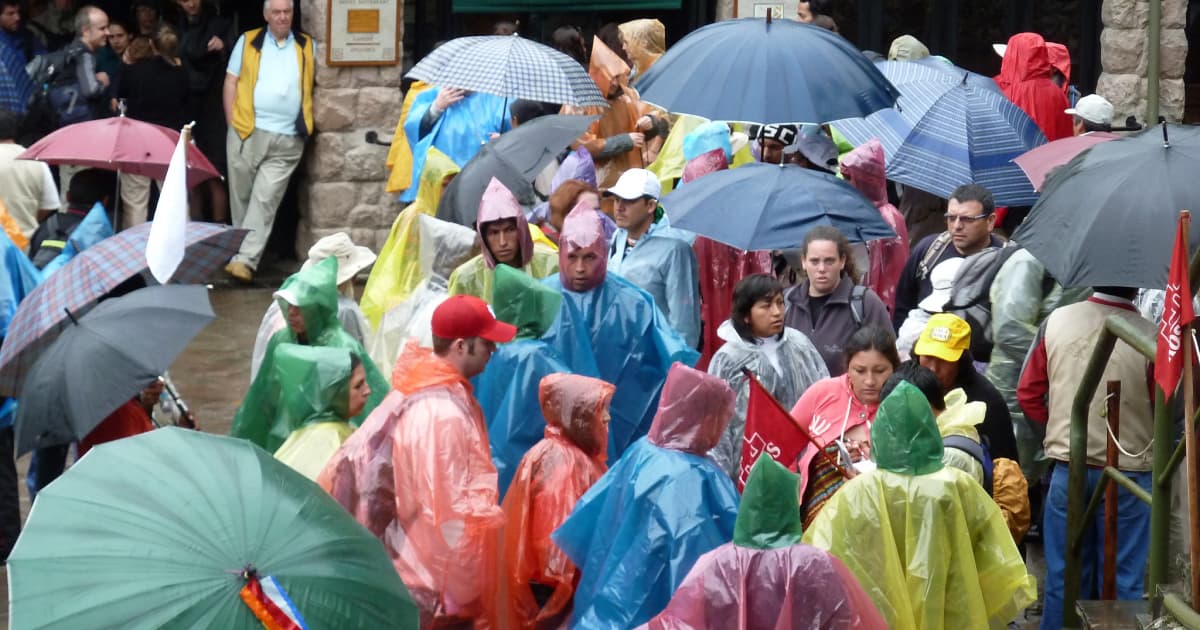 > September - Mid-November & March - April are considered the shoulder months, where tourism isn't as high, and there is a chance of good weather. Always keep in mind the word "chance" of good weather, you could still likely get caught in torrential rain, which makes the circuits a little trickier.
> June - August is prime time for tourism. So if you do want to visit these months you should definitely keep in mind Peru has 3 major holidays which also brings in many local tourists. 
Into Raymi - June 24th
Independence Day (Peru) - July 28th
Santa Rosa De Lime - August 30th.
These days can be a fantastic time to be in Peru, not so great for getting a hold of the limited Machu Picchu entry tickets.
Machu Picchu Adventure Tours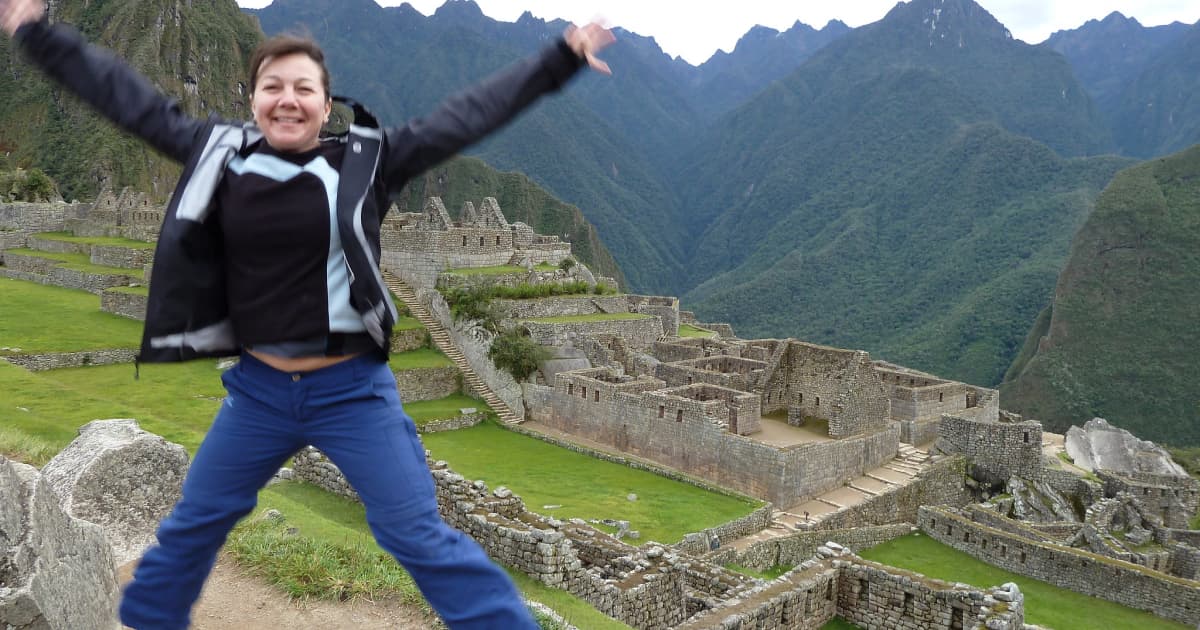 Machu Picchu is an incredible place everyone should visit at least once in their lifetime. 
With BikeHike, you can explore the iconic destination of Machu Picchu with a unique perspective on a multi-day adventure tour. Our trips range from hiking the famous Lares Trek and Inca trail to multisport adventures across Peru. 
If you're looking for a fantastic place to visit that is full of history and beauty, then be sure to add Machu Picchu to your list. You won't regret it!
Get in touch with any questions about our Machu Picchu adventure trips anytime!
Happy Travels,
Trish Sare
About The Author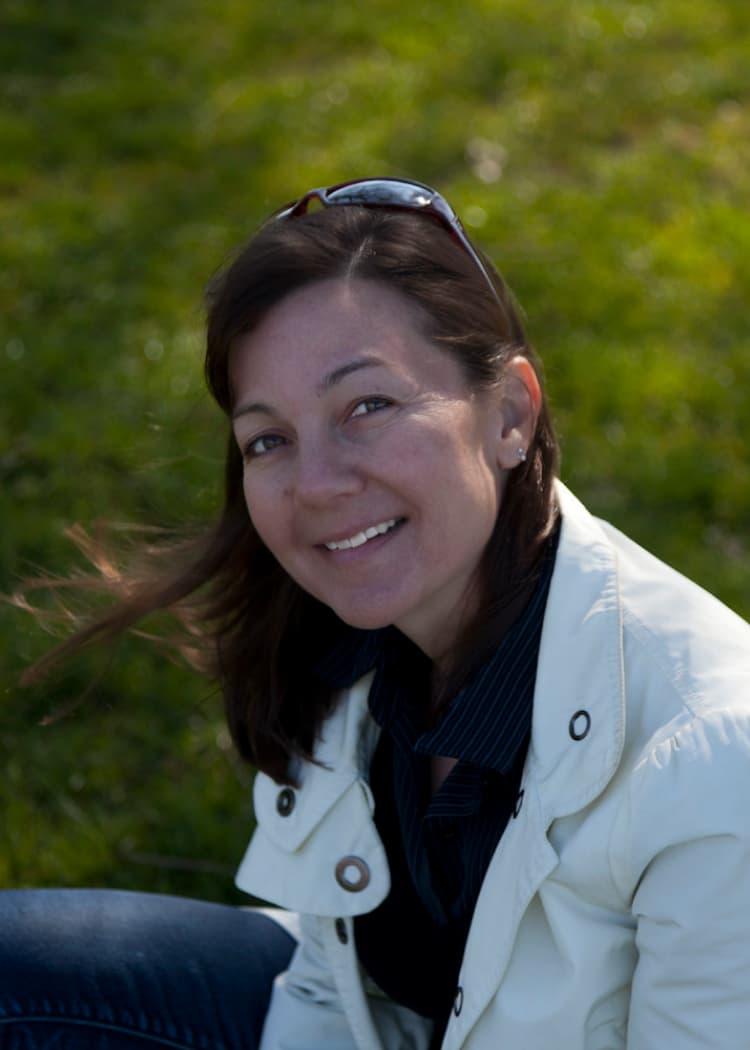 Trish Sare is the owner of BikeHike and a passionate outdoor enthusiast with over 30 years of experience as a world traveler. She's lived, traveled, and guided extensively in North, South and Central America, Europe, Oceania, Africa, and Asia. She has guided and helped to develop every one of our multi-sport holidays. In her spare time, Trish is usually outdoors either mountain biking, hiking, sea kayaking, trail running, or climbing. Trish has a passion for the world and all of the amazing cultures that inhabit it and does her best to immerse herself directly into their distinctive lifestyles.