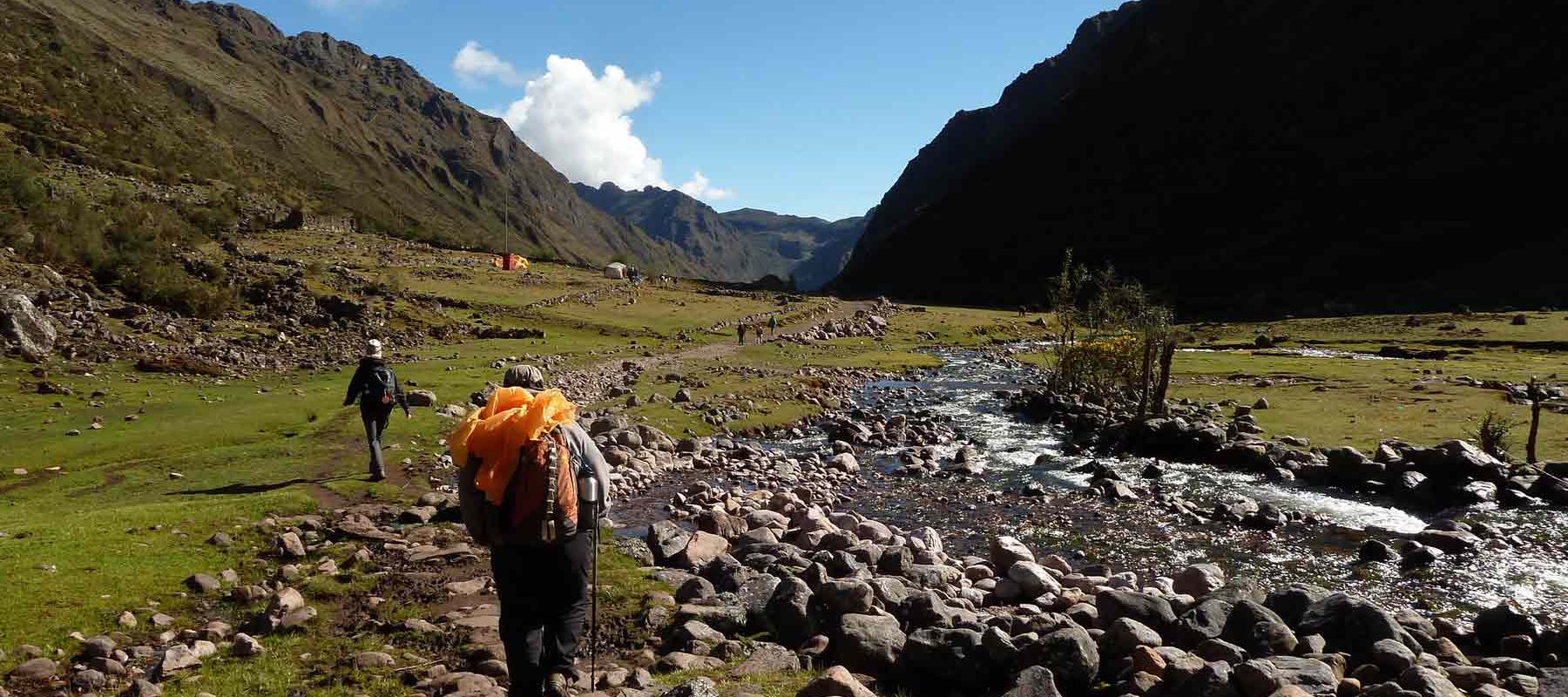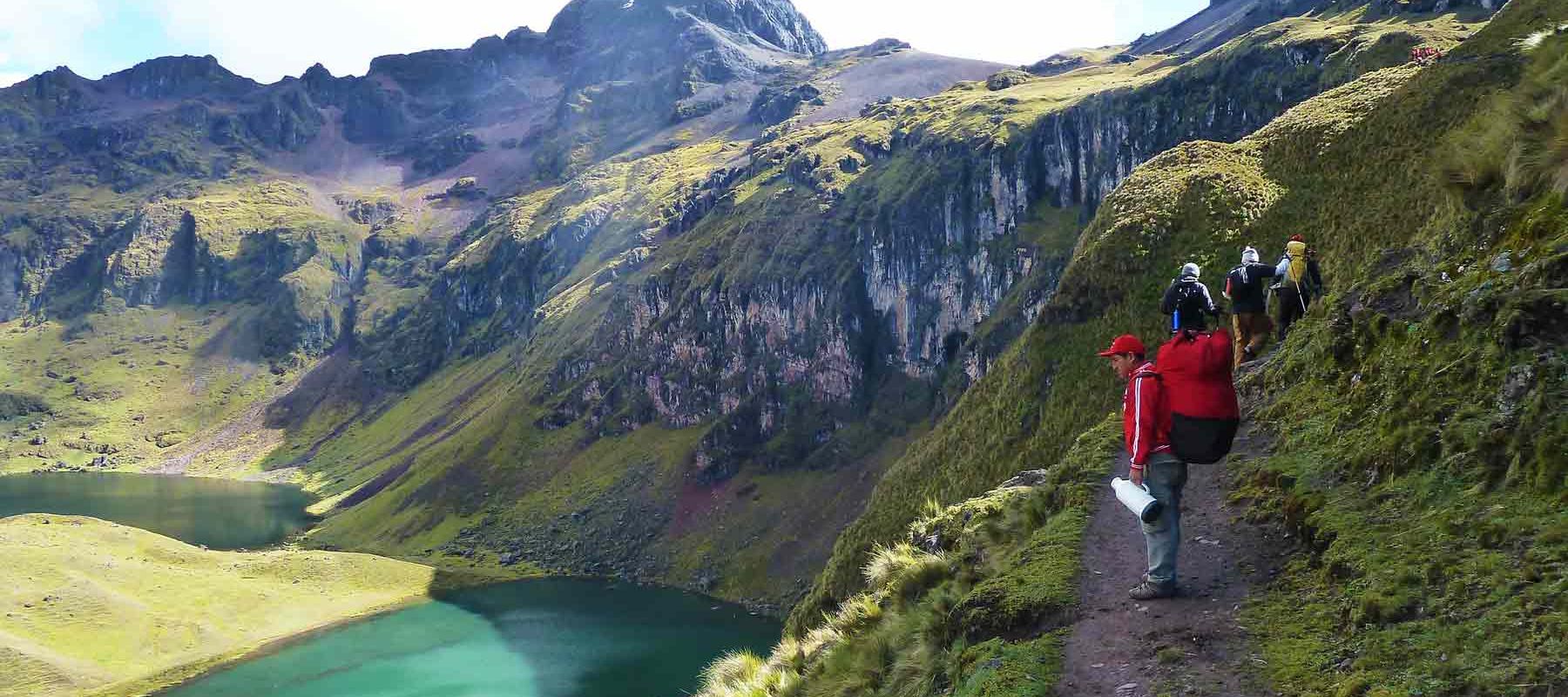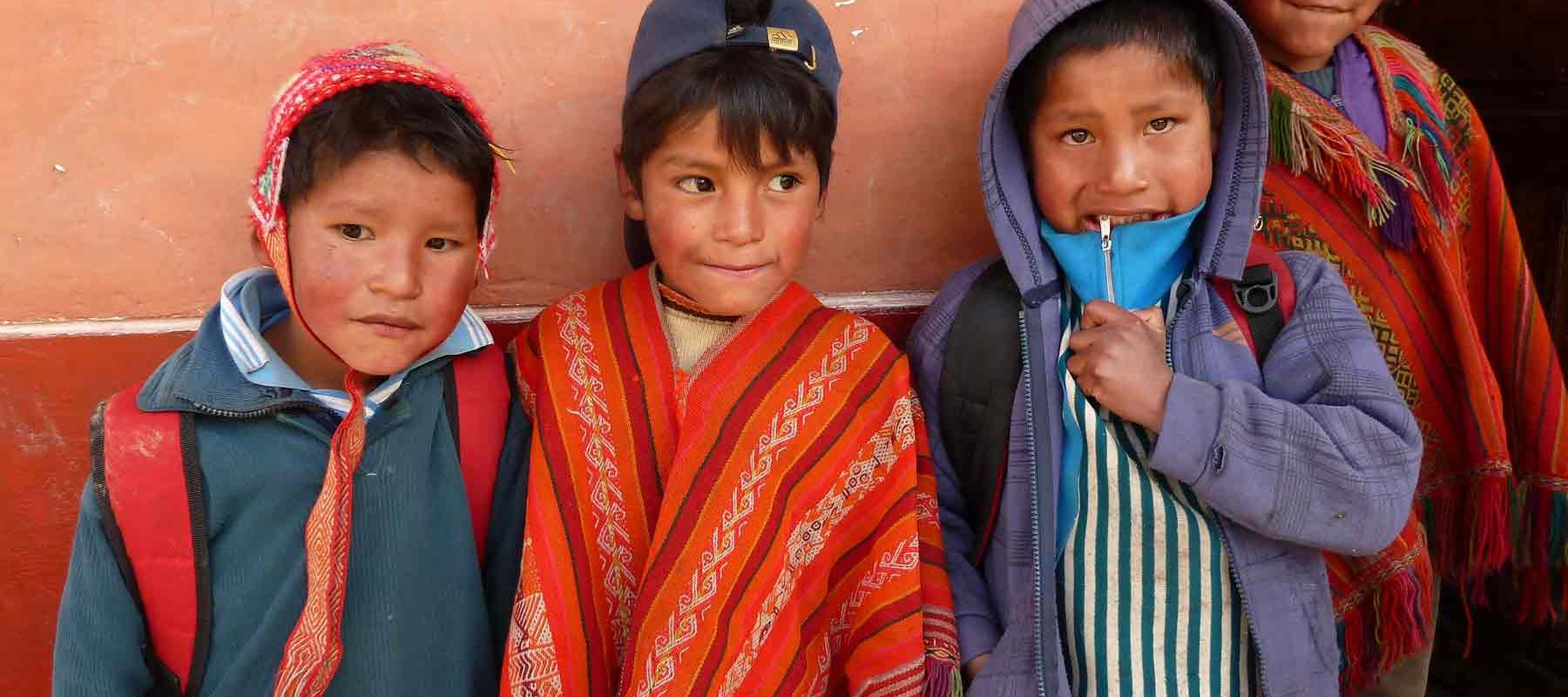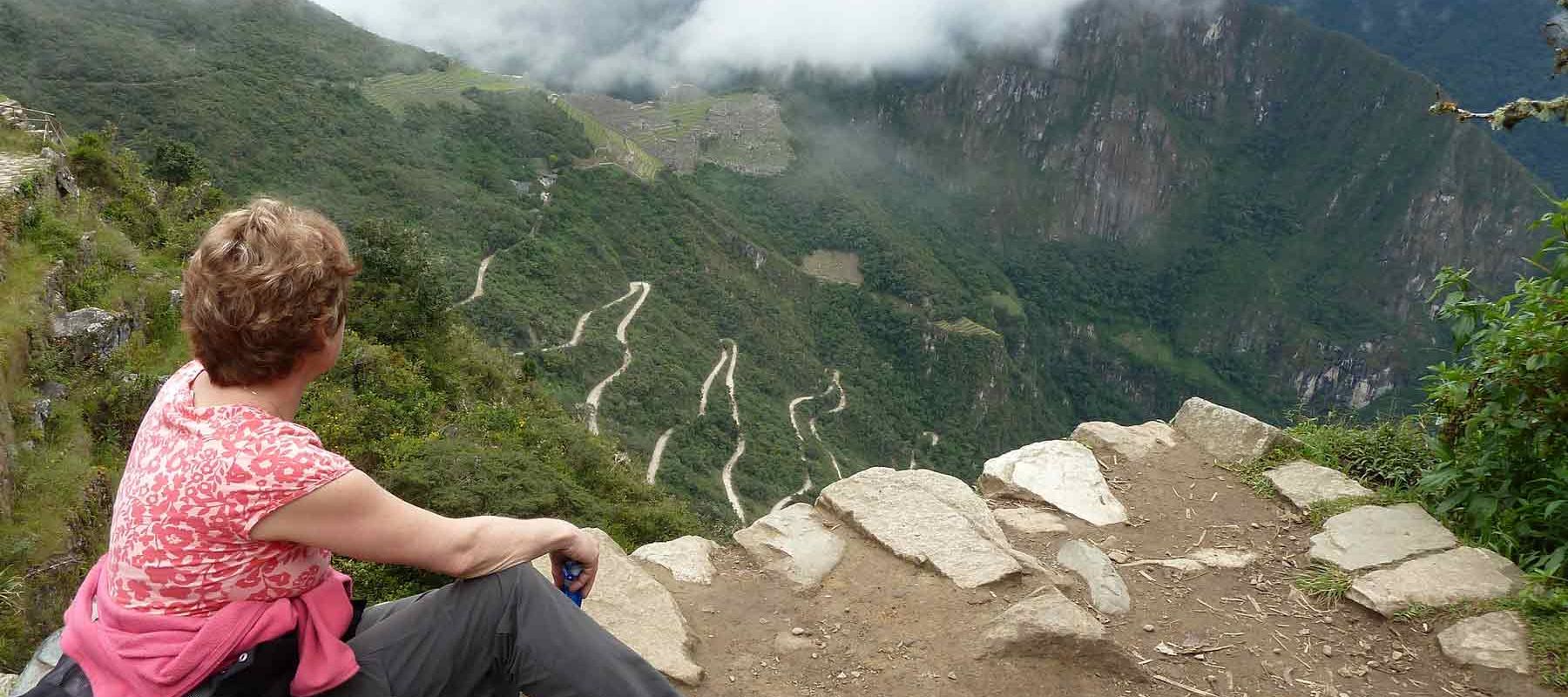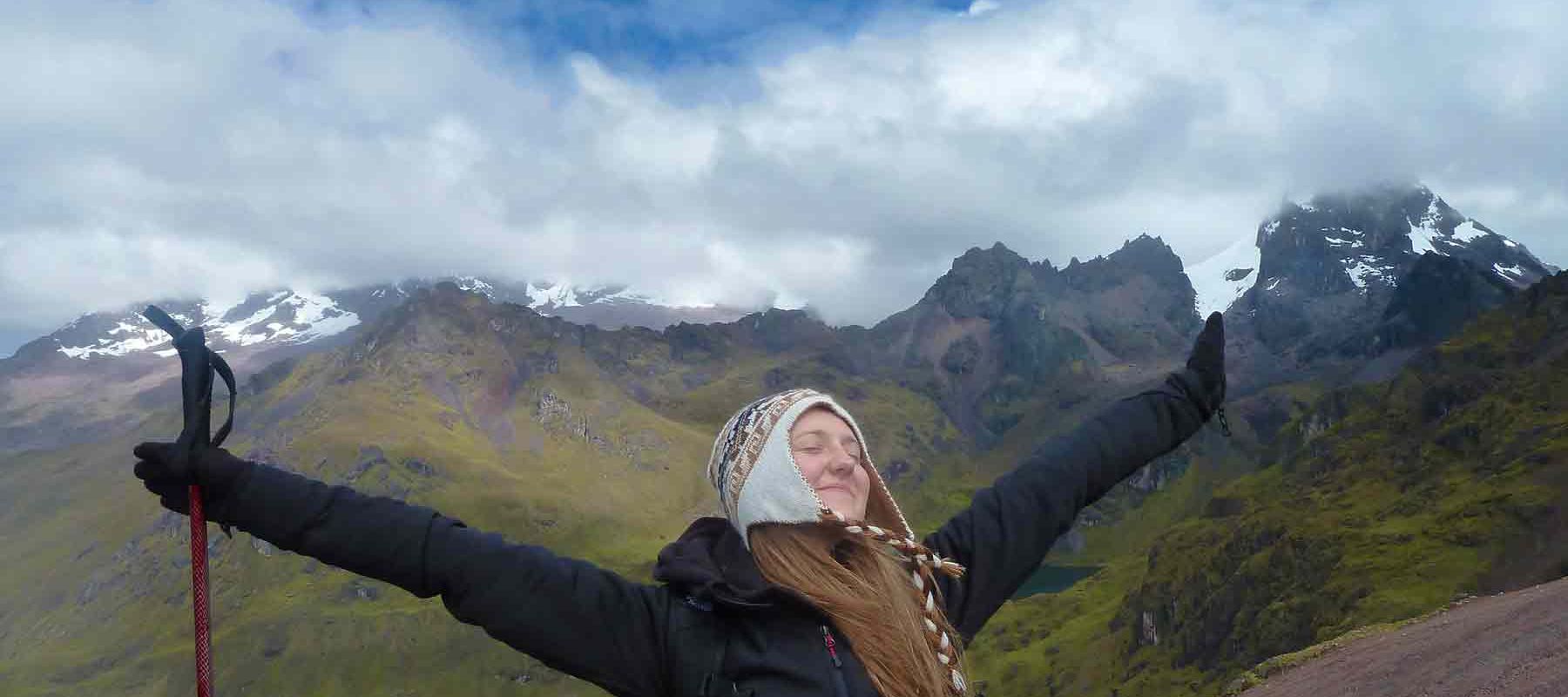 Trek The Lares Trail: Peru
Trek The Lares Trail: Peru
Trip Overview
(Trekking and Horseback Riding) For those who prefer to be away from the crowds, we recommend the trek along the Lares Trail, which is another Inca Trail of Peru. The Lares trek is a 4-day, 42 km/26-mile trail in the Andean Mountains. It is far off of the tourist trail and in one of the most scenic and cultural regions of Peru.
This active tour begins in the ancient Inca capital, Cuzco, and travels through small highland communities that have experienced little change over the centuries.
You'll experience the traditional lifestyles of the locals and meet the artisans and weavers, and the shepherds with their flocks of llamas and alpacas. With some luck you may even catch a glimpse of the impressive Andean condor soaring  in the Andean Mountains.
The grand finale of this active adventure is a visit to the legendary Machu Picchu, the "Lost City of the Incas." This Peru hiking tour showcases the best of the Peruvian mountain culture.
MOST POPULAR WITH ACTIVE ADVENTURERS & SINGLE TRAVELLERS 
Listen to our Apple podcast we recorded about the Lares Trail vs the Inca Trail, and see if either trail is right for your next hiking trip. 
WOW FACTORS
Wander the cobblestone streets of charming Cuzco, the former capital of the Inca Empire
A 4 day Trek through the Andean mountains on the remote Lares Trail with locals and llamas
Explore the stunning ruins of legendary Machu Picchu overlooking the Urubamba River

Check out our Inca Hiking FAQ video, which answers most of the common questions travelers have about the Lares Trail and Trekking across the Inca trail.
Itinerary & Map
Day 1
Cuzco
Arrival
Upon arrival into Cuzco, you'll be met at the airport and transferred to a comfortable hotel in the city. The remainder of the day is at leisure to acclimate to this high altitude colonial city located at 3,350 m / 10,988 ft. The streets of Cuzco are filled with artisans selling sweaters, pottery, and a variety of other handicrafts. Overnight in a comfortable hotel.

Accommodation: Hotel
Meals: none
Day 2
Cuzco - Sacsayhuaman
Horseback Riding
This morning is at leisure to wander through the cobblestone streets of Cuzco exploring the cathedral, museums or shopping for local handicrafts. Later this afternoon we depart by horse, riding to the nearby ruins of Kenko, Tambomachay, and Pucapucara. Our final destination is Sacsayhuaman, a spectacular, mountaintop fortress overlooking Cuzco. We return to the hotel late afternoon.

Horseback Riding Duration: 2 hours
Horseback Riding Distance: 11 km / 7 mi
Accommodation: Hotel
Meals: Breakfast
Day 3
Lares Trail
Trekking
This morning we set off by vehicle bright and early towards Huaran (2,840 m / 9,317 ft), a small village in the Sacred Valley and the start of the trek. We'll meet up with our pack llamas and begin our beautiful hike through the lush valley, following the gentle uphill route of the Cancha Cancha River. It will take us approximately 5 hours to reach the picturesque village of the same name where we'll set up camp for the night (3,940 m / 12,925 ft).

Trekking Distance: 8 km / 5 mi
Trekking Duration: 4 - 5 hours
Ascent: + 1,100m (3,608ft)
Accommodation: Tent
Meals: Breakfast, Lunch, Dinner
Day 4
Lares Trail
Trekking
After having a hot breakfast, we'll leave the campsite and begin our steep ascent to Pachacutec Pass at 4,700 m /15,416 ft, the highest point of the trek. From the top of the pass there are spectacular views of the surrounding mountains, valleys and Pachacutec Lake. After the pass, we'll continue our trek and descend into the next valley to reach Quiswarani village (3,900 m / 12,790 ft) where we'll spend the night. Along the route, the scenery is dramatic with glacial lakes, waterfalls, and snow-peaked mountains. This area is also rich in birdlife and there is a possibility of seeing Andean ibis and geese. In the evening, we'll enjoy traditional Peruvian food and spend time with the local children and women weavers. Overnight camping.

Trekking Distance: 7 km / 4.5 mi
Trekking Duration: 7 - 8 hours
Ascent: + 760m (2,493ft)
Descent: - 800m (2,624ft)
Accommodation: Tent
Meals: Breakfast, Lunch, Dinner
Day 5
Lares Trail
Hiking
We have another early start this morning! We'll begin with a 3-hour ascent to reach Huillquijasa Pass (4,440 m / 14,560 ft), the second highest pass of the trek. The views are impressive and well worth the effort. We'll then descend towards the village of Cuncani (3,700 m / 12,140 ft), passing turquoise lakes along the way. This was the last refuge of the "Royal Panakas", an Inca sect. Overnight camping.

Trekking Distance: 9 km / 5.5 mi
Trekking Duration: 6 - 7 hours
Ascent: + 542m (1,778ft)
Descent: - 742m (2,434ft)
Accommodation: Tent
Meals: Breakfast, Lunch, Dinner
Day 6
Lares Trail - Aguas Calientes
Hiking
After breakfast, we'll walk down a fertile valley, passing typical vegetation and high altitude crops such as beans and potatoes. Along the trail we'll see native flowers such as begonias and wild orchids. After walking for around 3 hours we arrive into Lares at 3,230 m / 10.594 ft, capital of the district. Lares is a large village whose main attraction are hot springs. We'll treat ourselves to a well-deserved soak. We'll then transfer 3.5 hours by bus to the town of Ollantaytambo to board the train to Aguas Calientes, the gateway to Machu Picchu. Overnight in a comfortable hotel.

Trekking Distance: 4 km / 2.5 mi
Trekking Duration: 3 hours
Descent: - 470m (1,542ft)
Accommodation: Hotel
Meals: Breakfast, Lunch
Day 7
Machu Picchu - Cuzco
Walking
We have a full day dedicated to exploring Machu Picchu. There is also the option to climb Huayna Picchu, a young peak adjacent to Machu Picchu. If you are keen to climb this, you will need to get up really early as only a certain number of people can climb Huayna Picchu a day. The hike is a challenging one, but the views are well worth the effort! Afterwards, our guide will give us a tour of Machu Picchu explaining the history and significance of the major sites. The tour takes about 2 hours after which you will have free time to explore the ruins on your own. In the afternoon, after lunch in Aguas Calientes, we'll take the train through the Urubamba valley destined for Cuzco. We'll be met at the train station and transferred back to our hotel.

Walking Distance: 3 km / 1.8 mi
Walking Duration: 3 hours
Accommodation: Hotel
Meals: Breakfast, Lunch
Day 8
Cuzco
Departure
After breakfast you'll be transferred to the airport for your international flight home.

Meals: Breakfast

NOTE about Ascent/Descent numbers:

The ascent/descent numbers are usually generated using Ride with GPS. The numbers are TOTAL ascent/descent for the day and these numbers do not suggest altitude. There are usually multiple small ascents and descents added up throughout the day to reach this total ascent/descent for the day. (While our numbers are generally consistent with Ride with GPS, depending on the mapping technology used, numbers may vary).

What's Included
TRIP INCLUSIONS:
All accommodation (twin shared), airport transfers, internal transportation excluding internal flights (Lima-Cuzco-Lima), entrance fees, meals as indicated, camping equipment, porters and cooks and English-speaking guides.
TRIP DOES NOT INCLUDE:
International and internal airfare, airport taxes, gratuities to guides, items of a personal nature, extra accommodation due to missed flights and alcoholic beverages.
MEALS:
7 Breakfasts, 5 Lunches, 3 Dinners
ACCOMMODATION:
Hotel: 4 Nights
Tent: 3 Nights
Trip Facts
Weather in Peru
Generally the Andean trekking season, April-November is clear, dry, and cool. During the transitional months of April/May and October/November, one can experience variable weather patterns with a general build up of afternoon clouds and possible showers that rarely last throughout the night. Andean nights are cold, ranging from 25 to 40°F (-4 to 5°C) depending on the elevation, while the days are pleasantly warm with temperatures between 60 to 80°F (15 to 26°C). In spite of warmer temperatures, trekking during the Andean rainy season (Jan- March) is not recommended because of the high risk of mudslides, rock fall or lightening. Also, trails and high passes may be closed due to heavy snowfall. Expect showers or mist on most departures. The daytime temperatures will be warm between 70 to 85°F (21 to 30°C), with the night time temperatures around 45 to 50°F (7 to 10°C).
Lima
October to May: Sunny, dry, clear days with hot weather.
June to October: Still fairly hot but mornings tend to be foggy or misty.
Cuzco (includes Machu Picchu)
May to September: Dry with 8 hours of sunshine daily.
October to April: Rainy season, heaviest in January.
Travel Documents
Canadian and US citizens require a valid passport with an expiry date that is beyond six months from the date of entry. A visa is not required for North American citizens for stays up to 90 days. Citizens of other countries should contact the Peruvian Embassy for specific entry requirements.
Food and Water
One of the delights of Peruvian adventure is the delicious cuisine. Traditional food in Peru includes seafood on the coast and roasted Guinea pig in the highlands. There are a wide variety of fruits available. Most food is safe to eat, although a little common sense with regard to street food is sometimes necessary. Some of the popular traditional dishes are lomo saltado (stir-fried beef with onions, vinegar, ginger, chili, tomatoes, and fried potatoes) ceviche (shrimp or sea bass marinated in lemon, chili, and onions), papas rellenas (stuffed baked potatoes), palta rellena (avocado stuffed with chicken salad), and picarones (deep fried flour fritters made with eggs and served with honey). While in Peru, it is best to drink only bottled water. Milk should be treated with suspicion. If you do drink milk, make sure it has been pasteurized. Fruit juices, soft drinks and tea are all widely available and safe to drink. Drink plenty of fluids and try to avoid alcohol when you first arrive into higher altitudes. Some popular and traditional drinks include Inca Cola (lime green soda pop that tastes like fizzy bubble gum), pisco sour (similar to a Tom Collins made with white grape brandy), and mate de coca (tea made from coca leaves to relieve altitude sickness).
Accommodation
Most of our trips include comfortable mid-range accommodations. However, this trip includes a combination of hotels and multiple nights camping along the trail in tents while trekking. 
This trip includes the following types of accommodation:
CAMPING
This is an incredible experience as you'll be tenting in Peru along the ancient Inca routes! There are four consecutive days of trekking, with three nights of camping with altitudes ranging between 10,000 – 13,500 ft / 3,050 – 4,100 m. Expect night time temperatures to be chilly (-5°C to +3°C / 20°F to 25°F). Tents and sleeping mats are supplied, and down filled sleeping bags are available for rent.
Camping on this trip does not involve pitching your own tent. Porters and cooks, with llamas, will carry the gear and have our campsites ready upon arrival. Our skilled cooking staff will freshly prepare all meals, and the tents will be pitched at predetermined campsites.
Our bathing facilities are the occasional river we pass and warm bowls of water in the mornings. Each morning, you will be brought a washing basin filled with warm water to wash your face and brush your teeth; bathing facilities are not available along this trek.
Other days on this trip includes stays in comfortable hotels. 
HOTELS
The four hotel nights during this trip are at mid range accommodations that provide a clean and comfortable experience in characterful surroundings that reflect the destination. To build stronger connections with the communities and support the local economies, we avoid using large international chain brands on BikeHike trips. Instead, in an effort to keep money in the communities we visit around the world, BikeHike prefers small hotels that better connect our travellers to each destination.
Click HERE for more information about accommodation styles.
NOTE: The itinerary is designed so that day one is spent relaxing and adjusting to the altitude, which can adversely affect blood pressure, digestion and energy level. We encourage participants to arrive an extra day or two before the trip begins to help your body to acclimatize. 
Trip At A Glance
Day
Destination
Activity

Duration

Distance
Ascent / Descent
Lodging
Meals
1

Cuzco

Arrival

—
—
— / —

Hotel

—
2

Cuzco - Sacsayhuaman

Horseback Riding

2 hours

— / —

Hotel

3

Lares Trail

Hiking

4 - 5 hours

Tent

4

Lares Trail

Hiking

7 - 8 hours

+ 760m (2,493ft)

- 800m (2,624ft)

Tent

5

Lares Trail

Hiking

6 - 7 hours

+ 542m (1,778ft)

- 742m (2,434ft)

Tent

6

Lares Trail - Aguas Calientes

Hiking

3 hours

Hotel

7

Machu Picchu - Cuzco

Walking

3 hours

— / —

Hotel

8

Cuzco

Departure

—
—
— / —
—