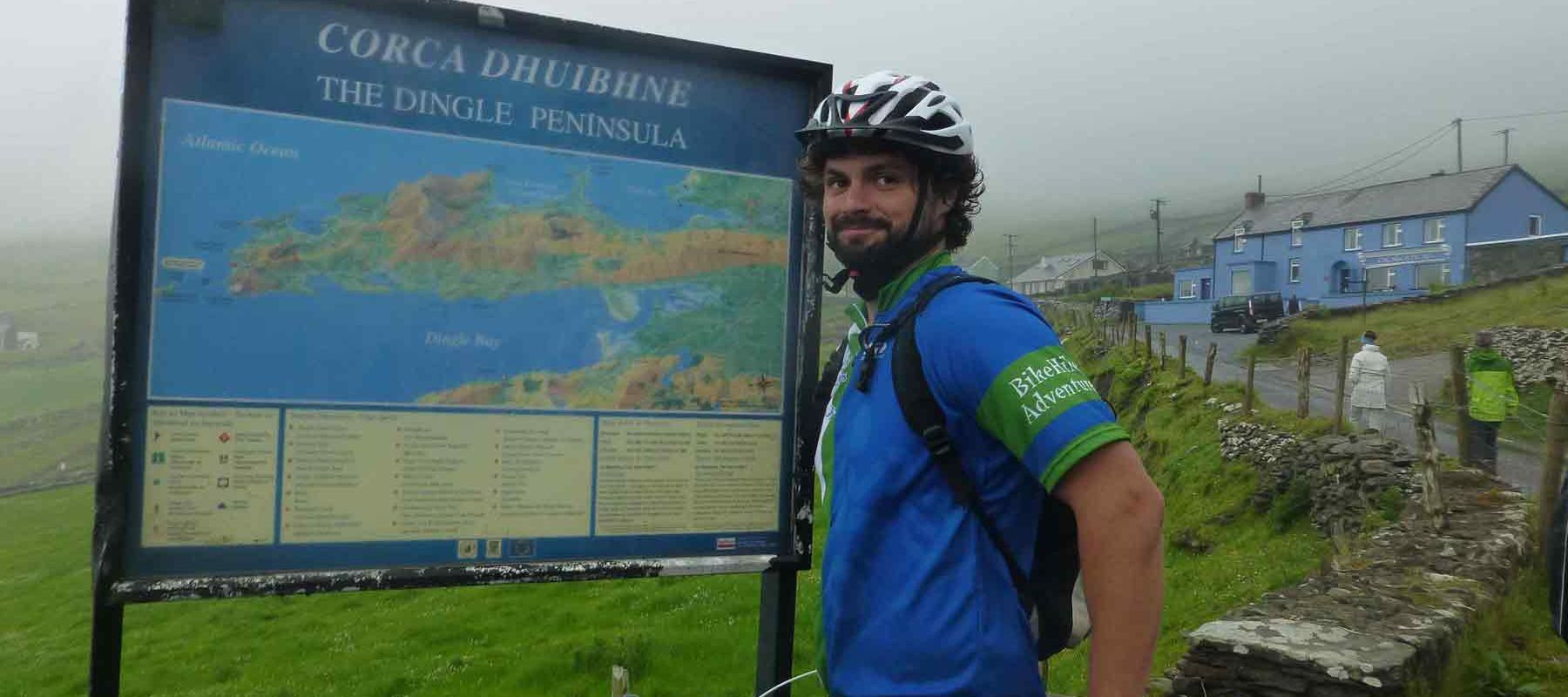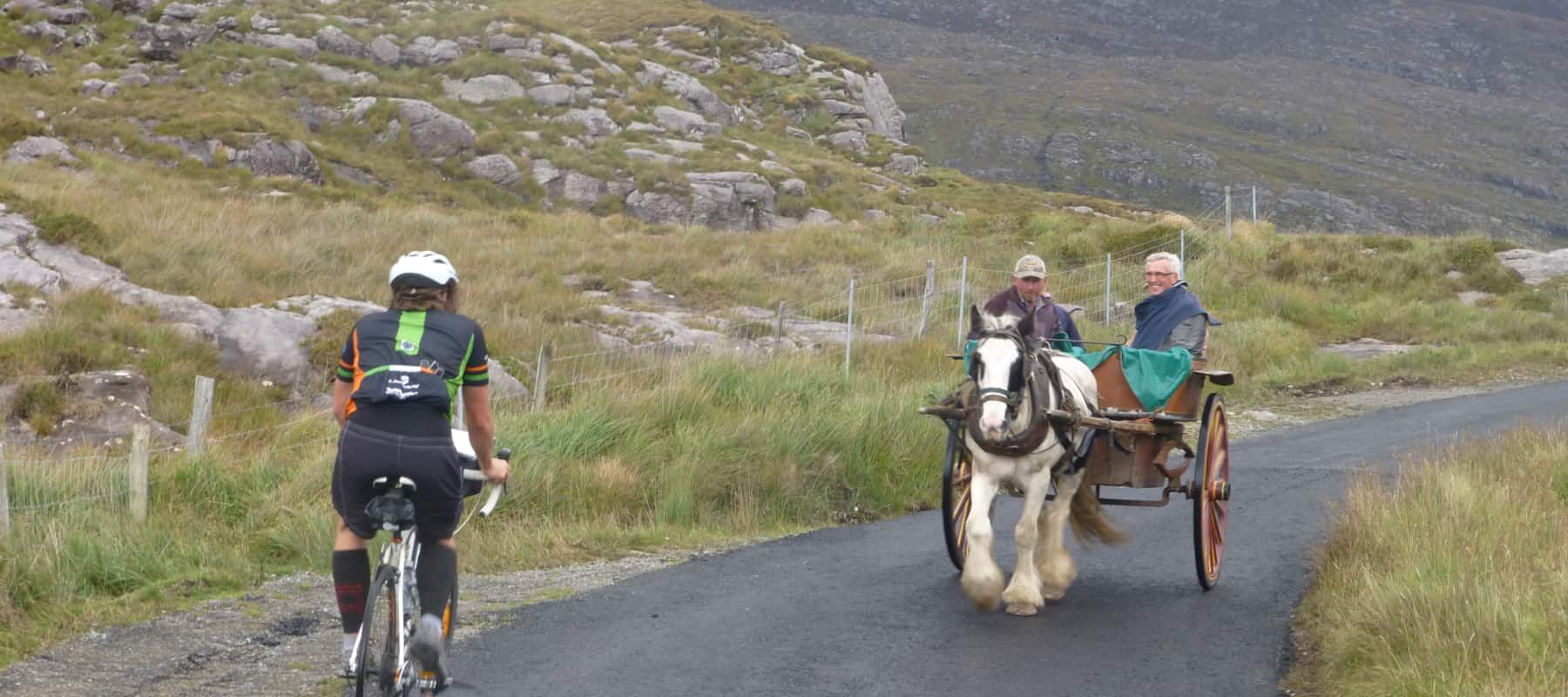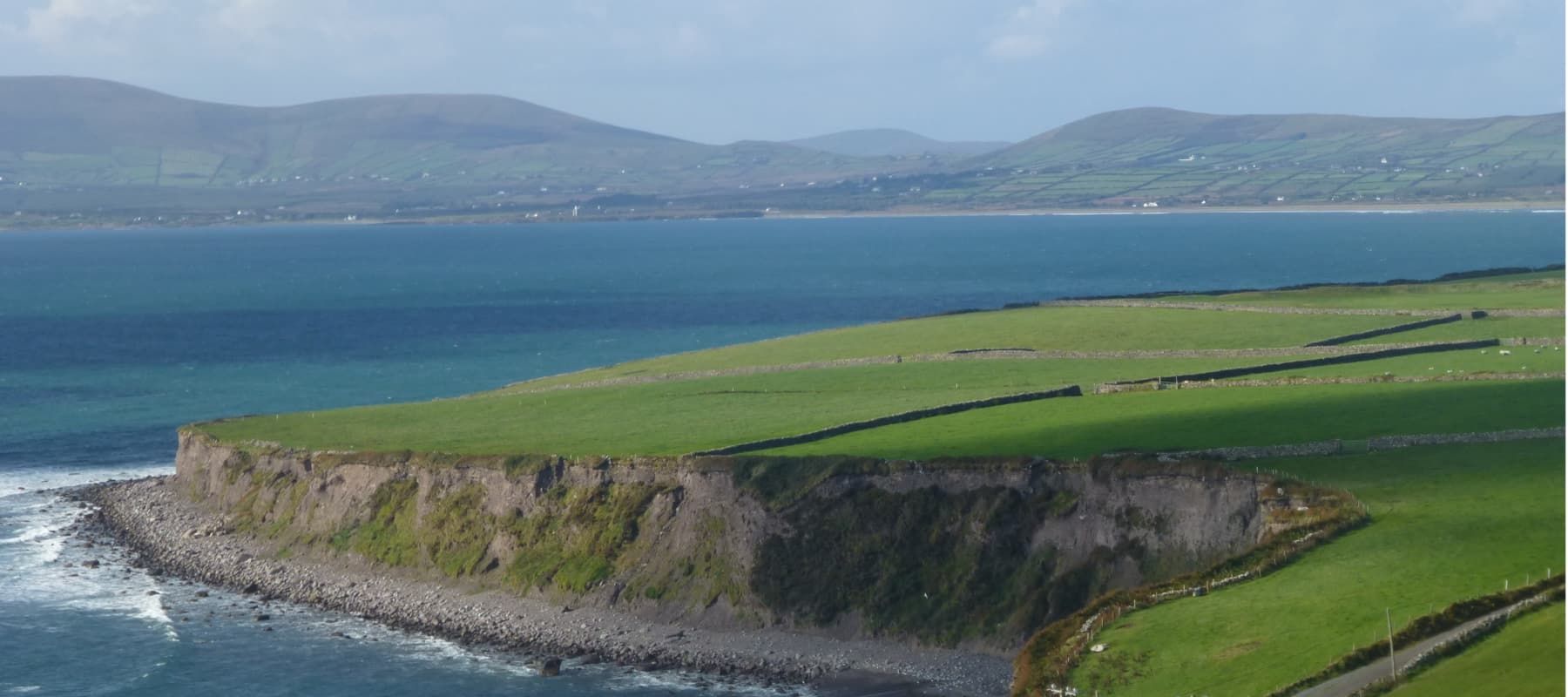 Cycling The Wild Atlantic Way: Ireland
Trip Overview
Experience a bike tour from the northern tip of the Dingle Peninsula in County Kerry to the shores of historic Bantry Bay in County Cork along the famed Wild Atlantic Way.
Ireland is known as Europe's 'Emerald Isle,' a nod to its spectacularly green landscapes. Ireland's countless peninsulas, lakes and rivers are natural wonders just beckoning you to explore them. Anywhere you ride in this country, fresh landscapes unfold before your eyes.
Cycling Ireland's Wild Atlantic Way is a premier way to experience the country's dramatic scenery while engaging with Ireland's spirited local culture.
POPULAR WITH SINGLE TRAVELLERS 
For the physically fit and the energetic, this Irish cycling tour is a trip of a lifetime!
WOW FACTORS
Experience Ireland's towering sea cliffs, white sand beaches, colourful villages and wild mountain landscapes.
Pedal road bikes through the spectacular Killarney National Park, a UNESCO Biosphere Reserve.
Cycle over Ireland's highest mountain road and into some of its best restaurants and music filled pubs.

Check out our Wild Atlantic Way Highlight Video
Itinerary & Map
Day 1
Kerry
Arrival
Either fly into the Cork or Kerry airport today. The Cork airport is a much busier airport with a wide variety of international flights whereas Kerry Airport has international flights from England and Germany. Make your way to our welcome hotel in Kerry upon arrival. If you fly into Cork, you'll need to take a train to Kerry and there are nine departures per day. From Kerry Airport you can take a taxi to the welcome hotel. The remainder of the day is at leisure to explore. Overnight in a comfortable 3-star hotel in Killarney.

Accommodation: Hotel
Meals: None
Day 2
Kerry - Dingle
Biking
We'll start our Irish adventure with a hearty breakfast and then transfer by vehicle to the Maharees; a 5km / 3 mi long spit of white sand that stretches out form the Dingle Peninsula. Here we'll stop for a fresh seafood lunch at a local pub here overlooking the ocean. From here we get fitted with our bikes, and then we're off on our first ride, cycling along the coast and up over the Conor Pass – Ireland's highest mountain road. While the climbing is modest, the scenery is dramatic and the views from the top across the west coast are superb. From here it is downhill all the way to the town of Dingle, arguably one of the strongest bastions of traditional Irish music. Overnight at a comfortable 3-star hotel in Dingle.

Biking Distance: 30 km / 19 mi
Ascent: +455m / 1,500ft
Accommodation: Hotel
Meals: Breakfast, Lunch, Dinner
Day 3
Dingle Peninsula
Biking
Following a relaxed Irish breakfast, we hit the road exploring the beautiful Dingle Peninsula. The Dingle Peninsula is a Gaeltacht region where Gaelic is still widely spoken as a first language and culture and traditions remain strong. Our route today leads us west passing a fascinating array of ancient sites including iron-age forts, beehive huts, inscribed stones and historical churches. The Peninsula culminates at the dramatic Slea Head. Before stopping off for a pub lunch in Ballyferriter, we visit the fascinating Gallarus Oratory. This evening we'll join the locals in one of the pubs to experience some real 'craic agus ceoil' (music and fun in Gaelic). Overnight at the same comfortable hotel in Dingle.

Biking Distance: 58 km / 36 mi
Ascent: +367m / 1,200 ft
Accommodation: Hotel
Meals: Breakfast, Lunch, Dinner
Day 4
Dingle - Sneem
Biking
As long as the weather God's are on our side today's ride will start with a boat across Dingle Bay (or in Gaelic Bá an Daingin) to the Iveragh Peninsula and The Ring of Kerry. This stretch of water is rich in marine life including Fungie – Dingle's resident and celebrity dolphin! We land on Valentia Island and then ride via a causeway to the mainland at Portmagee. From here, the riding really begins with some steep climbs and wild descents around the Ring of Skellig. The effort is more than compensated by the magnificent coastal views and the equally magnificent delights of the Skellig Chocolate Factory. We pass through the villages of Waterville and Caherdaniel winding along the coastline before reaching the bright pink façade of D O'Shea's pub in Sneem where you can enjoy a well-earned glass of Guinness, by an open peat fire. Overnight at a comfortable 3-star hotel in Sneem.

Biking Distance: 75 km / 47 mi
Ascent: +915m / 2,950ft
Accommodation: Hotel
Meals: Breakfast, Lunch, Dinner
Day 5
Sneem - Kenmare
Biking
The Beara Peninsula, is a remote finger of land stretching into the Atlantic Ocean, and one of Ireland's lesser known treasures. Our ride today is out to this Peninsula. The relentless energy of the Atlantic has formed this rocky stretch of land; carved out white sand beaches and windswept hills where tiny brightly coloured villages shelter. We continue east along the northern side of Kenmare Bay before turning south in the town of Kenmare and crossing the river onto the Beara Peninsula. We'll ride over the Caha Pass up and over the Cork and Kerry border. We'll stop at the fascinating Ewe Sculpture Gardens to see some of the most unique outdoor sculptures you'll likely ever encountered. Before descending to the village of Glengarriff, on the edge of Bantry Bay. We'll meet the van for a shuttle right back to the village of Kenmare. For the hearty riders in the lot, there is the option to extend the cycle to climb the Healy Pass, a spectacular route with awesome views across the Beara Peninsula. Overnight at a comfortable 3-star hotel in Kenmare.

Biking Distance: 54 km / 33 mi
Ascent: +462m / 1,520ft
Accommodation: Hotel
Meals: Breakfast, Lunch
Day 6
Kenmare - Killarney
Biking
Today our ride is an ascent, climbing to the top of Molls Gap, overlooking the swath of the MacGillycuddy Reeks. Then it's a fun downhill into the Black Valley to Brandon's Cottage in Killarney National Park. From here we climb again, through the narrow Gap of Dunloe pass. This route is traffic free but keep an eye out for the traditional jaunting cars that ply their trade here. The Gap is 11km / 7mi long and passes by five beautiful lakes. Here is where we'll break for lunch. The final section of our ride is along Lough Leanne to Ross Castle in the heart of Killarney National Park. In the company of an expert local guide, we will explore this fascinating 15th century fortress, spectacularly situated on the lakeshore. Overnight in a comfortable hotel in Killarney.

Biking Distance: 62 km / 39 mi
Ascent: +695m / 2,265ft
Accommodation: Hotel
Meals: Breakfast, Lunch, Dinner
Day 7
Killarney - Bealach Oisin - Killarney
Biking
Our final ride is arguably the most spectacular and is through the centre of the Iveragh Peninsula. Bealach Óisín is named after the son of Fionn Mac Cumhaill, the legendary leader of the Fianna, Ireland's famous warriors. According to legend Óisín fell in love with Niamh Cinn a beautiful princess from Tir na Nog, the land of youth. Having spent some time in Tir na Nog, Óisín was homesick and wanted to see his homeland. Niamh lent him her great white horse on which to return, with a dire warning to stay on the horse and not to set foot on the land of Ireland. When Óisín came back, hundreds of years had gone by, the Fianna were long gone, the people of Ireland had grown small and weak and St Patrick was spreading Christianity. As he was crossing the pass that now bears his name, Óisín saw a group of men struggling with a stone that he could move with one hand. Óisín leaned down from the saddle to move the stone, but as he did so the girth broke and he fell to the ground. As soon as he hit the ground he turned into an old man. We'll aim to avoid such dangers and skirt below the MacGillycuddy Reeks, climbing over Ballaghisheen Pass and finishing up with celebratory pints in the village of Cahersiveen. We transfer back to Killarney for our final dinner together. Overnight in the same comfortable hotel in Killarney.

Biking Distance: 63 km / 40 mi
Ascent: +542m / 1,778ft
Accommodation: Hotel
Meals: Breakfast, Lunch, Dinner
Day 8
Killarney
Departure
This morning explore the Killarney town or the adjoining National Park. We will then transfer you to the rail station or airport for your journey back home.

Meals: Breakfast

NOTE about Ascent/Descent numbers: 

The ascent/descent numbers are usually generated using Ride with GPS. The numbers are TOTAL ascent/descent for the day and these numbers do not suggest altitude. There are usually multiple small ascents and descents added up throughout the day to reach this total ascent/descent for the day. (While our numbers are generally consistent with Ride with GPS, depending on the mapping technology used, numbers may vary).

What's Included
TRIP INCLUSIONS:
All accommodation (twin shared), meals as indicated, all internal transportation excluding airport transfers, equipment and English-speaking guides.
TRIP DOES NOT INCLUDE:
International airfare, airport departure taxes, gratuities, meals not included, airport transfers and items of a personal nature.
MEALS:
7 Breakfasts, 6 Lunches, 5 Dinners
ACCOMMODATION:
Hotel: 7 Nights
Trip Facts
Weather in Ireland
Ireland's weather is generally mild relative to other countries of that latitude, and the climate is predominantly influenced by the Atlantic Ocean. Throughout the year, abundant rainfall keeps the country green. Overall, the country's weather is quite changeable and unpredictable but the temperatures are rarely extreme. Strong winds often come in off the ocean making the coastline stretches of land generally windy while the hills shelter Ireland's interior. Traveller's best chances of ideal weather are found in May through September. Winter months are marked by short days and cold rain.
June to August: Summer. Long warm days. July and August, the warmest months, get an average of 18 hours of sunlight.
September to November: Autumn. Average afternoon temperatures begin falling and daily sunshine begins diminishing. Expect light rain.
December to February: Winter. Short, cold days. Average afternoon temperatures average about 7°C (44°F). Rain, fog and low cloud reduce daily sunshine to one to three hours. Expect light snowfalls.
March to May: Spring. Average afternoon temperatures begin rising and hours of sunshine per day begin increasing. Light snow is possible in March. Expect light rains throughout spring.
Travel Documents
Citizens of Canada and the US only require a valid passport to enter Ireland. Please ensure that your passport is valid for six months beyond the date of arrival, or you may be refused entry. Always carry a photocopy of your passport in the unfortunate case of loss or theft; this precaution will speed up the reissue process. Visa requirements vary from country to country. Before departure, make sure to check with your local Irish consulate for the most current up-to-date requirements. A visa is not required for Canadian or US citizens.
Food and Water
Seafood is celebrated throughout Ireland and, according to ancient Celtic beliefs, Salmon fish were considered the wisest of creatures. Traditional smoked salmon is a prevalent appetizer, served with bread, another traditional Irish staple. Cheese making in Ireland is an age-old Irish tradition that has recently experienced an artisanal revival. Although everyone recognizes Guinness as the quintessential Irish brew, there is a strong microbrewery boom in Ireland. As for spirits, Irish Whiskeys are considered to be the best in the world and distilleries abound throughout the country. Water is typically safe to drink in most regions of Ireland. Strict regulatory standards govern Ireland's water supply and the water from the public mains is compliant with EU drinking water standards. However, if you are susceptible to changes in the water, you will find that fresh juices, soft drinks and beer are readily available.
FAQ
Can I take this trip if...
I am a solo traveller? How does solo accommodation and costing work?
This trip is quite popular with singles. Unlike many adventure travel companies, we don't charge single supplement fees to solo travellers. Instead, we pair you with another traveller of the same gender. If we can't find you a roommate, you get your own room at no additional charge. A single private room supplement fee is only required if you specifically request a confirmed private room for the duration of the trip. Learn more about solo travel with BikeHike. 
I have special dietary requirements?
We will do our best to accommodate special dietary requests (e.g. vegetarian, gluten free, etc.), but ask that you please discuss your request with us when signing up for a trip.
Accommodation
Most of our trips include comfortable mid-range accommodations. This includes accommodation that provides a clean and comfortable experience in characterful surroundings that reflect the destination. To build stronger connections with the communities and support the local economies, we avoid using large international chain brands on BikeHike trips.
More about our hotel choices in Ireland
BikeHike prefers small, cozy boutique hotels that are generally family-run. Throughout this tour, we have hand-picked accommodations for you that showcases Ireland's natural beauty and charm. Some nights, we will be staying in some especially charming Irish inns that resemble more of a western style B&B. In fact, often times, these stays are a highlight of the trip as they really connect you to the small villages where you'll be visiting. For example, we stay in Sneem, a small village with merely 500 inhabitants as well as in Dingle, whose population is roughly 2000 people. These are places one would not be able to stay and experience otherwise.   
Click HERE for more information about accommodation styles.
Trip At A Glance
| Day | Destination | Activity | Distance | Ascent / Descent | Lodging | Meals |
| --- | --- | --- | --- | --- | --- | --- |
| 1 | Kerry | Arrival | — | — / — | Hotel | — |
| 2 | Kerry - Dingle | Biking | | | Hotel | |
| 3 | Dingle Peninsula | Biking | | | Hotel | |
| 4 | Dingle - Sneem | Biking | | | Hotel | |
| 5 | Sneem - Kenmare | Biking | | | Hotel | |
| 6 | Kenmare - Killarney | Biking | | | Hotel | |
| 7 | Killarney - Bealach Oisin - Killarney | Biking | | | Hotel | |
| 8 | Killarney | Departure | — | — / — | — | |