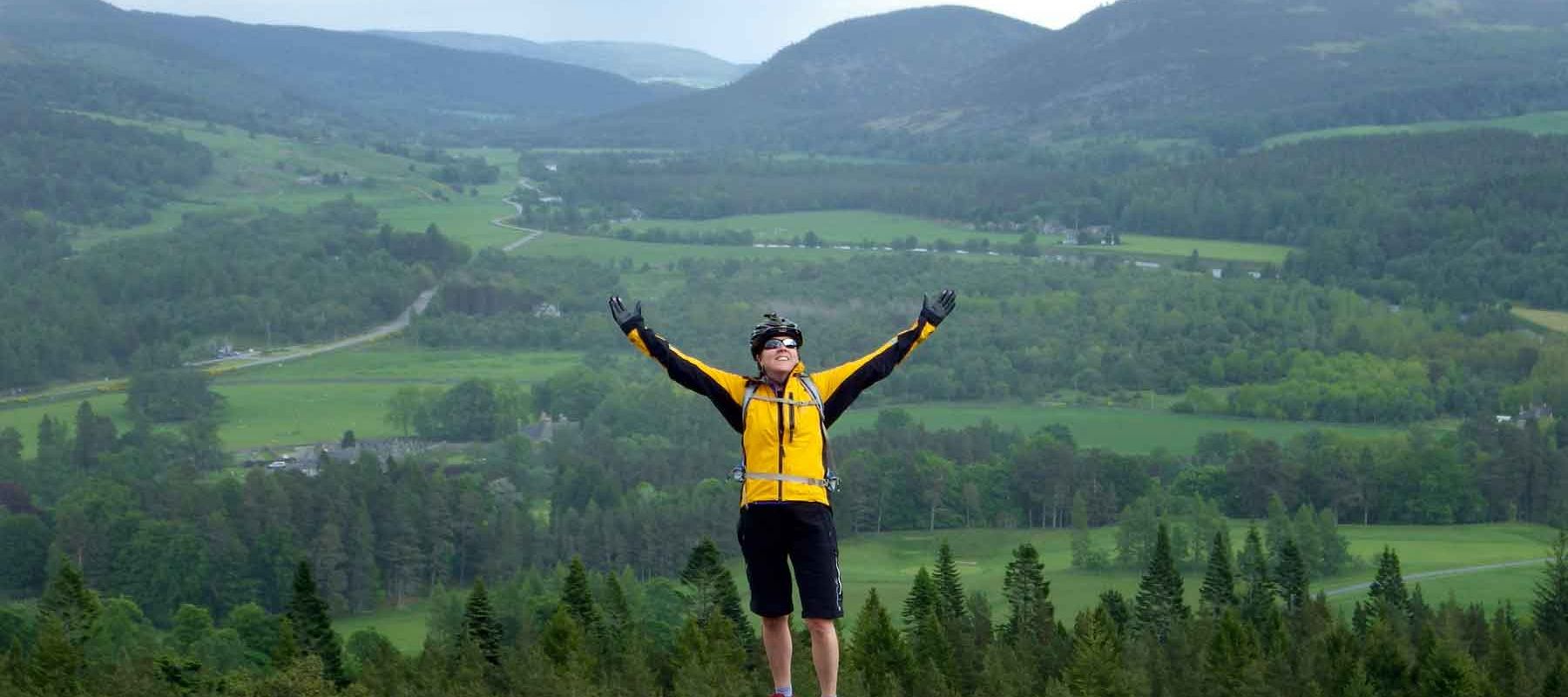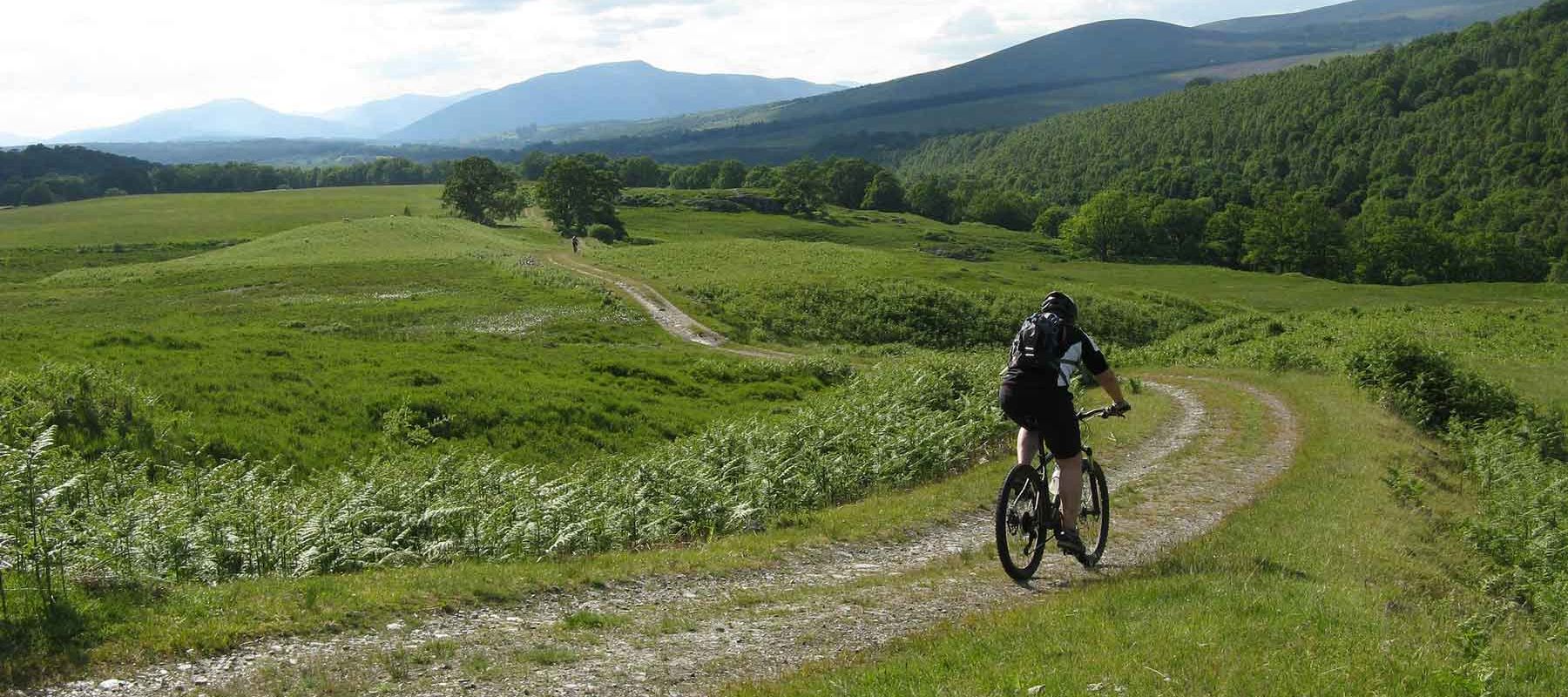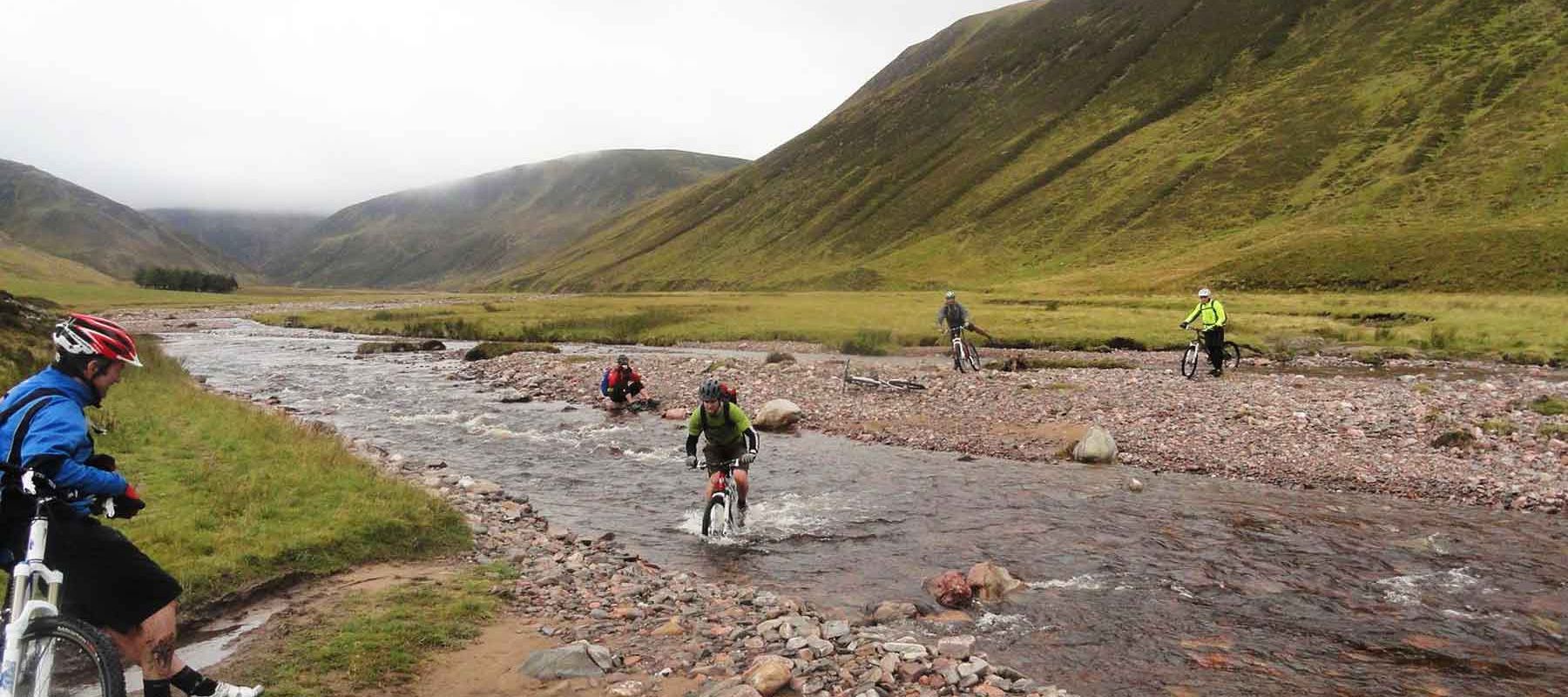 Biking Coast to Coast: Bike Tour of Scotland
Trip Overview
Not just your typical bike tour of Scotland. For those of you who refuse to be tamed, this coast to coast Scotland mountain biking tour is absolutely epic. It features a week of challenging riding from Aberdeen in the east to Ardnamurchan in the west.
The route covers 375 km / 208 miles, with 7000 m  / 2100 ft of ascents and descents, and is the ultimate coast to coast cycling trip in the whole UK. The trails are as varied as the spectacular scenery of the Scottish Highlands, ranging from flowing singletrack to challenging mountain passes to mellow fire roads.
We begin in the city of Aberdeen, on the east coast. We leave the city behind and ride all the way across the Highlands through the backcountry to the tip of the Ardnamurchan Peninsula - the westernmost point of mainland Britain. This is the ultimate multi-day mountain bike ride in all of the UK and offers world class riding each day through some of the most spectacular scenery in the Scottish Highlands. Looking for a legendary cycling vacation that you'll be talking about for years to come? This could be it! 
POPULAR WITH ACTIVE ADVENTURERS & SINGLE TRAVELLERS 
For the physically fit and the insanely energetic, our Biking Coast to Coast in Scotland is a trip of a lifetime!
WOW FACTORS
375 km/208 miles of epic mountain biking traversing the Scottish Highlands from coast to coast
Mountain bike up big mountain passes to ancient pine forest
Cycle to castles and whiskey distilleries and experience the warm and friendly hospitality of the Scottish Highlanders
Itinerary & Map
Day 1
Edinburgh
Arrival
Upon arrival into the Edinburgh International Airport, you will need to make your own way to the group hotel. The remainder of the day is at leisure to explore Edinburgh.

Accommodation: Hotel
Meals: none
Day 2
Edinburgh - Aberdeenshire
Bike Fitting & Short Ride
Our local Scottish guide will meet us at our hotel this morning at 11am and we'll transfer to our hotel in rural Aberdeenshire. After checking in, we have a welcome briefing where we'll get fitted with our bikes. We'll have time for a short ride in the afternoon to get comfortable on our bikes before tackling Scotland Coast to Coast by bike. We'll have a welcome drink before dinner and an early night!

Accommodation: Hotel
Meals: Breakfast, Dinner
Day 3
Aberdeen - Aberdeenshire
Biking
After breakfast, we transfer by vehicle for one hour to Aberdeen. From here we begin our bike journey eastwards across Scotland. We ride through Royal Deeside, following the route of the old railway line built for Queen Victoria. After lunch, we begin a steady climb before descending some of Scotland's finest single track to Glen Tanar. Our end point is back at our hotel in Aberdeenshire.

Biking Distance: 64 km / 40 mi
Ascent: +2,951 ft / 900 m
Descent: -2,526 ft / 770 m
Accommodation: Hotel
Meals: Breakfast, Lunch
Day 4
Ballater - Tomintoul
Biking
Today is a classic day of riding into the in the Scottish Highlands. The morning starts with some gentle singletrack followed by a scenic road climb to the quirky Bridge of Gairn. From here we strike off into the heart of the Cairngorms. The trails are good going throughout but journey into really wild country offering a superb mountain experience. Our overnight is in Tomintoul, the highest village in the Highlands. If the day goes to plan, we will arrive mid- afternoon, making time for a distillery visit of at the world-famous Glenlivet. A great way to end the day!

Biking Distance: 62 km / 38 mi
Ascent: +4,626 ft / 1,410 m
Descent: -3,970 ft / 1,210 m
Accommodation: Hotel
Meals: Breakfast, Lunch
Day 5
Tomintoul - Newtonmore
Biking
Without a doubt, one of the best days of the trip and one of the best day rides in Scotland. A long and unforgettable day through the mighty Cairngorms massif and some of the best scenery in the UK. Some big mountain climbs, twisting forest trails and magical singletrack eventually lead us to Glen Feshie, where we cross Inshriach Forest to Kingussie. Approximately 8 hours of riding, all off-road - simply superb!

Biking Distance: 66 km / 41 mi
Ascent: +3,477 ft / 1,060 m
Descent: -3,773 ft / 1,150 m
Accommodation: Hotel
Meals: Breakfast, Lunch
Day 6
Newtonmore - Spean Bridge
Biking
We start with an easy cruise on a quiet road, with a short climb, before making it to Laggan Wolftrax, one of Scotland's best purpose-built mountain bike centres. There is some time built in to enjoy the singletrack trails here. After a break of coffee and home baking, we follow a smooth off-road trail past a fairy-tale mansion before enjoying lunch by the River Spean. We cross the river by a dramatic suspension bridge (2 at a time!) and take a flowing trail all the way into the village of Spean Bridge and our overnight stop.

Biking Distance: 70 km / 43 mi
Ascent: +3,444 ft / 1,050 m
Descent: -3,937 ft / 1,200 m
Accommodation: Hotel
Meals: Breakfast, Lunch
Day 7
Spean Bridge - Strontian
Biking
The lower reaches of the Great Glen Way lead to Fort William where we take a ferry ride across Loch Linnhe. From all routes lead to the beautiful River Polloch on Loch Shiel where an ancient 'coffin road' takes us over the hills to Loch Sunart, with stunning views. An exciting descent leads into Strontian.

Biking Distance: 78 km / 48 mi
Ascent: +4,035 ft / 1,230 m
Descent: -4,314 ft / 1,315 m
Accommodation: Hotel
Meals: Breakfast, Lunch
Day 8
Strontian - Ardnamurchan Point
Biking
A classic final day. We head west, soon joining a beautiful coastal trail and then head into the hills. This is one of the best singletrack sections of the route with amazing views of the islands on a clear day. After a short road section, we tackle more coastal singletrack to our final destination at Ardnamurchan Lighthouse - the most westerly point on the UK mainland! We celebrate with champagne before returning to Strontian for dinner.

Biking Distance: 61 km / 38 mi
Ascent: +5,052 ft / 1,540 m
Descent: -5,118 ft / 1,560 m
Accommodation: Hotel
Meals: Breakfast, Lunch, Dinner
Day 9
Strontian - Edinburgh
Transfer
Following breakfast, we load the vehicle and bike trailer and enjoy a leisurely 4 hour journey back to Edinburgh, arriving at approximately 2pm. We have the remainder of the evening in this beautiful Scottish City to venture out to a pub, explore the castles and take in the local culture before departure tomorrow.

Accommodation: Hotel
Meals: Breakfast
Day 10
Edinburgh
Departure
Today is the conclusion of our Mountain Biking Coast to Coast Adventure. Please make your way to the airport 2-3 hours before your flight.

Meals: Breakfast

NOTE about Ascent/Descent numbers:

The ascent/descent numbers are usually generated using Ride with GPS. The numbers are TOTAL ascent/descent for the day and these numbers do not suggest altitude. There are usually multiple small ascents and descents added up throughout the day to reach this total ascent/descent for the day. (While our numbers are generally consistent with Ride with GPS, depending on the mapping technology used, numbers may vary).

What's Included
TRIP INCLUSIONS:
All accommodation (twin shared), meals as indicated (B=breakfast, L=lunch, D=dinner), all internal transportation excluding airport transfers, equipment and English-speaking guides.
TRIP DOES NOT INCLUDE:
International airfare, airport departure taxes, gratuities, meals not included, airport transfers and items of a personal nature.
MEALS:
9 Breakfasts, 6 Lunches, 2 Dinners
ACCOMMODATION:
Hotel: 9 Nights
Trip Facts
Weather in Scotland
Scotland is a temperate climate with more than one-half of the days being overcast. This is due to the prevailing southwest winds over the North Atlantic Current. Given its northerly latitude, it is much warmer than areas of similar latitude. The western highlands of Scotland are one of the wettest places in Europe with annual rainfall up to 4,577 mm (180.2 in). Wind prevails from the south-west, bringing warm, wet air from the Atlantic. Traveller's best chances of ideal weather are found in May, June and September. Summer months are usually warm and wet. Winter months are marked by short days and cold rain.
June to August: Summer. Long warm days. June is the sunniest and driest month but, even so, expect light rains.
September to November: Autumn. Average afternoon temperatures begin falling and daily sunshine begins diminishing. Expect light rain.
December to February: Winter. Short, cold days. Average afternoon temperatures average about 7°C (44°F). Rain, fog and low cloud reduce daily sunshine to one to three hours. Expect light snowfalls.
March to May: Spring. Average afternoon temperatures begin rising and hours of sunshine per day begin increasing. Light snow is possible in March. Expect light rains throughout spring.
Travel Documents
Citizens of Canada and the US only require a valid passport to enter Scotland. Please ensure that your passport is valid for six months beyond the date of arrival, or you may be refused entry. Always carry a photocopy of your passport in the unfortunate case of loss or theft; this precaution will speed up the reissue process. Visa requirements vary from country to country. Before departure, make sure to check with your local United Kingdom consulate for the most current up-to-date requirements. A visa is not required for Canadian or US citizens.
Food and Water
The best-known Scottish delicacy is haggis – made from the windpipe, lungs, heart and liver of a sheep, seasoned with oatmeal and served in a sheep's stomach, which is sewn closed. Other must-tries include porridge, scotch pies, and black bun – a very rich fruit cake made with raisins, currants, chopped almonds, and brown sugar. The best-known Scottish drink is Scotch Whiskey, a liquor distilled from barley and flavoured with peat tainted water. Water is typically safe to drink in most regions of Scotland. Strict regulatory standards are in place to ensure Scottish tap water is top quality and meet some of the tightest quality standards in the world. However, if you are susceptible to changes in the water, you will find that fresh juices, soft drinks and beer are readily available.
FAQ
Can I take this trip if...
I am a solo traveller? How does solo accommodation and costing work?
This trip is quite popular with singles. Unlike many adventure travel companies, we don't charge single supplement fees to solo travellers. Instead, we pair you with another traveller of the same gender. If we can't find you a roommate, you get your own room at no additional charge. A single private room supplement fee is only required if you specifically request a confirmed private room for the duration of the trip. Learn more about solo travel with BikeHike. 
I have special dietary requirements?
We will do our best to accommodate special dietary requests (e.g. vegetarian, gluten free, etc.), but ask that you please discuss your request with us when signing up for a trip.
Accommodation
Most of our trips include comfortable mid-range accommodations. This includes accommodation that provides a clean and comfortable experience in characterful surroundings that reflect the destination. To build stronger connections with the communities and support the local economies, we avoid using large international chain brands on BikeHike trips. 
This trip includes the following types of accommodation:
HOTELS
In an effort to keep money in the communities we visit around the world, BikeHike prefers small hotels that showcase the character and local flair of each destination.
Learn more about the accommodation styles we offer at our destinations.
Trip At A Glance
Day
Destination
Activity
Distance
Ascent / Descent
Lodging
Meals
1

Edinburgh

Arrival

—
— / —

Hotel

—
2

Edinburgh - Aberdeenshire

Bike Fitting & Short Ride

—
— / —

Hotel

3

Aberdeen - Aberdeenshire

Biking

+ 900 m (2952 ft)

- 770 m (2526 ft)

Hotel

4

Ballater - Tomintoul

Biking

+ 1410 m (4626 ft)

- 1210 m (3970 ft)

Hotel

5

Tomintoul - Newtonmore

Biking

+ 1060 m (3477 ft)

- 1150 m (3773 ft)

Hotel

6

Newtonmore - Spean Bridge

Biking

+ 1050 m (3444 ft)

- 1200 m (3937 ft)

Hotel

7

Spean Bridge - Strontian

Biking

+ 1230 m (4035 ft)

- 4314 m (4314 ft)

Hotel

8

Strontian - Ardnamurchan Point

Biking

+ 1540 m (5052 ft)

- 1560 m (5118 ft)

Hotel

9

Strontian - Edinburgh

Transfer

—
— / —

Hotel

10

Edinburgh

Departure

—
— / —
—
Other Biking Adventures You Might Like...
Load More