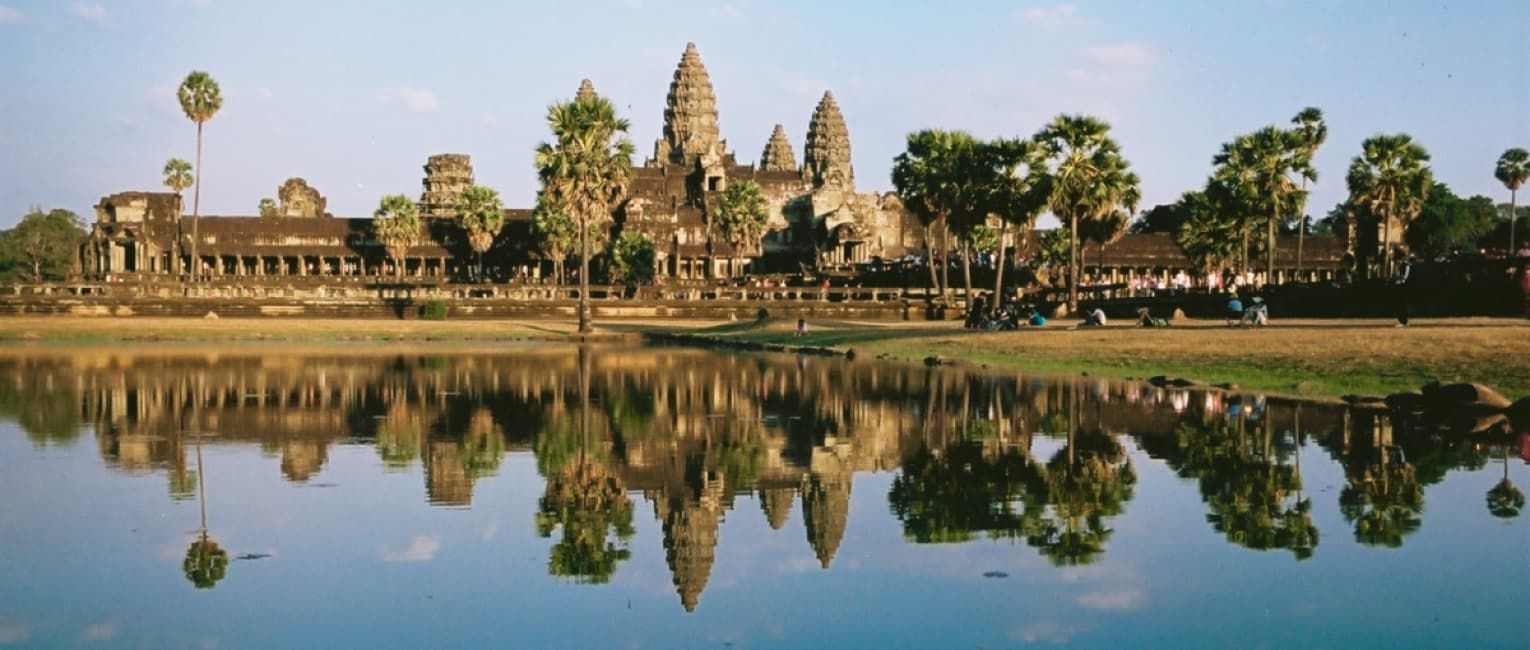 Visiting Angkor Wat: How To Plan Your Itinerary
The temples of Angkor are indicative of the history and culture of Cambodia and are a must-see for anyone traveling through this amazing country. 
Despite what many people think, Angkor Wat is not the actual name of the Heritage Site. Angkor Wat is just one of many temples inside Angkor Archeological Park.
It attracts such large crowds (millions each year) because it is the largest religious monument in the world, and provides a unique and stunning glimpse into the past.
Visiting Angkor Wat is truly an unforgettable experience. 
But for travelers who have never been to Cambodia or seen the temples of Angkor, it can be difficult to pack everything into a 1 or 2 day itinerary.
We've been traveling to Cambodia, and specifically Angkor Wat, for over 20 years, so here are some tips from us to make the most out of your time at the temples.
How Long Does It Take To See Angkor Wat?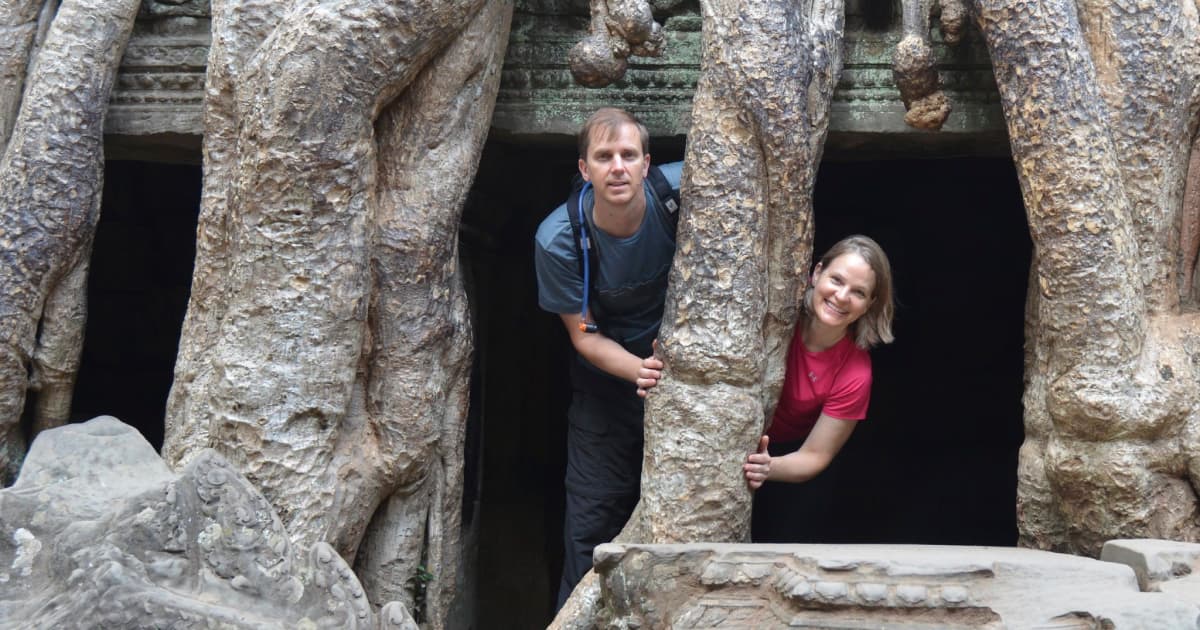 Most visitors will dedicate 2-3 days to see all the major highlights in Angkor park, and a few of the smaller temples too. 
Keep in mind, Angkor is not just one temple; it's a gigantic complex!
There are over 1000 temples in a 400 km radius. And many visitors get around by bike or even by tuk-tuk. 
If you are visiting outside of a designated itinerary, you can purchase 1-day, 3-day, and 7-day Angkor passes that give you access to the entire park, including Angkor Wat.
Is 1 Day Enough To See Angkor Wat?
If you just came to see Angkor Wat, you could squeeze a trip into 1 day, but why would you want to do that?
With 1,000 other temples inside a 400 square km area, you just can't see it all in 1 day. Not while enjoying yourself at least.
And if you try to squeeze in too many temples, you will just exhaust yourself without really soaking in the whole experience.
Then outside of Angkor Wat, you have indigenous villages, the floating village of Chong Khneas, and the amazing Siem Reap nearby.
So, we recommend spreading the trip out over 2-3 days.
For our Angkor Wat trip, we have a 4-day itinerary that explores the legendary ruins of Angkor Wat, Angkor Thom, Ta Prohm, and other nearby temples.
And if you want to plan your own trip, there are plenty of options to see the popular temples. 
The best way to see as much as possible is to take on the small circuit or the grand circuit.
Angkor Wat Small Circuit
If you do plan on visiting Angkor Wat in just 1 day, we recommend the small circuit, which covers the top three temple sites of Angkor Wat, Bayon, and Ta Prohm.
The small circuit is a loop 17km in length and comprises the following temples & ruins.
> Angkor Wat
> Angkor Thom
> Bayon
> Baphuon
> Phimeanakas
> Thommanon
> Chau Say Tevoda
> Ta Keo
> Ta Prohm
> Banteay Kdei 
> Srah Srang
> Prasat Kravan
So, if you only have 1 day to spend at Angkor, and want to see Angkor Wat & the other famous temples, the small circuit is the best way to go.
If you want to take a little more time to see more of Angkor we recommend taking the grand circuit, as it incorporates the small circuit & more.
Angkor Wat Grand Circuit
For the grand circuit, you may want to give yourself 2-3 days to explore in full, which is where the 3-day park pass comes in very handy.
The grand circuit is 26km in length and is an extension of the small circuit which also includes:
> Preah Khan
> Neak Pean
> Ta Som
> East Mebon
> Pre Rup
So, hopefully, this helps you decide your temple adventure, and where to get the most bang for your buck or time. 
If you're still unsure about your trip, here are some of the best times to visit, and what you need to know before arriving.
When Is The Best Time To Visit Angkor Wat?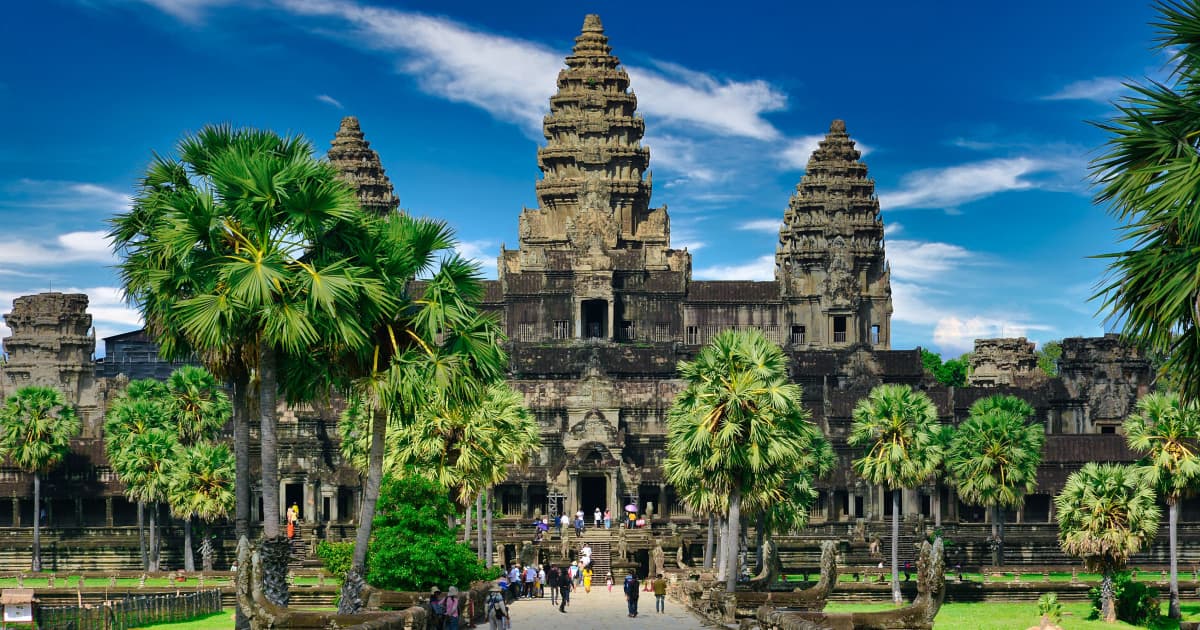 Angkor Archeological park is open 365 days a year between 5 am and 7 pm. With most of the temples are only open between 7.30 am and 5.30 pm.
However, Angkor Wat temple is open every day between 5 am and 5.30 pm, which is the perfect time to catch the sunrise if you can get there early enough. And catch the sunset in the winter months.
So you have 12 hours to soak it all in, and hopefully catch the breathtaking sunrise, but we recommend taking 3-4 days to really enjoy all the Angkor Archeological park has to offer.
You will most likely start your trip from Siem Reap as this is the nearest airport to Angkor Wat. It is a short drive from the airport to the city centre of Siem Reap and the ruins of Angkor Wat.
And we recommend getting up nice and early to catch the sunrise!
What's So Special About Angkor Wat?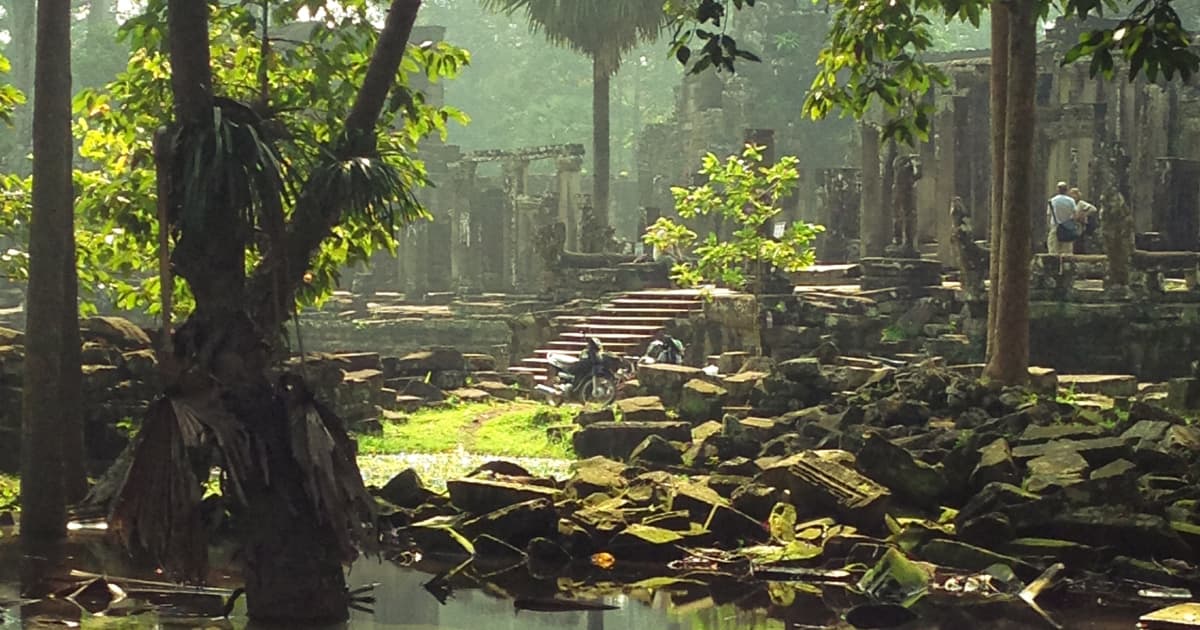 There's 1000's of temples, so what exactly makes Angkor Wat so special?
Well, Angkor Wat is one of the most iconic and significant archaeological sites in Cambodia.
Angkor Wat is considered a masterpiece of Khmer architecture and is the best-preserved temple complex in Southeast Asia.
The temple is surrounded by a moat and has three levels, each with its own set of courtyards, halls, and temples. 
The temple is adorned with intricate carvings and bas-reliefs depicting scenes from Hindu mythology. 
Inside Angkor Wat, you can take a journey across the moat and explore the temple in all its glory. You'll be able to see the breathtaking and intricate architecture of both the outer and inner walls as you travel throughout this ancient site.
Visitors to Angkor Wat can explore the temple complex, marvel at the architecture, and learn so much about the history and culture of Cambodia.
What Do I Need To Know Before Visiting Angkor Wat:

Plan To See The Sunrise (Or Sunset!)
You have to see it to believe it. No trip to Angkor Wat is complete without catching the sunrise at the west of the park.
There's nothing quite like watching a the red, yellow, purple, and orang hues light the sky. 
The colors of the sky seem to be so vibrant and alive matched with the backdrop of the incredible architecture of Angkor park.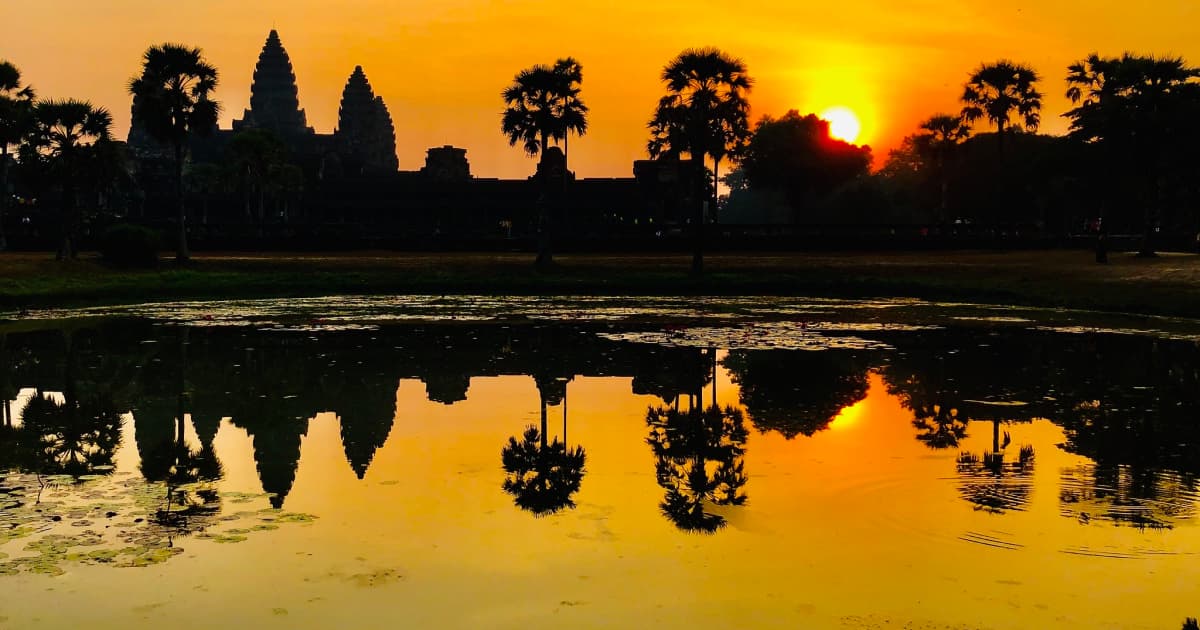 If you've never experienced it for yourself, we highly recommend it. You won't be disappointed!
If you do plan on getting up early to catch the sunrise, you will definitely need a flashlight. Trying to navigate the rough terrain in darkness is a feat not recommended.
And when you get there, expect large crowds. Hundreds, maybe even thousands gathering alongside you. 
Is Angkor Wat Safe To Visit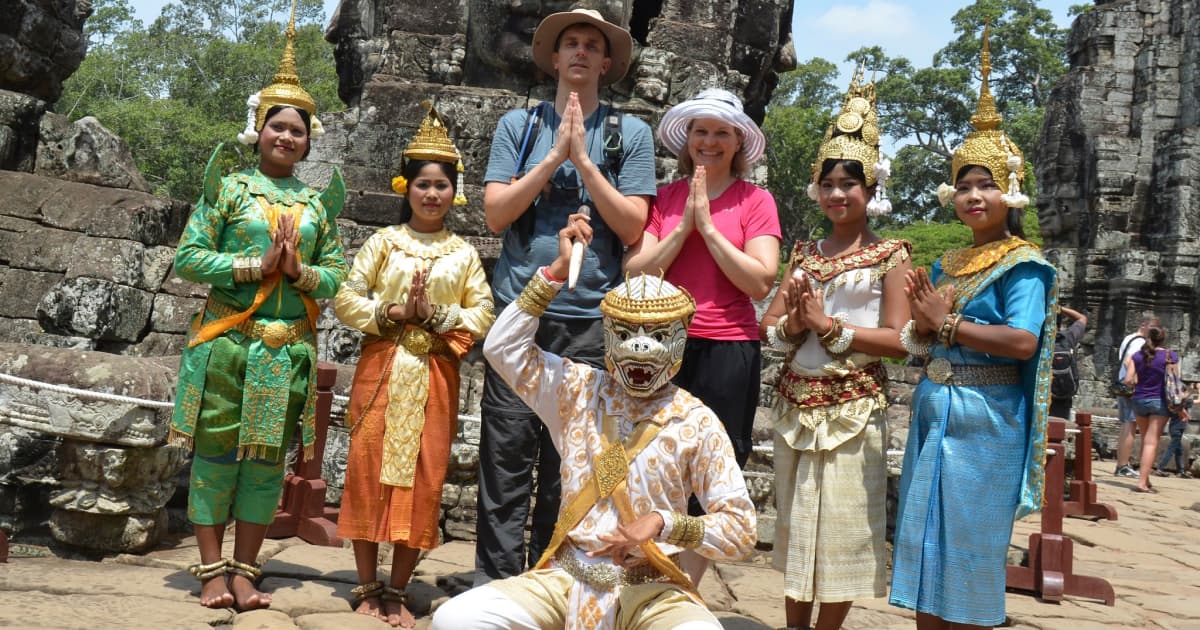 For the most part, Angkor Wat is perfectly safe, and with so many tourists there each day you are never too far from someone. 
However, much like any popular tourist spot, Angkor Wat has its share of scams.
The best advice is to always be on guard, and plan your trip ahead of time so you know where to get your tickets, know where to hail a tuk-tuk or cab, and know the best routes to your hotel.
If you want to know what to watch out for, here is a list of 8 common scams at Angkor Wat to avoid.
And, another piece of advice is to respect the dress code.
Angkor Wat Dress Code
Cambodia is far from cool, and the midday heat is pretty sweltering. But before pack your bags for a warm weather trip, there are a few things to keep in mind about the dress code at Angkor Wat.
It is a religious site afterall, and Angkor Wat have a pretty strict dress code implemented. 
The dress code is "Appropriate attire when visiting temples in Angkor Wat is long pants (covering the knee) and shirts that cover shoulders. Skirts, small shorts, tank tops, and other items of revealing clothing are not allowed within temple grounds."
BikeHike's Day To Day Angkor Wat Trip
If you want to join a pre-arranged trip, we offer a 4-day tour that comprises of immersive travel as we explore the highlights of Angkor, as well as the quiet and undiscovered back roads through local indigenous villages.
Here is what our day-to-day Angkor Wat trip looks like.
Day 1:
Arrival
Siem Reap
Upon arrival into Siem Reap, you will be transported to a comfortable hotel in the city.
The remainder of the day is at your leisure exploring Siem Reap town, nestled between beautifully, terraced rice paddies and the Siem Reap River.
In the evening, be sure to catch the sunset from Phnom Bakheng, for a spectacular view of the impressive Angkor ruins.
Day 2:
Angkor Temples
Hiking
We'll start with a typical Cambodia breakfast and then set off on a short drive from Siem Reap to the ruins of Angkor, one of the ancient wonders of the archaeological world.
The grandeur of this bygone civilization is truly astounding.
We start walking from the South Gate of Angkor Thom, unique for the 54 towers decorated with over 200 colossal human faces carved in stone.
We'll visit the impressive Bayon Temple, the Royal Enclosure, Phimeanakas, the Elephant Terrace, the Terrace of the Leper King and the architectural masterpiece of Angkor Wat.
We stroll around this massive monument, exploring the many galleries with columns, libraries, pavilions, courtyards and ponds full of water reflecting the towering temple.
Finish with another overnight hotel stay in Siem Reap.
Day 3:
Angkor
Hiking
Today we continue our walking exploring the wondrous Angkor Complex with the jungle-covered temple of Ta Prohm.
There are enormous fig trees and gigantic creepers that embrace themselves in the stone foundations of this structure, giving the impression of man's creation being reclaimed by the powerful forces of nature.
We visit this masterpiece and some of the other nearby temples, including Banteay Kdei, Sra Srong, Ta Keo, Thommanon and Chau Say Tevado.
Upon leaving this area we see other various famous temples of the grand circuit. We round off our exciting day with a walk up to Phnom Bakheng Hill to admire the spectacular sunset over these sandstone monuments. 
Day 4:
Chong Khneas
Markets
In the morning, we'll depart Siem Reap and head for the floating village of Chong Khneas.
There are over 1000 houseboats that comprise this village, as well as the floating church, police station, etc. To tour the village, we'll board a traditional wooden boat and cruise on the Tonle Sap Lake, the largest in Asia.
We'll also stop at a local artisan market for some last minute souvenir shopping. In the afternoon we'll transfer back to Siem Reap to connect with flights onwards.
Visiting Angkor Wat
Whether you want to take on the trip with your own itinerary, or join a pre arranged trip, there is so much to see and do, it's well worth planning every minute well in advance.
If you have any questions, don't hesitate to get in touch anytime. We love talking travel!
And here you can find our more about our 4 day Angkor Wat trip. 
Happy Travels,
Trish Sare
About The Author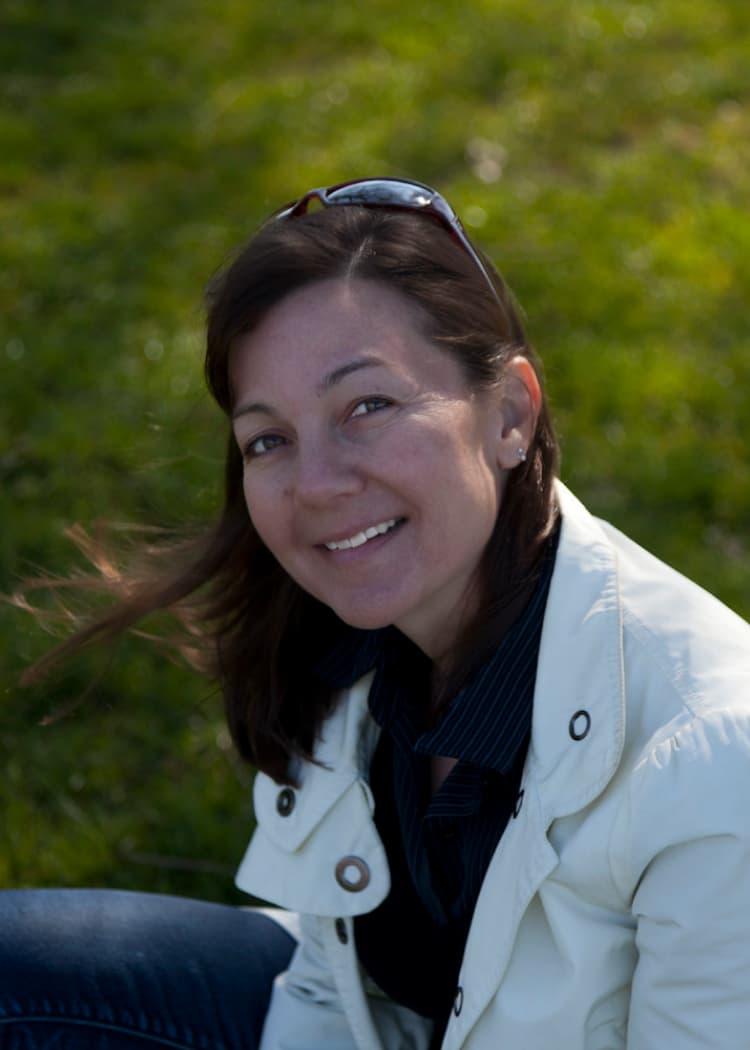 Trish Sare is the owner of BikeHike and a passionate outdoor enthusiast with over 30 years of experience as a world traveler. She's lived, traveled, and guided extensively in North, South and Central America, Europe, Oceania, Africa, and Asia. She has guided and helped to develop every one of our multi-sport holidays. In her spare time, Trish is usually outdoors either mountain biking, hiking, sea kayaking, trail running, or climbing. Trish has a passion for the world and all of the amazing cultures that inhabit it and does her best to immerse herself directly into their distinctive lifestyles.