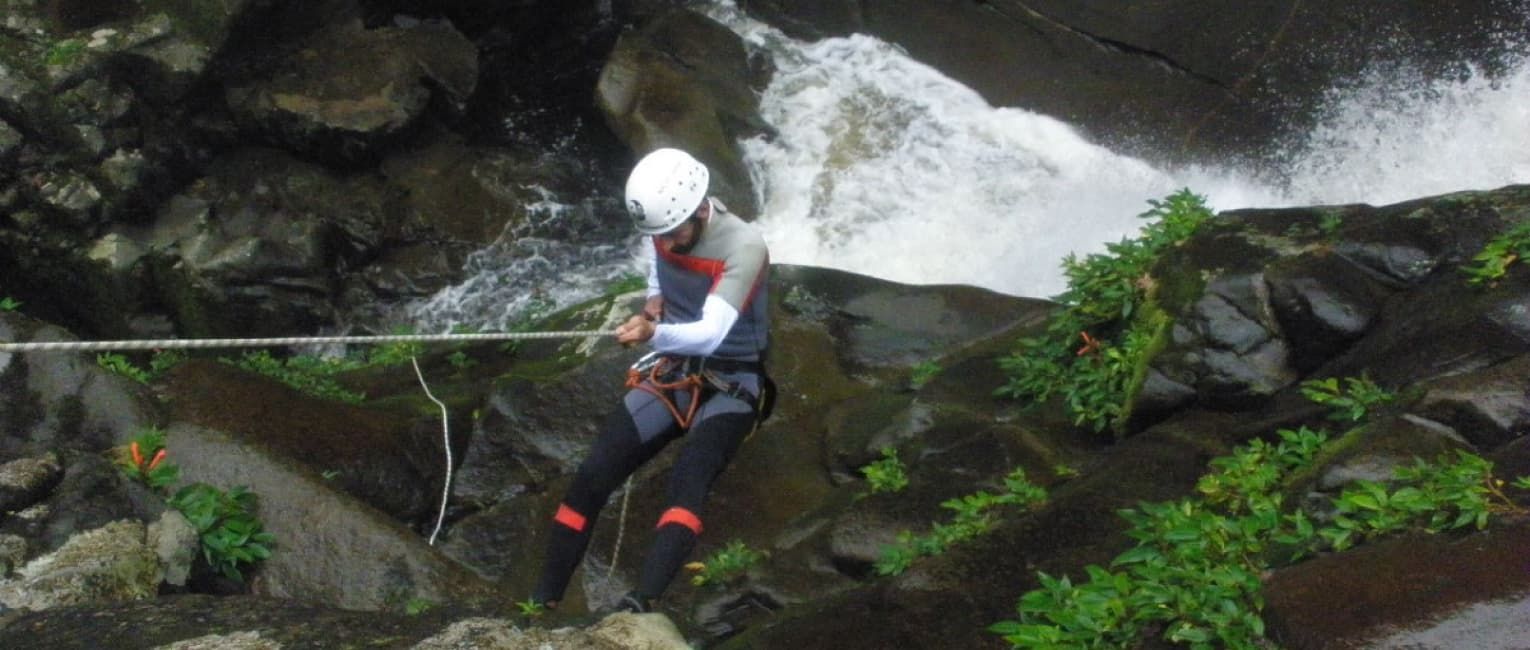 Our Top 5 Canyoneering Destinations
Canyoneering, the popular outdoor activity that combines hiking, rappelling, swimming, and sometimes even diving through canyons, is an incredibly popular activity with adventure travelers. 
It's no wonder why: there's nothing quite like conquering your fears while exploring some of the most breathtaking landscapes on offer, rappelling down towering waterfalls, and immersing yourself in nature's hidden wonders.
As you delve deeper into the world of canyoneering, one question might be burning in your mind: where are the best places to put your skills to the test?
That's where we come in! 
With so many spectacular canyons around the globe, we've seen a lot of them in our 30 years of adventure travel.
I've compiled a list of popular canyoneering destinations sure to entice both beginners and seasoned adventurers alike. 
So gear up, and let's dive into some of my favorite canyoneering destinations that will satisfy your thirst for adventure as much as it has mine over the years.
Peru
Peru, a country where ancient history and natural beauty intertwine like vines in the Amazon rainforest, is also home to some of the most breathtaking canyoneering destinations in the world. 
With its diverse landscape that includes both towering mountains and deep valleys, this South American gem boasts many canyoneering destinations with thrilling experiences and breathtaking views to boot.
My personal favourite canyoneering locations across Peru include:
Colca Canyon
One of the top spots for canyoneering in Peru is Colca Canyon. 
Known as one of the deepest canyons in the world (twice as deep as the Grand Canyon), it boasts stunning views and challenging routes that are sure to get your heart racing. 
Carved by the mighty Colca River over millennia, this massive chasm showcases impressive rock formations along with traditional villages dotting the canyon walls.
Cotahuasi Canyon
Another must-visit location for canyoneers in Peru is Cotahuasi Canyon. Known as one of the deepest canyons on earth, this destination offers adrenaline-pumping descents down waterfalls up to 100 meters high. 
Cotahuasi is also a more remote experience, as this lesser-known spot has been left relatively untouched due to its isolated nature, providing adventurers with pristine landscapes teeming with wildlife and dramatic vistas at every turn.
Lunahuana Valley
I also recommend Lunahuana Valley as a beginner-friendly canyoneering spot, which provides not only great opportunities for rappelling down waterfalls but also other adventure sports such as white-water rafting.
Guatemala
Guatemala boasts some of the most picturesque canyons and waterfalls in Central America, and is teeming with natural beauty, from abundant rivers, waterfalls, and lush vegetation to explore.
Some of my favourite canyoneering locations across Guatemala are:
Lanquin 
The region around Lanquin is particularly popular with adventure travelers due to the presence of Semuc Champey – a stunning limestone bridge that hides turquoise pools beneath it. 
Here, canyoneers can rappel down cascading waterfalls amidst dense jungle surroundings as they make their way through the area's challenging routes. 
The exhilarating combination of pristine waters and dramatic rock formations in Semuc Champey creates extraordinary opportunities.
Cobán
Another incredible location in Guatemala is Cobán, which boasts several impressive caves perfect for spelunking as well as canyoning. 
One such cave system is Candelaria, where explorers will find miles of underground passages adorned with striking stalactites and stalagmites.
After navigating these subterranean wonders on foot or by swimming, thrill-seekers emerge into daylight at gorgeous waterfall sites like El Salto de Chilascó and Rey Marcos Cave. Both locations offer exciting descent options along steep cliffs and powerful watercourses while surrounded by the verdant Guatemalan landscape.
Zion National Park
Zion National Park, a magnificent symphony of towering sandstone cliffs and deep canyons, is an enchanting playground for canyoneering enthusiasts. 
In our experience here at BikeHike, Zion National Park has some of the best canyoneering experiences in the USA. That's a bold claim, but we stand by it.
From beginners to seasoned veterans, Zion offers a variety of routes and experiences tailored to suit every skill level. 
Before I get into it, Zion National Park can be exceptionally crowded at peak tourist times each summer and spring, so I highly recommend trying to beat the crowds if you want to experience all it has to offer. 
The best time for canyoneering in Zion National Park is early summer or early fall. 
In my experience, between April & May the weather is great, and Zion isn't too packed with tourists just yet. 
Early fall, between late August to September, is shoulder season at Zion, where it's not quite as busy and the weather hasn't taken a turn yet, so you will generally avoid crowds and avoid bad weather.
For canyoneering, I highly recommend routes such as The Subway, Mystery Canyon, and Pine Creek. Each location has its own distinct challenges and rewards.
The Subway (Left Fork Of North Creek)
The left fork of the north creek, also known as, The Subway requires hikers to navigate through narrow slot-canyon corridors by swimming or wading through cold water before reaching a picturesque natural subway formation. 
This is definitely one for more experienced canyoneers, as it involves quite a bit or rappelling, swimming through debris, and a lot of trail finding.
Mystery Canyon
Zions mystery canyon is quite sought after with canyoneers, however, it's biggest obstacle is actually getting access.
Only 12 people are allowed in each day, and you will need a permit in advance of visiting.
Mystery Canyon features a series of rappels amidst cascading waterfalls leading down into the renowned Narrows section of the park. 
The adventure starts by navigating a steep and potentially tricky path, leading to a stunning section of a narrow canyon. As the path widens, you'll be met with a refreshing spring surrounded by lush greenery and serene pools. 
The climax of the journey involves an exhilarating rappel down the first waterfall in the Zion Narrows.
Pine Creek
Pine Creek is an absolute delight for any nature lover seeking a slot canyon experience. While it offers just the right amount of technical challenges to satisfy even the most experienced hiker, it is still accessible to those who are new to canyoneering. 
Cambodia
Cambodia offers numerous opportunities for adventure-seekers to explore hidden caves, dense jungles, and cascading waterfalls while navigating through its rugged terrain.
With the increasing interest in outdoor activities and ecotourism, Cambodia's untouched natural beauty provides an exciting setting for canyoneering adventures.
Here are 2 of the best spots to visit for canyoneering:
Kulen Mountain
One of the most sought-after locations for canyoneering in Cambodia is Kulen Mountain (Phnom Kulen). 
This sacred mountain range boasts lush green forests, ancient temples, and magnificent waterfalls such as the famous Kbal Spean waterfall. 
Canyoneers will find themselves traversing through narrow gorges filled with crystal-clear waters, exploring intricate cave systems adorned with stalactites and stalagmites, and rappelling down steep cliffs surrounded by beautiful scenery.
Cardamom Mountains
The Cardamom Mountains are another must-visit location for avid canyoneers. 
These remote mountains provide thrilling experiences amid unspoiled nature – from challenging vertical descents to exhilarating river crossings.
Ireland
The Emerald Isle may not be the first destination that springs to mind when considering canyoneering locations, but it offers a unique combination of breathtaking scenery, challenging terrains, and rich history.
As you wander through the green landscape, you find yourself drawn towards the rugged coastline where waves crash against jagged cliffs, creating an exhilarating atmosphere for canyoneering adventures.
Gap of Dunloe
One particularly captivating location in Ireland is County Kerry's Killarney National Park. Here, adventurers can explore the Gap of Dunloe – a narrow mountain pass carved by glacial movement thousands of years ago. 
Canyoneers will relish the opportunity to navigate their way through steep ravines and rocky terrain while marveling at the stunning views surrounding them. 
The park is also home to numerous waterfalls such as Torc Waterfall which provides thrilling rappels amidst its cascading waters. Additionally, experienced canyoneers might venture into MacGillycuddy's Reeks mountains range - offering more technical challenges and rewarding panoramas.
From navigating craggy coastlines to descending roaring waterfalls, exploring Ireland's hidden gems offers an unparalleled experience for thrill-seekers seeking something truly special.
Mexico
Mexico is another popular canyoneering destination with its diverse landscape and stunning natural beauty. The country boasts numerous exciting canyons, each offering unique challenges and breathtaking views for adventure seekers.
From the green jungles of Chiapas to the arid deserts of Baja California, Mexico provides a variety of environments that cater to all levels of experience.
Veracruz
One must-visit location in Mexico for canyoneers is the state of Veracruz. This region offers several beautiful canyon systems such as Xico, Zapotitlán, and Tlaucingo, which are famous for their turquoise blue waterfalls and thrilling rappels. 
Additionally, Veracruz's close proximity to the Gulf Coast makes it an ideal destination for those looking to combine their canyoneering adventures with other water-based activities like rafting or kayaking.
Copper Canyon
Another notable area in Mexico perfect for canyoning enthusiasts is Copper Canyon situated within Chihuahua and Sinaloa states. This vast network of six massive interconnected canyons presents unforgettable experiences through steep descents, intricate rock formations, and awe-inspiring vistas overlooking rugged terrains below.
Overall, Mexico's remarkable diversity in terms of geography and climate allows both novice and experienced canyoneers alike to embark on exhilarating journeys across this captivating land while creating lasting memories along the way.
Wrapping Up
If you are interested in a Canyoneering trip or similar activities, be sure to check out our multisport adventure trips for more ideas, or get in touch with us about a customized canyoneering adventure.
Happy Climbing
Trish Sare.
 
About The Author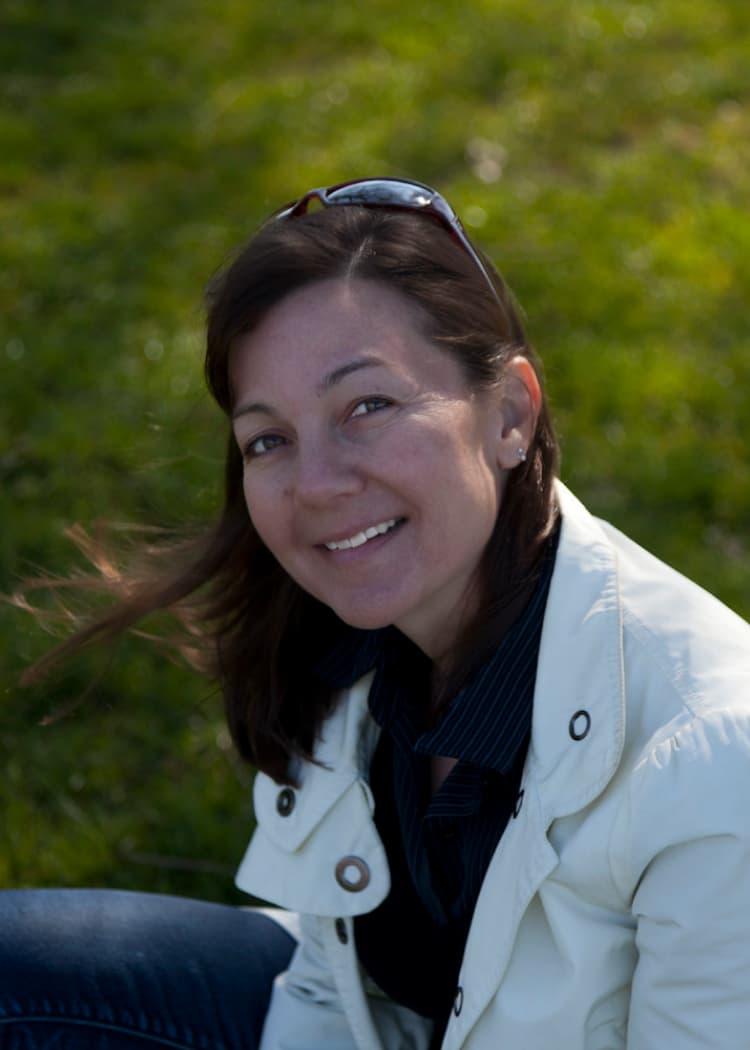 Trish Sare is the owner of BikeHike and a passionate outdoor enthusiast with over 30 years of experience as a world traveler. She's lived, traveled, and guided extensively in North, South and Central America, Europe, Oceania, Africa, and Asia. She has guided and helped to develop every one of our multi-sport holidays. In her spare time, Trish is usually outdoors either mountain biking, hiking, sea kayaking, trail running, or climbing. Trish has a passion for the world and all of the amazing cultures that inhabit it and does her best to immerse herself directly into their distinctive lifestyles.