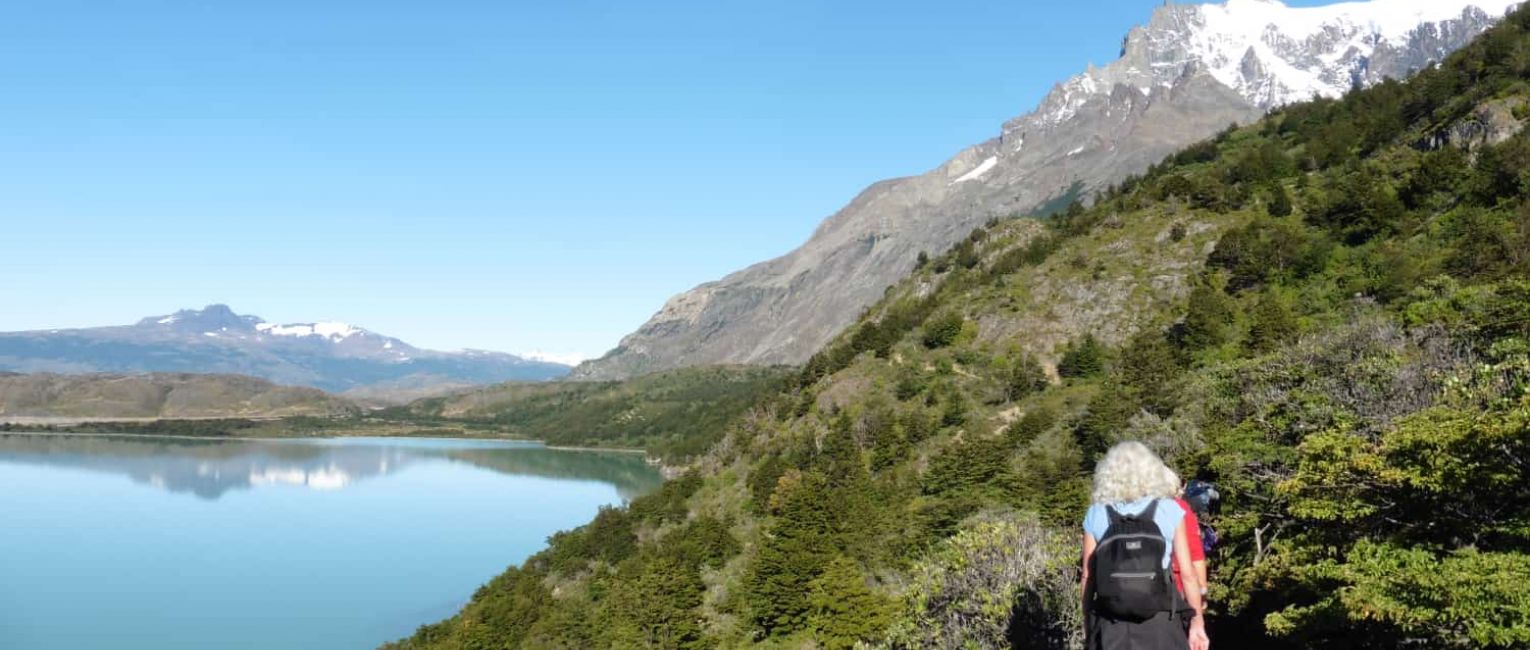 Travelers Journal: Hiking Torres del Paine National Park
If you decide to complete one of the world's most impressive trekking routes, the W Trek in Chile's Torres del Paine National Park, you may want to have a rough idea of what is ahead. To give you an idea of what you'll experience, here are some journal snippets from one of our recent travellers in Chile's Patagonia (provided to us with permission, of course).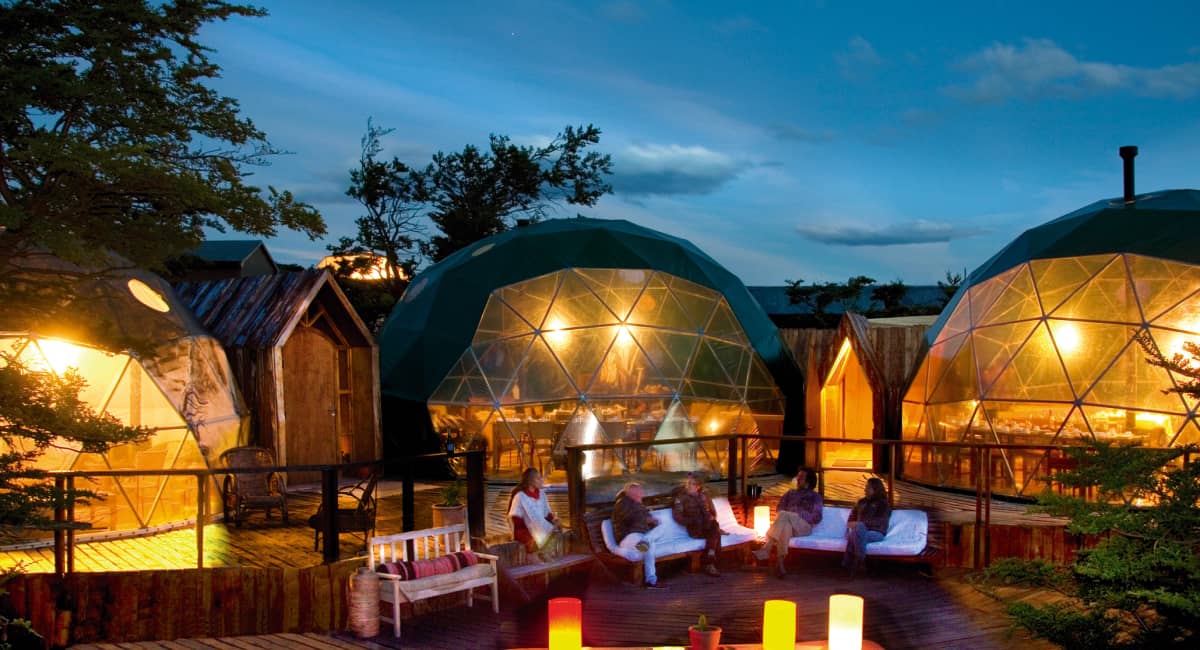 Day 1: Santiago – Punta Arenas – Torres del Paine
"Our group consisted of 9 individuals, predominately from United States and Canada. We started the journey from Punta Arenas early morning. After 3 hours of flat landscapes we broke our journey in Puerto Natales, the "entrance door" to this mountainous area of Southern Chile. Here we were introduced to our guide, passionate about the outdoors, with over 20 years of experience in Patagonia. We had no doubt that we would learn a lot from him! As the day progressed, we were stunned by the natural beauty, the immensity of the mountain range… That night, we reached our sustainable hotel – EcoCamp Patagonia, where we were in awe of the surroundings and had forgotten about our tiredness. The evening ended with a delicious Patagonian Fusion meal and we returned to our domes for a good night sleep, gazing at the stars through the window and dreaming about our long-awaited Torres del Paine W Trek."
Day 2: Torres del Paine – Paso Los Cuernos – The Horns (Hike)
"After a hearty buffet breakfast and an astonishing pink sunrise, we left the camp to start our trek along the beautiful snowcapped Almirante Nieto Mountain. It was the middle of spring, and a mix of red and yellow flowers were in bloom and covered the beginning of the trail. We stopped to admire the Horns (Los Cuernos) – dark horns towering the skyline – and Paine Grande, the highest mountain of the national park… After lunch we trekked through the beautiful red Firebush flowers. At the end of the day, we compared thoughts about the day's hike and although we came from different backgrounds, we all seemed to feel an equal admiration for our achievements and the surrounding landscapes. Later, we devoured a hearty dinner while chatting I realized what a great group of us was gathered here to complete this amazing trek."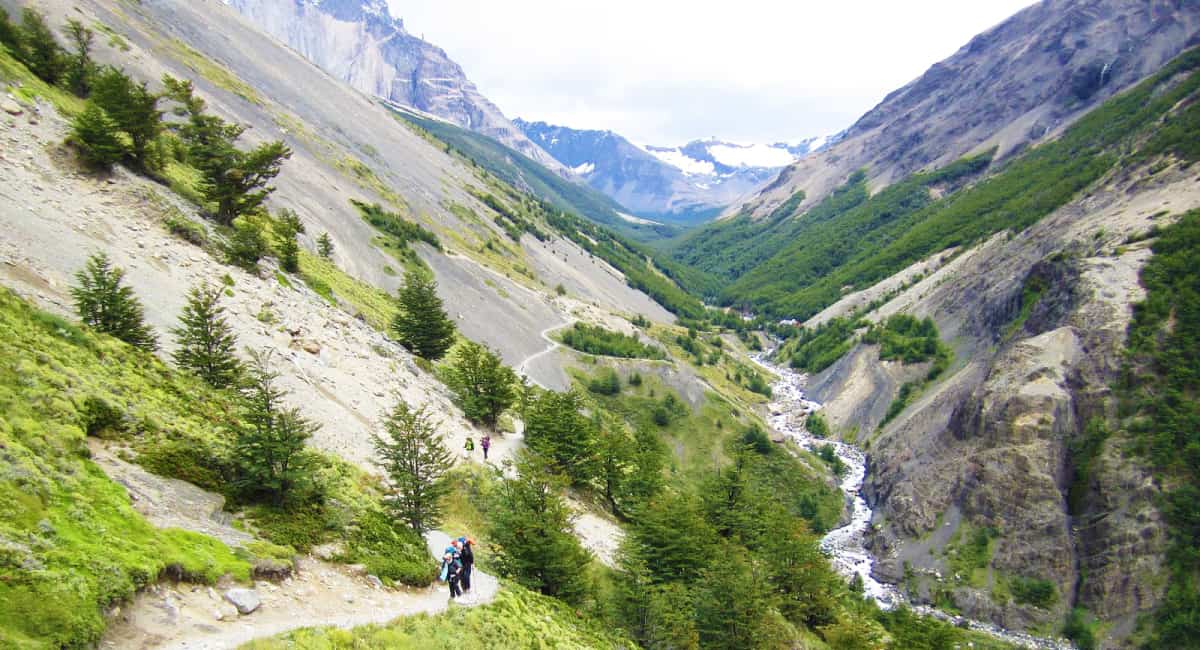 Day 3: Torres del Paine National Park – French Valley (Hike)
"After an overnight rain, and a light rain in the morning, the surrounding forest felt mystical as the morning fog hung in the air. We started trekking despite the rain and soon forgot about the weather. Instead, most of us were mesmerized by the surroundings. Later, we reached the famous French Valley, which stretches between The Horns and Paine Grande. After climbing a steep one hour uphill, we reached the Paine Grande Lookout. The view was worth the climb! That night, we were ready for a well-deserved rest at the Paine Grande refugio but first the group met for dinner, discussing the day's events, and through our experience we were quickly becoming close, forming friendships that would likely last beyond this week in Chile."
Day 4: Torres del Paine National Park – Grey Glacier (Hike)
"We left Paine Grande early in the morning and began making our way through a quiet valley covered with extraordinary rock formations. After a short hike uphill, we reached the western area of the W Trek, where the feet of the western side of Paine Grande meets Grey Lake, and there are huge icebergs, that have broken off the glacier, floating in this famous lake. From there, we were transferred back to EcoCamp which felt deliciously welcoming and cozy. Dinner that night was a wonderful treat, and I felt I would be well rested for the next day's hike, the W Trek's most challenging hiking day."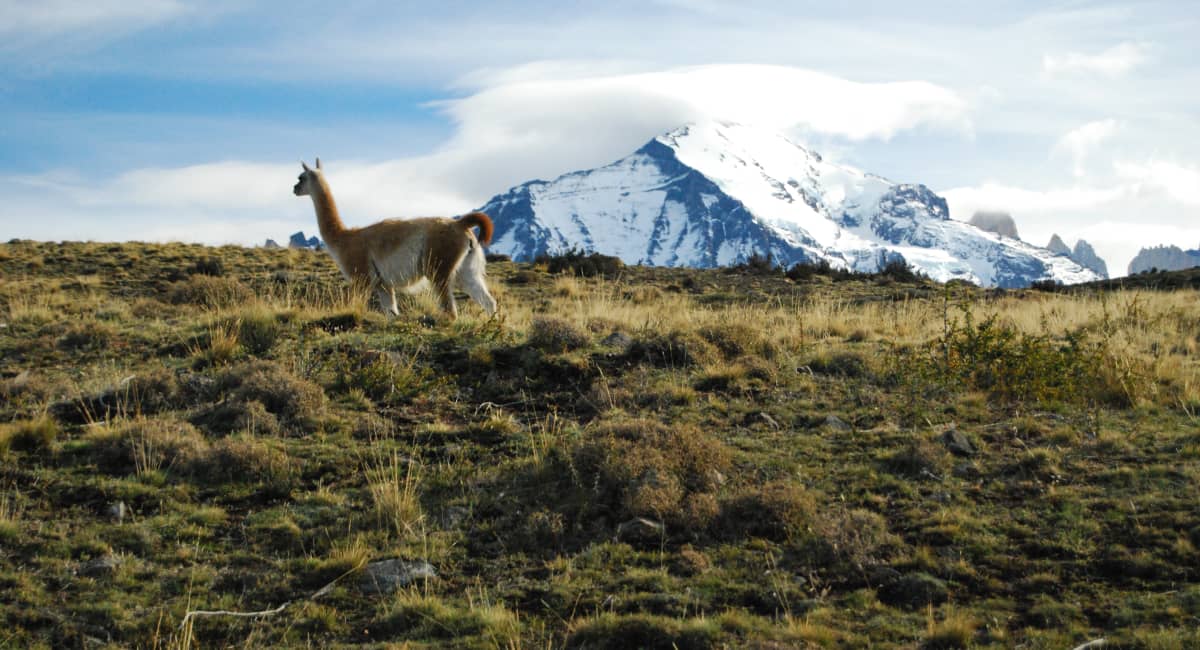 Day 5: Torres del Paine National Park – Valle Ascencio (Hike)
Today, we trekked out from the camp at 8:30 am. The first few kilometres were quite easy as we trekked over flat land. Then, we crossed a few bridges and started the long, ascent along the roaring Ascensio River. We enjoyed a well-earned break at El Chileno Refugio. After this welcome rest, we continued through the lush green forest to start another uphill climb. We were surrounded by indescribable energy in the forest, and the adrenaline of our hiking achievement made us feel like we were hiking on clouds. That kind of happiness is actually difficult to describe with words. That evening at EcoCamp, we gathered in the famous community dome and reflected on an incredible day, one we would likely never forget."
Day 6: Torres del Paine National Park – Eastern Lakes (Hike)
"Our last trekking day was along a relatively easy natural trail that would take us to a great view of the Paine mountain range. While trekking we came across a herd of guanacos and a few ñandus – a kind of Patagonian ostrich. We also saw the beautiful condor, one of the biggest birds in the world, flying in the distance! After another short ascent, we were also delighted to discover ancient rock paintings, left by tribes that inhabited the area 6500 years ago. We weren't expecting to see that and it was amazing. Next, a short drive brought us to the picture perfect Laguna Azul ("blue lagoon"). This was a perfect picnic spot and we enjoyed a great picnic lunch while admiring the breathtaking views. On our drive way back to EcoCamp, we stopped at the Paine Waterfalls (Cascada Paine), a magnificent cascade of magical waterfalls. It was a great night back at the EcoCamp afterwards, where we quenched our thirst with a beer at Ecobar and celebrated the end of our trek! The group exchanged details to that we could stay in touch and we enjoyed our last evening together over great food and drinks."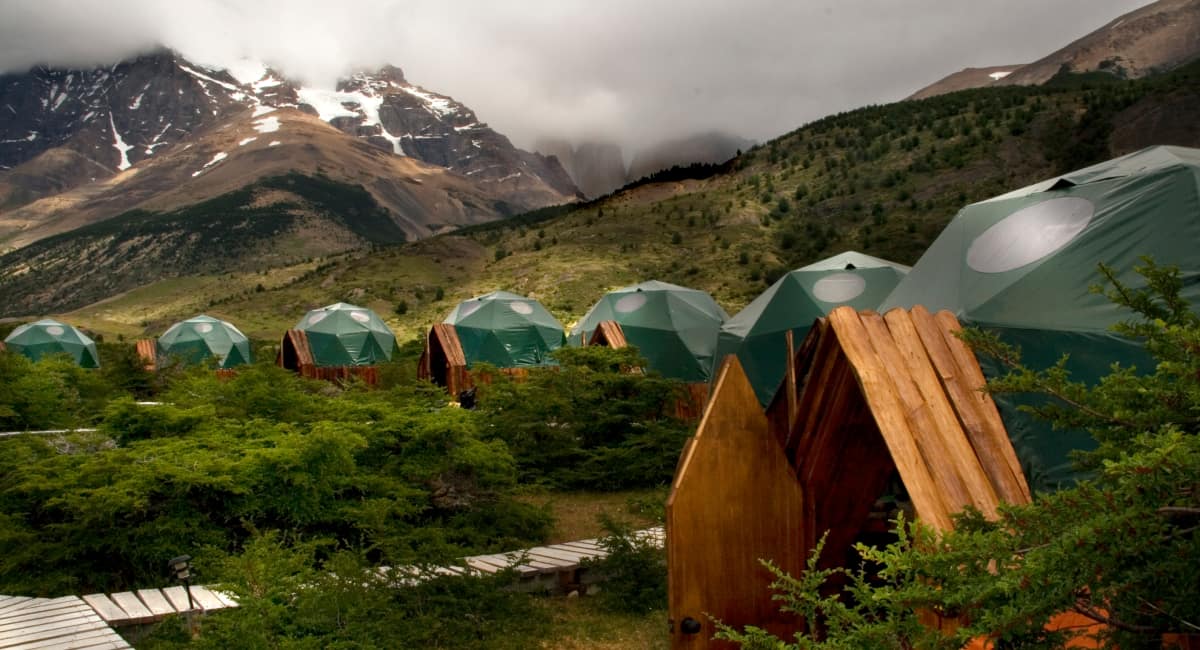 Day 7: Torres del Paine – Punta Arenas
"Alas, the trek was over and it was time to head back to our normal lives again. But we would never forget these majestic mountains and our trek across these valleys. My muscles were a bit tired, but they had adjusted to the routine and my endurance had built up. And we were all now members of the W Trek Alumni Club, having taken about 92,000 steps together — burning at least 7000 calories during that week hiking! We said a sad goodbye to our guides. Without their skills, dedication and passion, it is sure that  we would not have been able to complete this trek. We boarded the van back to Punta Arenas to catch our flights, and all seemed to look back out the windows dreamily as we drove off…"
Here at BikeHike Adventures, we run this Hiking the W Route in Chile's Patagonia weekly from October through February.