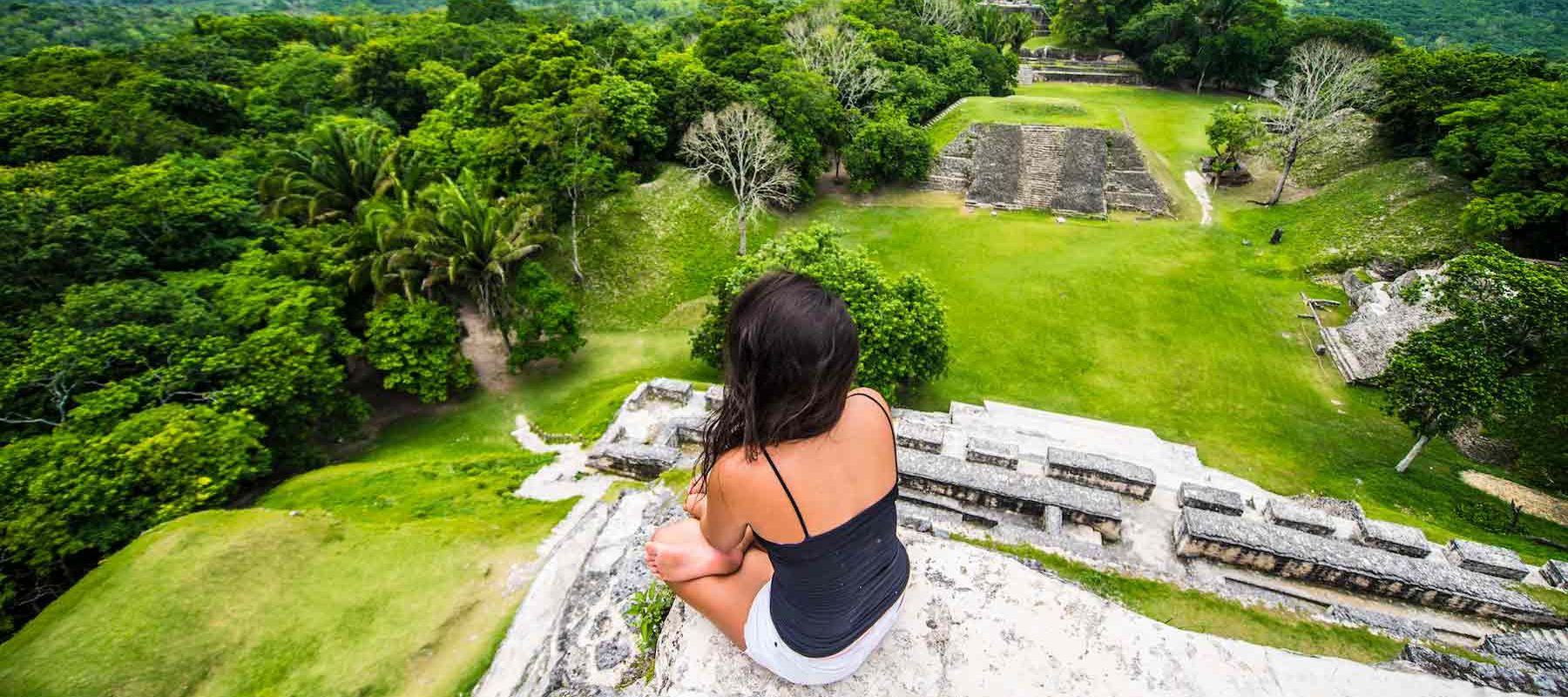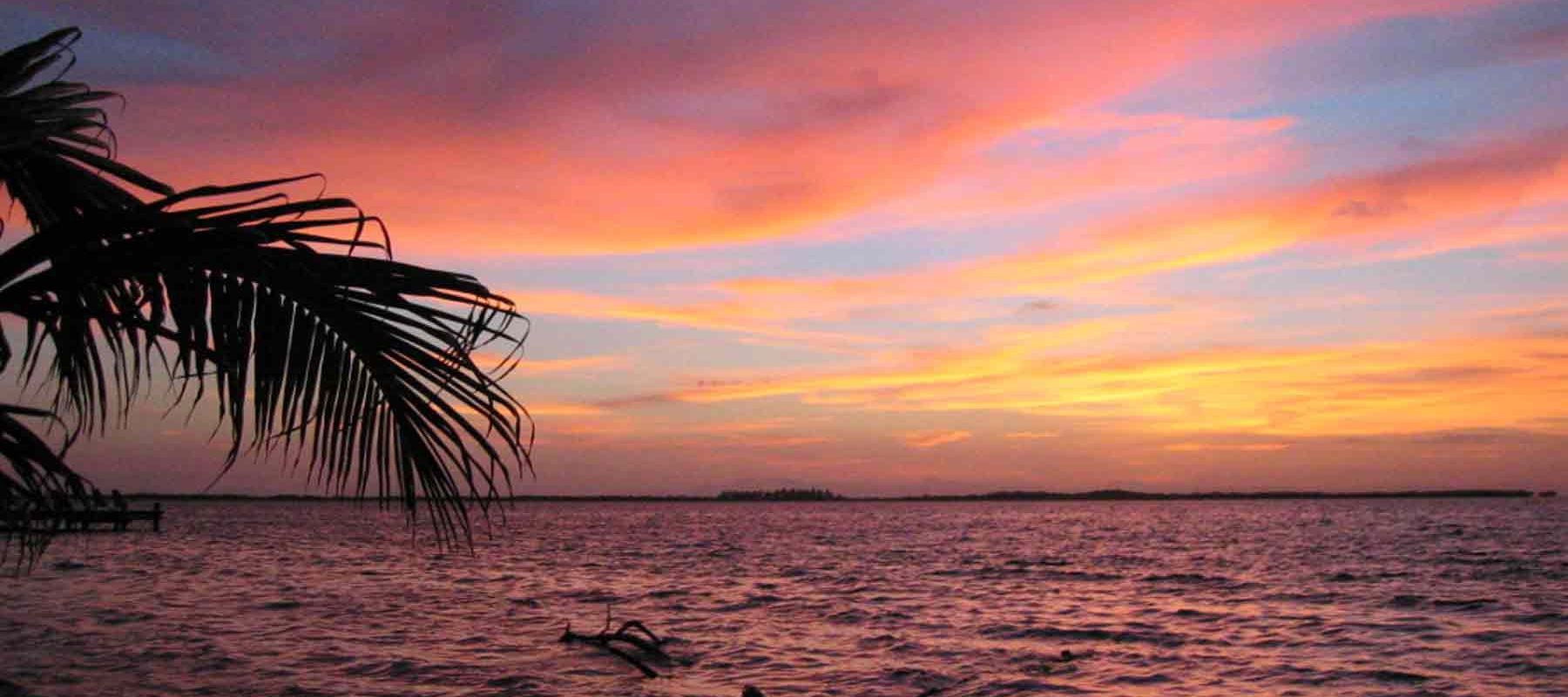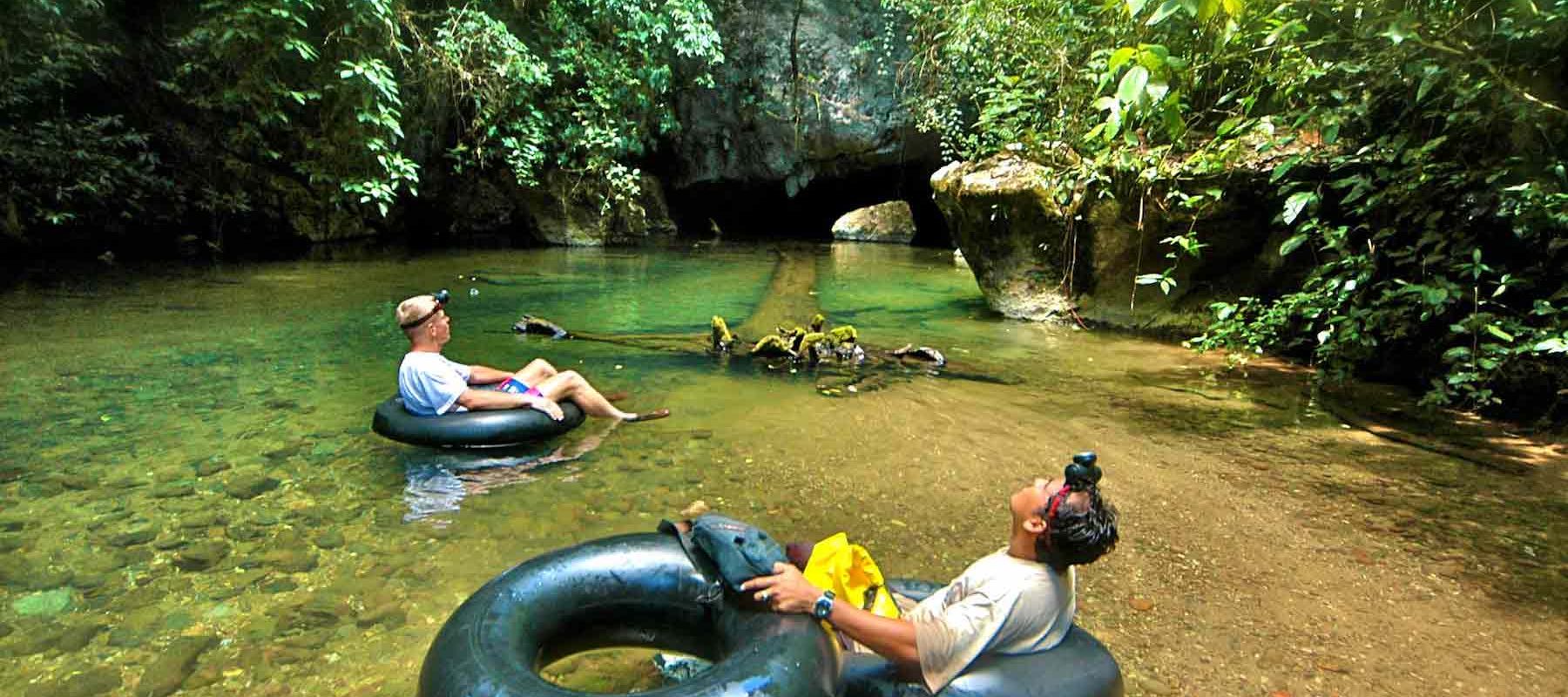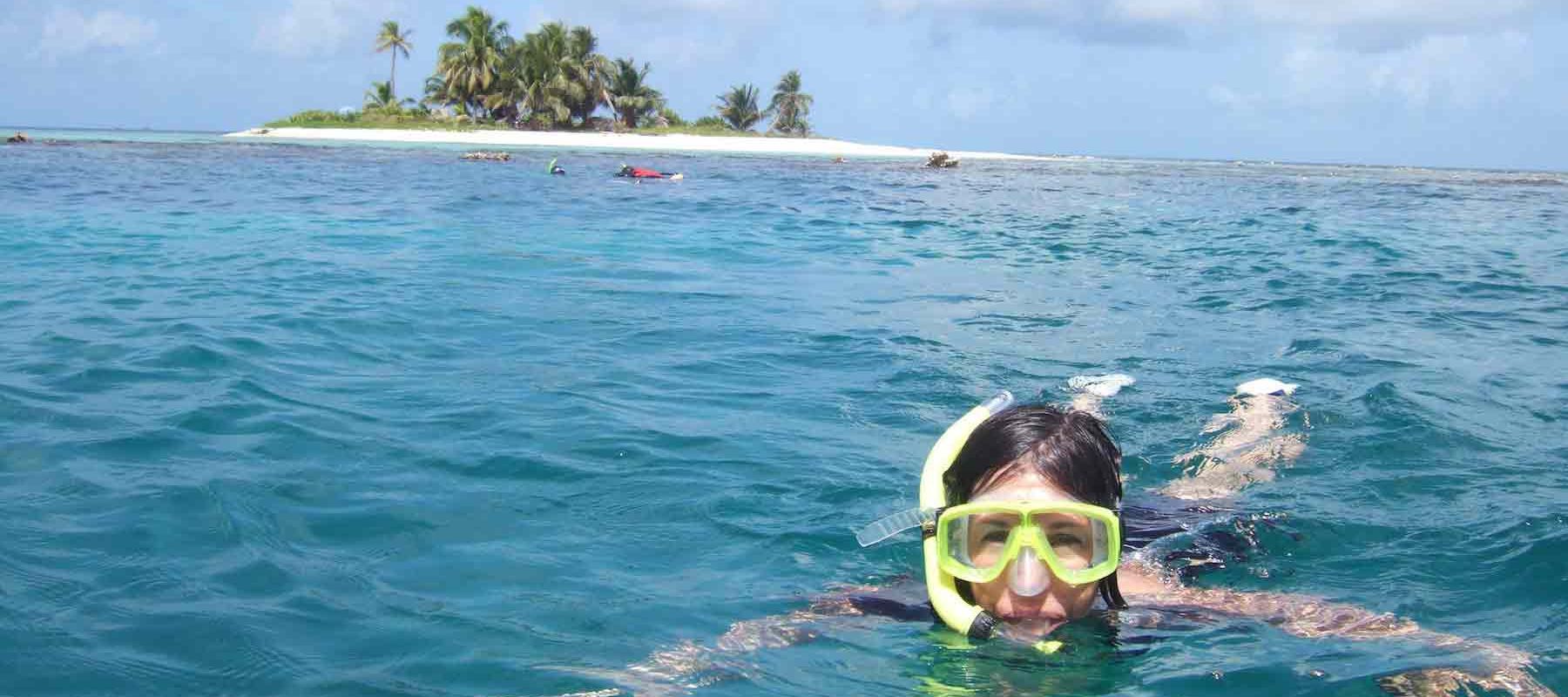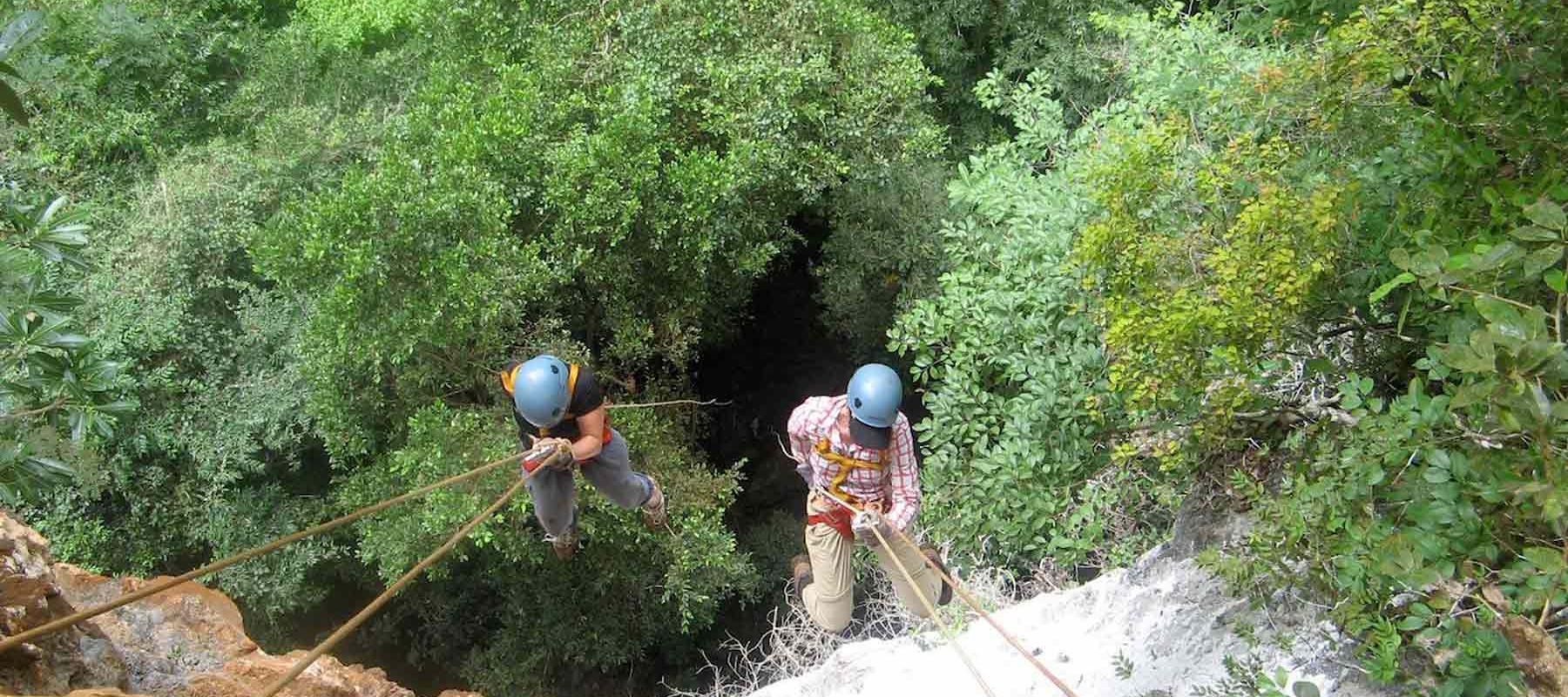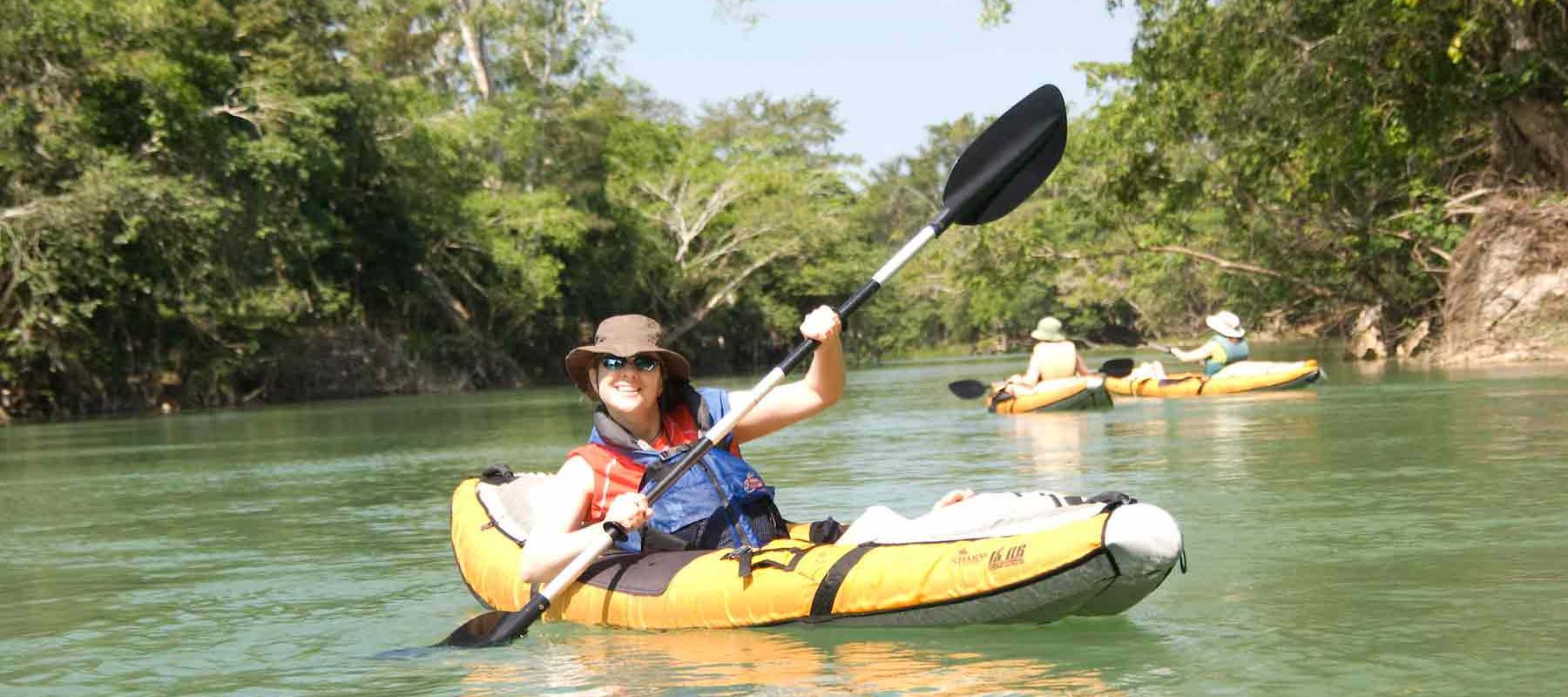 The Belize Blast
Trip Overview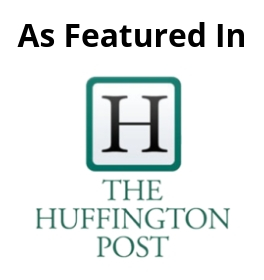 (Hiking, Rappelling, Caving, Innertubing, Horseback Riding)  A vacation in Belize with an adventure twist. This week-long Belize adventure trip highlights the best this tiny country offers.
Come climbing the steps of the Xunantunich ruins, riding horses through tangled jungles, floating peacefully on innertubes through Mayan caves, rappelling safely into the depths of the jungle, and hiking to cascading waterfalls for a refreshing swim.
The final days of your adventure vacation are spent on the relaxing beaches of Placencia where you'll have the option to snorkel in translucent seas with opportunities to see manatees, nurse sharks, and stingrays, amongst other tropical marine life.
WOW FACTORS
Rappel down the Black Hole Drop, a 300 ft / 91 m descent into a sinkhole, and go caving in the Actun Tunichil Muknal cave
Admire the view at the top of El Castillo, the largest pyramid at the Mayan ruins of Xunantunich
Relax on the beach in Placencia with the option to snorkel the Belize Barrier Reef
Itinerary & Map
Day 1
Belize City
Arrival
Upon arrival into The Belize International Airport you will be met by one of our representatives and transferred to a cozy Jungle Resort located in Cayo, alongside the Belize River. If you arrive early enough, there is an option to stop at the Belize Zoo en route. The Belize Zoo is more like an animal sanctuary than a zoo. Most of the animals are rescued and it is also quite interactive. You'll check into your cozy accommodations and have the remainder of the afternoon to get acquainted with the grounds and your group. The remainder of the evening is at leisure.

Meals: Dinner
Accommodation: Jungle Lodge
Day 2
San Ignacio - Xunantunich Ruins
Horseback Riding & Ruins
Today we have a double dose of adventure; horseback riding and exploring Mayan ruins! We begin with a short drive to St. Leonard's Stable. Here we'll get acquainted with our horses and then set off on a relaxing 1.5 hour horseback ride through open savannah, fertile countryside, tropical jungle and riverside trails. On your horse you'll cross the Mopan River. Then you'll reach a hand cranked ferry where you'll dismount from your horse and board the ferry for a short crossing. You'll then ride a short distance to the Mayan ruins of Xunantunich for a guided tour of the site. Be sure to climb the steps of El Castillo, the largest pyramid, for a panoramic view of the Cayo District. At the end of the tour you'll ride back to St Leonard's Stable. Afterwards you'll return to your accommodation and have the remainder of the day to enjoy the surroundings.

Meals: Breakfast, Lunch, Dinner
Accommodation: Jungle Lodge
Day 3
Mountain Pine Ridge
Hiking, Swimming and Butterfly Farm
After a hearty breakfast we set off to hike in the nature reserve of Mountain Pine Ridge. This forest is known for its protected pine forest, many rivers and cascading waterfalls, including 1000 Foot falls, the highest waterfall in Central America. We'll spend the morning hiking on rugged trails while visiting some of the more off the beaten path locations inside the reserve. We'll break for a picnic lunch and then have time to cool ourselves off with a swim below a rushing curtain of water in one of Mountain Pine Ridge's cascading waterfalls. This area is also fantastic for bird lovers with a wide range of species, including several distinct to this area. After our hike and swim, we'll stop at The Green Hills Butterfly Ranch where we will experience Belize's biggest and best butterfly exhibit. The main attraction here is the enclosed flight area where scores of gorgeous tropical butterflies flutter around us. Afterwards we'll return to our accommodations and have the remainder of the day at leisure to relax and enjoy the surroundings.

Meals: Breakfast, Lunch, Dinner
Accommodation: Jungle Lodge
Day 4
Black Hole Drop
Hiking & Rappelling
Prepare for an incredible adrenaline rush today. This expedition starts off with a vigorous hike into the foothills of the Maya Mountains to the edge of the Actun Loch Tunich sinkhole. We call this the Black Hole drop, a sinkhole 300 feet deep and 200 feet above the rainforest canopy. Our fully trained caving guides rig a system of rappelling ropes for our decent deep into the basin. The sinkhole is not actually black, but the bottom isn't visible from the start of the rappel. Once we reach terra firma we head back to our base for a well-deserved cold beer.

Meals: Breakfast, Lunch, Dinner
Accommodation: Jungle Lodge
Day 5
Actun Tunichil Muknal Caves
Caving
After breakfast we transfer to an archaeological site near San Ignacio. We trek for 45 minutes through dense Jungle in the Tapir Mountain Nature Reserve before entering the ATM caves. Prepared with the necessary equipment, we hike, crawl, and swim 1 km (0.62 mi) into the cave witnessing ceramics, stoneware, and untouched human skeletons remaining from Maya rituals centuries ago. We have lunch in the jungle before another short hike out of the jungle. Overnight at the same jungle lodge.

Meals: Breakfast, Lunch, Dinner
Accommodation: Jungle Lodge
Day 6
Cayo District - Placencia
Innertubing & Caving
After a typical Belizean breakfast in a pristine tropical setting we'll prep for our second caving adventure. Today we'll venture deep underground into the mystic cave world, the most sacred area of the ancient Maya. The adventure begins with a drive through orange plantations until we reach the entrance to a Maya Ceremonial Cave. Here with some stamina, we'll paddle innertubes upstream, past massive stalagmites through one of the most extensive underground river cave systems in the country. The only source of light is beaming headlamps guiding you through the darkness of the cave. Inside we'll visit the ancient Maya ceremonial centres, left untouched for over 2,000 years. The day ends with a transfer to Belize City to catch a short flight to the tropical island of Placencia. Overnight in a comfortable hotel.

Meals: Breakfast, Lunch
Accommodation: Hotel
Day 7
Placencia
Free Day
Today is the first of two days free to spend as you wish. There are many tours you can book locally such as manatee watching, snorkelling the Belize Barrier Reef, diving, monkey river tour, etc. You can also spend the day relaxing at the beach with a good book. Overnight at same hotel in Placencia.

Meals: none
Accommodation: Hotel
Day 8
Placencia
Free Day
This is another day free to spend as you wish. There are many tours you can book locally such as manatee watching, snorkelling the Belize Barrier Reef, diving, monkey river tour, etc. You can also spend the day relaxing at the beach with a good book. Overnight at same hotel in Placencia.

Meals: none
Accommodation: Hotel
Day 9
Placencia - Belize City
Departure
Today you'll be transferred to the airstrip in Placencia to catch a flight to The Belize International Airport to connect with your International flight home.
What's Included
TRIP INCLUSIONS:
All accommodation (twin shared), meals as indicated, all internal transportation including two domestic flights, airport transfers, equipment and English-speaking guides.
TRIP DOES NOT INCLUDE:
International airfare, airport taxes, gratuities, meals not included and items of a personal nature.
MEALS:
5 Breakfasts, 5 Lunches, 5 Dinners
ACCOMMODATION:
Hotel: 8 Nights
Trip Facts
Weather in Belize
Belize is typically hot and humid day and night year-round. Belize has two distinct seasons: the wet and dry. The wet season runs from mid-May to November and the dry from December to beginning of May. November to February has the coolest temperatures and a limited amount of rain.
November to May: Dry season with comfortable temperatures. Humidity is high. Maximum temperatures on the coast range from 20 to 27°C (81 to 86°F). The inland temperature is slightly hotter with a maximum high of 38°C (100°F). Occasional light rains.
June to October: Hot and humid. Wet season, but rain occurs in quick downfalls. It rarely rains all day.
Travel Documents
Citizens of Canada and the U.S. require a valid passport to enter Belize. Please ensure that your passport is valid for six months beyond the date of arrival, or you may be refused entry. Always carry a photocopy of your passport in the unfortunate case of loss or theft; this precaution will speed up the reissue process. Visa requirements vary from country to country. Before departure make sure to check with your local Belize consulate for the most current up-to-date requirements. A visa is not required for Canadian or U.S. citizens.
Food and Water
Belizeans of all ethnicities eat a wide variety of foods. Breakfast consists of bread, flour tortillas, or pancakes paired with various cheeses, refried beans, and eggs. Midday meals and dinners vary from rice and beans, meat pies, soups, stews and fried tortillas. Local fruits are also common. We do not recommend that you drink the tap water, but check with your guide or host first before consuming. Bottled water is recommended when traveling in the country and is easily purchased at stores. If you are susceptible to changes in the water, you will find that fresh juices, soft drinks and beer are readily available.
FAQ
Can I take this trip if...
I have special dietary requirements?
We will do our best to accommodate special dietary requests (e.g. vegetarian, gluten free, etc.), but ask that you please discuss your request with us when signing up for a trip.
Accommodation
Most of our trips include comfortable mid-range accommodations. This includes accommodation that provides a clean and comfortable experience in characterful surroundings that reflect the destination. To build stronger connections with the communities and support the local economies, we avoid using large international chain brands on BikeHike trips. 
This trip includes the following types of accommodation:
HOTELS
In an effort to keep money in the communities we visit around the world, BikeHike prefers small hotels, bungalows, and haciendas that showcase the character and local flair of each destination.
Click HERE for more information about accommodation styles.
Trip At A Glance
| Day | Destination | Activity | Lodging | Meals |
| --- | --- | --- | --- | --- |
| 1 | Belize City | Arrival | Hotel | |
| 2 | San Ignacio - Xunantunich Ruins | Horseback Riding & Ruins | Hotel | |
| 3 | Mountain Pine Ridge | Hiking, Swimming and Butterfly Farm | Hotel | |
| 4 | Black Hole Drop | Hiking & Rappelling | Hotel | |
| 5 | Actun Tunichil Muknal Caves | Caving | Hotel | |
| 6 | Cayo District - Placencia | Innertubing & Caving & Flight to Placencia | Hotel | |
| 7 | Placencia | Free Day | Hotel | — |
| 8 | Placencia | Free Day | Hotel | — |
| 9 | Placencia - Belize City | Departure | — | — |